THERE IS A NEWER POST, WITH UPDATED IN FORMATION HERE.
——————————
A complete list of all the food stalls in every Sydney Chinatown food court.
Did you know there are 52 food stalls in the four Sydney Chinatown food courts? Noodlies, Sydney food blog takes a closer look.
Updated: June 2016
Just a couple of decades ago, when Italian and Greek were Australia's most spoken migrant languages, we thought Chinese food was just Cantonese fare; favourites like lemon chicken, chop suey and spring rolls. Back then, Chinatown food courts were a cheap and tasty introduction to Asian eats and their exotic, moreish flavours like soy and five spice. Food court were dominated by stalls offering "rice plus three glistening choice with free sweet corn soup" for a handful of dollars.
Fast forward and Australia is an even more multicultural country with significant numbers of arrivals from Thailand, Vietnam, Korea, Japan and of course, China; all regions, north to south. The new migrants have transformed our taste buds and Sydney's Chinatown food courts – ramen, Hainan chicken, pho, northern Chinese skewers, pork rolls, bi bim bap, Korean fried chicken (KFC) and dumplings are new and mouth-watering fixtures.
Noodlies, Sydney food blog has been munching away since the early 80s and boy, has there been a change. Today, there are four fabulous food courts fighting for your custom. Just about every food stall in any of the food courts offer good food and good value, it's too competitive for expensive, pedestrian food. We're talking over 50 stalls occupying the four food courts, too much for even noodlies' greedy appetite, so we've chosen a few highlights from all the food courts, but really, you can't go wrong no matter where you eat.
Follow noodlies on social (click on icons below)
1. Dixon House Food Court
Cnr Dixon and Little Hay sts, Haymarket.
15 food stalls: Yang Guo Fu Ma La Tang (Chinese), Ramen O-San Bar (Japanese), Phnom Penh Teo Cheo Noodle House (Cambodian/Chinese), Asa Akeh (Japanese), Pho Uc (Vietnamese), Won Ton Noodle House (Chinese), Top Drink, De Juice, Yummy Thai Corner (Thai), Oriental Dumpling King (Chinese), Sizzling and Hot Pot Kitchen (Chinese), Face2Face Noodles (Chongqing), Pondok-Selera Indonesian & Malaysia Food (also at Eating World), Dixon Wine Bar, Ghost Boy Cantina (Mexican/Chinese), Zhou Mum Cafe (Northern Chinese), Blossoming Lotus Vegan.
Retains old world charm but also has some of the best food from different regions of China.
Dixon House is the grand dame of  Chinatown food courts, established in 1982, offers a "Chungking Mansion" glimpse of Chinatown's of old (video and photo above). Wooden columns and mirrored ceilings were obviously the pinnacle of Hong Kong modernity and glamour back then. Located on the lower ground floor, the now dated decor combined with low ceilings gives Dixon House food court a warm, intimate feel. It's still the most Chinese of the Chinatown food courts, but the sweet and sour pork has made way for food from different regions of China; Zhou Mum Cafe (Northern Chinese), Face2Face Noodles (Chongqing) and Oriental Dumpling King. The stall that stands out is Ghostboy Cantina – taco in a food court is proving hard to swallow and sadly the counter is quiet  [update: Ghostboy Cantina is no more].
READ: Complete Cabramatta Eating Guide.
While ageing it's still clean and bright and going through a bit of a renaissance. Dixon House now boasts the most number of food stalls in Chinatown.  But be warned, the sizzling plates from Sizzling and Hot Pot Kitchen ensures the aroma of Dixon House lingers long after you've left.
Highlights:
Ramen O-san Bar: officially opened 7 February 2015. Owner-Chef O-san has over 10 years of experience in crafting ramen, and originally comes from Kyushu. His signature ramen is the MSG-free Pork Bone Broth Tonkotsu ramen, a specialty of Kyushu.
Pondok-Selera Indonesia-Malaysia Food (below): the oldest and still one of the most popular food stalls in the centre where you can still get a choice of three dishes from the bain-marie with rice for a crazy $9.80 – rendang, fried bitter melon, ayam goreng (fried chicken). Or choose individual dishes like nasi lemak, nasi goreng and soto Jakarta (Indonesian offal soup).
Zhou Mum Cafe: the owners come from Hubei, central China. There's a choice of around 20 dishes, savoury to the left and a few sweet options on the right. It's $8 for a choice of three plus rice. Point and they'll fill up your plate. Food in this central region is not as spicy as north or north-western China and it's not as light as the food down south. The choices on offer are pretty colourful, deep and dark braised meats, brightly coloured fried vegetables and lightly fried glass noodles and tofu.
Yang Guo Fu Ma La Tang: they're lining up for this food court hot pot
Ching Yip Coffee Lounge: it's actually on the second floor of Dixon House. Go if you want to experience Hong Kong cafes of yester-year.
25-29 Dixon St, Haymarket.
12 food stalls: Red Charcoal BBQ (Northern Chinese), Soya King Kitchen (Chinese), Pondok-Selera Indonesian & Malaysia Food (also at Dixon House), At Thai Cuisine (Thai), Hong Kong Kitchen (Cantonese), Sydney Foodie Station (Chinese), Gumshara (Japanese), Hong Kong King's Chef (Cantonese), Tiger Cave, Centa Bar, Oriental Dumpling King (Chinese), Mama's Soup (Chinese).
Home of Gumshara, arguably Sydney's favourite ramen.
Once boasting the most number of stalls, a few recent vacancies (Phuong Vietnamese Pork Rolls, Froyo) means occupancy is now down to 12. On the positive side, Gumshara Ramen is probably one of the busiest of all Chinatown Food Court stalls.
Renovated recently, it's clean, modern and particularly packed on Friday nights when the markets are on.
Highlights:
Gumshara ramen: many say the best ramen in Sydney can be found at this unpretentious stall. Chef Mori Higashida serves up thick tonkotsu stock, a result of cooking in three huge pots using up to 200kg of pork bones a day. The queue is long, but the bowls are dished out super-fast.
Hong Kong Kitchen: the oldest stall and still hugely popular after 14 years. Kindly Mrs Jin Shuang Yu (above) fronts the counter while husband cooks up classics such as beef in black bean sauce in the back. You won't find the stall name at the counter, just lots and lots of picture menus – just remember, she's stall nunber 208.
Red Charcoal: lamb and cumin charcoal skewers are their specialty, but you get get more adventurous sticks like chicken gizzard, offal, even lamb testicles, which isn't on the menu and is only available on Saturdays, you have to hurry, these treats apparently sell out fast. Their clear northern Chinese soup is an exotic, hearty and head-clearing treat too (below).
Tiger Cave: replaces Singapore Shiok! serves up steak and chips along side Hai Nam chicken.
3. Sussex Centre Food Court
First floor, 401 Sussex St, Haymarket, Sydney.
11 food stalls: Yummy Thai Food (Thai), Top Choice Sizzling Hot Pot (Chinese), Ramen Ikkyu (Japanese), Happy Chef Special Noodle (Chinese), Ma's kitchen (Chinese), Fung Shing Gourmet (Chinese BBQ), Saigon Pho (Vietnamese), Ajisai Sushi Bar (Japanese), Wide Alley (Chinese soup), The Sparrow's Mill Express (Korean and KFC), Pailou bar.
The arrival of Ramen Ikkyu should have help stimulate foot traffic. Unfortunately there are at least three "for lease" signs up currently.
At the top of the Sussex Centre, this newer food court that benefits from plenty of natural light. The rivalry between the two neighbouring Chinese noodle stalls is legendary.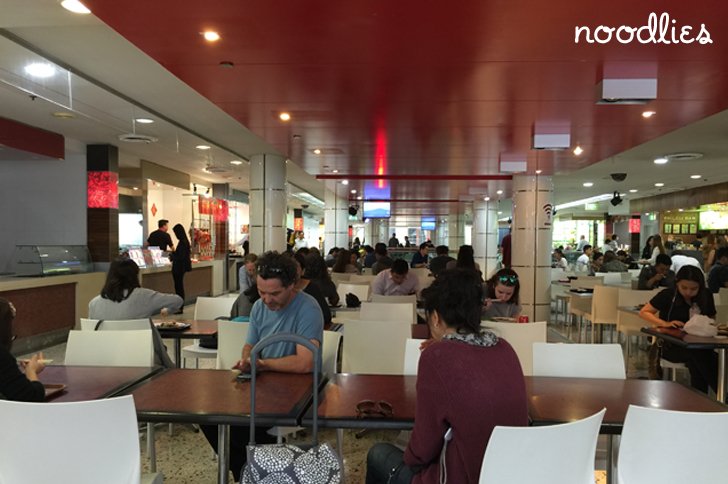 Highlights:
Ramen Ikkyu: chef Haru Inukai's ramen stall is slick and modern including self service iPad kiosks. With deliciously crunchy mushrooms and free extra noodles, Ramen Ikkyu is pulling in the crowd, regularly selling out until the arrival of yet another new ramen joint, Hakata-Maru Ramen in Market City Food Court.
Fung Shing Gourmet: the sign says it's the "best BBQ in Sydney". Noodlies doubts that, though the egg noodle and bbq duck is tasty.
The Sparrow's Mill Express: is a pretty popular and big Korean food stall. Korean favourites plus a bewildering choice of Korean Fried Chicken.
Saigon Pho: not just pho, lots of other classic Viet fast feed like bun rieu and com tam to try.
4. Market City Food Court
Level 3, Market City, 9-13 Hay St, Haymarket, Sydney.
14 food stalls: Asago (Japanese), Bo 7 Mon Thanh Tam (Vietnamese), Eastern Experience (Cantonese), R&S Flavour of North India (Indian), Hakata-Maru Ramen (Japanese), Happy Chef Seafood Noodles (Asian), 100% Juice Market City, Leonardo's Sandwiches, Market City Food Court Bar, Golden Tower (Chinese, Cambodian), Ugly BOB Stylish Korean Food (Korean), Super Chef BBQ (Cantonese), Thai Thai Thai (Thai), Top Choice Sizzling Hot Pot (Chinese).
Most cosmopolitan including Indian and modern Australian sandwich shop together with fine Asian fare, including a Vietnamese stall which serves, in noodlies' books, the best pho in the CBD – in or out of a food court. It's also the most stable of the four Chinatown food courts, it's been almost three years since noodlies updated this listing and most of the tenants are still around.
Established in 2006, it's the newest and most modern food court in Chinatown. On the third floor of the Market City Shopping Centre there's plenty of space and natural light. It's the most Aussie-fied of the food courts catering for the masses who visit factory outlets and Paddy's Market downstairs. But that doesn't mean you get second best – noodlies rates pho at Bo 7 Mon Thanh Tam as the best in the CBD.
Highlights
Hakata-Maru Ramen (above): this gorgeous looking Japanese noodle house is wowing the masses with rich and rewarding ramen – pipping hot, collagen rich bowl.
Bo 7 Mon Thanh Tam: Owner Phuoc Hoang is a veteran with a career stretching over two decades all around Sydney. Noodlies first met him at his buzzing Crown Street restaurant in Darlinghurst, followed him to Bankstown and Canley Heights. They offer three choices and rice at the bain-marie, but skip that, everything is fantastic on the a-la-carte, especially Vietnamese pancake, broken rice and bo luc lac. Noodlies rates this as the best pho in the CBD (below), gulp it down with Vietnamese drip coffee.
Golden Tower: One of the oldest stall here, it's been around since the first year. Go for Cantonese-Cambodian Chinatown food court choices of old, the soups are especially good and relatively guilt-free, egg noodle and duck soup is highly recommended.
Ugly BOB Stylish Korean Food: the newest stall in the food court.
It's your turn
These are some of my favourites, but as mentioned earlier, you really can't go wrong with any of these places. Now that you've taken a visual tour of the four food courts in Sydney's Chinatown, and read the highlights, it's time for you to go exploring.
Let me know…
Have you also noticed a change in Chinatown food courts over the years?

Do you think food here is great value?

What do you think of this list?

What are some of your favourite stalls in Sydney's Chinatown food courts?
Please leave a comment, I'd love to hear your thoughts.