A stranger in a strange land.
This new addition to the grand dame of Chinatown food courts stands out like a sore thumb.
Some are doing double takes, others ignore it completely – Ghostboy Cantina stands out amongst the Asian stalls of Dixon House food court. The other stalls' decor are typically busy with countless brightly coloured dishes plastered on every available space, lit 7-Eleven bright. By contrast, Ghostboy Cantina is intentionally carefree – black upper case with red prices. And they only serve tacos, corn and fries.
READ: Best Chinatown Food Courts in Sydney
Mild mannered and affable Toby Wilson, formerly owner of Wedge Espresso in Glebe is stark contrast to his raucous Asian neighbours. That's acknowledged in their name, Ghostboy is an intentional nod to Toby being a white boy in Chinatown.
I spotted Ghostboy three weeks ago while sampling another Dixon House newcomer, the impossibly named, Yang Guo Ma La Tang hot pot. It may be gimmicky, but the idea of Chinese hot pot fast food is proving popular (below).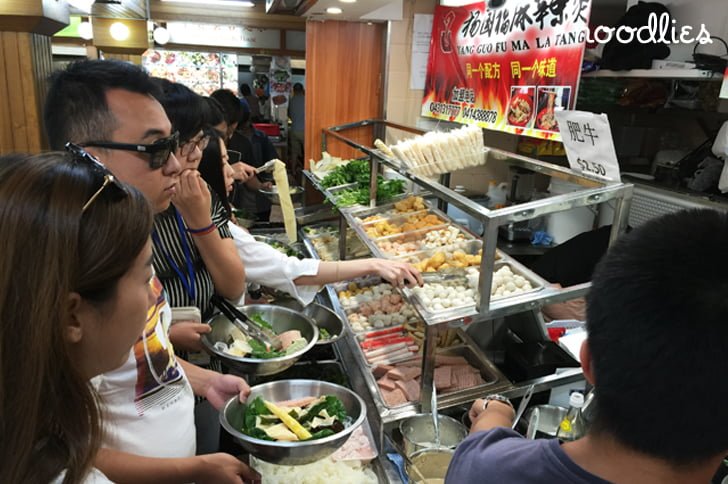 On the subject of names, the Ghostboy counter is pretty much a ghost town at the moment. This Tuesday lunch time, they served two customers, including me in the space of the 30 minutes I was parked in front of their stall. While I had beef taco and fries. The other customer ordered just one taco.
Toby's tacos aren't completely foreign to Asian sensibilities. The tortilla shell is actually twin toasted Chinese pancake, topped with shredded beef, Thai basil, bean sprouts and chilli sauce. Like everything else about Ghostboy, the flavours are a surprise, though in this case, too fleeting. I swallowed it in a couple of gulps, leaving me disappointed and wanting.
Mercifully, the thin cut fries last the distance. The Chinese takeaway box is full of these sweetly flavoured chips. Toby tells me it's flavoured with seaweed salt (presumably the green specks). The first bite is pleasant, subtle. The even handedness is brilliant because the last strings taste as good as the first handful.
I leave with a lot of good will for Ghostboy. The courageous project wins my heart. But my head, it shakes because something doesn't add up. Chinatown food courts are a cheap, cheerful and satisfying affair – where a hearty plate of rice and gooey stir fry can be had for less than at tenner. I'd need to order everything on the Ghostboy menu to leave satisfied. Sure, it's an Asian take on Mexican, but is it something a punter looking for a quick, satisfying feed will stop for?
Ghostboy Cantina is a food truck plonked in a Chinatown food court. It trades on plenty of goodwill, but I'm not sure if there's enough hipsters and contrarians in the area.
I'd love to be proven wrong.
Ghostboy Cantina
Dixon House Food Court
B08, 413–415 Sussex Street, Sydney