After 6 weeks of pork roll chomping, the search is over, click on link for Sydney's best pork roll/banh mi.
By Thang Ngo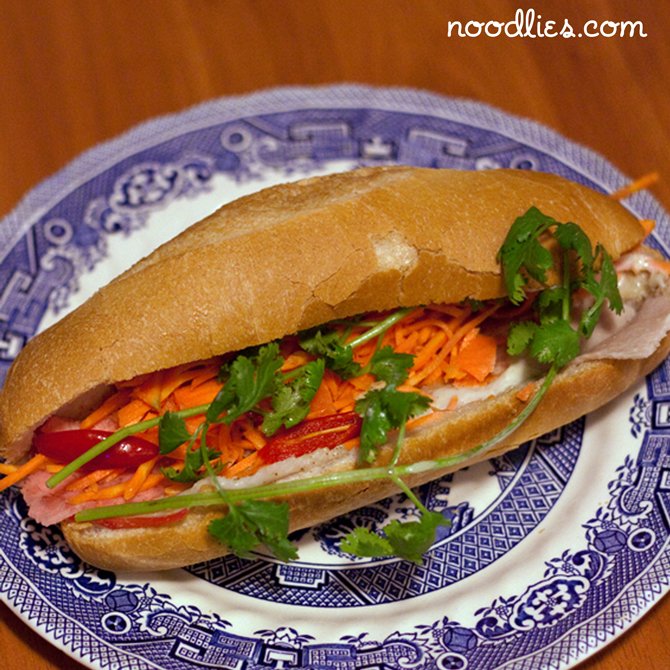 "Help find Sydney's best Viet pork roll" tweet this.
The French might have showed us how to bake bread rolls (banh mi) that are crusty golden outside and fluffy and light inside.  But the Vietnamese raised the stakes by shoving in different types of meat (thit), pate, mayo, pickles and sauces.  Thus banh mi thit, or Vietnamese pork roll was born.  As the community spread around the world, this special Vietnamese food has grown in popularity. In the north America, lovers of banh mi thit share their passion through the Battle of the Banh Mi online community.  In the UK, banh mi has been added to the Oxford Dictionary.
This quintessential Vietnamese east-meets-west food is known by many names:
banh mi thit (bread with meat) in the Vietnamese community at home and abroad
banh mi is used in the UK, banh mi was added to the Oxford English Dictionary on 24 March, 2011
Vietnamese sandwich in America
banh mi sandwich in America
pork rolls or Vietnamese pork rolls in Australia
In this post, I'll use Vietnamese pork roll as that's probably the most commonly used name in broader Australia.
It's a perfect fast food and you can have it for breakfast, lunch, dinner – even as a late night snack; there's a couple of hot bread shops in Cabramatta that are open 24 hours.
Best Vietnamese Pork Roll in Sydney – the search is on…
Noodlies, Sydney food blog grew up eating it in Vietnam and from what I can remember, Sydney does a pretty good Vietnamese pork roll.  I'm now embarking on a search  for Sydney's best Vietnamese pork roll.
I've set down five criteria:
bread: the essential foundation
meat: variety, taste, balance
vegetables: variety, freshness
added sauce and flavouring: often neglected, this actually binds everything together
value: what you get for the price
Of course, there are other versions, including chicken rolls, but for the purpose of this review, I'm going for the classic Vietnamese pork roll.
Stage 1: Nominations (now)
The shops below are on my list of potentials for review based on my experience and your nomination:
Viet Hoa, Cabramatta, $4
Kim Thanh, Cabramatta, opp station, $4
Hoan Cau, Cabramatta, John St, next to Pho Viet, near station, $3.50
Marrickville Pork Rolls (PR), Illawarra Rd, Marrickville, $4
Hong Ha, Botany Rd, Mascot, $5
Tina's, Canley Heights, $3.50
Bay Ngo, Bankstown, $3.50
Vinata's, Cabramatta, $4
Jamison's Bakery, Penrith, $3
Nam Fong, Bankstown, $3.50
King's, Hurstville $4
Minh Hung, Hughes St, Cabramatta, $3
Flourland Bakery, Liverpool, $3
KK, Cabramatta, $3.50
Of course, I'm sure there a lots, lots more places, but in the six weeks available, these 14 nominees are the places I've been able to get to.
I'll be posting videos of my reviews progressively here, so make sure you check the post regularly for updates.
This is only the beginning, it's by no means an extensive list.  I'd love your thoughts on other places I should try.  Please put their details in the comments and why you think they're good.
I'm intending to review up to 10 places and score them against the five criteria above.  I may tweet when I'll be visiting these places (follow @thangngo) and you're welcome to join me, I'd love a second, third or fourth opinion!
Stage 2: Announcement (end of April)
Of course, it's completely subjective, but noodlies, Sydney food blog will publish the scores against each criteria and announce the winner of Sydney's best pork roll on noodlies at the end of April.
How you can help noodlies find Sydney's best Vietnamese pork roll:
nominate your favourite Vietnamese pork roll shop and why – use the comment section of this post
retweet and share this post on facebook and other social media to help broaden the search (sample tweet below)
follow me @thangngo, I'll tweet review times and join me if you're free
 Sydney's best Vietnamese pork roll.. the search is now OVER

After 6 weeks of pork roll chomping, the search is over, click on link for Sydney's best pork roll/banh mi.