Yep, now that all four Chinatown food courts in Sydney have a signature ramen shop, there's no shortage of bowls to slurp. Noodlies, Sydney food blog takes a look at the latest.
Ramen in Sydney is competitive? No where is that more obvious than Sydney's bustling Chinatown food courts. Eating world has the much lauded Gumshara, Sussex Centre is home Ramen Ikkyu at Market City it's Hakata-Maru Ramen. And now, Chinatown's oldest food court gets Ramen O-san.
READ: Best Chinatown food courts in Sydney
Each of these ramen places have their own elaborate story worth the Tampopo silver screen treatment; French trained, hatted chef Haru Inukai giving up his restaurant for a food court life and of course, Mori Higashida embarking on a ramen odyssey at the the age of 47.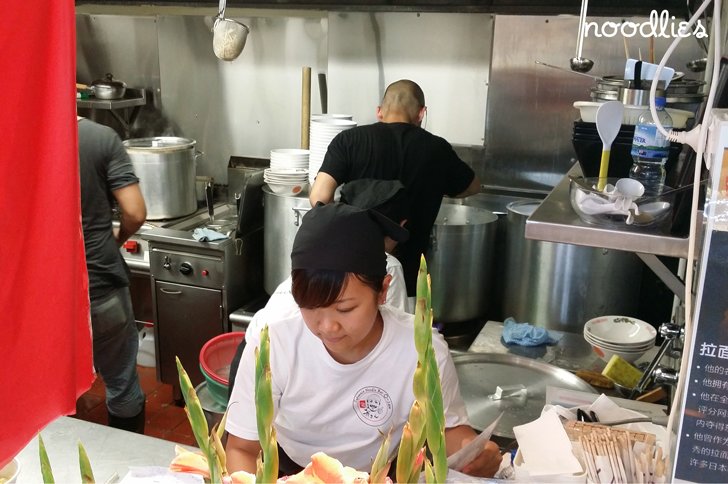 Ramen O-san is no less an epic story; spanning three countries and two continents. Owner-Chef O-san opened his first shop during 2004 in his home-town, Kyushu. But it wasn't until 2008 that his fame ignited after being awarded the coveted Top 3 Ramen from more than 500 eligible shops. That year, he opened his first Tokyo shop. His signature ramen is pork bone broth Tonkotsu ramen, a specialty of Kyushu.
In July 2014, O-san opened a ramen shop in Phnom Penh, Cambodia. It was there that Jun Toyoda, owner of Busshari and Kujin met O-san while travelling in Cambodia. One thing led to another and now they jointly own Ramen O-san.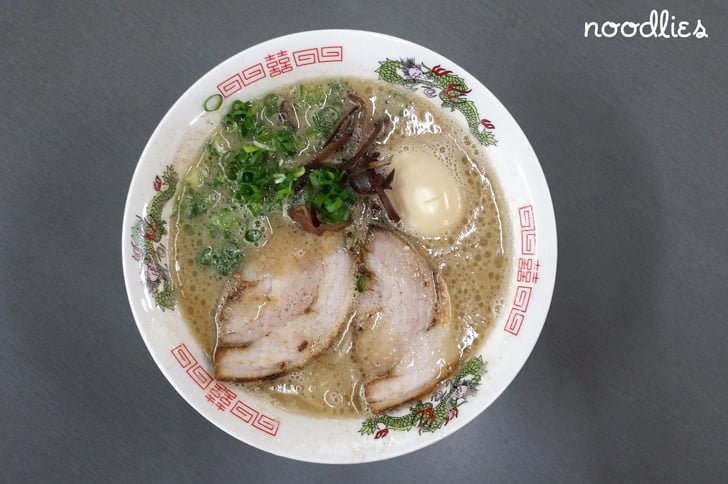 O-san's cloudy Tonkotsu broth is made with pork bone simmered for 10 hours. It's smooth and rich. Ramen lovers who appreciate a denser stock but find Gumshara too weighty will love Ramen O-san. There's a noticeable egg flavour to this broth and I'm not sure if that's more down to the optional whole egg I ordered. Speaking of the egg, it's highly recommended, outside it resembles Chinese tea egg, inside it's warm, gooey orange yolk is dangerously addictive. The golden noodles lurking underneath are still lively despite that thick broth. The pork is perfectly sliced, generous without being too heavy. And like Gumshara, there's no added MSG.
Read: A round-up of ramen in Sydney
The Sumo ramen isn't for the faint hearted. It's a big plentiful bowl with lots of plain tasting ingredients; sprouts, ramen and oodles of sliced cabbage. The pork and chicken broth is clean and clear. The only strong flavours are via the chunky pork pieces, especially their punchy caramel outer, and a mound of crushed fresh garlic (top centre). I just managed to finish the belly-busting bowl. Though, in the end, I'm left confused, feeling like a novice because my taste buds just couldn't make head of tails of this man-sized bowl with relatively bland ingredients. My belly is full, but my taste buds are wanting more; raw garlic and chunky pork just wasn't enough to balance the remaining blander ingredients.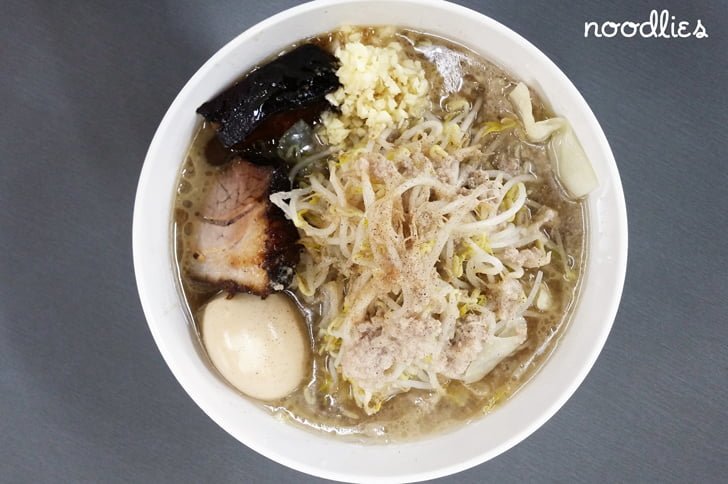 If you love Tonkotsu ramen and find Gumshara's a tad too strong, too collagen-rich, then you'll be delighted with Ramen O-san's bowl. Punchy, heady but not too over the top. Ramen O-san Bar is a welcomed addition to an admittedly crowded Sydney ramen scene.
Ramen O-san Bar
Shop B1, Dixon House Food Court
Cnr Little Hay & Dixon Sts, Haymarket.
Noodlies, Sydney food blog dined as a guest of Ramen O-san. All opinions contained in this post are noodlies' own and consistent with noodlies' published editorial guidelines as outlined in the code of ethics.