Best pho in the Sydney CBD
Noodlies, Sydney food blog's favourite pho.
By Thang Ngo
Watch out Pho Pasteur, you once had the crown of the best pho in the City. Move over and hail the new king of pho in Sydney's CBD.
While it may be in a food court, the owner has a long track record of serving up undiluted, slap-in-the-face authentic Vietnamese.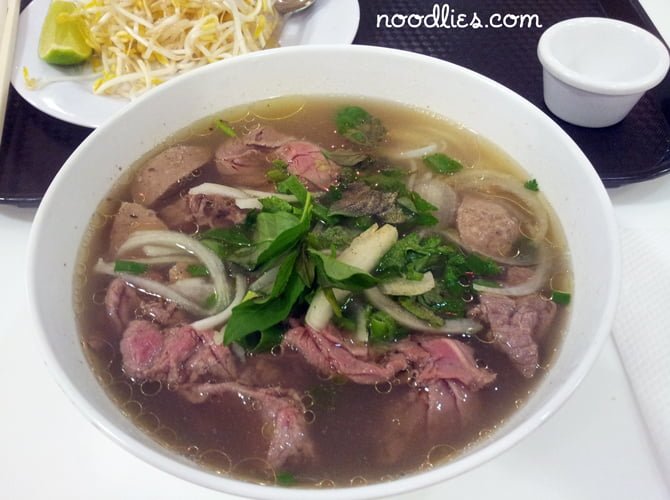 I first met Phuoc Hoang two decades ago, his restaurant, Bo 7 Mon (seven delights of beef) Thanh Tam on Crown street, Darlinghurst was one of the first  to venture outside the Viet heartland of Cabramatta, Bankstown or Marrickville.  It was riotously popular and we were regulars.
He's moved several times since then and we followed, ten years in Bankstown and five years at PLT (Phuoc Loc Tho), Canley Heights. A couple of years ago Hoang up sticks to a food court in the Hunter Connection and we lost contact.  I was working Artarmon at the time and it was impossible to get to him during office hours.
These days, my work is near Central and purely by chance, I stumbled upon Phuoc at his latest venture in the Market City food court.  He's reverted back to the original name, Bo 7 Mon Thanh Tam. Phuoc has shed a few kilos and is looking healthy and happy.
But back to the pho, a steal for $9, Phuoc is generous with the meat – even though the menu just says pho bo (beef pho), just ask for beef the way you like it, pho tai (raw), pho nam (cooked) or pho bo vien (beef balls).  But it's the broth – sweet and rich from hours of slow cooking bones, onions, spices and an generous but not heavy-handed use of fish sauce. It makes Pasteur's broth taste watered-down, lacking in depth.
Ignore the $8.90, three choices bain-marie, cast your eyes upwards to a higher plane and you'll be rewarded with humble home-style dishes like com bo luc lac (rice with marinated beef cubes), four cha gio (viet spring rolls) for a bargainous $6, banh xeo (savoury pancake) or go a little fancier with campfire prawns and beef – the meat arrives with flames still flickering around it.
Cafe fin (Vietnamese drip coffee)  is a magical experience for those who've returned from Vietnam, but it's almost impossible for find in Australia.  Restaurants don't serve cafe fin because it's fiddly to make and clean, and the dripping takes up precious time.  Ignore the hectic food court pace, put your feet up and order yourself a coffee – they make it nong (hot) or cold with ice (da) – you'll get a hit of heady, earthy caffeine which is equally balanced by an uppercut of gooey condensed milk richness.
Bo 7 Mon Thanh Tam
Level 3, Market City
9-13 Hay St, Haymarket, Sydney