Craving Pho? Noodlies, Sydney food blog takes a closer look at what makes it so addictive.
Pho is Vietnam's most popular food export. Mervivale's Dan Hong tells noodlies he reckons it's up there with the great noodles of the world.  Think ramen, spaghetti, pad Thai and laksa to name a few. While we all enjoy a steaming, fragant bowl, what makes this dish such an addiction?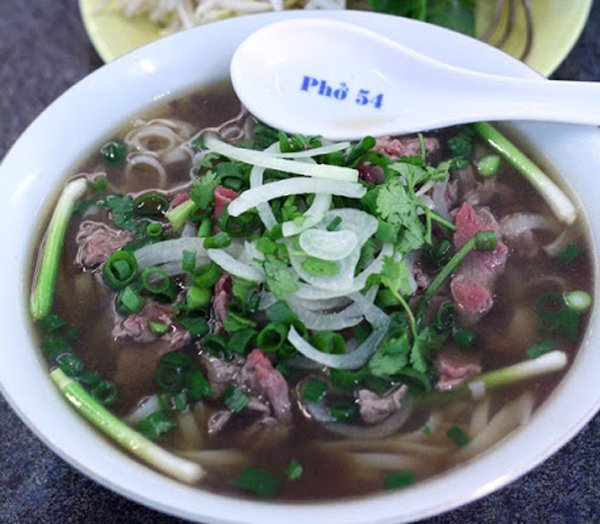 Origins of pho
Pho has a somewhat murky history, though most agree it originated in the north of Vietnam in the 1880s during the French colonisation. Some say the Chinese living in the north contributed the rice noodles, while the French introduced beef, a previously extravagant meat, to this street food bowl.  Luke Nguyen told noodlies he believes pho was inspired by the French. He reckons pho bears similarities to the French classic pot-au-feu in name and cooking method – "the essential cooking technique of both dishes is the same – to extract all the natural sweet flavours of the beef bones, meat and vegetables to get a very clean, aromatic, tasty broth" he tells noodlies.
A leading pho eatery in Sydney claims they cook their broth over-night.
When Vietnam was split into north and south in 1954, migrants from the north spread the dish down south, making it a truly national dish. Regional differences remain, pho bac (northern pho) reflects the austere conservatism of the north while pho nam (southern) is all singing and dancing, just like the brash, in-your-face, southerners.
"Northern pho tends towards subtle, light, mild, clean flavours; the south tends towards a sweeter yet sharper flavour from fresh herbs, aromatic spices with Indian, Cambodian and Thai influences," Nguyen says.
What goes into pho?
Noodlies reckons the most important ingredient of a good bowl is love – you can taste a broth that lacks tenderness.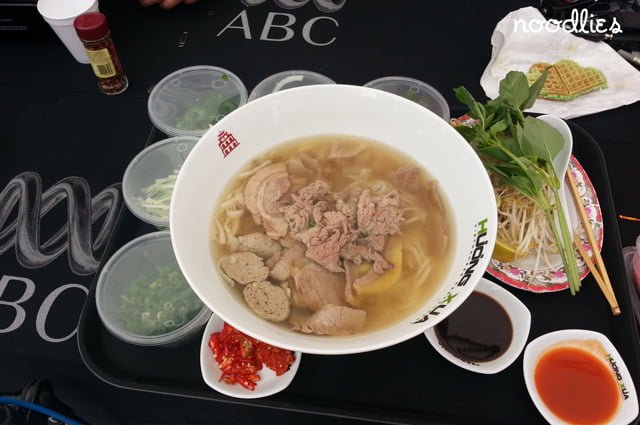 But if we have to talk tangible – basically pho is flat rice noodles, beef or chicken, fresh mint sides and broth. What makes pho addictive is that rich, complex broth. That depth is only possible by cooking meat and meaty bones for a long, long time in garlic, onion and aromatic spices including cinnamon, coriander, ginger and star anise.
With so many ingredients and regional differences, each cook has their own personal recipe. Sweet, star anise-perfumed, fish sauce-rich, ginger-spiced – each bowl is as distinct as the hands that create it. That's why it's hard to crown a 'best' pho because your favourite bowl will depend on your palate – do you like it sweet, clean or fragrant? That's why there are so many pho wildly popular eateries in Sydney, each with a fierce, loyal following.
Different types of pho
While beef and chicken are, by far, the most popular pho meat, there are other exotic regional options such as fish, and even squid – the exotic versions are impossible to find in Sydney.  Your best bet is to find Vietnamese friends who cook them at home (if you can find one that cooks fish pho, noodlies wants to know!).
There is a bewildering choice of beef pho to choose from, though the two most known are tai and nam. Here's a complete list of options, though not all eateries will have them:
tai: sliced rare beef (tenderloin, or ribeye), some restaurants such as Me Pho also offer a wagyu option
nam: flank and brisket
gau: fatty brisket
gan: tendon
sach: tripe
bo vien: meat balls
How to get the best from your pho
Vietnamese food is literally a "hands-on" experience – you're tearing, wrapping, dipping, squeezing. That allows you to tailor the bowl to your taste. Dial up your bowl with as much or as little as you like.
When the bowl arrives, noodlies suggest the first thing you do is sip the broth. That becomes the base for you to customise. Add chilli if you like it spicy, bean sprouts to cool the soup and make the bowl more filling, a squeeze of lime to lift the broth and of course, basil leaves for an extra aromatic kick. Hint: break basil leaves before dunking to help the flavour infuse more efficiently.
On the table are an array of condiments, there should be a small dish for you to pour hoisin and chilli sauce into for dipping your meat.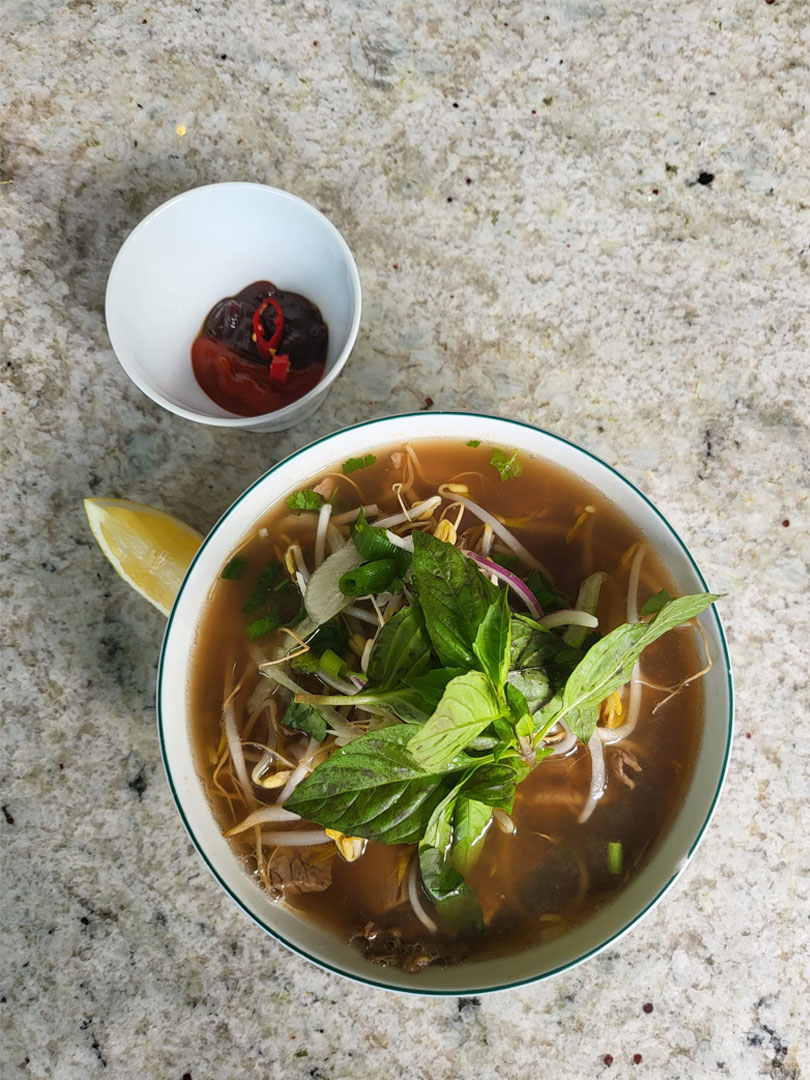 That's really all there is to it. All that's left is for you to put it into practice and eat at all the pho eateries you can get to and discover your favourite bowl.