What's that dish above? Read on to find out…
Over the years, Canley Heights has capitalised on Cabramatta's weaknesses to establish it's own foodie brand. While parking was near impossible in Cabra on weekends, in the early years, it was easy to park the Camry in Canley Heights. Cabra used to close by 6pm – when Canley Heights restaurants were just warming up.
READ: Best restaurant in the Cabramatta area
But James Tran, Huong Xua owner, reckons Canley Heights has opened up another front of rivalry. High Cabramatta rents are driving authentic ma-and-pa Vietnamese eateries away and into the arms of Canley Heights. That theory makes sense, noodlies, Sydney food blog has commented on the lack of new Vietnamese restaurants opening in Cabramatta and rise of food chains in the suburb. Canley Heights is rich with restaurants that open late, each specialising in a different cuisine, bun bo hue at Gia Hoi, pho at Pho Hien, traditional favourites at Diem Hen, home style Viet at Thanh Mai, modern Viet at Bau Truong, crispy fried chicken at Tan Viet.
TAKE the Huong Xua 2.5kg pho challenge
Huong Xua, which means fragrance of the past (Vietnam) serves up all the standards but with a northern Vietnamese influence. That means the pho is cleaner, clearer – five spice and other spices are less prominent. That doesn't mean it's any less tasty – you're meant to appreciate the subtle flavours.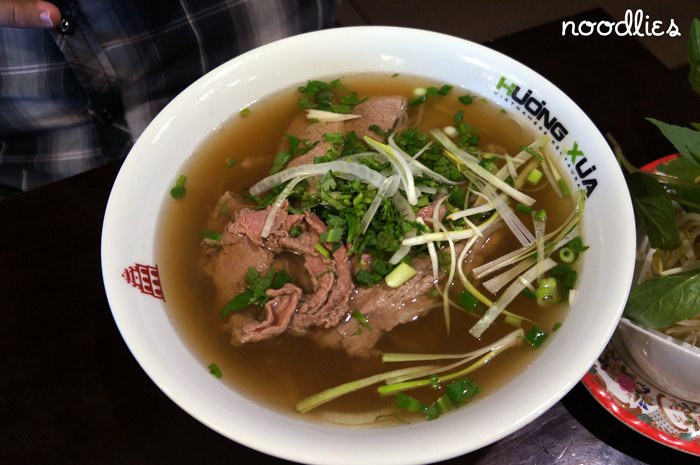 The same can be said about northern chilli sauce, the amber nuoc mam liquid has less fish sauce, is less sweet and less sour. Northern dipping sauces are often identified by chunks of pickled carrots and radish. You're meant to drown your food in their sauce, letting it seep through everything. This works perfectly with these Vietnamese spring rolls, the cha gio are wrapped in super absorbent, blistered shells, as are the thickly packed meat filling.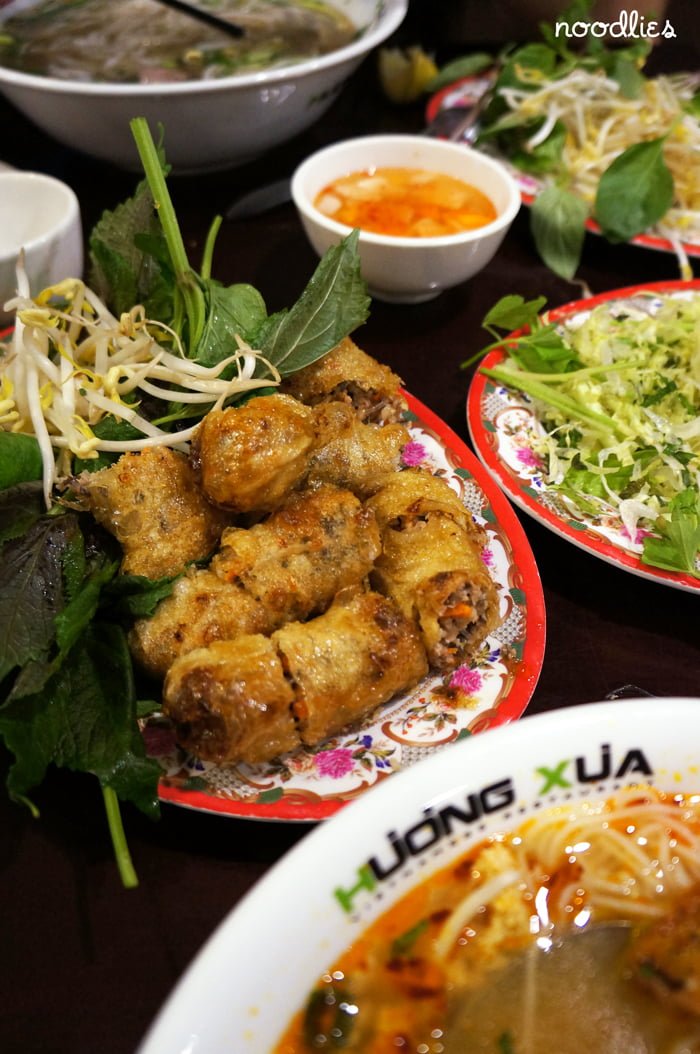 If you fancy something different, try bun oc dac biet – descriptively translated on the menu as sea snails (the dark curls bottom left of the bowl below), minced crab meat, fish cake and squid cake soup.
It looks and sounds much more fiercesome and fishy than it really is. True to the subtler approach, the red broth comes from tomato not chilli and there's plenty of subtle sour thanks to tamarind. Yes, there's a lot of seafood, but it's in a cha cake so it's not overwhelming. The noodle underneath is rice vermicelli. There's a lot going on and when you put in side greens, there's plenty of ingredients.  If you want extra pungency to make the dish walk the talk, add in the purple fermented prawn paste that comes in the white side dish (top right below). It's very similar to bun rieu – if you've ever had it.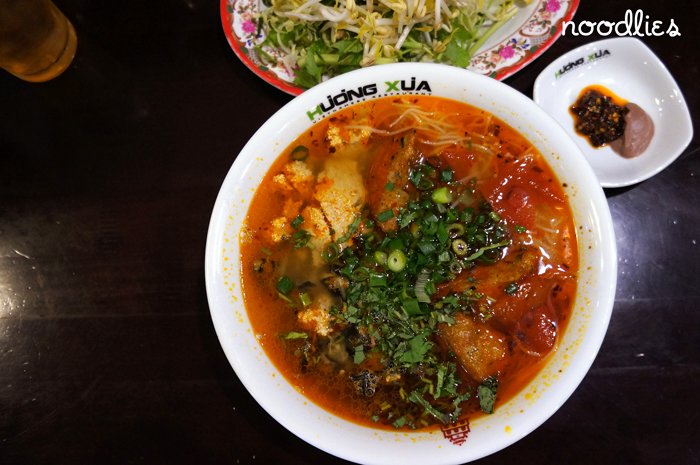 Prices in Canley Heights are on the rise, so they get a double thumbs up for low prices, most dishes are between $10-$13, the 1.5kg pho challenge will set you back just $17 and the delicious spring rolls above can be had for $5 with a full priced dish.
If you feel like trying Vietnamese food, there's something for everyone in Canley Heights. If you like it with a northern twist, come in and say 'hi' to James. He's there most days.
Huong Xua
4/219 Canley Vale Rd, Canley Heights
(02) 8764 4117