Little gem is now exposed
Noodlies, Sydney food blog loves this place. If only fewer people know about it. Damn it!
When Good Food in the Sydney Morning Herald asked me to write a wee story on Sydney's best pho, I had to add Phoodle Cafe to the list (they've re-branded from Cafe Buon Cibo).
There were many raised eyebrows when this little eatery on the ground floor of a nondescript office block made the list. And on the Tuesday the story broke, their pho sold out within a few hours. The owners told me they had no idea what hit them. The crowds have continued which is testament of the quality of the noodles here.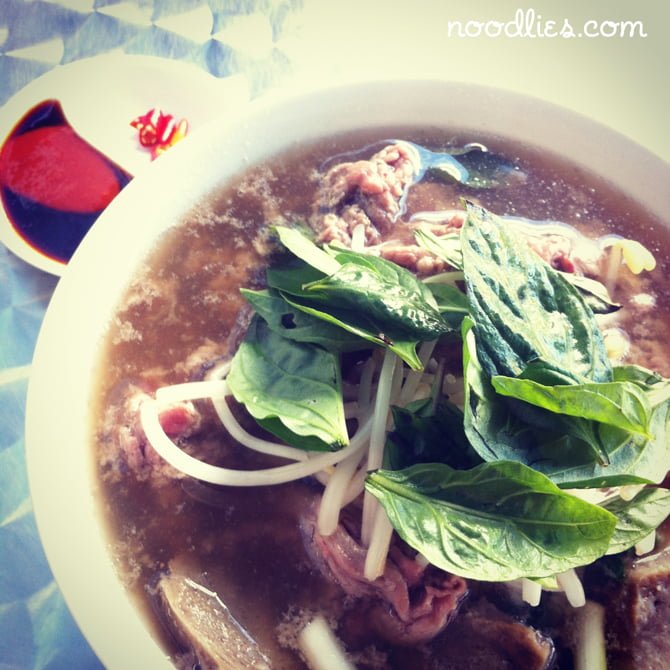 I confess, I was on the look out for a place to represent Sydney's north, but this place deserves its place on the the list for so many reasons. Kim and her family cook the broth each night and drive the 40km+ distance from Cabramatta to St Leonards each day (there's just not enough kitchen space at the cafe).
When the bowl lands, the broth is piping hot (no mean feat considering the kitchen facilities), fragrant and sweet, not too fish sauce heavy. They're generous with beef balls and thinly sliced raw beef (tai) which cooks quickly when dunked. No compromises here – you get basil, bean sprouts and a decent selection of sauces including hoi sin, chilli, fish sauce and more.
But there's yet another little secret to this place, a gloriously delicious one.
Phoodle's vegetarian egg noodle soup is one of the tastiest I've had. The broth intensity is 11/10 – moreish, on the sweet side but not overwhelming. Bok choy is just cooked and retains taste and texture. I thought that I wouldn't like broccoli – you wouldn't get it in Vietnam, but it works here.
This is one of the best vegetarian soups in Sydney.
Walk into Phoodle and you'll be greeted with a sandwich bar, coffee and even a pork roll counter, my advice is ignore them all – ask for pho or vegetarian noodles.
Phoodle Cafe
33 Hebert St, St Leonards, NSW
(02) 9966 4354