Ethiopian Food in South Western Sydney.
Come in, sit down, take in the wonderful decor and soak in the warm hospitality. This afternoon, noodlies, Sydney food blog does exactly that.
If you need respite from the oozy wagyu cheese burgers, fashionable ramens and other 'hot' food trends engrossing Sydney's inner city foodie elites, then postcode 2160 is worth a look. If you're a media columnist championing the cause of asylum seekers and the down-trodden, then you need to visit Merrylands. It's no longer good enough for these types to cry "Merrylands (where?)".
The reason you don't see many Ethiopian restaurants around town, is frankly, because there aren't that many Ethiopians around. According to the last Census, there are almost 8.500 Ethiopian-born people in Australia. Half of them live in Victoria, the next largest state is Western Australia, closely followed by NSW; home to around 1,000 people.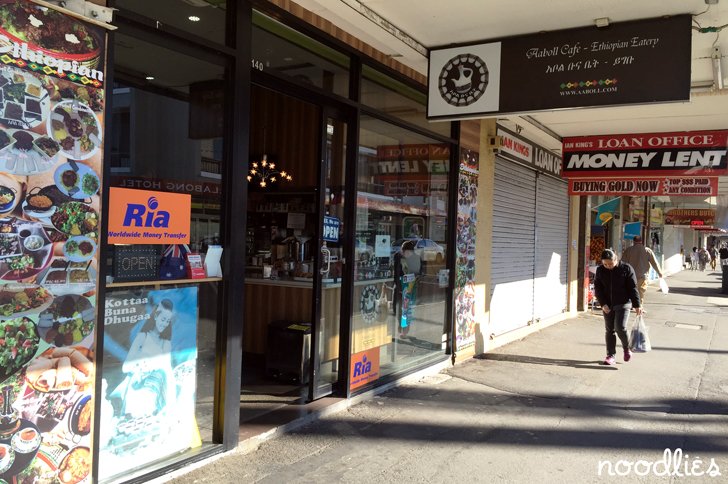 The outside of Aaboll Cafe – Ethiopian Eatery is pretty understated; blink and you'd miss it thanks to the dark external colours. If it does catch your eye, the place looks like any other suburban coffee shop; sure pictures of Ethiopian food take up two columns on both sides of the eatery, but the colours blend into the rest of busy Merrylands road.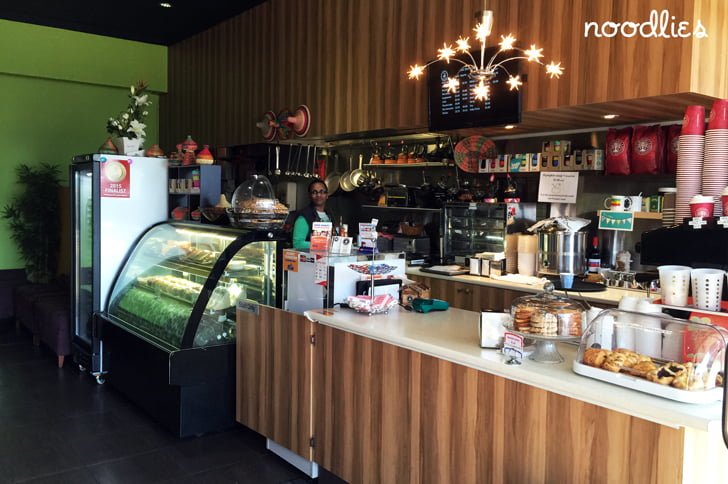 Step inside and the coffee machine, pastries, cluster of tiny tables and wood paneled interior still scream stock-standard cafe. But go through the narrow entrance at the back of the cafe and you'll get a delectable surprise…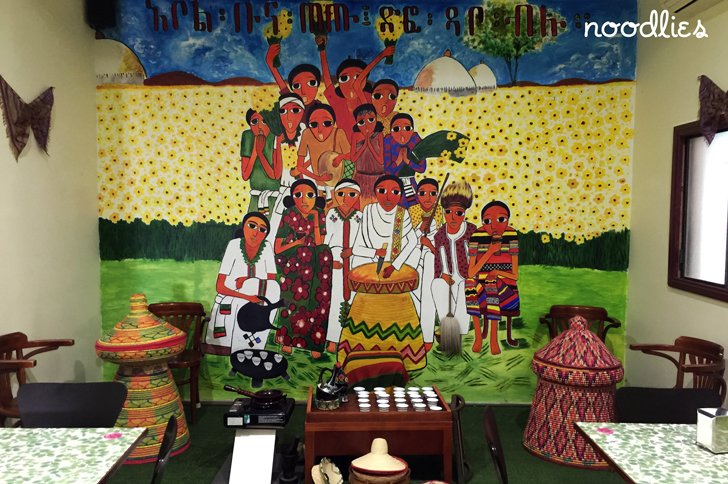 A brilliant feature wall at the back dominates the restaurant area, a longish room with around a dozen square melamine tables adorned with striking green leaves and the occasional red rose.
But if you think Aaboll Cafe is hard to navigate, rest assured, nothing is further from the truth. The staff are as friendly as can be. Sensing a couple of newbies, the lady behind the counter escorts us to a table (and turns a few more lights on).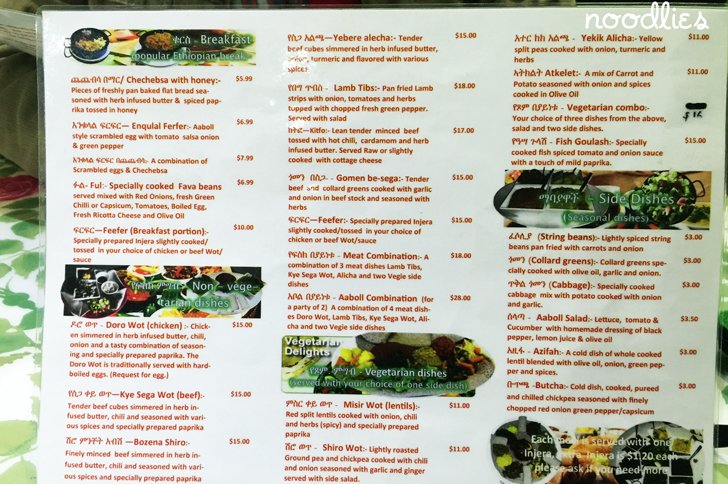 The menu might look daunting at first. That's more down to the crimson font and collage of food images competing for attention. Get past that and it's all relatively straight-forward, the menu is divided into four sections, breakfast, meat, vego and side dishes. Having said that the descriptions themselves aren't too illuminating for novices like us.
Kye Sega Wot is described as "tender beef cubes simmered in herb infused butter, chilli and seasoned with various spices and specially prepared paprika".  I mean it sounds promising, but not knowing what the "various spices" might be, it's hard to imagine.
Sensing our hesitation, our lady returns…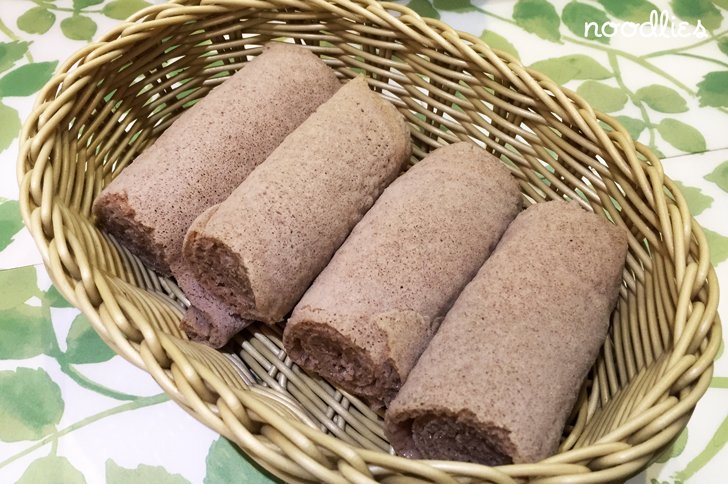 The first thing she recommends is a serve of injera, a flatbread staple food in Ethiopia that's eaten at almost every meal. Made with teff flour, injera has a mild sour taste and distinctively spongy texture, ideal for mopping up curries, stews, and other wet dishes. Traditionally they are large and round, at Aaboll a serving of injera comes as four dainty, pretty brown scrolls.
In Ethiopia, food is served in one large common plate. Cutlery and plates are kept to a minimum. You grab the food with your hand and place on top of your bread. Tear, mop, dip your injera as you please using your hands. In Merrylands, we benefit from the mod-cons of banana leaf patterned plates and cutlery.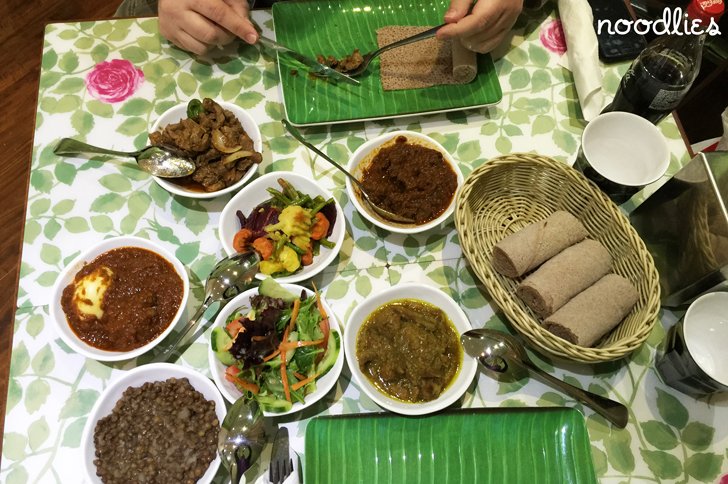 In addition to the Misir Wot (lentils), she steers us towards the outrageously affordable Aaboll Combination ($28) which serves two and includes four meat dishes and two side dishes:
Doro Wot: chicken simmered in herb infused butter, chilli, onion and a tasty combination of seasoning and specially prepared paprika, with hard boiled egg
Lamb Tibs: pan fried lamb strips with onion, tomatoes and herbs topped with chopped fresh green pepper
Kye Sega Wot: tender beef cubes simmered in herb infused butter, chilli and seasoned with various spices and specially prepared paprika
Yebere Alecha: tender beef cubes simmered in herb infused butter, onion, tumeric and flavoured with various spices
String Beans: lightly spiced string beans pan fried with carrots and onion
Aaboll Salad: lettuce, tomato and cucumber with homemade dressing of black pepper, lemon juice and olive oil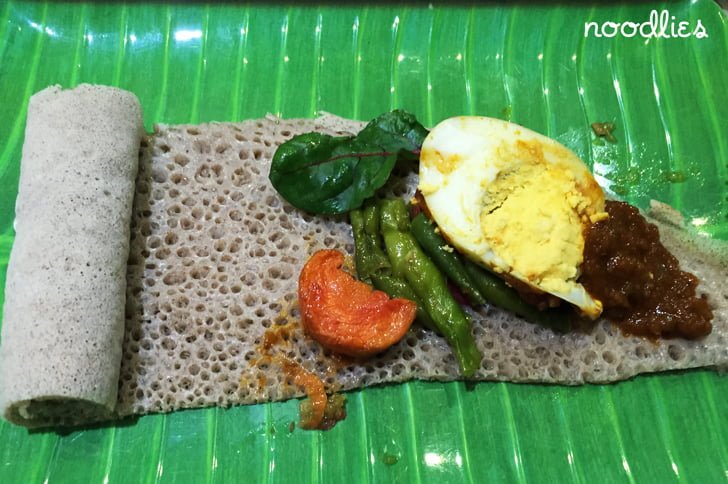 The colourful bowls make for an instant appetite kick-starter. Our meat dishes sit in rich, thick curry or stewy sauces that, despite the description, aren't overly chilli spiced or infused with strong spices. Newbies will be fine, this is flavoursome food that's highly accessible.
The injera spongy consistency might feel a little odd at first, but takes no time to get used to, though the sponginess is a plus to mop an endless variety of lively sauces.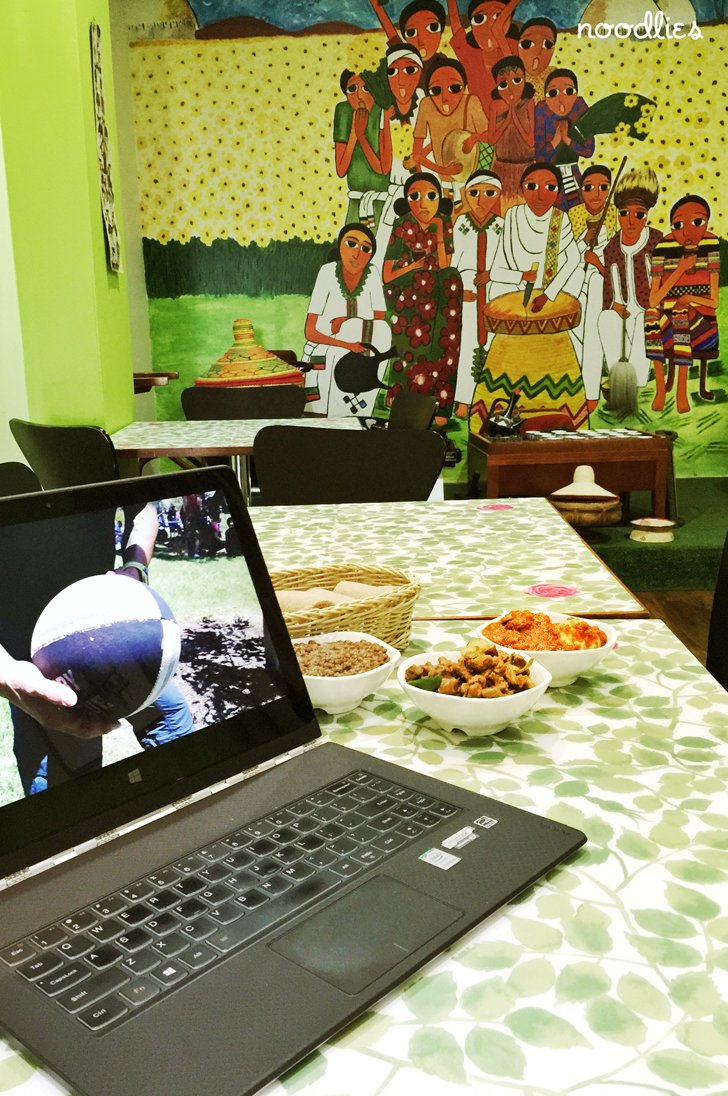 Aaboll has been around a year and a half. It's an interesting and accessible experience that works best in groups, the more in your posse, the more dishes you'll be able to taste. After all, Ethiopian food is made to be shared. First timers shouldn't be intimidated, service is helpful and warm but not intrusive.
Let's keep this little gem going, shall we?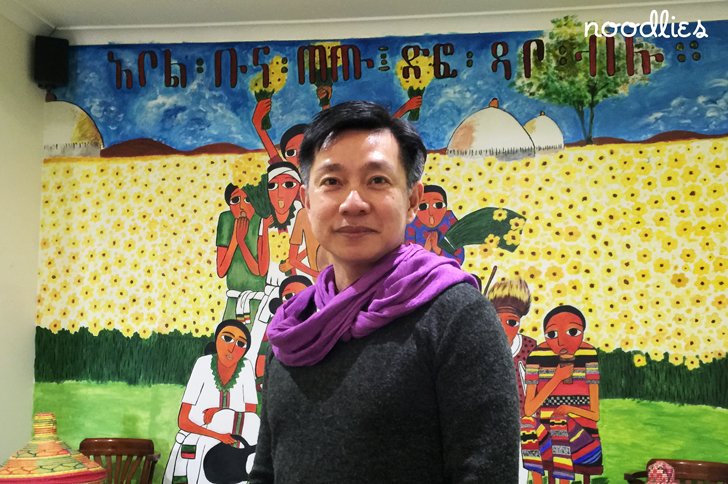 Aaboll Cafe – Ethiopian Eatery
140 Merrylands Rd, Merrylands
(02) 8840 9076