Eat a 2.5kg bowl of pho in 11 minutes and it's free
Do you love pho? That aromatic, profound broth, the tender sliced beef, fresh basil and slippery strands of rice noodles. But really, how much do you really love pho?
Can you take the ultimate Huong Xua Pho Challenge? Take half a kilo of bright, white rice noodles, half a kilo of meat and one and a half a kilo of rich soup broth and sides, presented in a gigantic pho bowl. Eat all 2.5kg – broth and all in 11 loooong minutes and it's free, plus you get to take home that XXX man-sized bowl (otherwise it's a bargainous $17).
READ: Sydney's best pho by area
How would you tackle it? Drink plenty of water to help it go down, or would that only fill you up? Drink the soup first, or eat the noodles and meat then wash it down with broth? Start fast or ease into it? Is there a strategy?
Update: read right to the end to find out the latest record holder for downing the fastest bowl!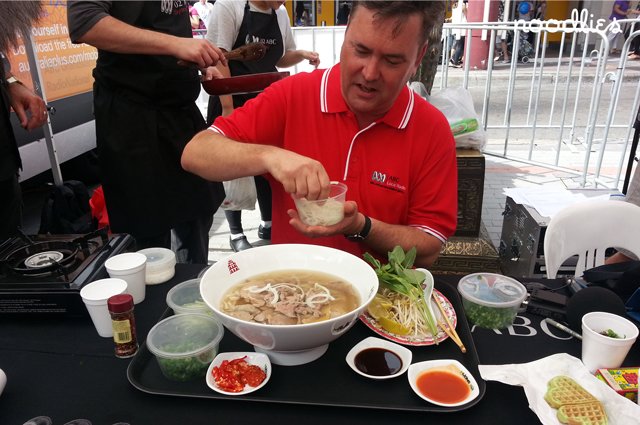 There have been many, many takers like ABC radio personality, Simon Marnie who took up the challenge at the conclusion of their Cabramatta Lunar New Year outside broadcast recently. Check out his valiant effort in the noodlies, Sydney food blog featured video above. Commendable, very commendable, Simon, but in this instance, no dice.
READ: Best restaurant in Cabramatta area
According to Huong Xua owner, James Tran, many have tried but only a handful have succeeded. Think about it, 2.5kg of fragrant, spiced food in 11 minutes – that's 385 grams down the chute each minute!
But there have been notable successes. Johnny O' Li (below) boasted on Instagram "Smashed the #huongxua #pho challenge! 500g pho 500g meat. Time to beat 11 mins. I finished it in 6:05 minutes!!!". Yep folks a little over six minutes or around 250gm eaten each minute.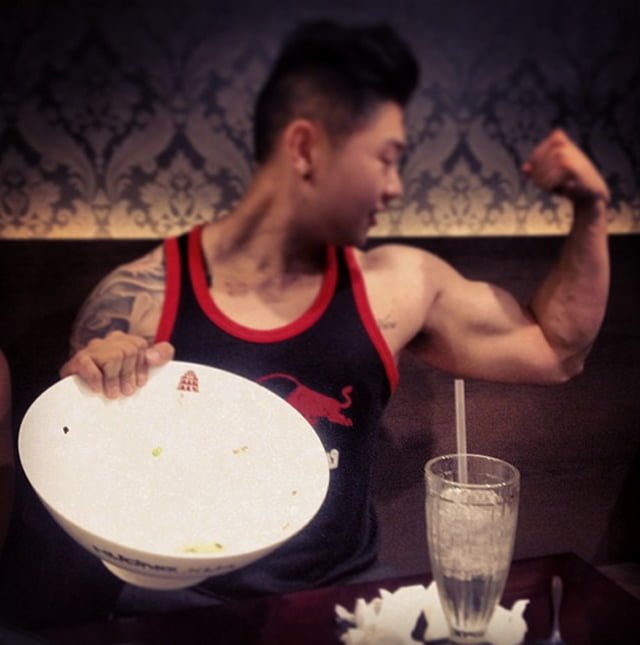 But wait, as of 17 July there is a new record holder, Long (below) in a staggeringly fast 5 mins and 24 seconds! Photo from Huong Xua facebook page.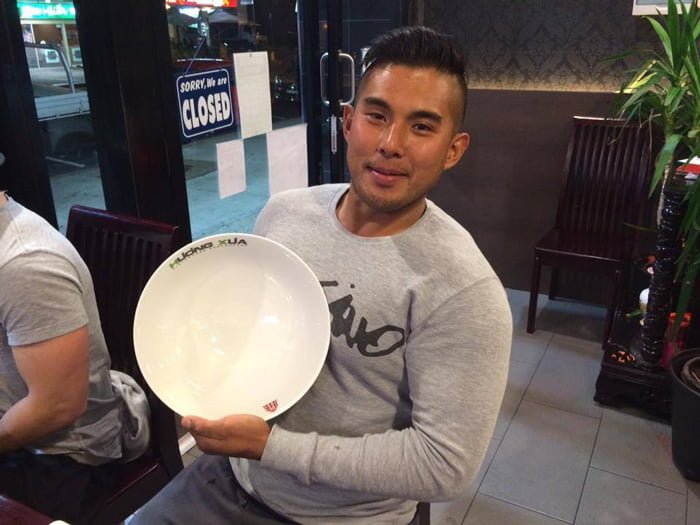 Are you ready to take the Huong Xua Pho Challenge? They're waiting…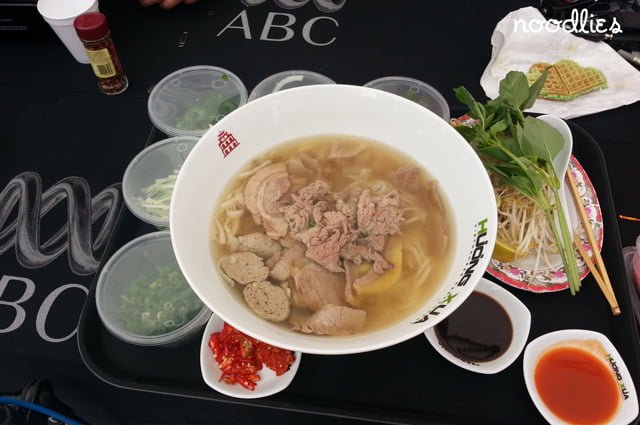 Huong Xua
219 Canley Vale Rd, Canley Heights
(02) 8764 4117