Where do the rich Chinese eat?
Noodlies, Sydney food blog gets a glimpse inside the fascinating world of the Chinese business elites.
Plenty of tourists have snapped themselves in front of Master Ken's Seafood Restaurant. Live lobster, fish and seasonal seafood swimming in four aquariums built into black marble walls make for an interesting photo opportunity. As does the imposing double wooden door.
Except at this seafood restaurant, you'll never see the doors open.
According to the restaurant, Master Ken's food has been savoured and praised by former Australian Prime Ministers Tony Abbot and Mandarin speaker, Kevin Rudd, as well the Chinese Consul General of Sydney and senior politicians and business elites from China.
Entry is permitted with prior reservation, generally at least 24 hours prior. There is no menu as such. If you have to ask how much – you shouldn't be here. You need to know the number to book… read on for booking details.
If you have to ask how much – you shouldn't be here.
2013 marks the arrival of the lavish Chinese restaurant phenomenon; showcasing the meteoric economic rise of the Chinese. First there was Waitan, reportedly $10m to refurbish, closely followed by China Republic, a $7m affair (China Republic is official closed for renovations, however rumour has it, that the doors will be closed for good).
While punters like us can walk in and enjoy Peking Duck at jaw dropping prices, these flashy restaurants, and their secret private rooms also cater for another clientele; the BMW driving, LV wearing and first class flying uber-affluent Chinese.
Access is via membership which could cost as much as $50,000pa. Guests of The Emperor's Room, China Republic's most opulent private room dine on a raised podium with throne-like white chairs.
Master Ken's Seafood Restaurant cuts to the chase. The doors aren't open to the public. Enter and there's a small reception area with a bar and cabinets displaying premium wine and spirits; Moutai, Wuliangye and Penfolds Grange, as well as an incredible choice of abalone and sea cucumber.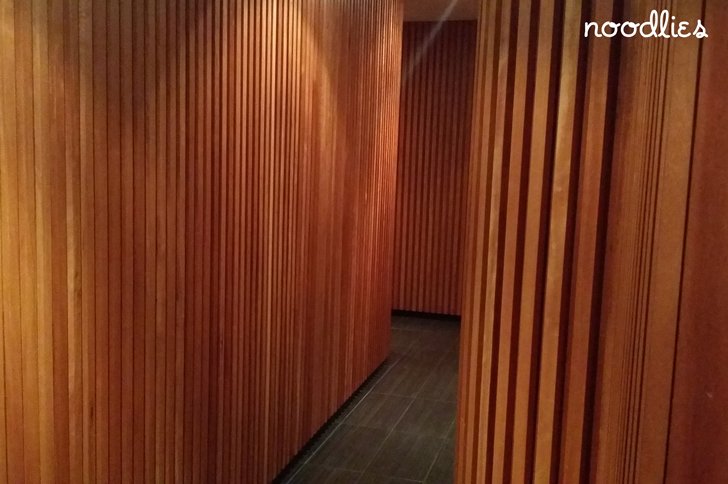 Beyond is a wooden corridor that seems to lead no where. That's because behind these walls are private rooms marked with a discreet room number. The rooms capacity vary – however the modular design means some rooms can be joined to accommodate up to 50 guests.
A lot of business are done in these private rooms, and not surprisingly they're efficiently sound-proofed. It's not uncommon for guests to spend up to $30,000 in entertainment in a week, negotiating a deal or two.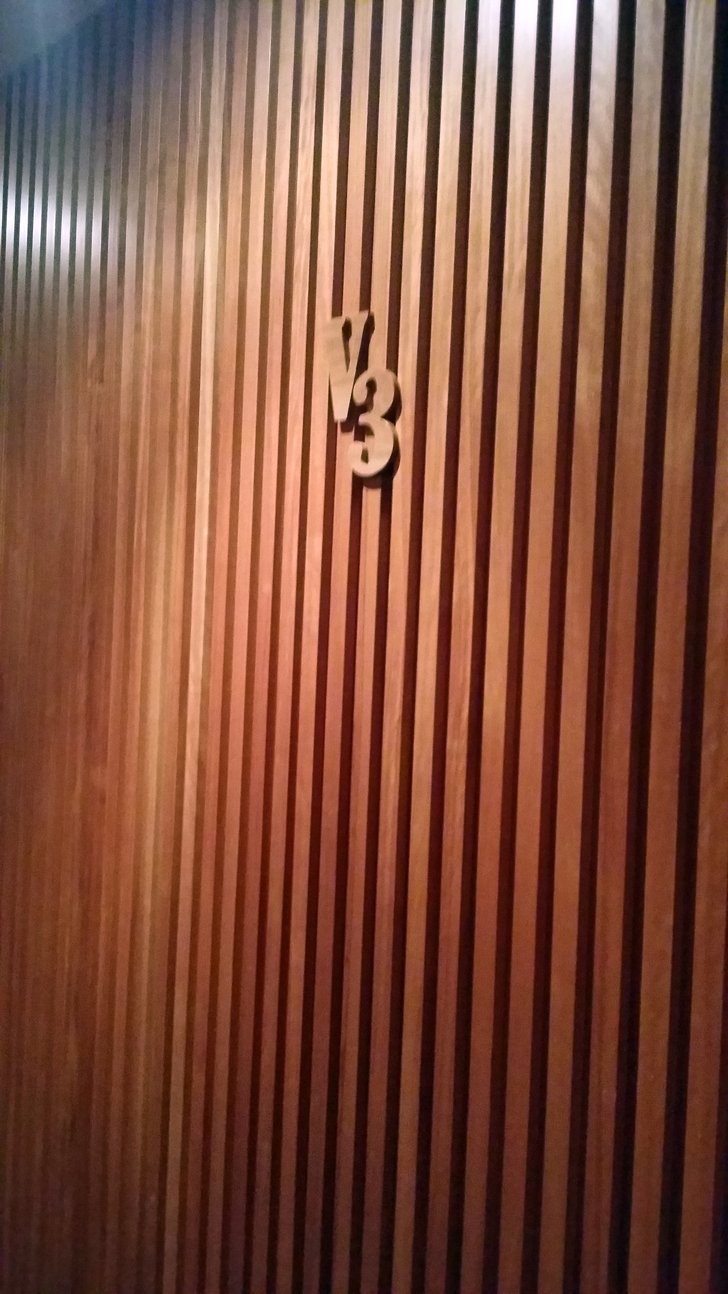 Today, we're in a the first room, which offers a voyeuristic view of the entrance via an oval fish tank.
And the food? Well of course it's premium and pricey Chinese Seafood. Chef Cheng hails from Teo Chew, eastern Guangdong and serves up Cantonese that is breathtaking in taste as well as presentation.
Live lobster in garlic is probably the most visually arresting plate. Fresh and firm, the flesh is delivered in a red lotus bowl.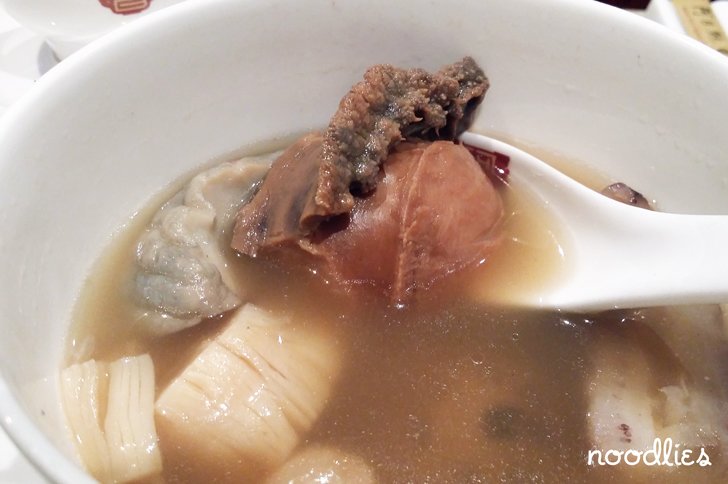 Every punter is likely to order abalone. Tonight it's in a clear soup; cooked for 4 hours in with scallop, fish maw and ginger. In true Cantonese style, the dish appears simple, but it's an elegantly complex experience with a lingering umami taste. The hydrated abalone is plump and meaty.
The lightly steamed conch is thinly sliced and resembles a generous pile of thick rice noodles. The white conch flesh is lively to the point of being crunchy. Again, it seems like a plain dish with just snow peas and spring onion for contrast, but that's the intrigue of Cantonese cuisine. There's no need to clobber your featured ingredient with over the top spices. The natural flavour in this case can be equally addictive compared to any sharp spice.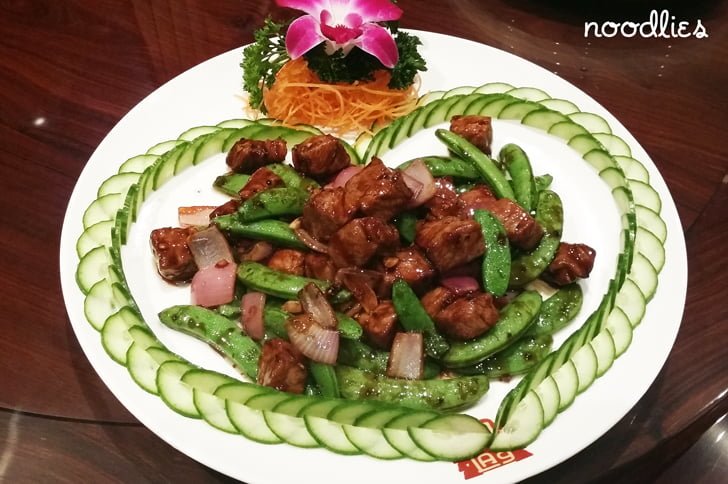 For the meat lovers, premium beef, cubed and wok fried with snow peas. The beef retains the wok breath and glossy glow that's makes the eye and mouth water. Some tricky cucumber knife work is commendable but might be too reminiscent of a engagement or wedding garnish.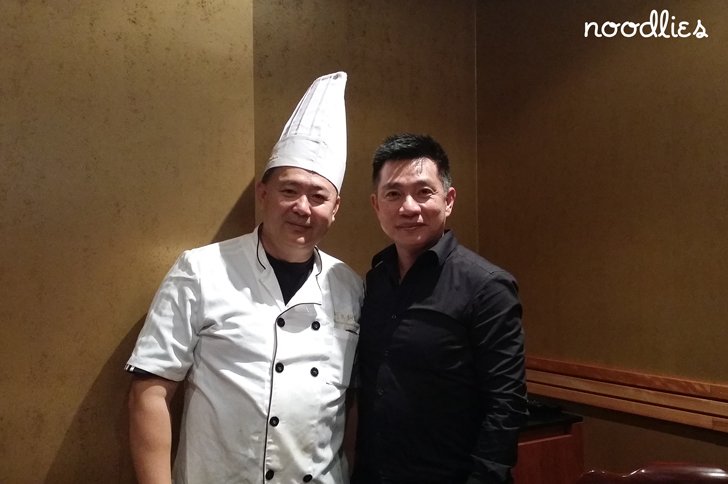 It's an extravagant and utterly fascinating experience on so many levels and noodlies was so chuffed to be able to meet Chef Cheng and thank him for the brilliant Cantonese fare. And of course, noodlies has to thank our hosts, who shall remain anonymous for this unique experience.
I thought I'd seen it all. Well tonight has been a new and wonderful experience.
Oh, so you want to book? See the details below – it's best experienced in a group.
And remember, if you have to ask for prices, you probably can't afford it.
Master Ken's Seafood Restaurant
Shop2, 63-69 Dixon St (in the mall, Market City end)
Haymarket, Sydney.
(02) 9280 3378