Successful Vietnamese restaurant, Huong Xua is expanding. Noodlies, Sydney food blog checks out their latest mouth-watering, south western Sydney venture.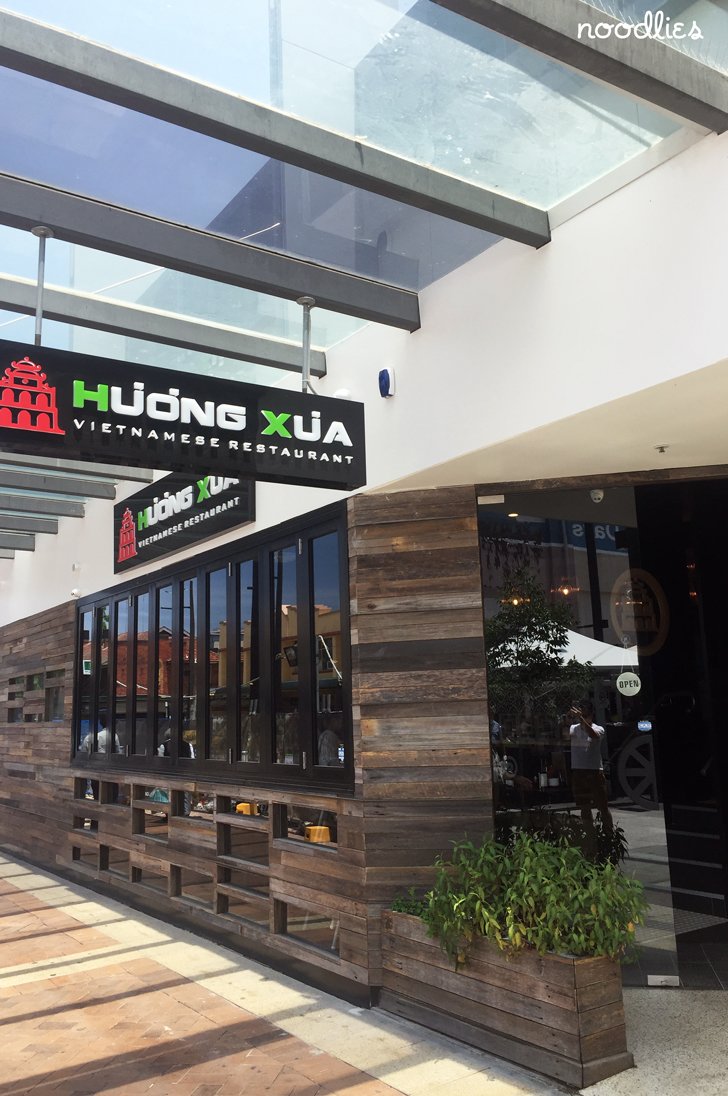 Huong Xua Canley Heights and Cabramatta, home of the 2.5kg pho challenge, have been a roaring success, thanks to the endless energy of James Tran and his family. See ABC Radio personality, Simon Marnie attempting the pho challenge below – it's a lot of fun and a total belly-busting experience.
Their newest branch, right on the mall, is all about introducing eager shoppers of Liverpool and surrounds to Vietnamese food with a unique northern flavour.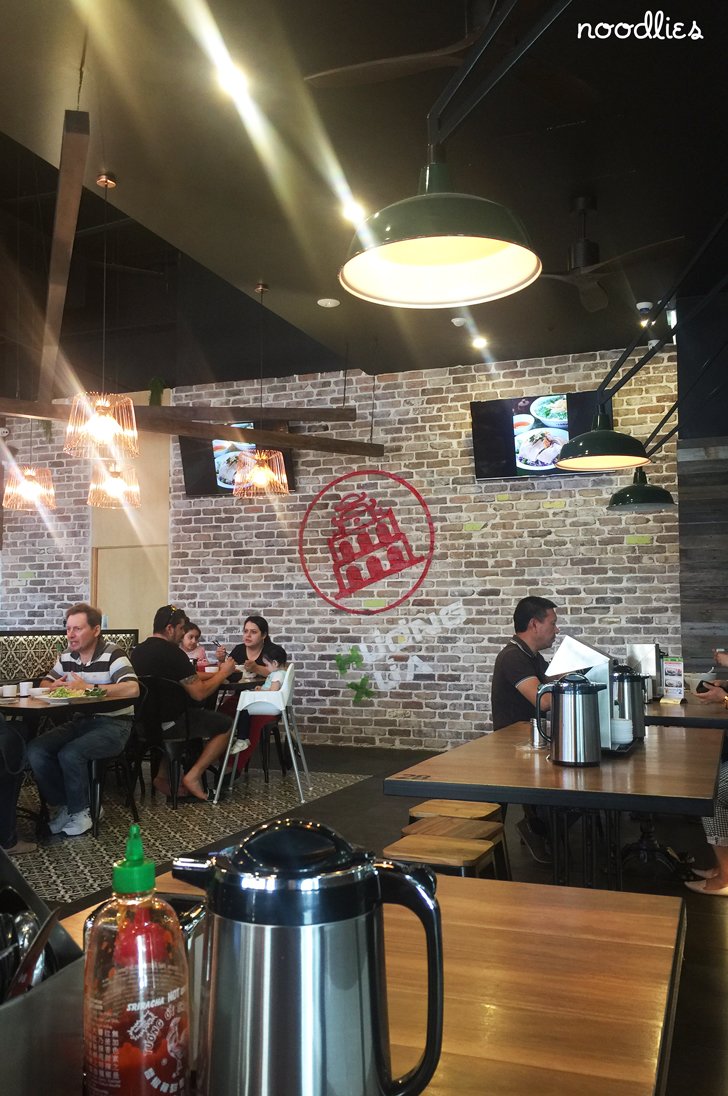 Inside, it's schmick. More the Grounds of Alexandra than suburban Saigon; exposed brick feature wall, open kitchen, trendy lights sparkle from high ceilings. They haven't crammed tables together the typical claustrophobic Viet eatery way. It's a pleasant surprise which makes the whole place feel instantly comfortable and relaxing – in stark contrast to the cray-cray of the mall just outside.
The friendly staff are pretty fast and efficient too which helps to calm the usually elevated stress levels associated with popular Vietnamese eateries.
At first glance the menu is familiar, pho, rice and pork chops – all the fast and satisfying fixes you'd expect from a Viet eatery. Look closer and you'll see the dishes are closer to what you'd find in humble eateries on the streets of Vietnam.
Hu tieu ga is a case in point. At first glance it looks like any other, attractive, Viet noodle bowl.  Punters can choose from a range of noodles; pho, egg or, in my case glass noodles.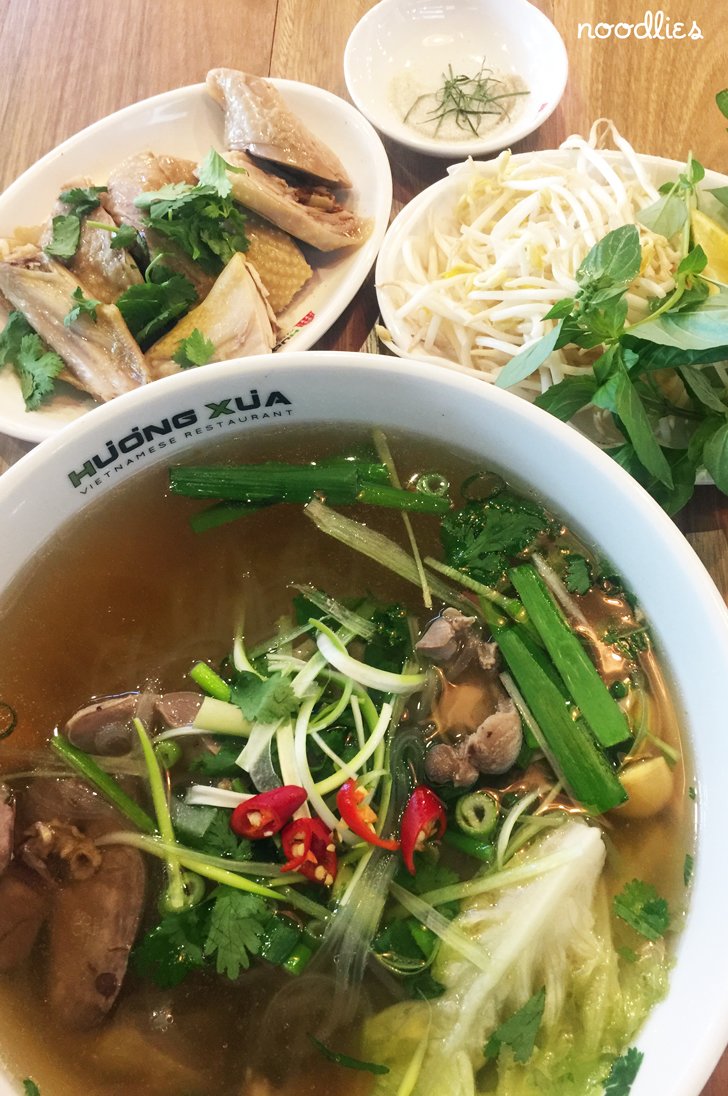 Glass noodles might sound, um, uncomfortable at first. While pho noodles are made from rice flour, these lively, transparent strands are made from tapioca or mung bean. Crunchy and firm, it's an energetic experience, thought the smaller form factor leaves more room for you taste the soup and other ingredients in the bowl. If you haven't tried them before, glass noodles are different enough to warrant a test drive.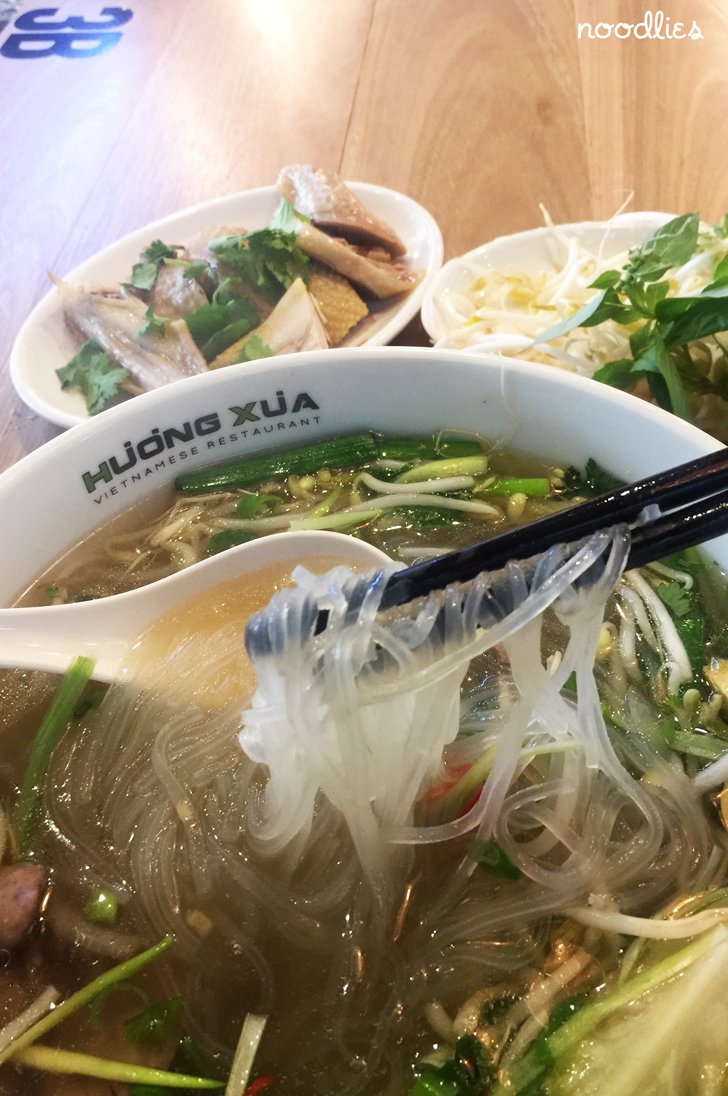 The side chicken is different too; boney pieces with skin might give the impression the restaurant is giving you a cheap cut. Not so. Vietnamese eat every part of the chicken, and for some, the boney parts are the best bits (some like eating burnt rice too, but that's another story). You really should try it, gnawing chicken off the bone – the closer to the bone, the tastier it seems to taste.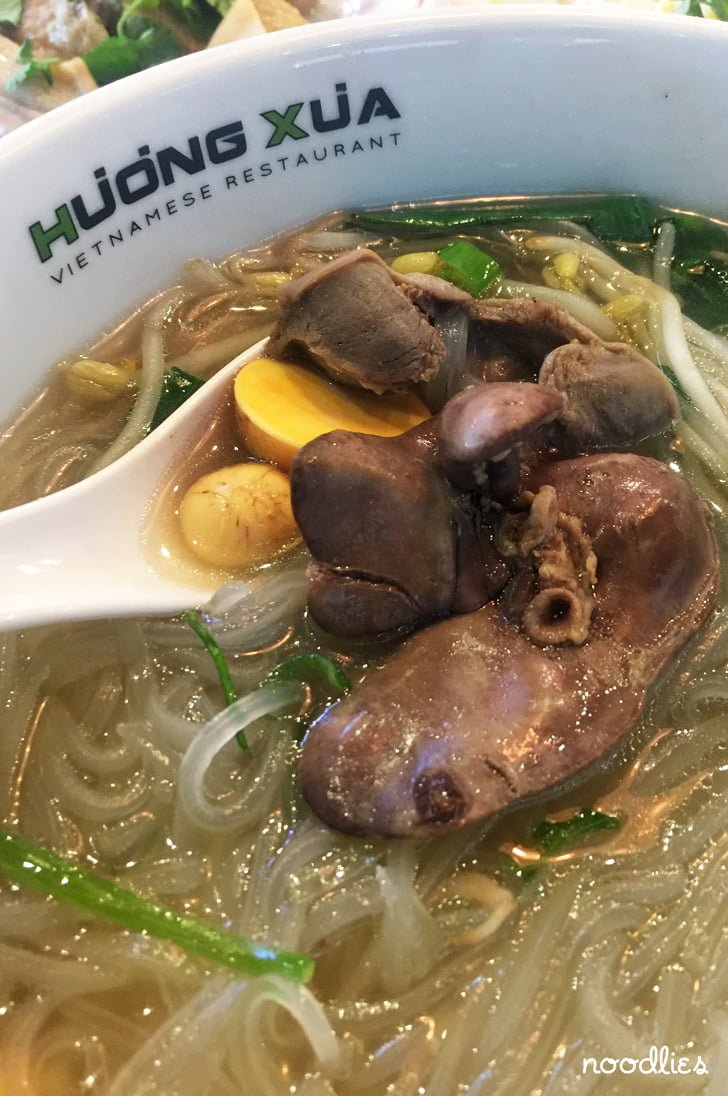 The nose-to-tail is a fancy fad in the West. In Vietnam, it's standard fare. This bowl includes liver, heart and chicken egg yoke. These yolks are found inside the chicken after slaughter, which explains their quail-like size. Of course, you can order a bowl with just chicken flesh, but go the chicken offal option for a much richer, and I'd argue rewarding, experience. The salt and pepper dipping plate comes with finely shredded lime leaf – a perfect zesty accompanyment.
That pretty much sums up Huong Xua. On the surface, it looks like another Viet eatery. Scrutinise the menu and you'll get an authentic payoff. Congee with shredded chicken salad is another noodlies, Sydney food blog recommendation – home-style Vietnamese you might not find elsewhere in Sydney.
The real deal Vietnamese street food in a polished and comfortable environment. What's not to like?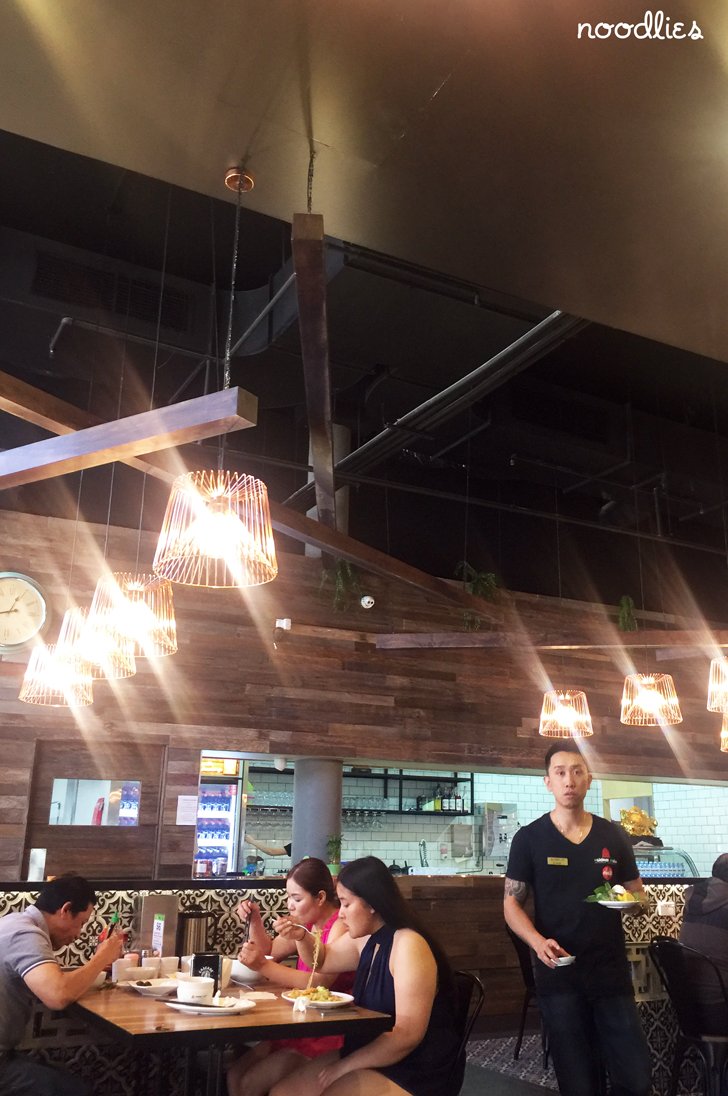 Huong Xua, Liverpool
Shop 1, 165-191 Macquarie St, Liverpool, NSW.
(02) 8798 9295
Lunch and dinner