Forget the sneering condescension and fancy overheads, noodlies, Sydney food blog heads to Sydney's Chinatown to discover surprising eats.
Sydneysiders are spoilt for choice when it comes to cheap-and-cheerful and no where is it more evident than at one of four food courts in Sydney's Chinatown. My mind turned to this recently while prepping for a regular stint on radio 2SER's Weekly Feed with Dr Nic (Nic Healey).
With four food courts and over 50 stalls serving up a kaleidoscope of vibrant food, choosing can be daunting.
READ: A complete list of all Chinatown food court stalls.
So here's noodlies, Sydney food blog's look at three surprising eats at Sydney's Chinatown food courts.
1. BEST VALUE
It's a big, big call. We're in the capital of dining on a dime after all. But my pick goes to Zhou Mum Cafe. In ultra competitive Dixon House food court, you have to be good to survive. Zhou Mum Cafe has been around for a couple of years now and does a steady trade serving up Hubei province delights, from Central China.
I don't know what spices makes their Hubei fish different from other food court steamed fish, but I do know it's the BIGGEST whole steamed fish you'll find in all of Chinatown for a tiny $10.80. It's an enormous catch, freshly steamed and served with a equally belly-busting bowl of rice.
Sure service can be a tad slow, but heck, THEY ARE STEAMING YOU A WHOLE FISH and bowl of rice for $10.80. It's no fine dining but this is wholesome eating.
Zhou Mum Cafe
B16, Dixon House
413-415 Sussex St, Sydney
Ph: 8283 1739
They also have a Kensington shop:
Shop 2, 255 Anzac Pde, Kensington
Ph: 8957 6876
2. BEST PHO IN THE CBD
Yeah, another big call, but this was a great discovery when I was writing a story for Good Food on Sydney's best pho. From no where, Thanh Tam romped it in as Sydney's CBD best, hands down.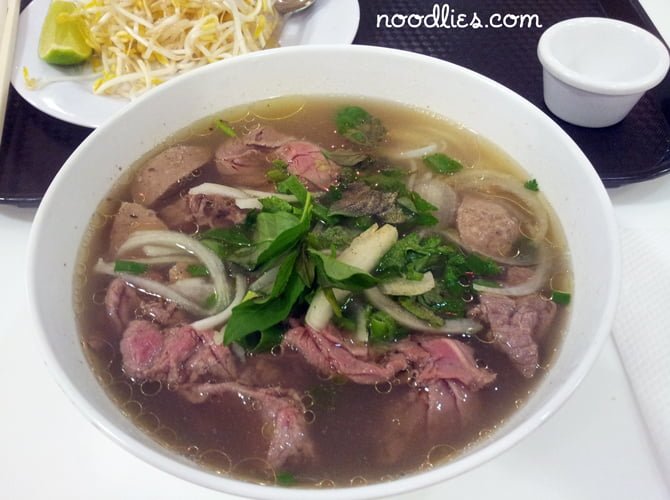 At first it raised eyebrows, but it's less surprising when you know that Phuoc Hoang is a veteran restaurateur with over two decades of experience. A food court is his way of slowing down, to get some balance in his life. But that just means the punters get the benefit of great pho in a food court environment.
Bo 7 Mon Thanh Tam
Level 3, Market City
9-13 Hay St, Haymarket, Sydney
3. MOST CHALLENGING (BY FAR!)
If you think it's tripe or pig's blood or even fish eyes, you're not even close. Red Charcoal brings China's authentic street side bbq experience to Sydney. The skewers range from mild to wild, think beef tendon, Aussie bush crocodile and chicken gizzard.
But even they pale in comparison to their most exotic skewer, the lamb grenade which consists of lamb kidney and testicles.
And before you ask. They don't taste like chicken. 
Red Charcoal
Shop 201, Eating World
25-29 Dixon St, Haymarket
YOUR TURN
Now unleash yourself on Chinatown and gobble up all the delights and surprises you'll find in over 50 food stalls.
Tell me about your unique experience. I'd love to hear.