Finding outliers can be so rewarding
Noodlies, Sydney food blog reckons this eatery succeeds despite being in the middle of nowhere. Or is it because it's in the middle of nowhere?
If you've driven to Cabramatta from the east and take the well worn short cut that locals use, chances are you've driven past Quan Huong (fragrant) Vietnamese Restaurant. 
The eatery is just off the Hume Highway on Landsdown road, you know, the Maureen Motors turn off (hasn't that dealership been around for decades!). Quan Huong is immediately to your right, next to the liquor shop, the only other shop in that strip.
Blink and you'd miss it. Not a lot of thought has been put into branding and the eatery is partially blocked by a street sign and a post box. That is until you noticed lots of cars parked on either side and a rambling queue at the front.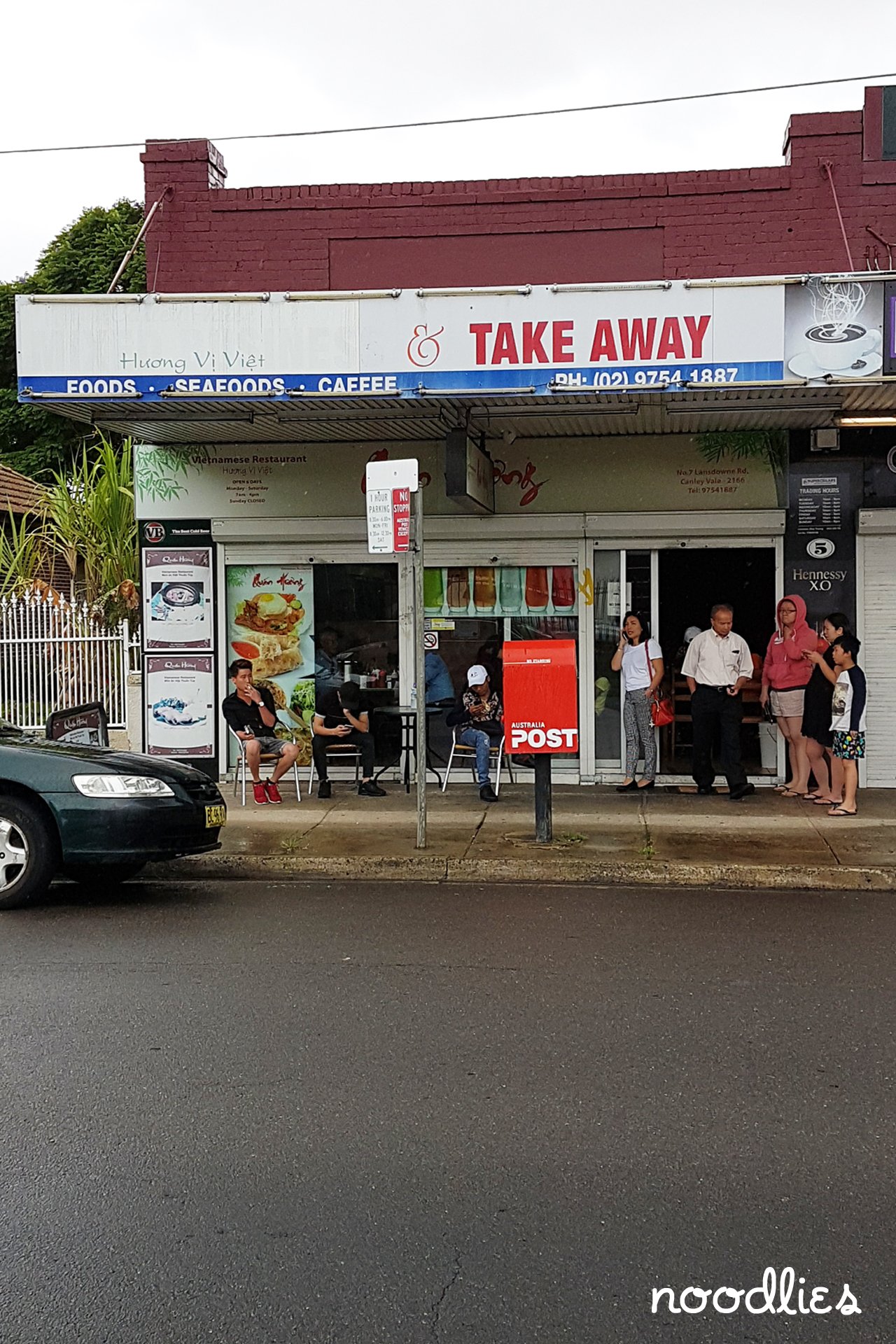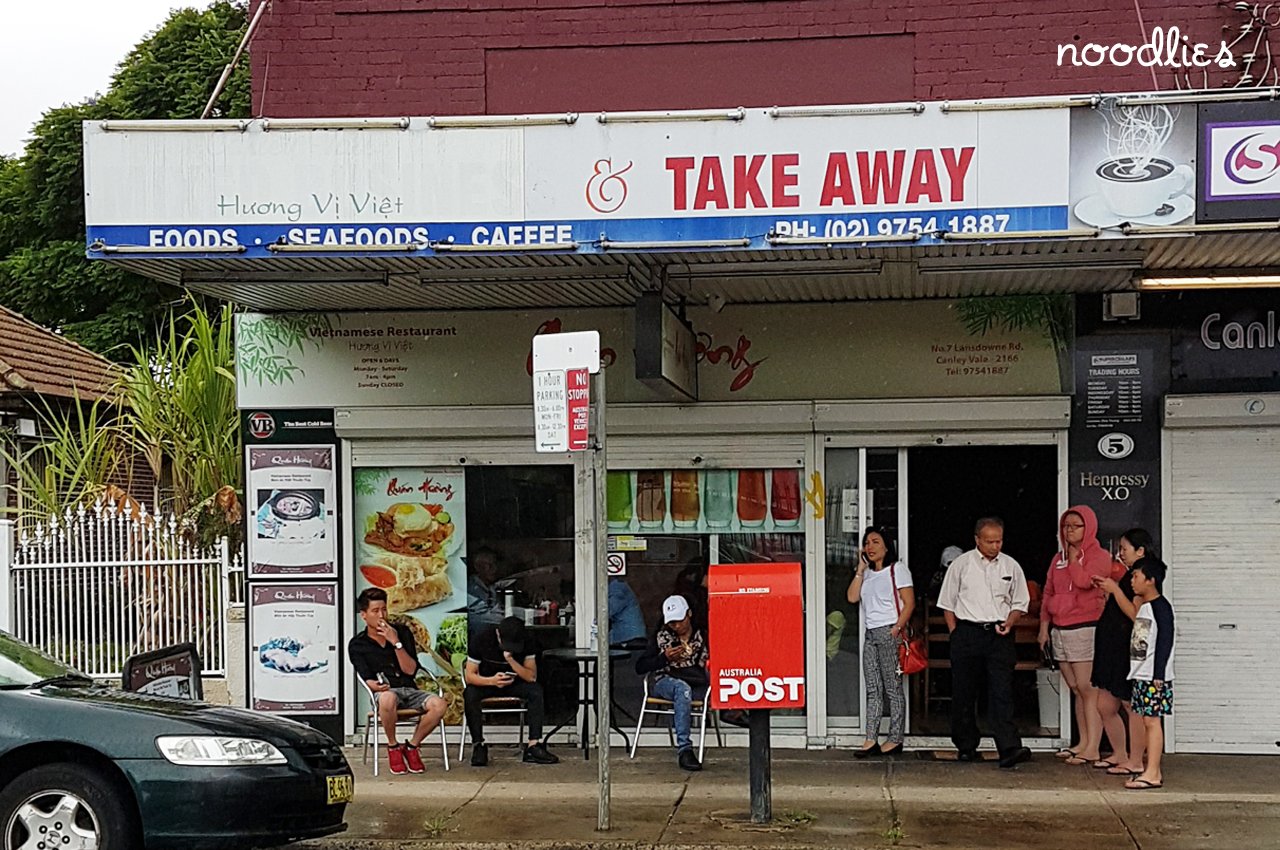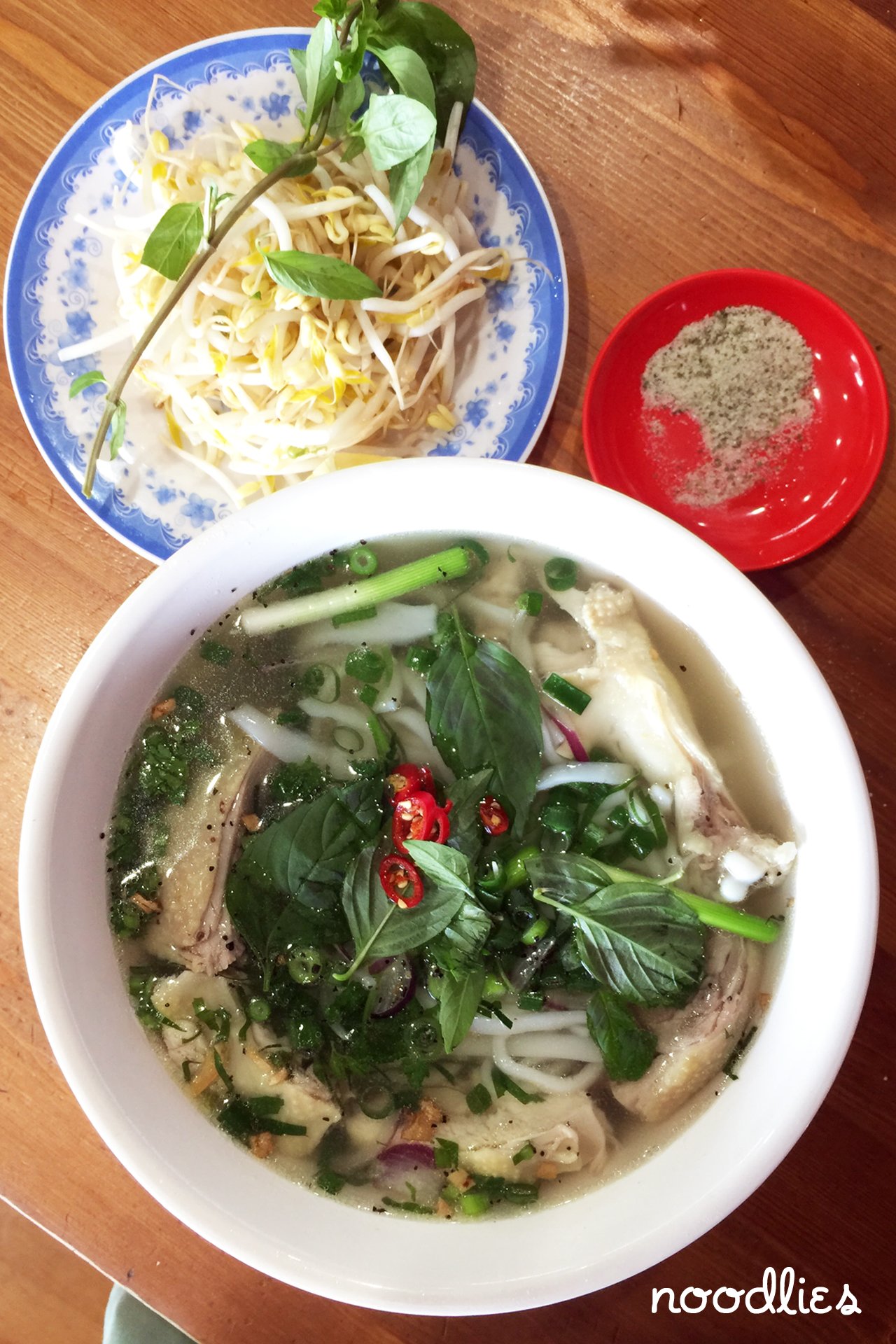 It's equally humble on the inside; tiled floors, chunky wooden furniture, the walls are burgundy making the place even darker. It's an old fish and chips shop, these days the bain marie double as storage space, spring rolls wrapped and ready to be fried, vegetables washed and sliced ready to be thrown into the pan. The overhead menu wall is now adorned with Vietnamese fast food such as pho, vermicelli, spicy noodles and rice dishes instead of burgers, chips and milk shakes. Jars of pickled garlic adorn the counter looking like a half-hearted Easter Show exhibit.
Jars of pickled garlic adorn the counter like a half-hearted Easter Show exhibit.
The food is from the north of Vietnam. How can you tell? My pho ga (chicken) comes with a salt and pepper dipping plate instead of hoisin and chilli paste. The broth is clear and clean and the chicken pieces are plain, in contrast to the punch of southern pho. It's an acquired taste but like hainam chicken, simplicity can be very moreish.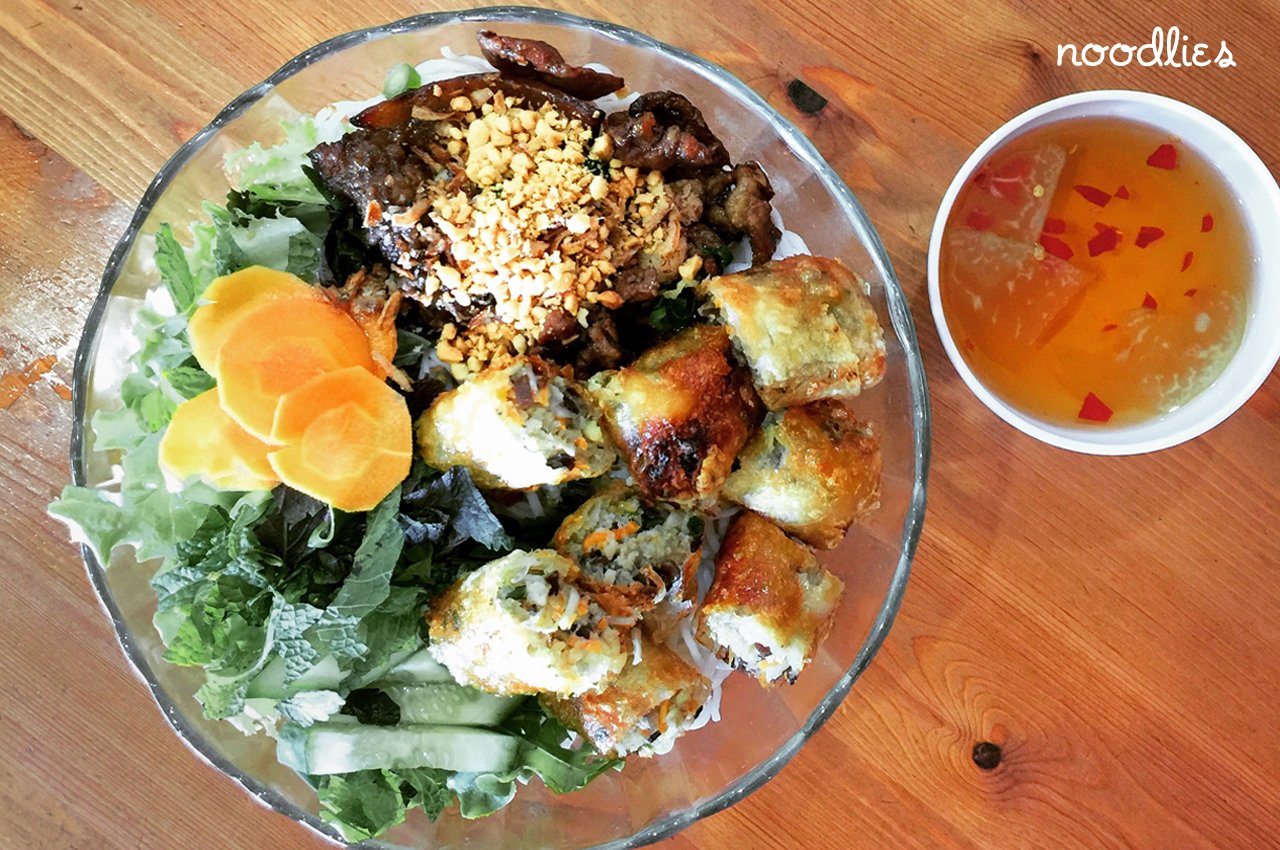 Bun nem ran (above) is another giveaway, spring rolls is called "nem ran" for northerners and cha gio down south. Northern rolls are wrapped in a different rice paper which blisters when fried giving an alluring look. It also helps to soak in the chilli fish sauce which is less salty than southern sauce.
Chao long (right) is where it's at for a hearty breakfast that's not too filing. The Vietnamese congee soup benefits from a fair shake of the fish sauce bottle that makes it's amazingly delicious. The sauce also colours the congee. Lurking underneath is a treasure of offal cuts to give it texture. The bowl is HOT when it arrives, you can cool it down by adding bean sprouts. Me, I like to keep it hot, in fact, I add additional chilli.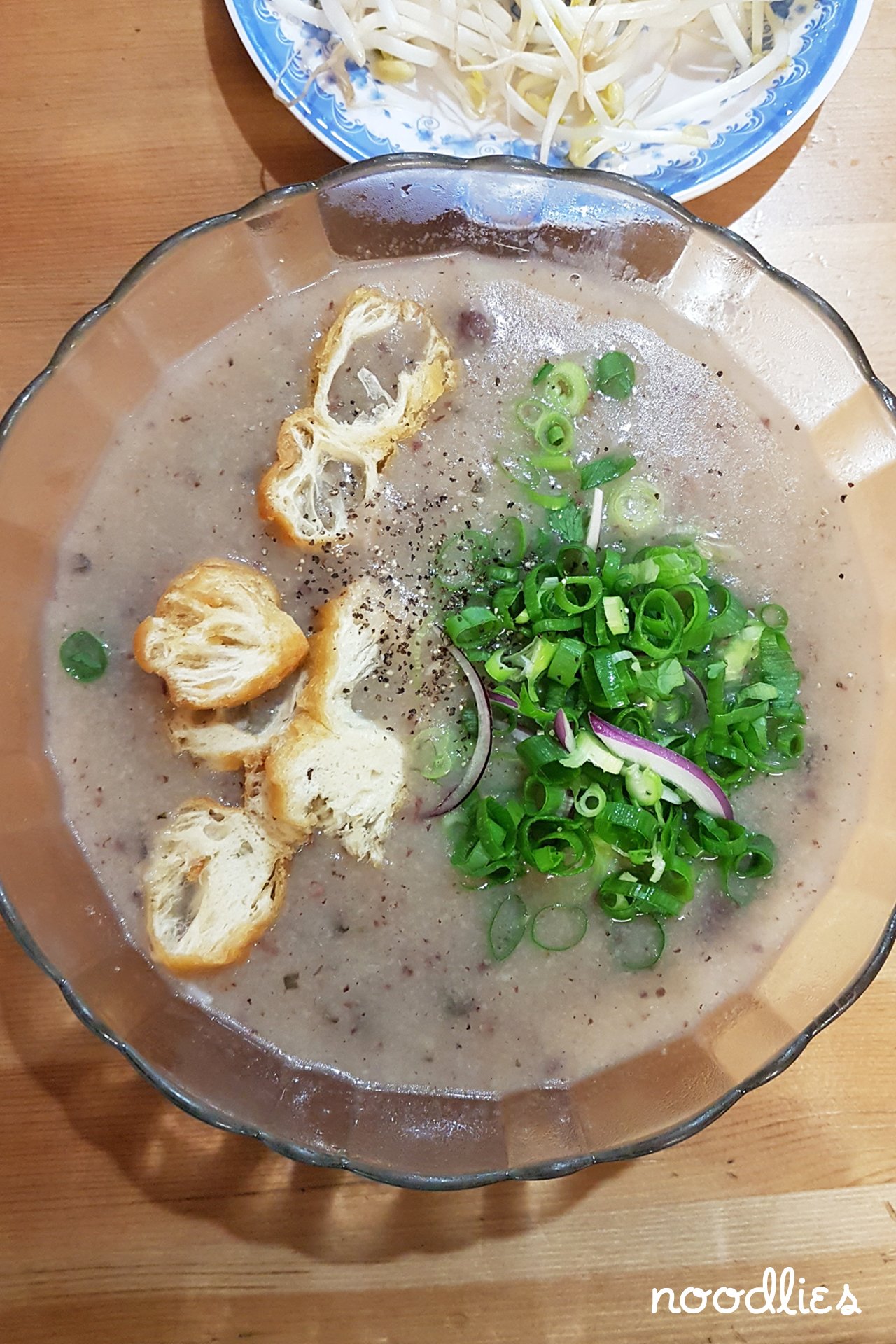 Quan Huong successfully evokes the Vietnamese fragrance; it's in the humble decor, the no-nonsense but friendly service and food that just satisfies. The formula seems to be working, it's attracting loyal customers who come for the whiff of home aroma. Though that might also be because parking is easier than down town Cabramatta.
Quan Huong
7 Lansdowne road
Canley Vale NSW
(02) 9754 1887
8am – 4pm (Mon-Sat)