Top 10 dishes and the best places to have them in Sydney.
Street food is everywhere in Vietnam. That's probably because Vietnamese are snacking morning, afternoon and well into the night. It might have something to do with needing to replenish energy thanks to the tropical heat and punishing manual work. All that work and sweat makes anybody hungry!
With so many different Vietnamese street food to try, here's noodlies, Sydney food blog's top 10 list. It's in no particular order and includes mainly savoury feeds with a couple of sweets thrown in. The more obvious ones like pho and banh mi thit I've left to the end, allowing lesser known delights to share the lime light.
Banh xeo
Banh xeo is a crunchy, semi-circular shell containing bean sprouts, soy bean, prawns and pork. It's tactile eating at its best, rip it and roll with lettuce and a generous variety of mints, then dip into amber chilli fish sauce. Best when just freshly made.
Best at Que Huong or Bau Truong.
Banh uot, banh cuon
I love banh uot; large, flat rice noodles that are covered with cha lua (pork devon), red nem (cured pork), prawn fried in batter, salad and mint, covered generously with chilli fish sauce. Street vendors still wander the streets of Vietnam cooking these gorgeous snacks on demand. Banh cuon is equally popular, the main difference is the rice noodles are filled with a filling of pork mince and Chinese mushroom.
Best at Que Huong for banh uot and Phu Quoc for banh cuon.
Com tam
Not any rice, com tam (broken rice) uses rice grains that are "broken"; during transportation and processing, some of the rice grains break into smaller pieces. Broken rice is smaller than regular rice and has a different texture. It's steamed and served with pork chops, fried egg, sliced cucumber, tomato and pickles (usually white radish and carrots). Like most dishes, nuoc man, chilli fish sauce combines everything. This is one of the most ubiquitous street food in Vietnam. In Sydney, make sure the menu says com tam, if it's just com then that's just normal long grain rice.
Best at Trung Nguyen (sadly closed) but you should be able to get it at most pho eateries.
Bun rieu
One of the most attractive Vietnamese street food dishes, bun rieu is vermicelli noodles in a flavoursome crab and tomato based soup. The purple mam ruoc (shrimp paste), added at the table, gives it a pungent, addictive taste. You can tame it somewhat by adding Vietnamese mints and finely sliced rau muong (water spinach). It's not for the faint-hearted but it's very rewarding. Video is from Boriville food blog where you'll also find a recipe for bun rieu.
Best at ??? I haven't found a place that does it really well. Any suggestions?
Bun bo Hue
Bun bo Hue is another uncompromising street food. It demands more and it gives more. Where you would appreciate the subtle sweetness of pho, you're whacked in the face with chili and lemongrass, as well as congealed blood cubes and a pig trotter or two.
Cha gio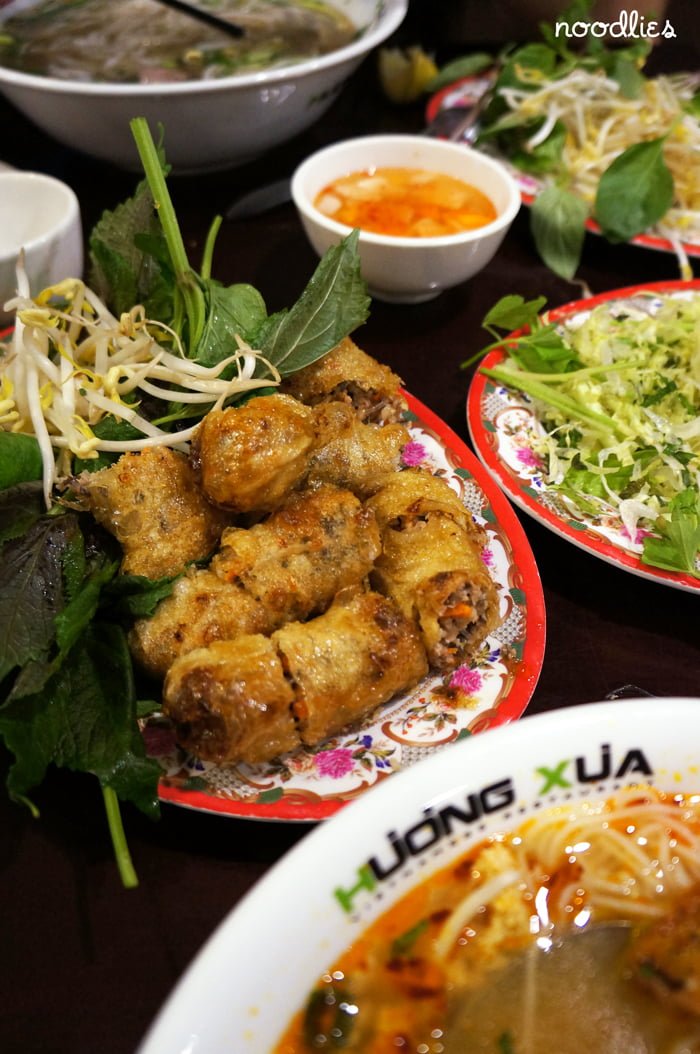 Vietnamese cha gio (spring rolls) are very different from the Chinese counterpart. Cha gio filling contains many more ingredients including mince pork, crab, vermicelli, carrots and Chinese mushrooms. The outer texture is different too, Vietnamese rice paper blisters when deep fried, making them super absorbent of the chilli fish sauce.
Best at Bau Truong and Huong Xua.
Banh chuoi
Banh chuoi can be literally translated as banana cake. It's a delicious glutinous, amber coloured dessert with layers or sliced banana and usually cut into diamonds. The texture is chewy, firm with sesame seeds providing extra flavour and plenty of oozy coconut milk for that unmistakable Asian creaminess.
Best at many Vietnamese grocery stores in Sydney – they're usually sold at the counter.
Banh bo
Banh bo are coloured sweet rice cakes; they are usually in three colours white, red and green. In Vietnam they're small circular puffs, but in Australia they're cut into diamonds. They come with a thick sweetened coconut milk dip.
Best at many Vietnamese grocery stores in Sydney – they're usually sold at the counter.
Banh mi thit
Australia has fallen in love with this east meets west street food, french bread, mayo, pate, with Vietnamese pickles, cha lua (pork devon) and sauce. In Australia they're called pork rolls, while overseas it's more common known as banh mi, which literally translates as "bread", the actual name is banh mi thit or "bread with meat".
Read a comprehensive list of the best pork rolls in greater Sydney or if you work in the CBD, here's a list of the best pork rolls in Sydney's CBD.
Pho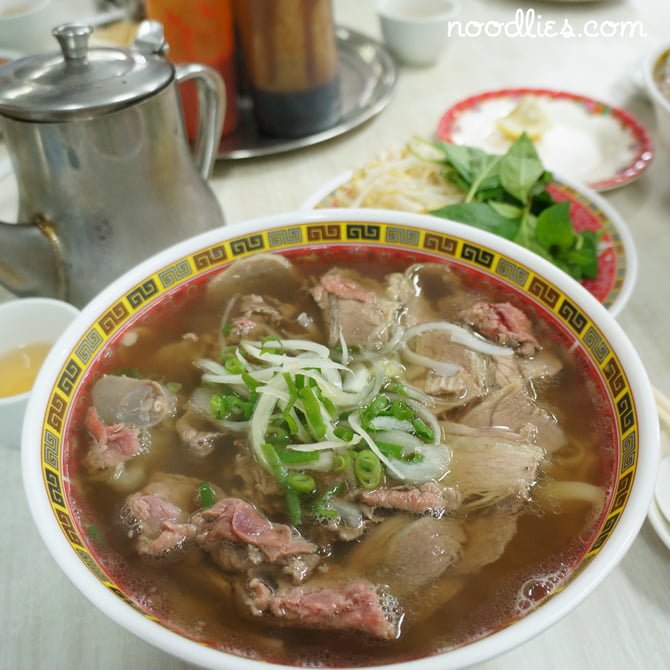 Probably the most well-known and loved Vietnamese street food, the complex broth of a pho bowl is derived from boiling beef bones for hours. The meat topping is almost always beef. There are a few variations; pho tai (uncooked thin slices of beef), pho nam (cooked beef), pho bo vien (beef balls).
Read my Sydney's best pho Good Food cover story in the Sydney Morning Herald to find out the best eats in town.
What are your favourite Vietnamese street food?
Have you had any of these delicious street food? Are there other Vietnamese street food you love that aren't on the list? Leave a comment.