"Pho-king fantastic"
Yep, I submitted the story with that headline. In hindsight it was cheeky at best and corny at worst – heading down the slippery slope of Thai restaurant name puns, in the not so illustrious footsteps of  Thai-tanic, Thai-me-kangaroo down etc (you get the idea).
Little known fact, Vietnamese is the fifth most spoken language other than English in Australia. The largest population is in NSW, actually around one in three Vietnamese speakers in the state live in just three suburbs, 2166 (Cabramatta/Canley Vale/Canley Heights), 2200 (Bankstown/Bankstown North/Condell Park/Manahan/Mount Lewis) and 2165 (Fairfield/Fairfield East/Fairfield Heights/Fairfield West).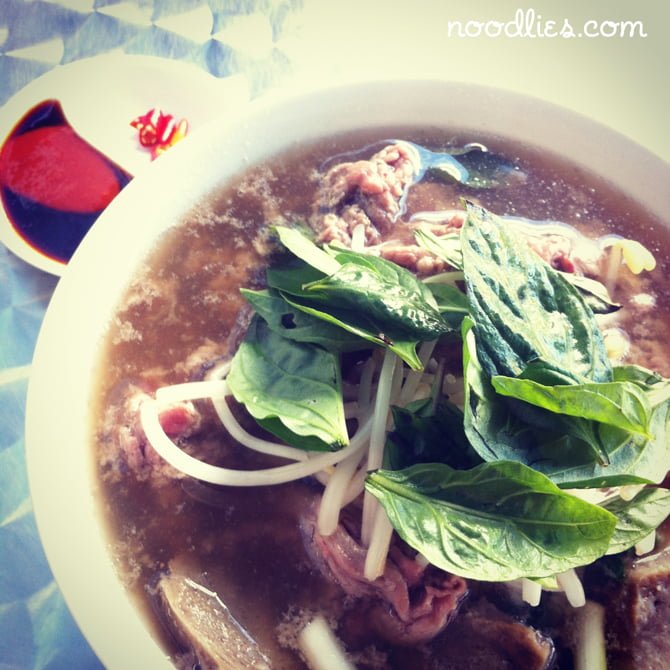 Say what you like about the Vietnamese community, but this concentration yields some of the tastiest and cheapest food in Australia. Famed for being "healthy" (although you should see what we eat for dessert), Vietnamese food uses relatively minimal oil and fat, and is eaten with lots of fresh vegetables and zesty mints. And lots and lots of ingredients go into each dish, even a humble pork roll is a combination of over 10 ingredients, so there are many layers to taste.
READ: History of pork rolls in Australia
The two most known Vietnamese taste tempters are actually street food – pork rolls (banh mi thit) and of course, the instant heart and soul warmer, pho. Both are legendary in Sydney's psyche for good food that's also good for the bank account. This is unpretentious, good time inducing feed that you can have solo or feast with friends.
It's not surprising that the pork roll craze is sweeping Sydney with at least 25 eateries in Sydney's CBD alone.
READ: Banh mi breakdown, what's in a pork roll?
But I digress. This post is about pho.
When Ardyn Bernoth, editor of Fairfax's Good Food supplement asked me to write a feature on pho, it was a minor dream come true. Of course, I knew pho is loved by Sydney-siders, of course, I knew it would be a visual feast. But what to write that adds to the interest and knowledge about this iconic dish?
With Ardyn's guidance, we agreed the article would cover three key areas:
History of pho: I talk to Vietnamese-Australian chefs Luke Nguyen and Dan Hong to discuss all things pho; French influence and how it came to Australia
Sydney's best pho: I cover the 10 best eateries in town, highlighting the different variations and regional differences
How to eat pho: a few simple tips that could make all the flavour difference
So I submitted my copy and after a few weeks, this… glorious this. At the hands of Ardyn and her team, including Edwina Pickles' glorious photography, my feature became a visually stunning cover story of this week's Good Food.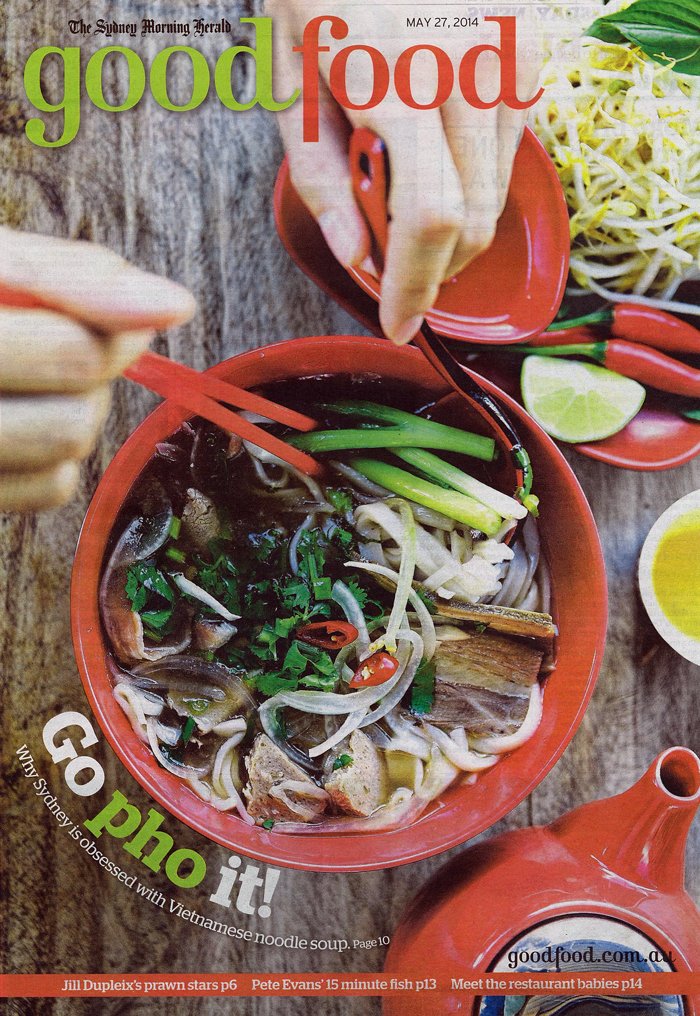 I couldn't have been happier seeing my copy come to life with such luscious photography and layout.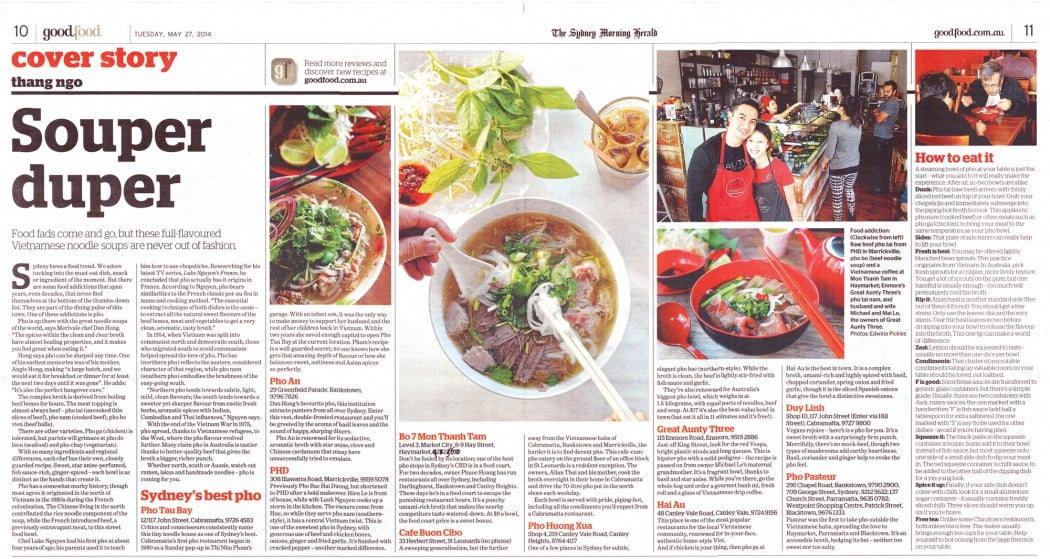 But what made me happiest is chatting to the owners afterwards, Phuong from Bo 7 Mon Thanh Tam said they had a rush of so many people in the past few days. You couldn't stop him from grinning. More than seeing my story in print (as wonderful as it was), seeing these ma-and-pa restaurants get acknowledged is the greatest reward for this writer.
Wow, that means pho has worked it's miraculous powers even on cynical me, pho has made me unselfish! Surely that's got to be pho-king fantastic!