Hey folks, I'm updating this pork roll list which was from 2014. Every Tuesday lunch from 9 January 2018, I'll be eating at a different pork roll shop in one manic pork roll crawl. If you want to join me, check out this Tuesday's pork roll crawl location. For updates follow me on Instagram, twitter or Facebook.
Best pork rolls in the Sydney CBD?
Yup, you know the pork roll/banh mi thit has made it when it gets featured nationally on TV. Watch the cheeky segment from Channel 9's Today show; Lisa Wilkinson, Karl Stefanovic, Ben Fordham and reporter Mike Dalton all had a great time with Vietnamese pork roll. Watch it all the way through, there's a hilarious ending!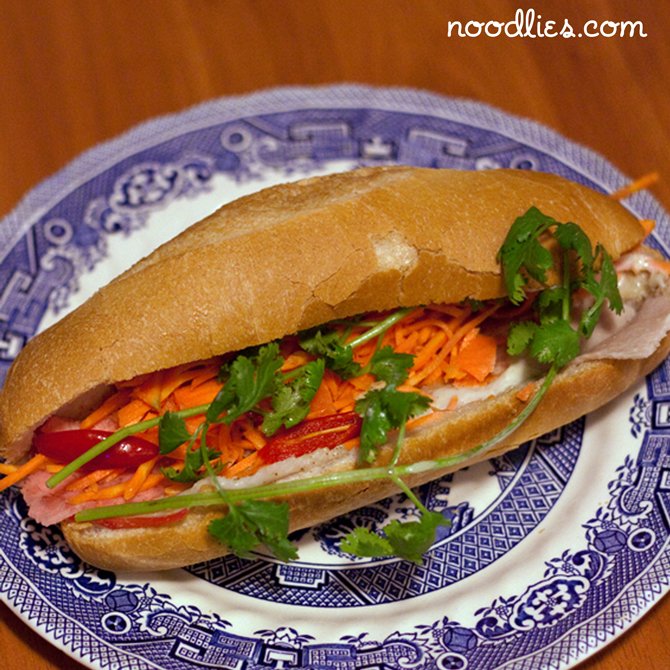 Why do we love a pork roll?
It's the ultimate cross-culture food, the French introduced bread (banh mi)  that's crusty golden outside and fluffy and light inside, pate, mayo while the Vietnamese tricked it up with three different types of meat (thit), pickled carrot and radish plus special sauce. Over ten ingredients make pork rolls an over the top flavoursome and hearty experience.
READ: What exactly is in a pork roll?
But it's the unbeatable value that makes them loved by footballers, school children and TV personalities. You can munch on a pork roll in Cabramatta for $3. That's less than a cup of takeaway coffee, a froyo – utterly zany value.
READ: The best pork roll in greater Sydney
Lately there's been a rash of new pork roll joints opening in the Sydney CBD and Chinatown area. These days, you can get a pork roll from at least 25 places in the Sydney CBD and Chinatown area.
If, like me, you work in the city and you've left your lunch at home or are broke that day, here are a few pork roll places to try…
Read on to find out noodlies, Sydney food blog's:
Price comparision chart*

Cheapest banh mi thit/pork roll

Favourite pork roll

I'm too cool hipster roll

Map of pork rolls in Sydney CBD
* Prices correct at time of publication.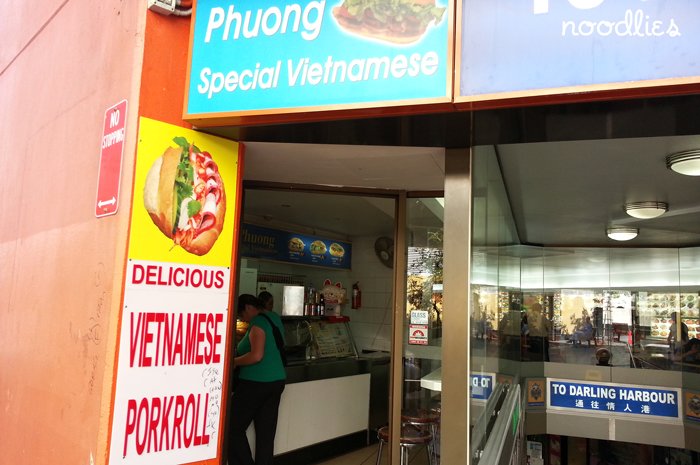 UPDATE: CLOSED
Phuong Vietnamese Pork Roll ($4.50), Eating World Food Court, 25-29 Dixon St, Haymarket.
This tiny stall is one of the oldest pork roll stops in the city and a favourite for construction workers and business suits a like.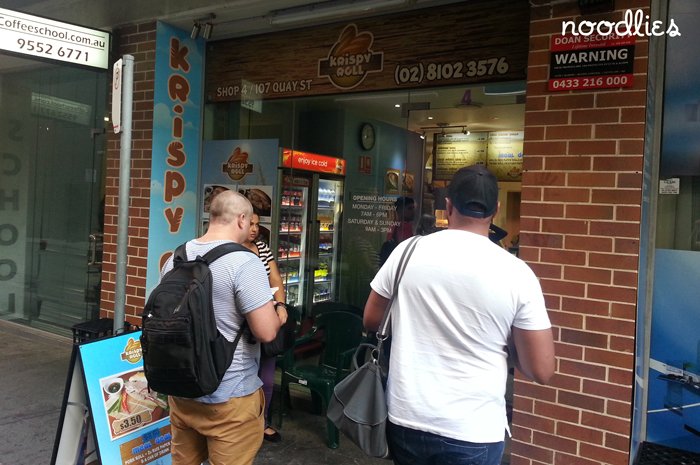 CHEAPEST ROLL. Krispy Roll ($3.50), Shop 4, 107 Quay St, Haymarket.
The newest player in town is also the cheapest. It's a pretty looking roll, vivid, fresh colours and the bread roll is the best around, especially when warm.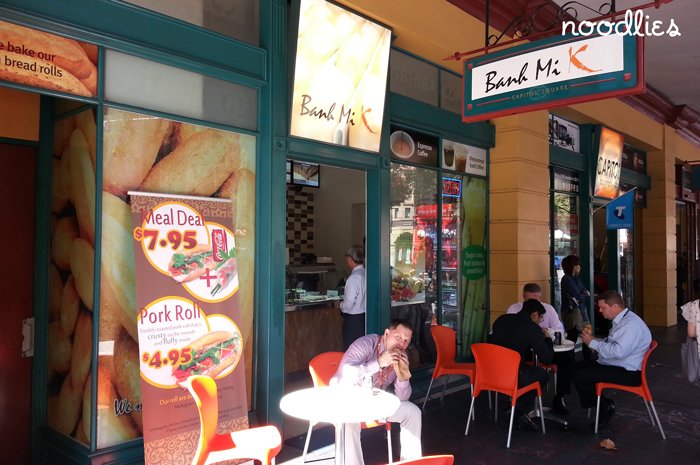 Banh Mi K ($4.95), Shop G2 Capitol Square, 730-742 George St, Haymarket.
Another new player, they bake their own fresh rolls daily and, unlike the competition, provide some seating.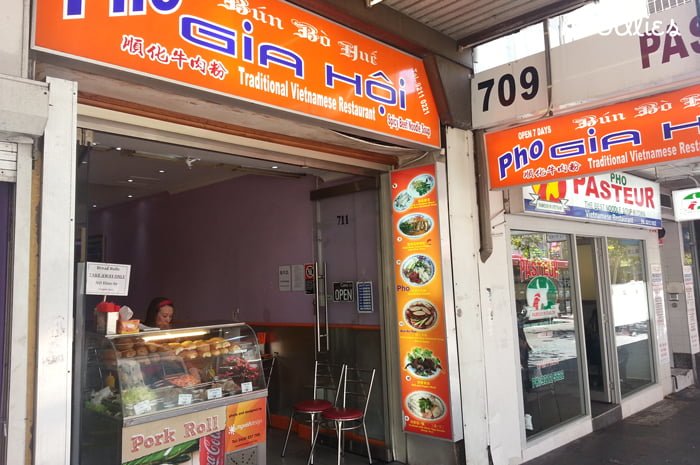 Gia Hoi ($5), 711 George St, Sydney.
This is an "opportunistic" roll; Gia Hoi hails from Sydney's south west. With branches in Canley Heights and Bankstown, they specialise in bun bo Hue, a fiery but lesser known Vietnamese noodle soup. This half-hearted attempt to cash in on the pork roll mania is getting a half-hearted response from the punters.
BEST PORK ROLL. Sydney Pork Rolls ($4.50), 627 George St, Sydney.
This little hole in the wall diagonally opposite World Square is frantically busy every lunch time, though fast hands by the ladies behind the counter means you won't wait very long. This is the best pork roll in the Sydney CBD area in noodlies' books because it's one of the cheapest and tastes just as if you were in Cabramatta, every ingredient is there, they don't cheat by adding lettuce filler.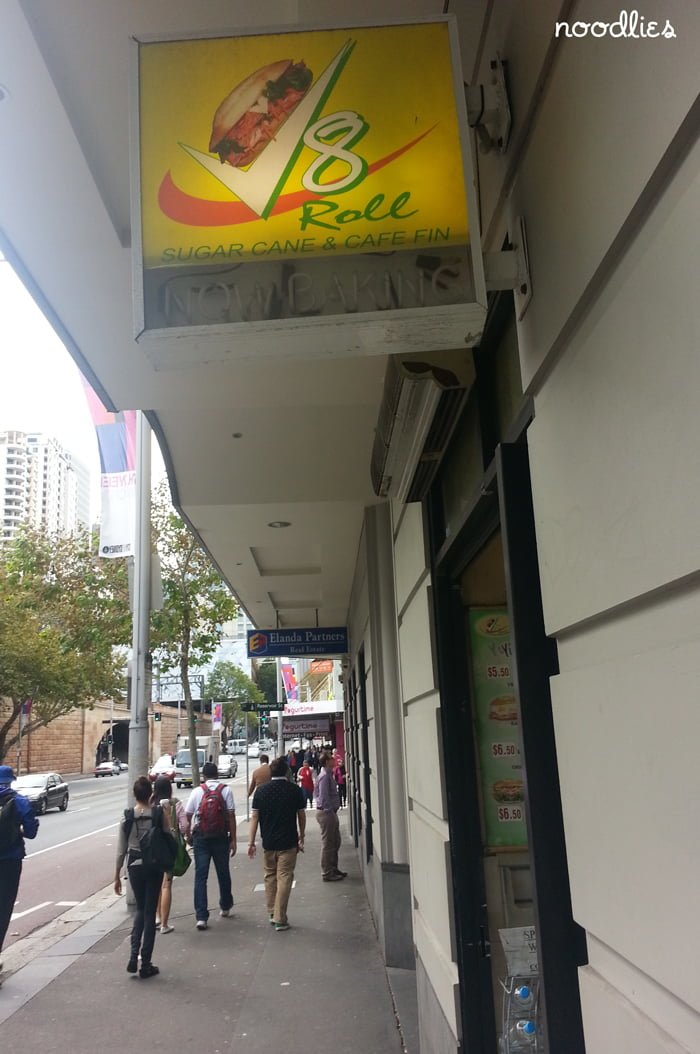 V8 Roll ($5.50), Shop 5, 242 Elizabeth St, Sydney.
They have a full Viet quick fix range including pork roll, fresh rolls, sugar cane and even Viet drip coffee.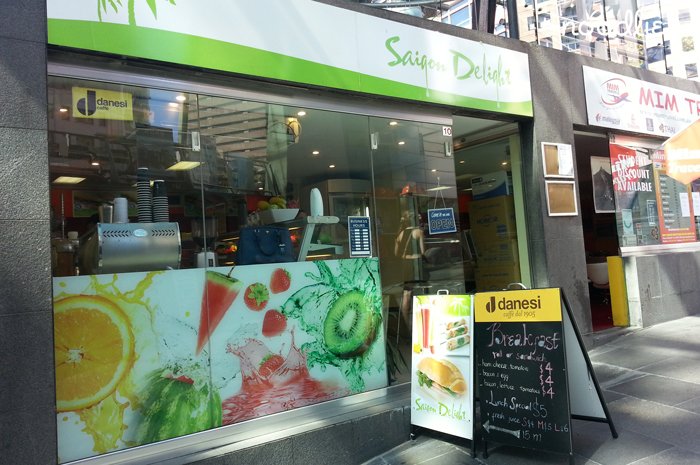 Saigon Delight ($5), Shop 10, 8–10 Lee St, Haymarket
In the Central bus interchange, it's grab a pork roll or fresh roll with your fresh juice to go.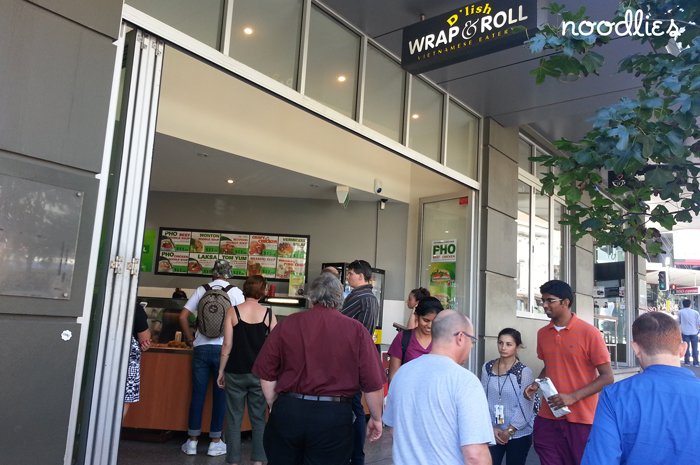 D'lish Wrap & Roll ($5), 2/90-9 Devonshire St, Surry Hills.
On the other side of the Central pedestrian tunnel this place is popular with students, suits and the occasional hipster. The pho isn't bad here either.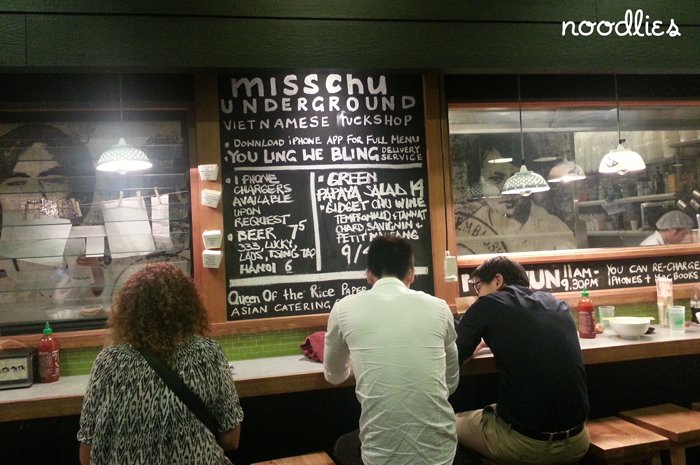 HIPSTER ROLL, MissChu Underground Vietnamese Tuckshop ($10),  501 George St, Sydney.
The self proclaimed "Queen of Rice Paper Rolls" also does pork baguettes at almost three times the price of Krispy Roll. But for that price you get chunks of roast pork, groovy surrounds, iphone app service and you can even re-charge your iphone while you eat. Want home delivery? Sure, after all it's all about "you ling we bling".
UPDATE: The Sydney operation of Miss Chu has gone into voluntary administration with 60 staff retrenched and follows the sacking of her general manager, Patrick Collins last month. Chu vows to make a come back. Five months earlier, it was a very different situation according to Mark Dapin's piece Misschu: Success comes in small packages in the Sydney Morning Herald, "Her ambitions are limitless. She wants a Misschu in every airport and 'every part of the world'… Chu says she would never neglect the business but she feels happy and young. Misschu is, most definitely, in love".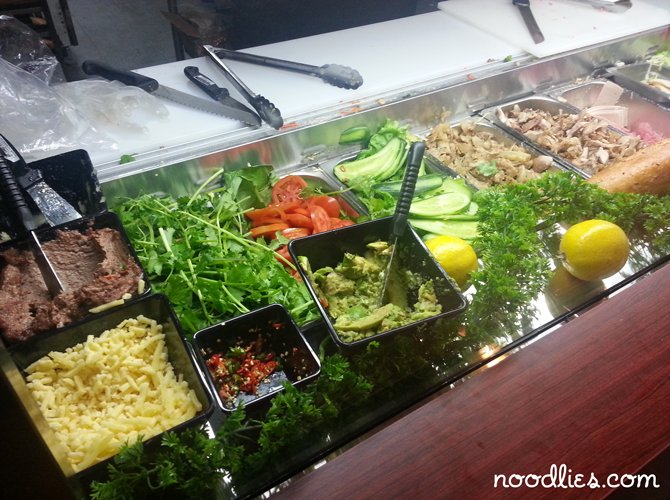 Pho Ngon ($5), Shop 16, Henry Deane Plaza, 2 Lee St, Sydney.
This place does everything, pho, fresh rolls, pork rolls and even um… pies. It's a jack of all trades, though pork roll counter includes some unusual ingredients, including cheese and avocado.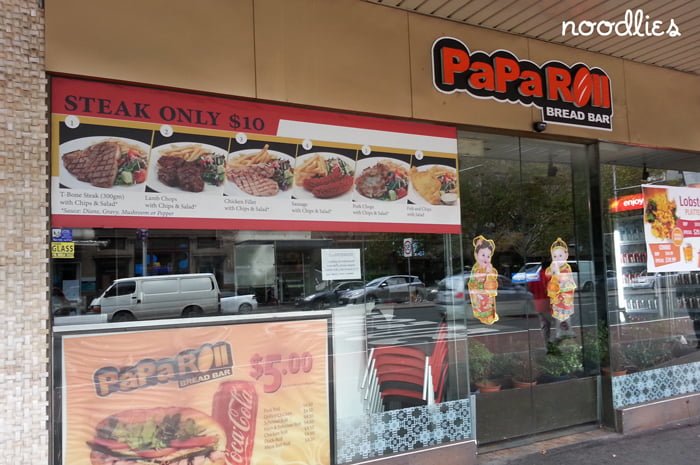 Papa Roll Bread Bar ($4.50),  Shop 1, 8-14 Broadway, Chippendale.
Papa Roll is the yang half to Pho Mumum's  ying. They're popular with the UTS student crowd.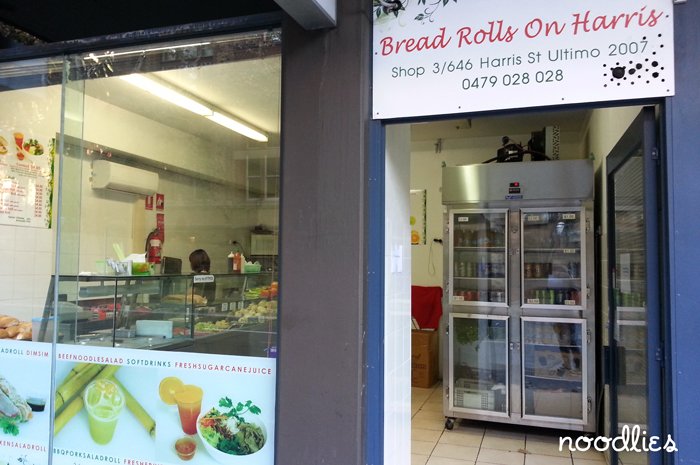 Bread Rolls on Harris ($4.50), Shop 3, 646 Harris Street, Ultimo.
Just down the road from the ABC, they cater for nearby TAFE and UTS students.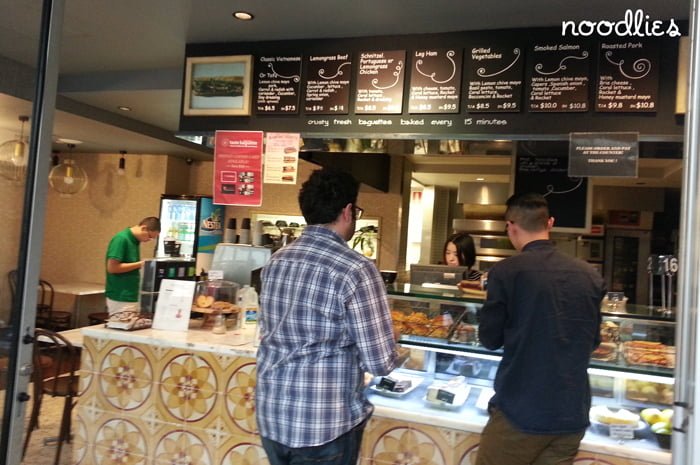 Taste Baguette ($6.50), seven locations in Sydney CBD and Chinatown area.|
Freshly baked bread, croissant and a range of other pastries have helped Taste to expand to 14 locations including Melbourne and Adelaide.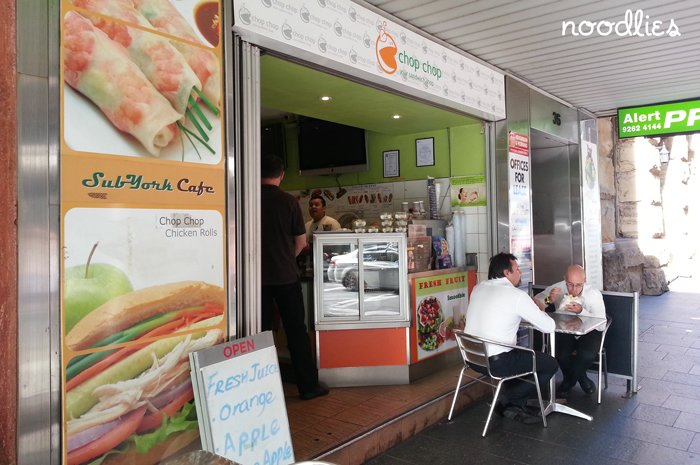 Chop Chop ($6.50), 36 York St, Sydney.
One of the longer established pork rolls in the Sydney CBD servicing the office suits.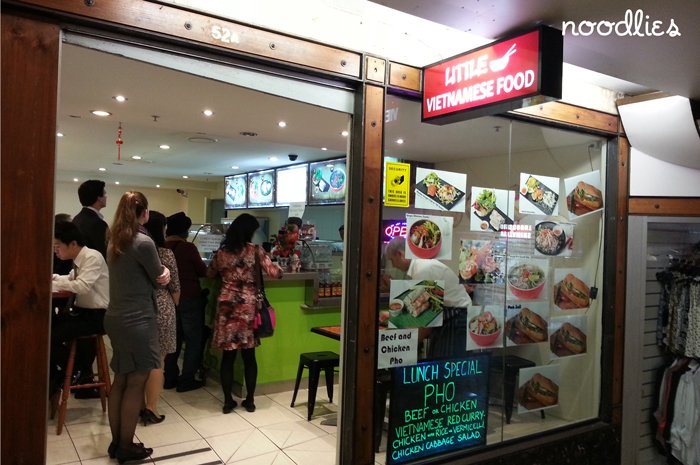 Little Vietnamese Food ($5), Wynyard Arcade, Shop 52a 301 George St, Sydney
This bustling lunch time Viet eatery serves a swag of Vietnamese favs, including pork rolls.
La Vie ($5), Hunter Arcade, Shop H01, 301 George Street, Sydney.
The first food stall on your left as you head down the stairs to the underpass. They used to be La Vie Vegetarian, but I guess that's all changed now with pork rolls on the menu.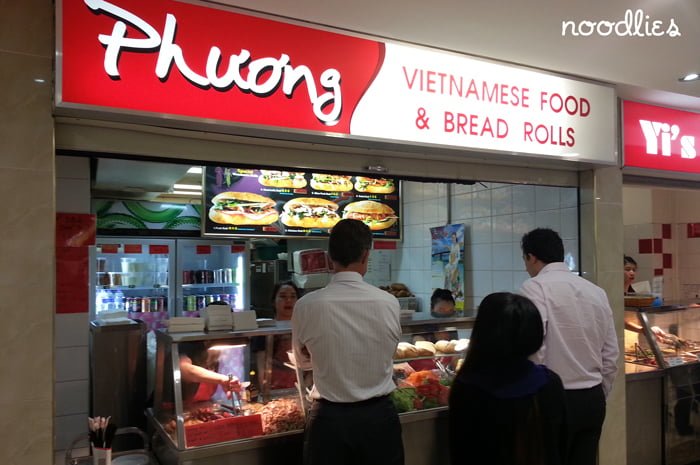 Phuong BBQ Pork Roll ($4.50), Level 1, Hunter Connection, Shop F10, 7-13 Hunter St, Sydney.
One of three pork roll places in the Hunter Connection. Unlike the others, pork roll is all they do. Wildly popular with office workers.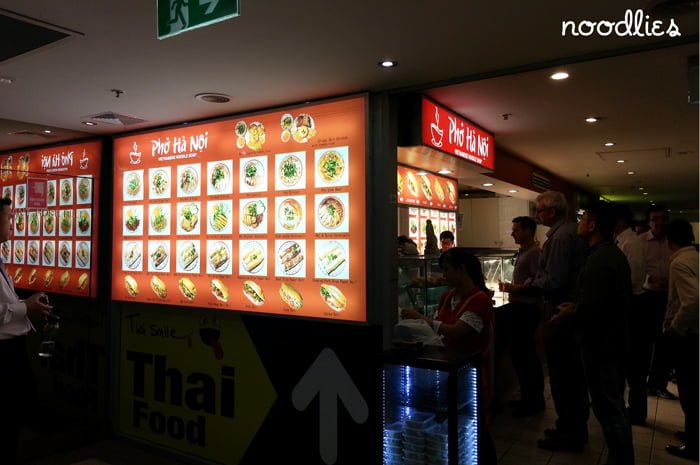 Pho Ha Noi ($4), Level 1, Hunter Connection, Shop F14, 7-13 Hunter St, Sydney.
Great possie, this is the first stall you'll see as you head up the stairs to level 1. Pork roll is one of the offerings at this Vietnamese food court stall.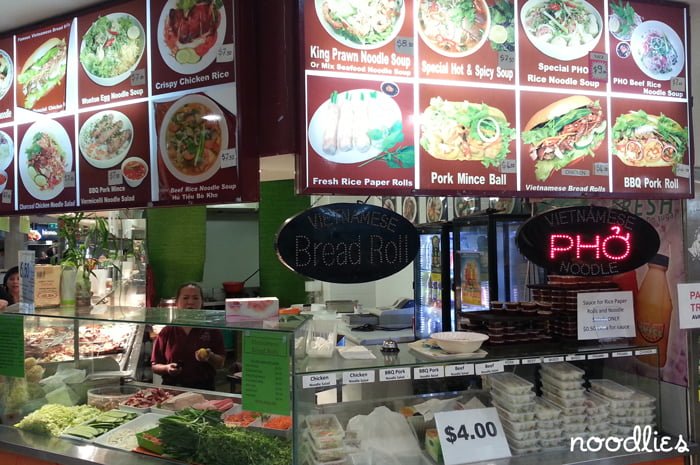 Hong Hai ($4), Level 1, Hunter Connection, Shop F13, 7-13 Hunter St, Sydney.
A direct competitor to Pho Ha Noi in that they serve up a range of Vietnamese dishes, including pork roll.
Pork roll price comparison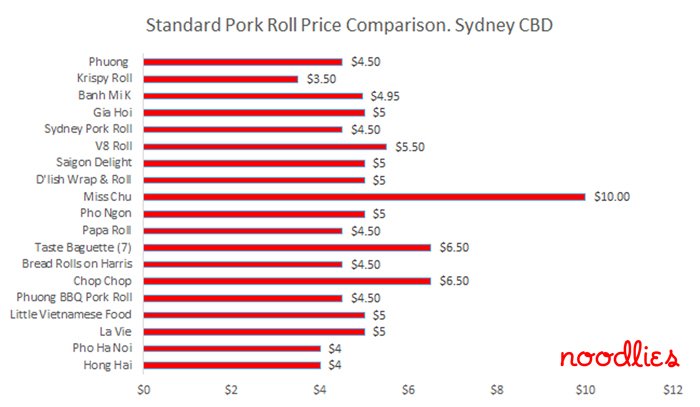 What's your favourite banh mi? Leave a comment.
Have you been to any of the these pork roll places?

Which one is your favourite?

Are there others to add to this list?
Now it's your turn, go out and eat!