Vietnamese greatest hits. Hipster look.
Noodlies, Sydney food blog takes a look at an intriguing new Vietnamese eatery… and I like what I see.
Vietnamese fast food is taking Australia by storm. Out of the suburbs and in-your-face, it seems like a new banh mi thit joint opens each day in Sydney. In the Sydney CBD alone there are at least 25 eateries. At the same time, our love for comforting pho is as strong as ever.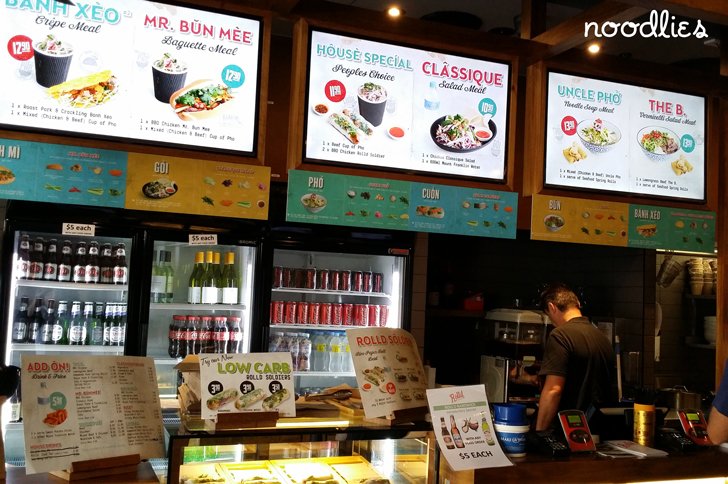 Rolld (formerly Roll'd) rolled into town in October last year, into Randwick to be exact; a seemingly unlikely location in Sydney's east.
READ: Best banh mi thit/pork rolls in the Sydney CBD including price comparison and map.
So what's new?
There are pho places. And there are pork roll/banh mi thit places. But rarely do they cross. Rolld presents a medley of Vietnamese street food, a "greatest hits" all in the one place, including: pho, banh mi thit, goi cuon, goi, bun, banh xeo and more.
READ: Top 10 Vietnamese Street Food.
At last, all the Vietnamese street food you love (and some to be discovered) are in the one place.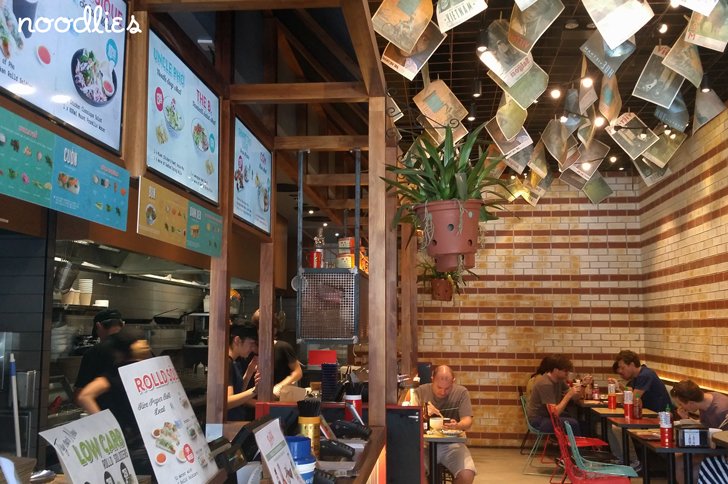 And what a place! Ma-and-pa humble surrounds be gone, the urban design is sure to be a hipster magnet. Rolld's competition isn't the Vietnamese bread shop down the road. They're also in a different league to traditional fast food such as KFC (to the left of Rolld), Pizza Hut, McDonald's, Subway and Hungry Jacks.
Rolld is part of the growing fast casual segment; grown-up fast food including alcohol that offer a more exotic menu in flashier surrounds – think Max Mex (next door to the right), Guzman y Gomez and Grill'd. Rolld is shrewdly in the right category; fast casual is the fastest growing segment of Australia's food market, up 30% in the past five years compared with 5% for traditional fast food. Even taking into account the smaller base, this is serious dollars. No wonder, traditional fast food chains are rushing to join in, which explains the McDonald's The Corner and KFC's Urban.
And while unintentional, their northward march couldn't be better timed with the voluntary administration of MissChu's Sydney operations.
But what makes Rolld different?
For a start, Rolld is a remarkable story of three young migrant Australians, as reported in BRW "school mates Bao Hoang, Tin Ly and Ray Esquieres had pooled $180,000 to buy an Italian cafe in Melbourne's city centre… and transformed it into a Vietnamese eatery…".
The first store opened in May 2012. On the first day it had 30 people queuing by the time it opened its doors at 12.30pm. They sold out within sixty minutes.
Today there are 15 stores in Melbourne, Brisbane, Canberra and Sydney. Randwick is Sydney's first with plans to franchise as many as 21 more stores.
But what about the food?
All the key ingredients such as marinade, spring rolls and dipping sauce are provided (recipes from the founders' mothers) by Rolld head office to ensure quality.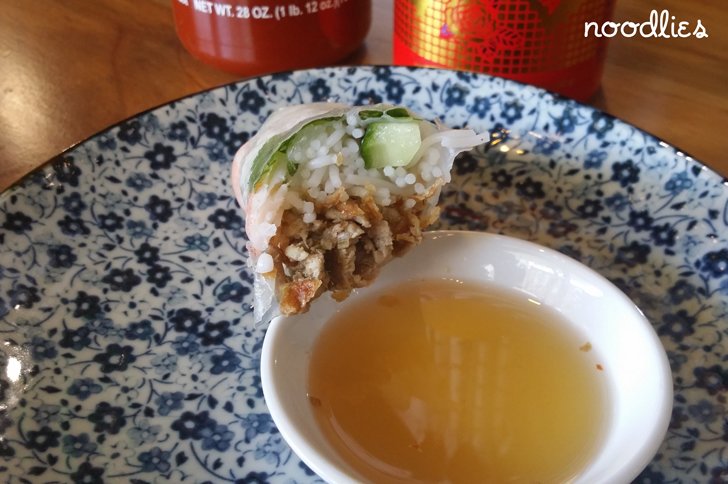 The pork and prawns Rolld soldier (goi cuon) makes a perfect starter on this hot day. The ingredients are standard enough, the flair is in combining the right combination of vermicelli, meat and greens. The balance here is just right for a guilt free snack, though a little more mint would have been icing on the cake for me. Dipping sauce is fish sauce instead of the standard hoi-sin. While I prefer he latter, I'm pleasantly surprised how well nuoc man works here.
What surprises me even more is the beef Uncle pho in a cup ($6.50). At first I thought there is no way this cup would satisfy, but a few gulps and I realise it's perfect for a quick, satisfying pick-me-up, especially in the combo that includes two soldiers for a remarkable $11.90. The broth is clean with a hint of five spice and basil. Everything is already combined including mint and bean sprouts. While it might not be there with the top pho bowls in Sydney, this is no distant runner up. The broth is better than some eateries outside the Vietnamese hubs of Cabramatta, Marrickville and Bankstown.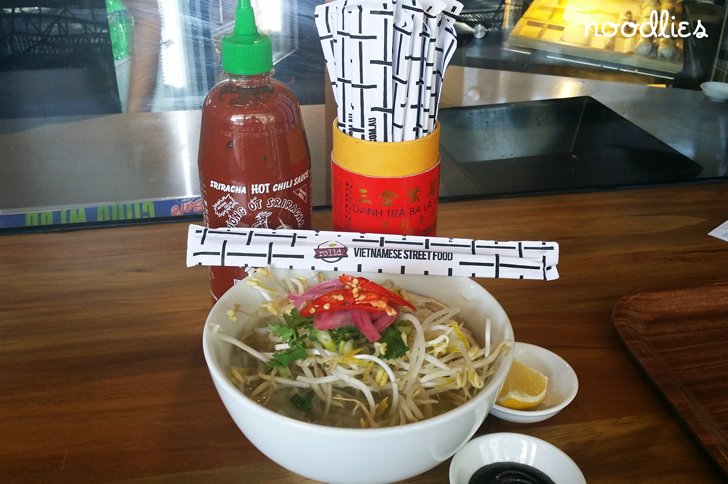 My chicken Uncle pho bowl is a steal for $11.90, the same clean soup, lively sprouts and fiery chilli causing a mild sweat. However, I'd go the beef next time. The well cooked chicken strips were too plain and dry for my tastes. You won't have any of those issues with their tender beef.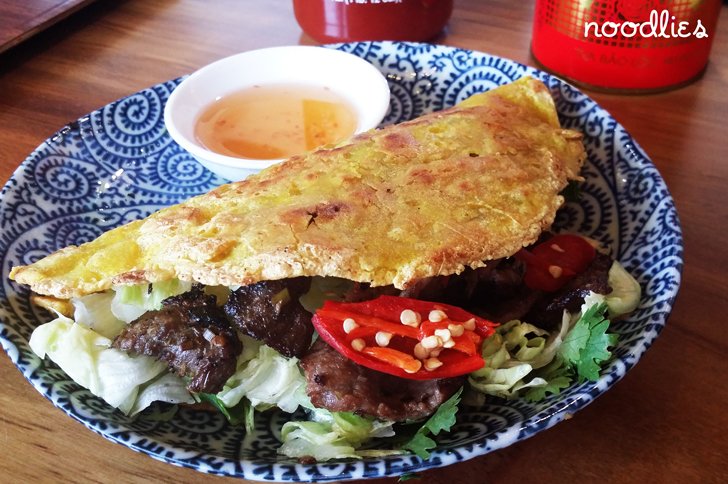 I'm hoping Rolld will introduce more punters to this delicious Vietnamese fav of mine. You don't get it at many Vietnamese restaurants probably because it's fidgety to make. Banh xeo is usually the size of a large fry pan before it's folded. Here it's significantly smaller and the crust is thicker. The lemongrass beef filling is a killer, home-style flavours and oh-so moreish. Just bear in mind this is fast food and there are some compromises, so don't expect it to taste like Mum's but oh, it's still delicious. Just watch out, the outer is a little oily.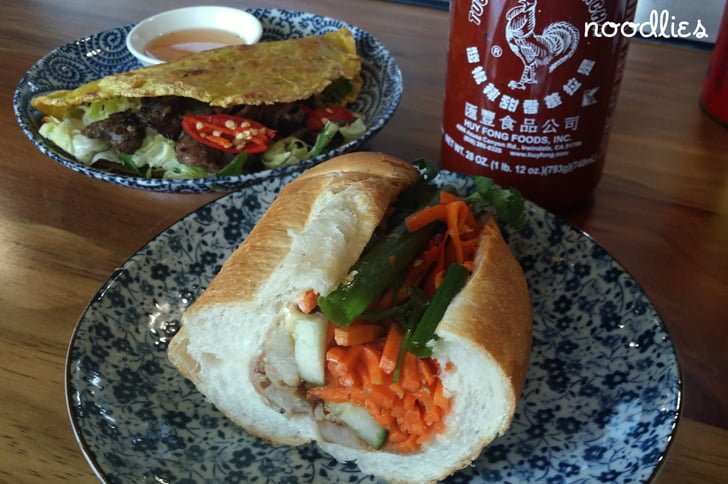 Pork crackling Bun Mee (banh mi) is terrific; plenty of pickled carrots to keep things zipping along. An excellent balance of ingredients, with some nice contrast – crackling with ooh so smooth pate. This is a very respectable pork roll. The bread could have been a little crunchier, but that's pretty understandable on such a humid day.
I went to Roll'd more for the curiosity factor. And left a big convert.
Of course, this is fast food and there are some compromises, but on the plus side, Rolld will introduce many more Australians to a wider range of delicious Vietnamese street food at prices that won't leave you thinking you've been robbed.
What's not to like?
Roll'd Vietnamese Street food rolls in via Melbourne #sydeats #randwick pic.twitter.com/ODLkmEifpN

— Thang Ngo (@ThangNgo) January 24, 2015
The excitement is obviously infectious. Steve Vasiliadis (above), one of the franchise partners in Rolld Randwick, left a well paid career as a financial controller to start Sydney's first Rolld. He says the hours were punishing in the first few months, but today he's feeling more relaxed and very happy with his store. Steve's even talking about a second shop.
Whether he does or not, Sydney, you'll hear  a lot more and about Rolld in months to come.
Rolld
Royal Randwick Shopping Centre
Shop 2, 73 Belmore Rd, Randwick
(02) 8964 7733
Noodlies, Sydney food blog dined as a guest of Rolld Randwick. All opinions contained in this post are noodlies' own and consistent with noodlies' published editorial guidelines as outlined in the code of ethics.