Terengganu International Squid Jigging Festival 2015
Step back in time with a tradition that might just ignite the local tourism industry. Noodlies, Sydney food blog takes a closer look.
What is squid jigging?

Why do it?

How to squid jig?
If you're in town, you'd have to be deaf, dumb and blind to miss the fact that the Terengganu International Squid Jigging Festival is on. Just about every tree or light pole in town is adorned with this festive signage that's particularly social media friendly; including Twitter and Facebook accounts and hashtags. The social media strategy is smart because their pristine beaches, glorious sunsets, fluffy clouds framed in vivid blue sky are just breathtaking.
Utterly perfect for sharing on social.
That's why this year, 122 journalists, bloggers and social media influencers from Malaysia and 28 other countries have been invited to experience this second annual event that the organisers hope will put Terengganu on the tourist map, taking share of voice from more established Malaysian tourist hotspots like Kuala Lumpur (KL), Penang and Langkawi.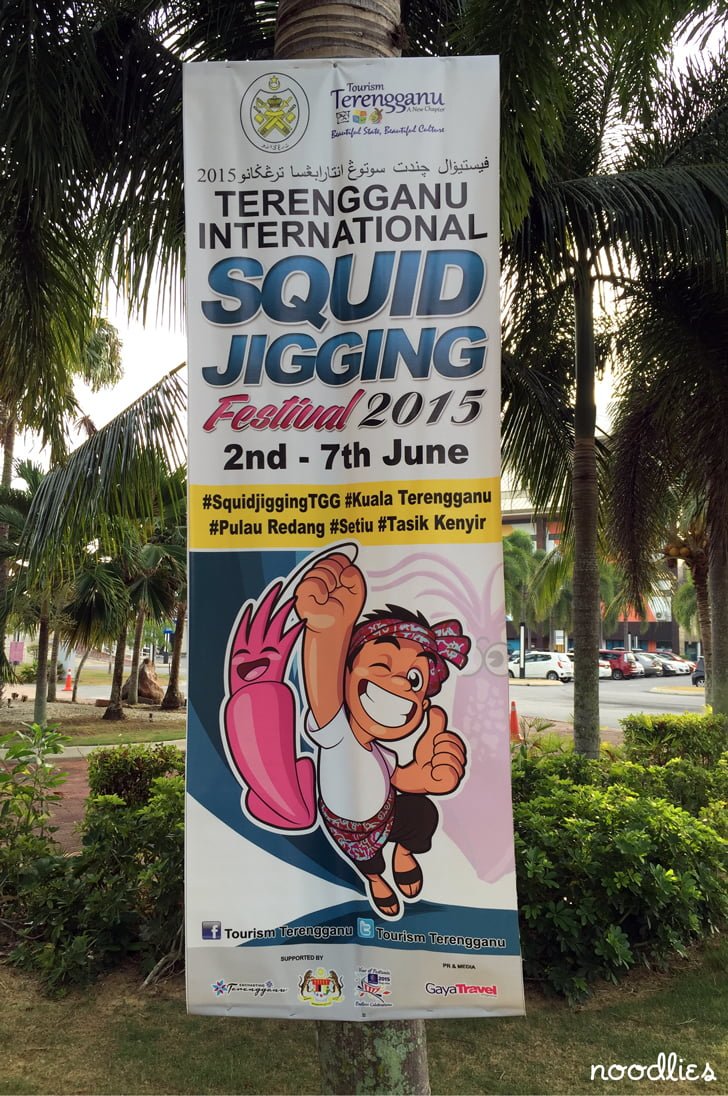 Located in north-eastern Peninsular Malaysia, Kuala Terengganu is less than an hour by aeroplane or around 5 hours by road. Petroleum and gas are significant earners, but most recently, through the concerted effort of the local government, tourism is now another a major contributor to the local economy.
Terengganu once had a traditional ship building industry, but these days, the popularity of these highly decorated wooden bangau has been overtaken by modern motorboats built elsewhere.
Being so close to Vietnam, the area provided refuge to many Vietnamese boat people in the 80s; at one stage there were some 45,000 Vietnamese living in Pulau Bidong camps awaiting re-settlement.
What is squid jigging?!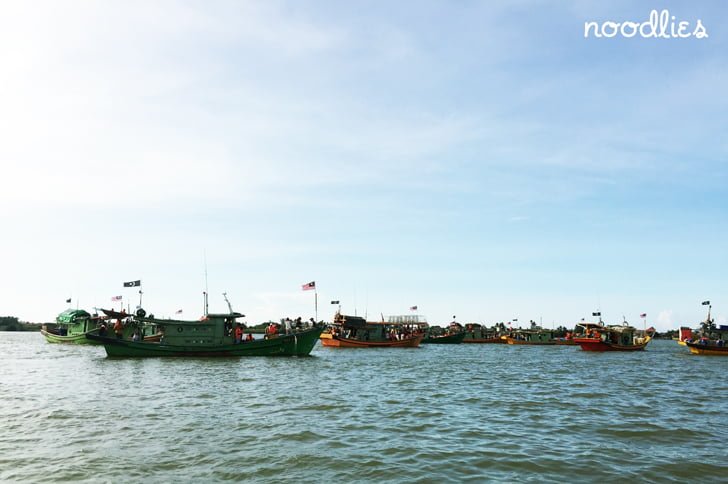 Of course, you'll need to hire a boat and crew and free up a late afternoon into mid evening.  The jig itself is a pretty simple set up; a lot of fishing line with a couple of colourful lures wrapped around a circular reel. Once you're in the ocean, throw out the line and let the weight of the lures pull it down to the bottom. Then pull it up about a ruler length and start to jig up and down.
There's nothing simpler. Have a look at the noodlies, Sydney food blog video below to see how it's done.
And what's the ultimate prize? The catch is a long, luminous, shiny creature that is purple at first but quickly turns satin white out of the water. The only break in the elegant texture is a pair of mother-of-pearl coloured eyes with impenetrable topaz pupils.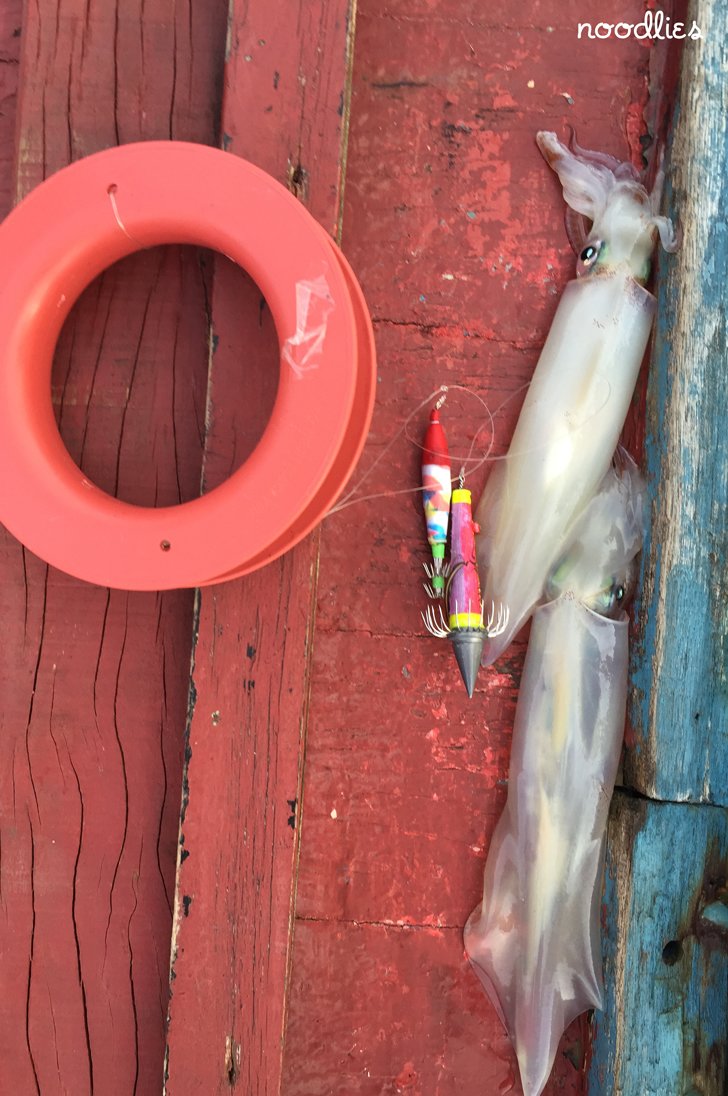 But isn't it easier to drag a net through the bottom of the ocean rather than expend the time and effort jig? People jig for the same reason recreational fishermen fish. The repetitive jigging back and forth becomes profoundly meditative and relaxing. The ritual quickly becomes physically familiar, allowing the mind to float and unwind. It can be addictive.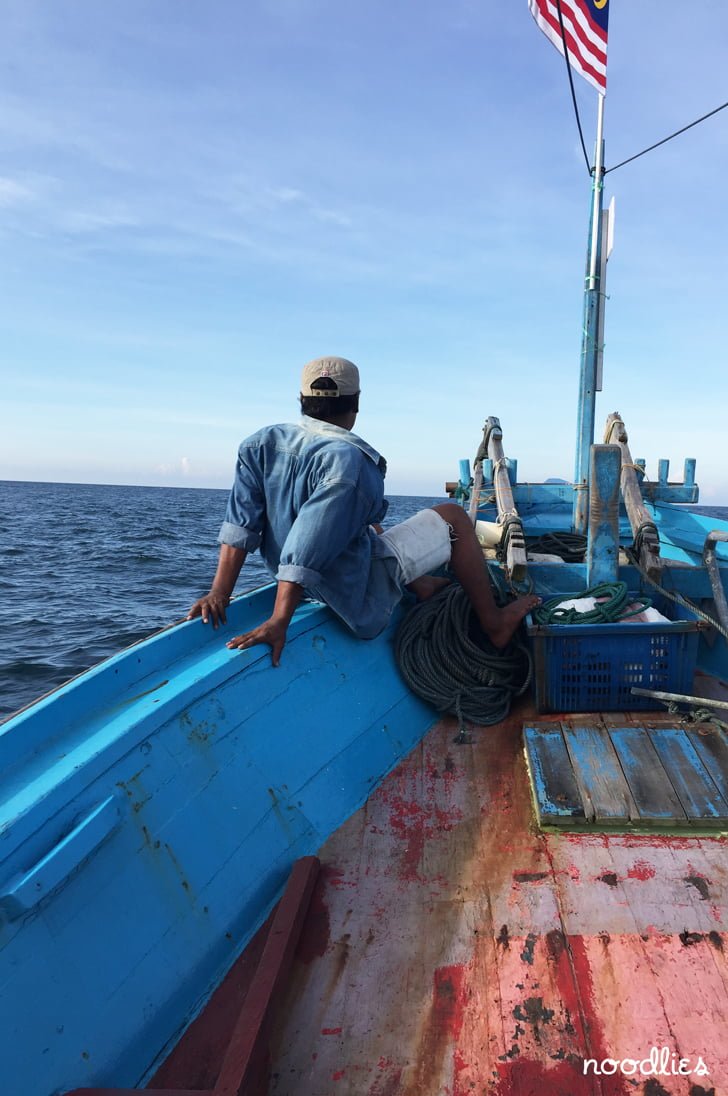 As I relax, I begin to take in more of my surrounds; the rhythm of the ocean and the endless stretch of ocean that leads to a perfectly straight horizon that divides the dark blue ocean with lighter blue sky.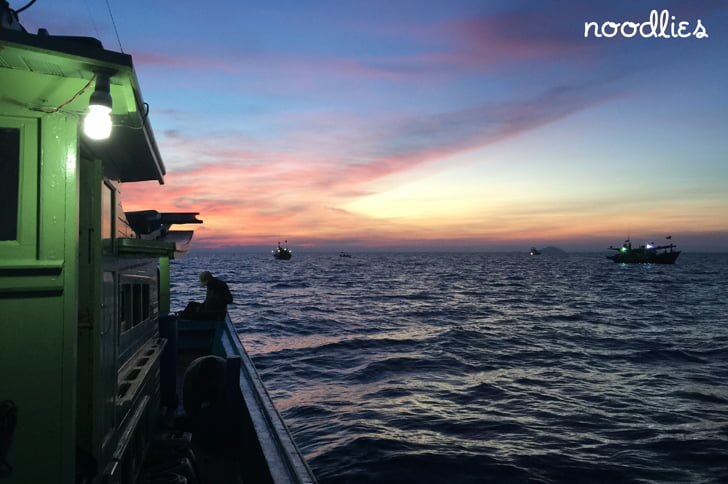 And, as the sun sets, like a peacock, nature shows you its breath-taking colour palette; streaks of aqua, amber, orange and purple. The changes are so subtle and yet relentless. Then night sets in… and blankets us all together in its black cloak.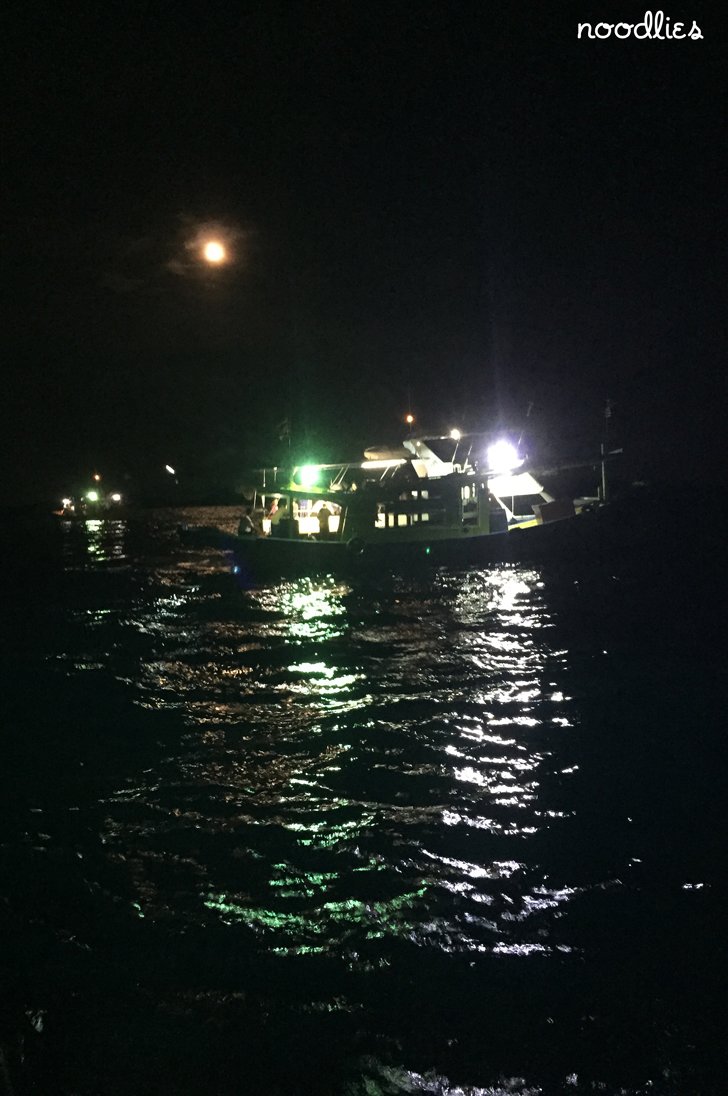 Squid jigging can be a fun, adrenaline rush – there were lots of boats around us with plenty of laughter, erupting to cheers to herald each squid catch. For me, it's a meditative time out that allows me to look up and soak in the glorious, priceless natural surrounds. I leave elated, invigorated and with greater clarity.
But squid jigging isn't just a selfish experience. It provides an income to the local fisherman and their families, and in the process, help keep this tradition alive.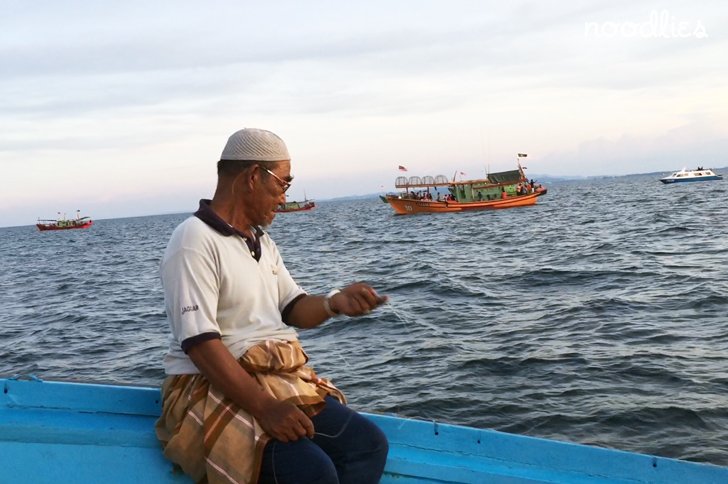 However you approach it – a fun adventure with friends or a personal meditation, squid jigging and the glorious nature all around you is big enough to accommodate all.
Handy tips
Take anti seasick pills if the conditions are choppy and you're prone to seasickness. Though I'm an ocean sport novice, I didn't experience any problems, but I guess we all have different constitutions.

Ask nicely and if you're in luck the fisherman can cook up your squid on the boat. It's nothing fancy, we had boiled squid with ramen noodles (below). But the combination of the sea air and freshness of the catch made the dish taste utterly delicious.

Bring light snacks and a drink – you'll be away for around 4-5 hours and the fresh sea air can make you extra hungry.

Bring a hat and sunscreen – you're not under cover.

These boats don't have a toilet so make sure you 'go' before you go on board.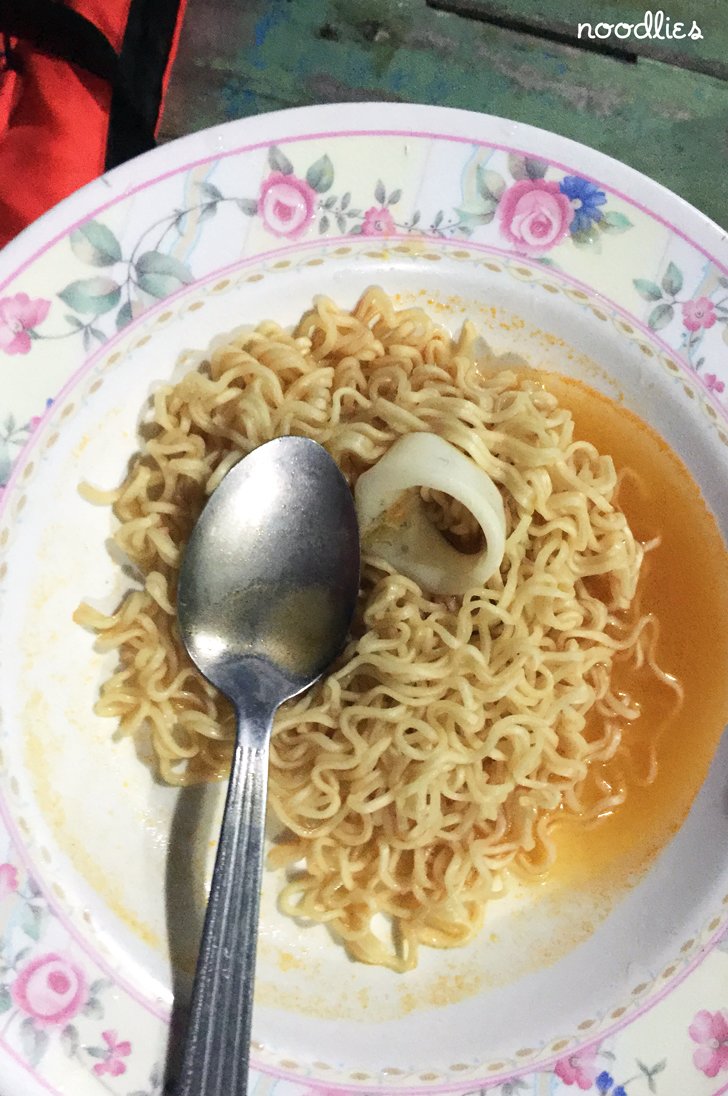 Squid jigging season is May to August. Your hotel concierge should be able to arrange a boat and crew.
2015 is the second year of the Terengganu International Squid Jigging Festival. Last year, 198 journalists experienced the excitement of this Festival and the food and culture of Terengganu. And it seems like the effort of Tourism Terengganu as well as the print, electronic, blog and social media exposure from last year have worked. During the closing ceremony of this year's Festival, the Menteri Besar (Chief Minister) of Terengganu, The Right Honourable Dato' Seri Haji Ahmad Razif bin Abdul Rahman credited it with attracting visitors and tourist income which has helped to improve "the standard of living of not only our fishermen but also the people involved in providing supporting services".
"The number of tourist arrivals has seen a steady increase for the past few years… 3.376m tourists were recorded in 2012 while in 2013, 4.037m tourists were recorded which shows an increase of 19.57 per cent" he said. In 2014 tourist numbers jumped another 11.9 percent. By the end of this year, the Chief Minister expects to generate at least RM4.6 to RM4.7b in income from the tourism sector.
Here's hoping that the squid jigging tradition continues for many more years to come!
#SquidJiggingTGG
To see all the wonderful photos from this year's festival search #SquidJiggingTGG on Twitter, Facebook and Instagram.
This amazing noodlies, Sydney food blog squid jigging experience was courtesy of the wonderful folks at Tourism Terengganu, Malaysia and Gaya Travel Magazine.