Sponsored Post
Top restaurants in Sydney.
Pssst… leading Sydney food bloggers reveal their favourite restaurants.
If you're heading to Australia's largest and most cosmopolitan city, there's just no shortage of things to see, do and, of course, eat. The choices, oh the delicious choices, from fine dining to food court delights.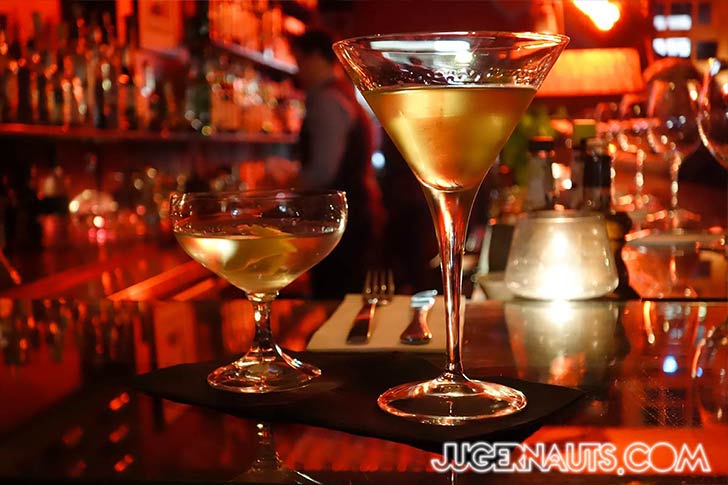 But just where are Sydney's top eats?
If you want your Sydney visit to be an unforgettable adventure then read on for:
Leading Sydney food bloggers' favourite Sydney restaurants
What to order at these restaurants?
Emerging food trends in 2015
Where to stay for a great culinary experience?
Sydney Food bloggers reveal their favourite restaurants.
One gentle bite and a stream of savoury burnt butter is released…
Currently there are over 1,200 blogs reviewing restaurants in Sydney. It's an significant army that, collectively would have tried just about every restaurant in Sydney and surrounds. It's an engaged and enthusiastic army. Noodlies, Sydney food blog has asked some of the leading bloggers to spill the beans on their favourite eats.
Enjoy!
Simon Food Favourites is currently ranked number two on Urbanspoon's Sydney food blog leaderboard. Founder, Simon describes himself as "a passionate food blogger, keen photographer and international cuisine lover. I strive to provide comprehensive and honest reviews of restaurants, cafés, bars, pubs, festivals and products to whet your appetite".
His favourite eat is Bistro Avoca (133 Avoca St, Randwick, (02) 9399 9667). According to Simon, it's very much a local gem with down-to-earth and friendly service. The nicely cooked dishes are reasonably priced for the quality and portion size that won't leave you hungry.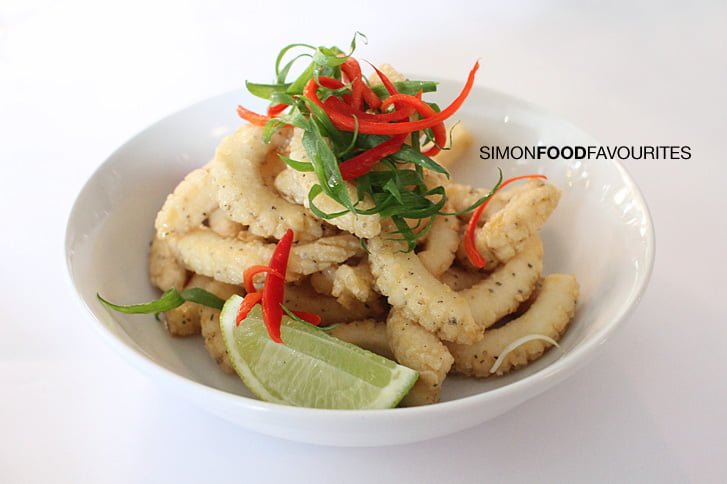 He recommends two must-order dishes; "a nice starter to share is the salt and pepper squid (above) with spring onions, lime & aioli with tender pieces of squid and flavoursome coating. For entree it's hard to go past the crowd pleasing Pan seared sea scallops, cauliflower puree, parmesan & pine nut crumble, basil oil with nicely cooked scallops and flavours that work so well together".
With nice simple decor and comfortable surrounds the restaurant is suitable for couples date nights or small groups of friends looking to catch up.
2015 emerging food trend? Simon picks mutant food for the sake of being different with a focus on excessive calories that will appeal to the cravings of sugar, salt and fat.
According to Isaac, iFat – Food Chronicles is a blog about his food adventures. He reckons a more apt name would've been 'Other People's Cooking' as he's "not that fat… just sort of big boned".
"Considering the fact that I eat almost 99% of my meals outside of home, singling out one restaurant as my absolute favourite is like my parents selecting their favourite child" says Isaac.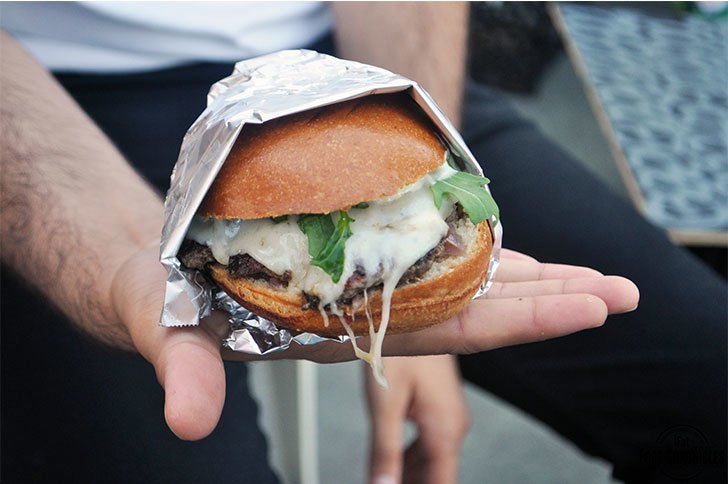 "Plot twist: It's incredibly easy for my parents cause they're infatuated with how awesome I am. My favourite restaurant of 2014 was actually not even a restaurant. It was a truck, more specifically, Mister Gee Burger Truck currently taking residence in a car wash in Burwood. With a small menu of dirty fries (fries smothered in sauce, cheese and tomato), baklava milkshake and a burger of the week (above); you'd hope that they do everything really well.
"Spoiler alert: They do everything REALLY well".
Isaac says their current address is 55c Shaftsbury Rd, Burwood, he expects them to stay put for a while, but warns they could move anytime, so call 0411 092 663 to track them down.
2015 emerging food trend?  He reckons this will be the year of the gua bao in Australia, "With places like Belly Bao and Wonderbao gaining more and more of a following, I believe more imitators and innovators will hop up in this space. I am not complaining whatsoeveer".
Bob from The Jugernauts is an inner city fanatic. From a design and architectural background, he has an active interest in the arts; photography and food. Bob nominates Rockpool as his favourite Sydney restaurants of 2014. But he says The Owl House (97 Crown St, Darlinghurst, (02) 9357 5060) is worth singling out.
"I discovered The Owl House this year and it's a real front runner with really great food and a nice cocktail bar. It's probably slipped off a lot of people's radar as it's established and Sydney can be trend driven but The Owl House really is that warm hug of a restaurant with owner/sommelier/mixologist bringing personalised service" he says.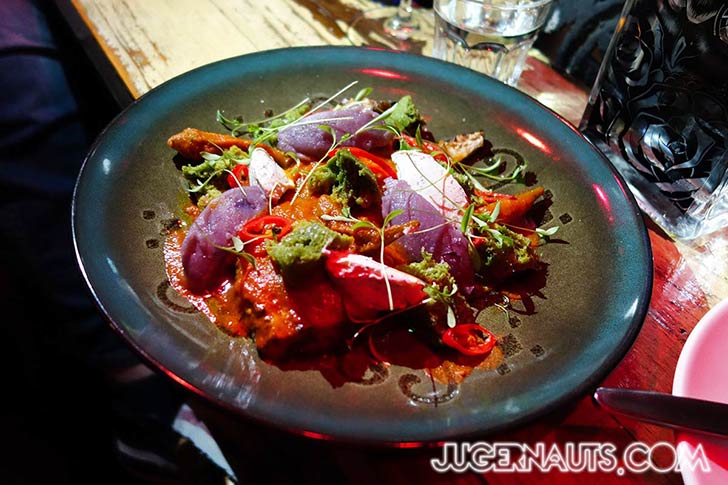 He recommends snapper with Charmoula, spice okra, sapphire potatoes and owl house labne (above) or rump fillet and double cooked brisket topped with buckwheat and truffle, celeriac mousse and remoulade.
Bob also says visitors should indulge in a cocktail or two; saffron gin is a favourite. "Food is beautifully presented and there's also a blend of molecular and fine dining cooking" according to Bob.
2015 emerging food trend? Repurposed foods/Zero Food Waste comes to the forefront. Sydney doesn't have Melbourne's Brothl yet but that's a restaurant he's keen to visit. Bob reckons "Brothl takes the idea of nutrition and zero waste to another level".
Publife Life Kitchen (The Lord Wolseley Hotel, 265 Bulwara Rd, Ultimo, (02) 9660 1736 ) is my favourite Sydney restaurant this year says Raff from Ramen Raff, "they get the whole pub/dude food themed dishes spot on and they are not pretentious. They've also been innovative with their Wednesday night burger experiment specials".
The snickers sundae with pork crackling…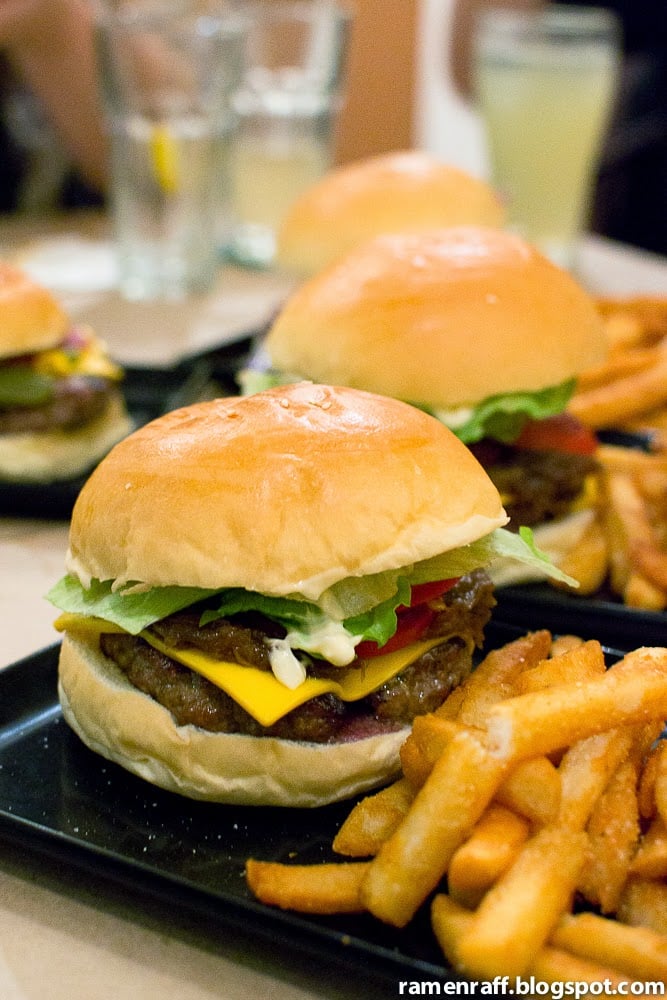 The snickers sundae with pork crackling that they did as a weekly special was pretty full on and amazing says Raff. In his books, they make "legit" cheeseburgers that's there with the best in Sydney. Apparently they're the only place that does bone marrow gravy with chips in Sydney. He also recommends "The O.G. burger pays homage to the classic burger but also takes it to another level with the twist of adding roast garlic lime aioli and onion jam".
2015 emerging food trend? Smoked bbq meats, bacon jam and doughnuts will be the food trend for the first half of 2015 predicts Raff.
"Chopin" and "My Saucepan" make up the blogging duo behind Chopin and My Saucepan's food, travel and music blog, which is currently ranked ninth on the noodlies' list of Top Australian Food Blogs. Living in cosmopolitan Sydney, they are passionate about food culture, fresh food markets, cooking, travel and enjoy networking with people in the food and hospitality industry to find what's hot around town.
"If we had to pick one out of so many great restaurants in Sydney, it is Lumi Bar & Dining (56 Pirrama Rd, Pyrmont (02) 9571 1999). "The food is exquisite and it's fine dining at such a reasonable $95 per head" says Chopin (or was it My Saucepan?)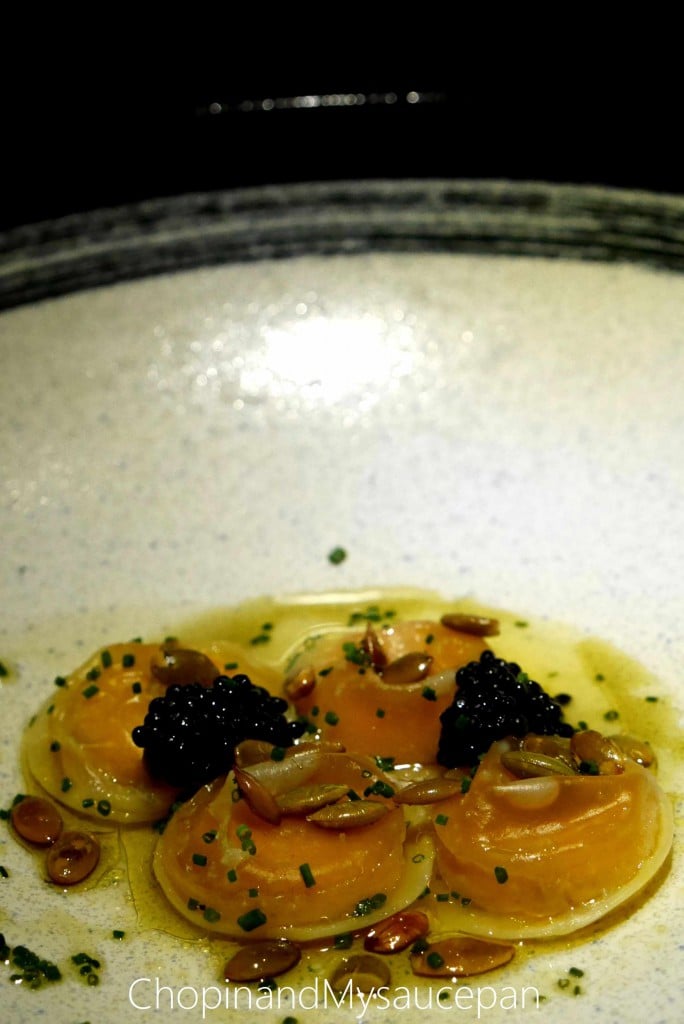 Their two favourite dishes; Spelt pumpkin ravioli – one gentle bite and a stream of savoury burnt butter is released against creamy pumpkin puree while salty avruga is popping with toasty pumpkin seeds. There is technique in the delicate spelt skin, flavour in the burnt butter, texture in the roasted pumpkin seeds and elegance in its entirety.
Squid ink chitarra – the golden bottarga dust is pungent and flavoursome against a rich butter sauce with hints of orange zest. Paired with boldly al dente chitarra and salty sea urchin, this is a beautiful interpretation of flavours from the sea.
2015 emerging food trend? Fine-dining without the hefty price tag.
"The best high end restaurant I ate at this year is Bentley (27 O'Connell St, Sydney, 02 8214 0505)" says Tara of VegeTARAian, Sydney food blog. She recommends the degustation, "the staff were wonderfully accommodating, providing a special vegetarian menu and a vegan menu. The matching wines were perfect and the sommelier really impressed with is knowledge of the wines".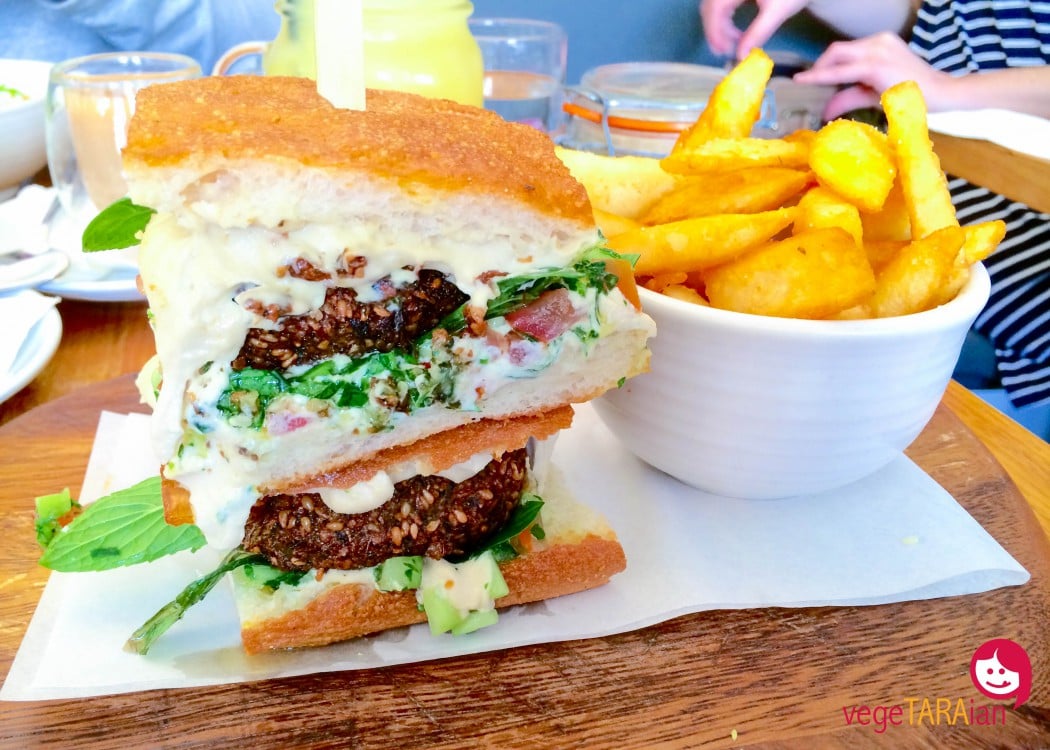 Tara's favourite cafe is Kepos Street Kitchen (96 Kepos St, Redfern, (02) 9319 3919). "The falafel sandwich (above) is enormous and amazingly tasty (I struggled to get though it)!" she laughs.
2015 emerging food trend? Tara's noticed a swing towards healthy and organic foods and more attention on local produce and hopes the trend continues and gets even stronger next year.
A food focussed hotel?
While great restaurants within five star hotels are the norm overseas, it seems like the trend has only just begun in Sydney. Fine hotels are increasingly recognising that fine food could be a key attraction.
InterContinental Sydney Double Bay
So why not stay at a hotel that could help get your Sydney culinary adventure off to a fantastic start? Watch the Nat Geo video below featuring Ross Lusted, InterContinental Hotels Group Culinary Ambassador for Modern Australian Cuisine, and Sharone Hakman and let them take you on a delicious journey as they explore a world of local ingredients and incredible flavours in Sydney.
Located in the picturesque bayside village of Double Bay, this intimate Sydney hotel offers luxury and privacy at its finest. Only minutes from Sydney's CBD  and 13kms from the airport, the hotel offers guests some fantastic Sydney views including the magnificent yacht-dotted bay to the leafy village. Enjoy the central location and village atmosphere of Double Bay with boutique shopping, cafes and the beach only a minute's walk from the hotel.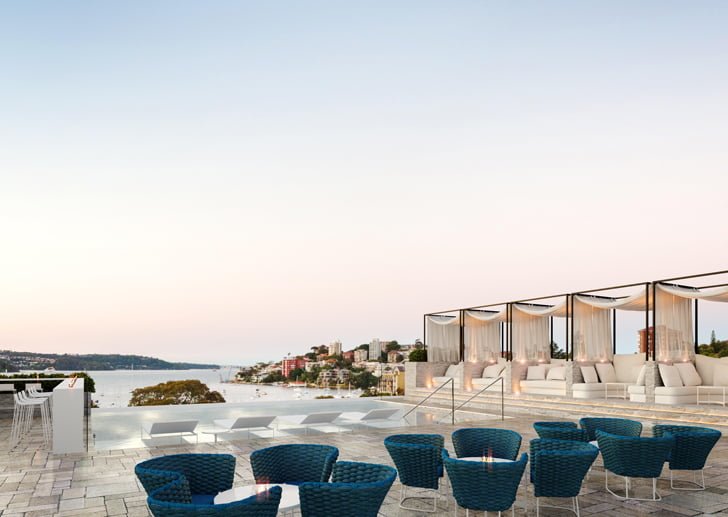 Arguably the best vista is from the hotel's dramatic rooftop infinity pool and lounge, featuring a bar and lounge area with private cabanas; a perfect retreat for those looking to relax on holiday.
So, what are you waiting for? Let the culinary adventure begin…
InterContinental Sydney Double Bay
33 Cross St, Double Bay
(02) 8388 8388
This post is sponsored by InterContinental Hotels & Resorts, noodlies received payment for this post. All opinions contained in this post are noodlies' own and consistent with noodlies' published editorial guidelines as outlined in the code of ethics.
Credits: all images supplied by the respective, fabulous Sydney food blogs and InterContinental Hotels & Resorts.