Due to demand by Sydney food bloggers, noodlies put on a special tour just for them.  Cabra Crawl is a food tour I designed just for food bloggers showcasing a diverse range of Vietnamese food; from relatively well known dishes like Pho, pork rolls, fresh rolls to lesser know fine Vietnamese fare like banh xeo (Vietnamese pancake), ca xuc banh trang (fish curry with sesame crackers) to Vietnamese desserts like che xoi nuoc and che dau.
I was really keen to feature Cabramatta and at the same time give something back to the wonderful Sydney food blogging community.
In the end we had 14 dishes/drinks in the space of three and a half hours:
Pho (above)
sugar cane juice
banh xeo pancake (below)
goi cuon (fresh rolls)
Ca xuc banh trang
lemon, lime, lemongrass crush
emperor's puff
tau hu ngot
Vietnamese ice coffee
As much as the wonderful food, bloggers on the Cabra Crawl enjoyed meeting some of the wonderful people behind the food, like Lena and her mum from Bau Truong and the owner of Vinata's bakery (below) who was so proud to show us her pork roll and pastries.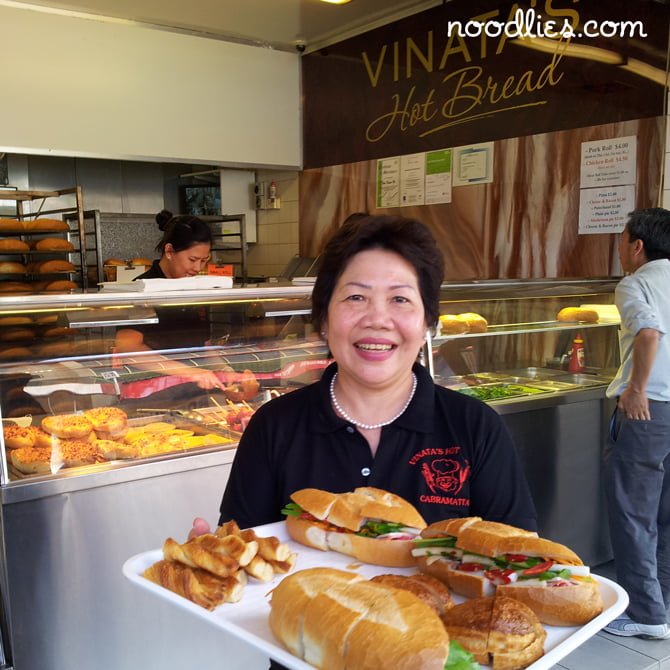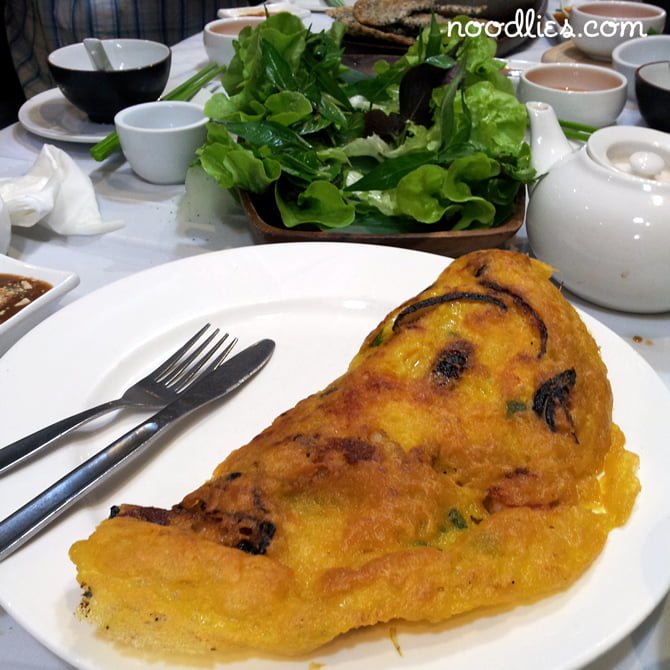 I was soooo wonderful to catch up with the Sydney food bloggers too and I encourage you to visit their blogs:
Everyone was delighted to meet the special guest, ABC Radio broadcaster, Simon Marnie a great supporter of food bloggers and his lovely partner, Amanda.
While I had all the bloggers in my clutch, noodlies, Sydney food blog got them all to rate one of the nominees in Sydney's Best Vietnamese Pork Roll search, the bloggers and Simon became my special guest reviewers!
Special thanks to the incredibly helpful Cheryl from Fairfield City Council and her husband David, who ran ahead to make sure our tables were ready and the food was prepared and sorted out the show bags.  Many thanks to principal sponsor, Fairfield City Council for supporting the wonderful food on the day.
Finally, many, many thanks to all the sponsors of noodlies, Cabra Crawl:
PS. I took these photos with a new Samsung Galaxy Note. Need your advice dear readers, how do these photos stack up with the rest of the pics on noodlies? Love to know…