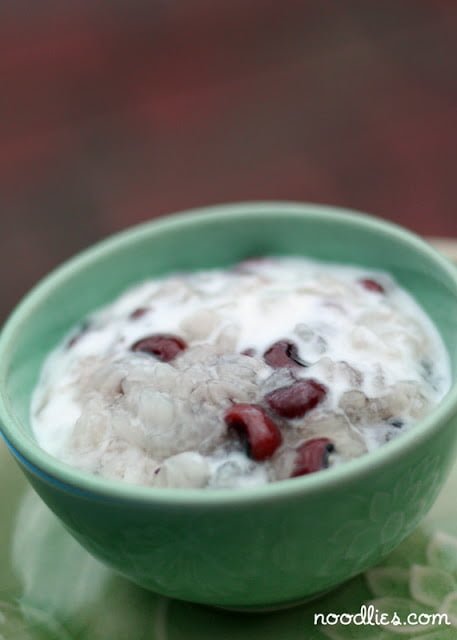 Continuing with my series on Vietnamese desserts, today's post is about che dau. It's so hard for me to translate che dau; I'm sticking with Vietnamese glutinous rice dessert. But it has been described as pudding, sweet rice, rice soup… etc. That's the beauty of pictures, because above is what I'm talking about.

Basically the ingredients are black-eyed peas, glutinous rice, sugar, water and of course coconut milk to liberally pour over the cooked dessert.
My mum makes the best che dau ever, but not living at home doesn't mean I'm deprived of it, they're sold at the counter of just about any Asian grocery store in Cabramatta.
So I guess one good thing this Sydney food blog could do is to share with you the delicious range of Vietnamese desserts.
Other Vietnamese desserts:
Bánh Tét Chuối: Vietnamese Banana Sticky Rice Cake:
Banh Cam: Vietnamese Orange Cake
Banh Chui – banana cake
Xoi – sticky rice dessert