I come to Malaysian food with the wide-eye excitement of a novice and with that comes the thrill of discovery.  Of course, I've had Malaysian standards like laksa, nasi lemak, otak otak and murtabak, I've interviewed Malaysian chefs about their cooking, but noodlies, Sydney food blog still finds much intrigue in Malaysian fare.
Malaysian food has always been around, The Malaya being one of the better known restaurants early on. These days it's the many variations of Chinta Ria, the outrageously popular Mamak in the city, and Temasek, Jackie M and Albee's Kitchen in the 'burbs that are flaming the fire of popularity for this cuisine.  I also credit the Malaysia Kitchen juggernaut too for generating interest in Malaysian food and tourism.
The past few years have seen a whole new spate of new Malaysian restaurants opening in Sydney.  I tried the Sydney version of Melbourne's Petaling Street a few weeks ago.  Tonight, it's Nonya in Chinatown, an offshoot of Ginger & Spice, Neutral Bay.
Nonya food comes from the Peranakans, descendants of Chinese migrants who settled primarily in Malaysia (Malacca and Penang), Indonesia and Singapore.  Nonya is the result of the inter-marriage between Chinese cooking with local ingredients and cooking techniques.  It's also the Malay honorific used when referring to a respected lady, similar to "Madame".
Tonight, this novice has brought along a local.  My brief to Joe is simple: "order what you'd have!".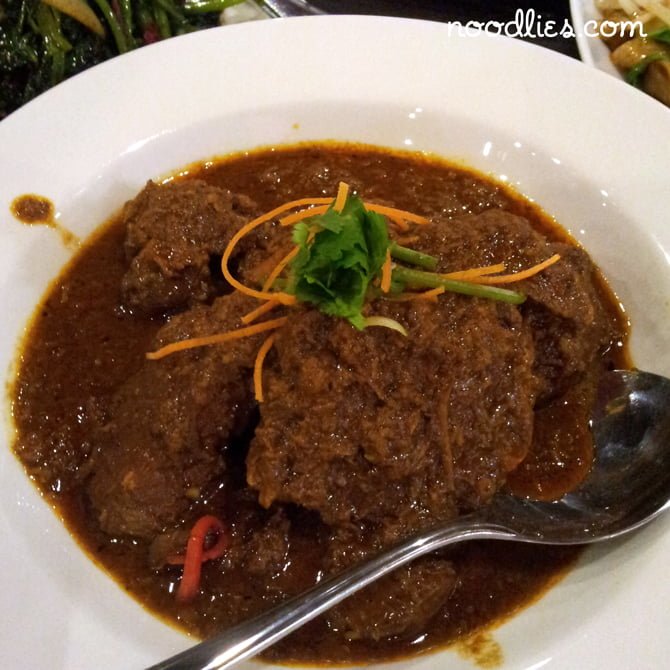 The beef rendang is dark, rich and substantial.  It looks simple enough, but many flavours lurk beneath, revealing themselves in their own good time; salty, spicy…  Liberal pouring of the thickish sauce on rice is highly recommended – though it's best to do this at the end of the meal to avoid overwhelming your rice bowl.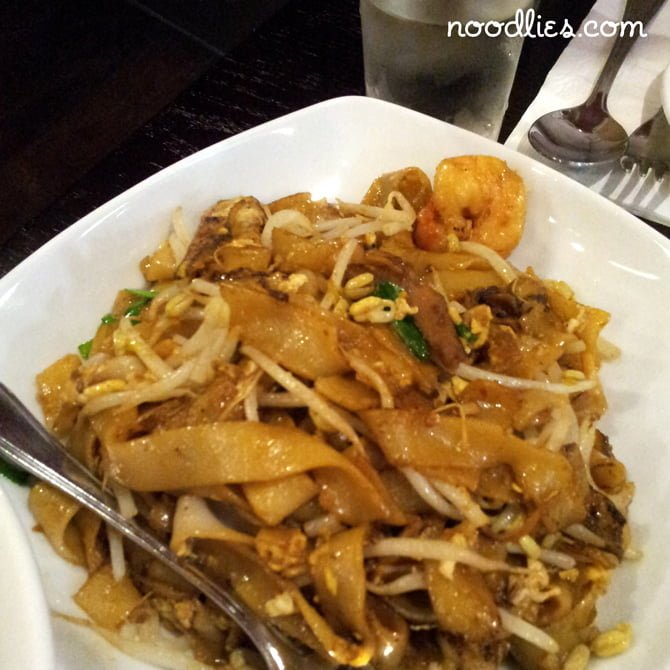 Hooray for Char Kway Teow with wok breath! This dish glistens, the different textured ingredients including rice noodles, bean sprouts, prawns have all been cooked perfectly and enveloped in that heavenly smoky wok aroma.  The flavours are perfect for me, though I suspect some may like a tad more saltiness, especially when eaten with rice.
Assam prawn curry is a dish I normally wouldn't have ordered. But here, Joe proves his worth. Assam means sour or tamarind and the tang is noticeable. But what does it for me is the wonderful ping pong of tastes; sour, sweet, saltiness, spiciness – neither overpowering but all playfully competing for attention.  It's not a thick curry which is perfect when poured on rice. Easily my favourite dish of the night.
The stir fried morning glory is a pretty standard dish across many Asian cultures (no doubt influenced by the Chinese) and we order it to balance with the other relatively heavier dishes.  The morning glory wasn't over-cooked, so there was still life in the stems and the leaves haven't evaporated to slop.
Oh, and we had a cooling glass of teh tarik each – when in Rome… It's the richest execution of this drink I've had, generous waves of condensed milk give the ice cold drink a rich, creamy taste, though, mercifully stopping short of being sickly.  I'm not sure if this is the most traditional iced milk tea, but I don't care. I love the way Nonya has made this teh tarik.
Want to know more about Nonya food?  Watch a splendidly energetic Nonya, Aunty Florence Tan explain in the noodlies interview below. Note how she deftly handles my question about the origins of Hainan chicken.
And if you can't get enough of Aunty Florence, watch the noodlies video below to see her wow the crowd when she was in Sydney during October last year.
Nonya by Ginger & Spice
Level 1
1 Dixon Street, Sydney (diagonally across the road from Mamak)
Ph: 02 9283 7022