There is only one Din Tai Fung… or is there?
Years back, the red "There is only one Din Tai Fung" signs took up quite a bit of real estate at the front of the restaurant. But is that still true these days?
Back then, the Chinese dumpling craze was new and Australia's first Din Tai Fung restaurant basked in the glory. When the partners of the Australian franchise, umm, parted ways, and one of them set up a rival restaurant, the signs were intended to mark their territory. That  rebel restaurant is now a thriving business with many locations, and since that time, there's been a flurry of new entrants: A Taste of Shanghai, New Shanghai, Shanghai Stories, just to name a few. Din Tai Fung has also spread its wings to eight locations in Sydney and Melbourne.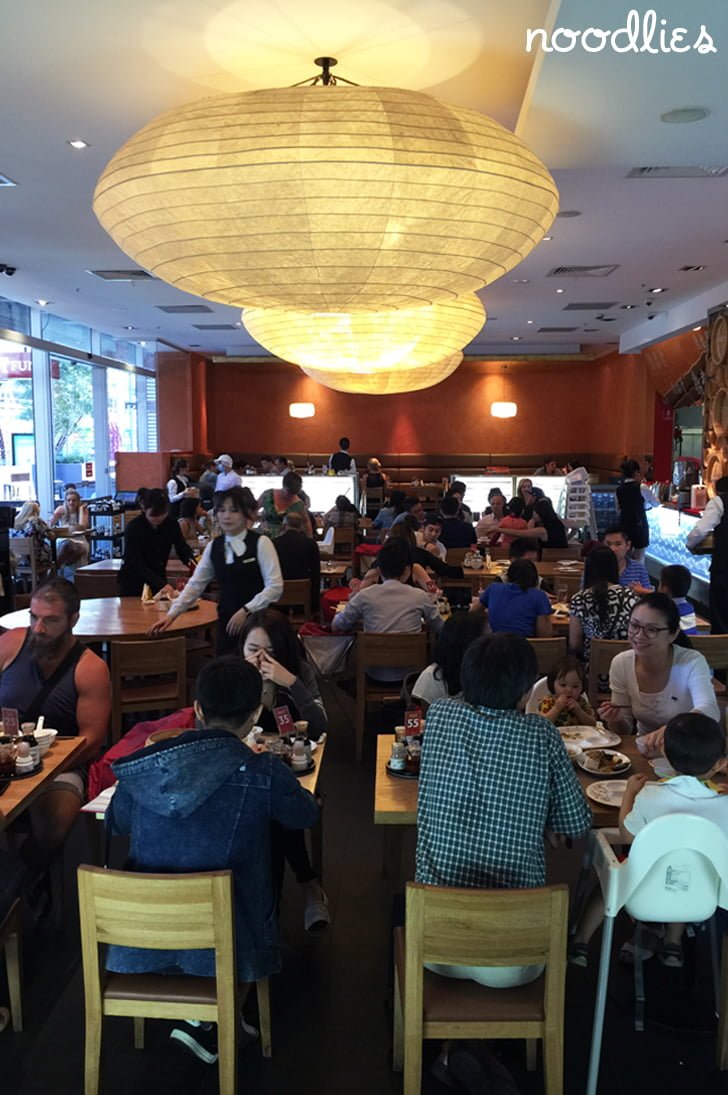 Today, noodlies, Sydney food blog is back at the original Din Tai Fung at World Square. It's as bustling as ever and with a dramatic look; giant lantern lights overhead and a huge bamboo steamers feature wall. It's just past noon and the place is packed. Hungry, we order quickly and the food comes almost as fast. Credit to the folks here, they know how to run a restaurant. The staff are efficient and faultlessly polite.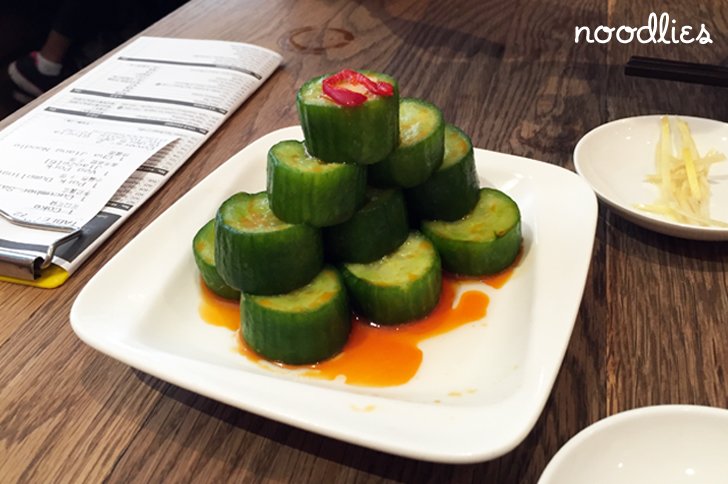 Cucumber salad is a must to get the saliva glands going and your palate ready for coming courses. Usually served cold, but today, it's just out of the fridge chilly. The 'salad' might look simple, but one bite and you'll get the complex flavours which come through via that red sauce.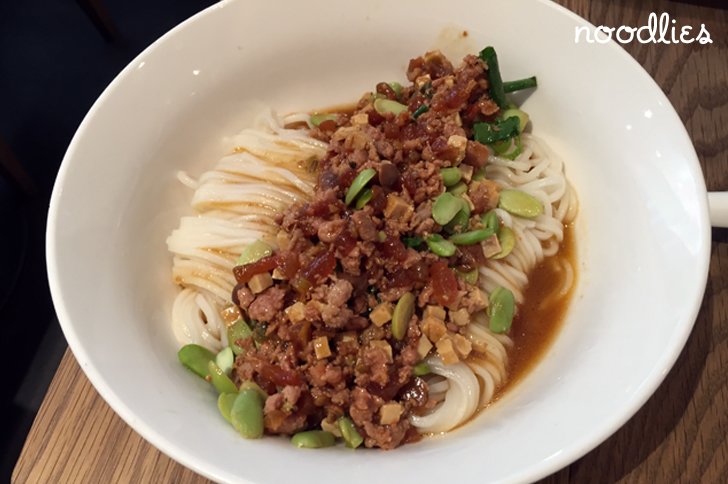 Cha jiang noodle lands on our table looking a treat, stark white strands of noodles covered in pork mince fried in fermented soy bean. Mix it all up and slurp it all down, it's an easy swallow.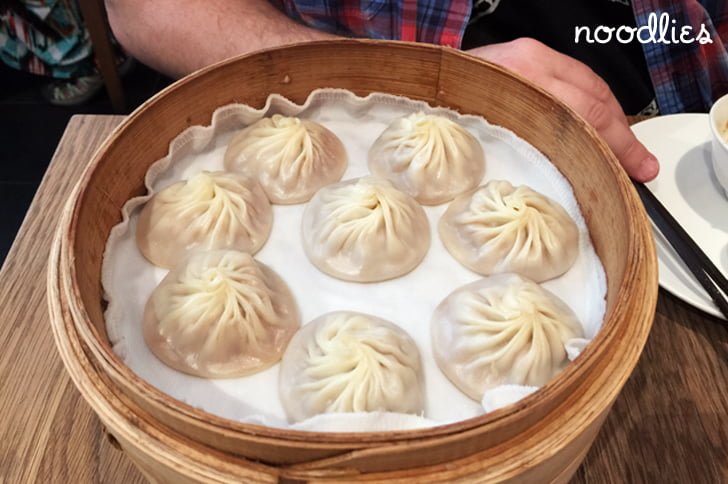 The xiao long baos are round and fat and short, pick them up gently, lest you damage the delicate shell and the hot, juicy sauce spills out onto the steamer rather than your mouth. These pork mince XLBs are da bomb;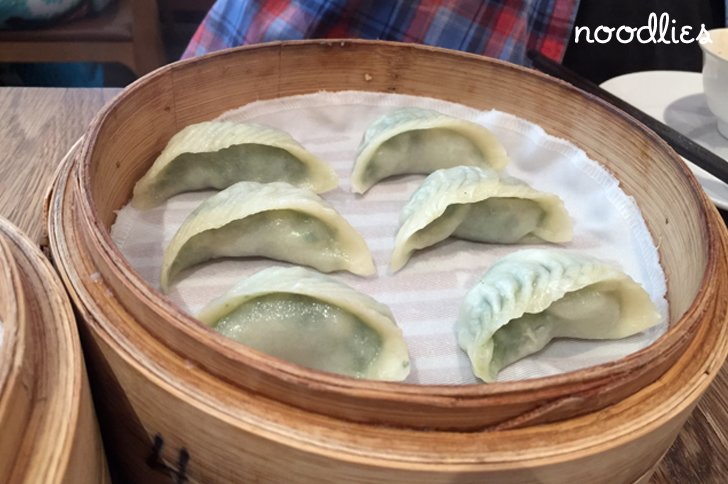 The vegetable and pork jiaoze should have been more rewarding. Today, the filling, predominantly consisting of minced shallots, is on the dry side. Soaking in red vinegar sauce helps, but not enough.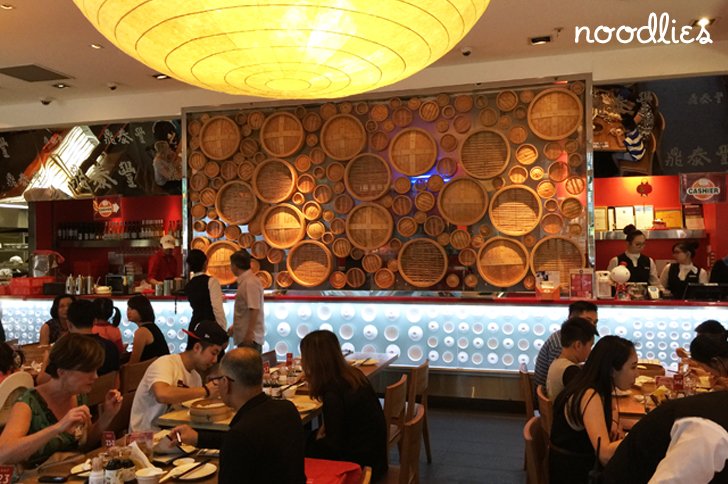 But heh, Din Tai Fung fills up this cavernously large restaurant for a reason. Lots of Sydneysiders love this place, despite the intense competition.
Today, we didn't order the chilli noodle dumplings (below). But that can wait until next time, it won't be long before we'll return.
Din Tai Fung
Level 1, Shop 11.04, World Square Shopping Centre
644 George Street, Sydney, NSW
(02) 9264 6010