Can food help explain culture?
Can understanding of a country's food help to explain its culture? While some dismiss this as shallow, noodlies, Sydney food blog reckons food goes a way to help you understand people and culture.
I reckon food and travel are intrinsically linked. One helps to explain the other. In 2011, Malaysia Kitchen, a sell-out global initiative by Malaysia Tourism is a case in point – selling travel through food – see noodlies, Sydney food blog video below.
My first Thang Talk weekly column for ETB Travel News is reproduced below.
Can food help explain a country's culture and people?
I love travel; whenever I see a plane or get remotely near an airport, my breathing quickens, adrenalin pumping an uncontrollable excitement. The buzz of meeting new people, seeing new places, experiencing age-old cultures – it's an addiction I never want to lose.
But we all eat don't we?
We can take up to 30,000 breaths a day. While, breathing is a life-giving miracle, we do it on auto-pilot, which means we often don't appreciate this profound act. Eating, too can sometimes fly under our radar. As I travel more and more, I start to more clearly connect food with culture. We all eat. But what we put into our mouths, how we do it, even where we do it, say a lot about us.
Communal vs Individual
Last year, while travelling through Myanmar, I sat down to snack at a street food stall in the Mandalay night market. You know the scene, low makeshift table, with even lower, rickety wooden stools that barely support your weight. Under the soft neon light, I can make out different cuts of meats, I don't recognise them, I distinguished them by shape and colour; glossy bulbous, dark and gritty, tan and mangled. The street food vendor wears traditional longyi and a western long sleeve shirt. Silently he slices different cuts of meat and skewers them, the finished skewers ready for dipping in amber sauce and munching with raw garlic and chilli. It's all you can eat and charged by the stick – as far as I can tell, each stick is the same price.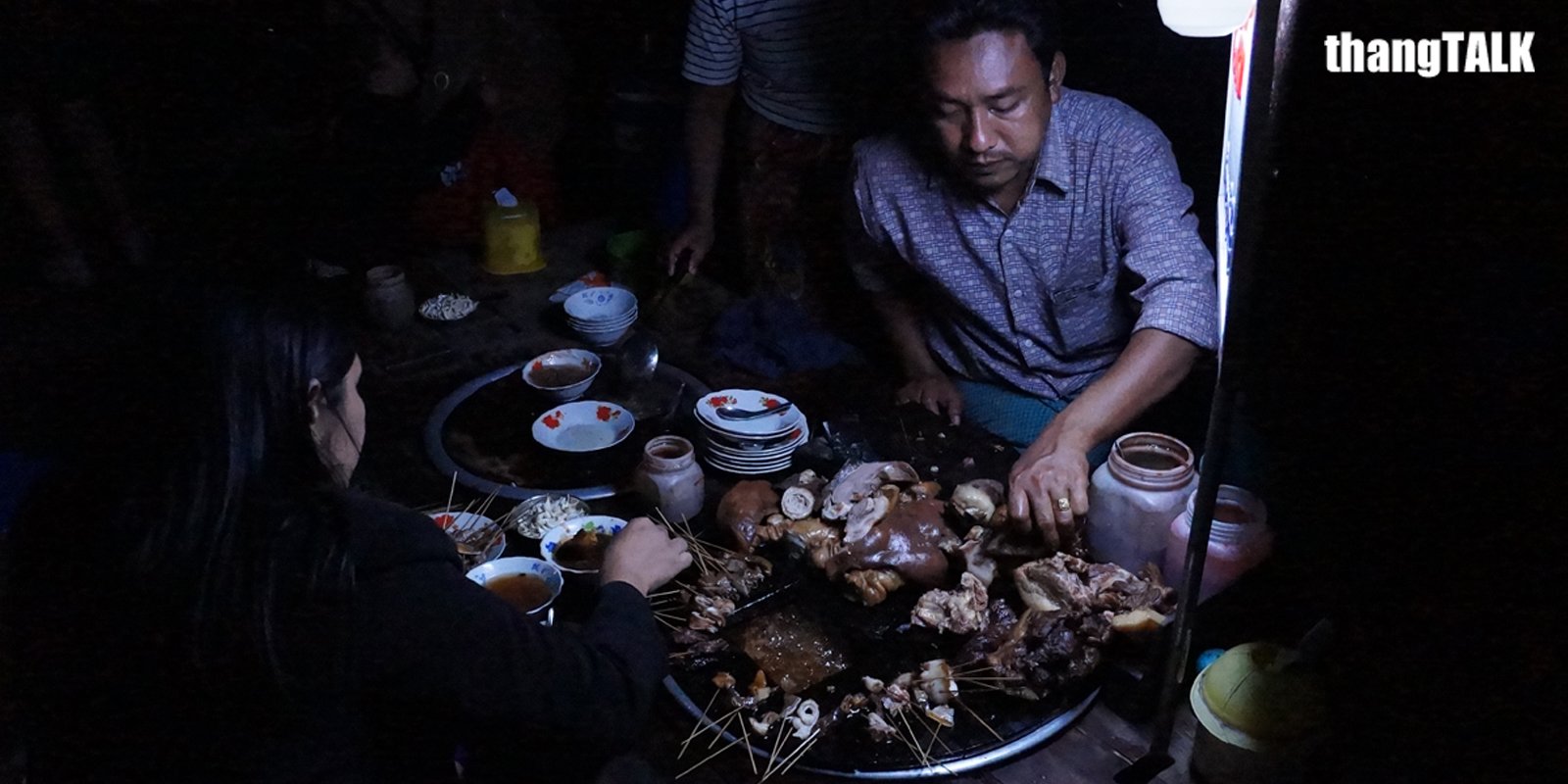 This is a communal experience of people eating together is practiced by many Asian cultures. When a family sits down to a meal in Myanmar, the table is likely to be filled with different plates of food. They pick at the dishes with chopsticks and dip food into shared sauces. The meal below, from Bagan came to around A$3.50. Communal eating is the same in Vietnam (where I was born).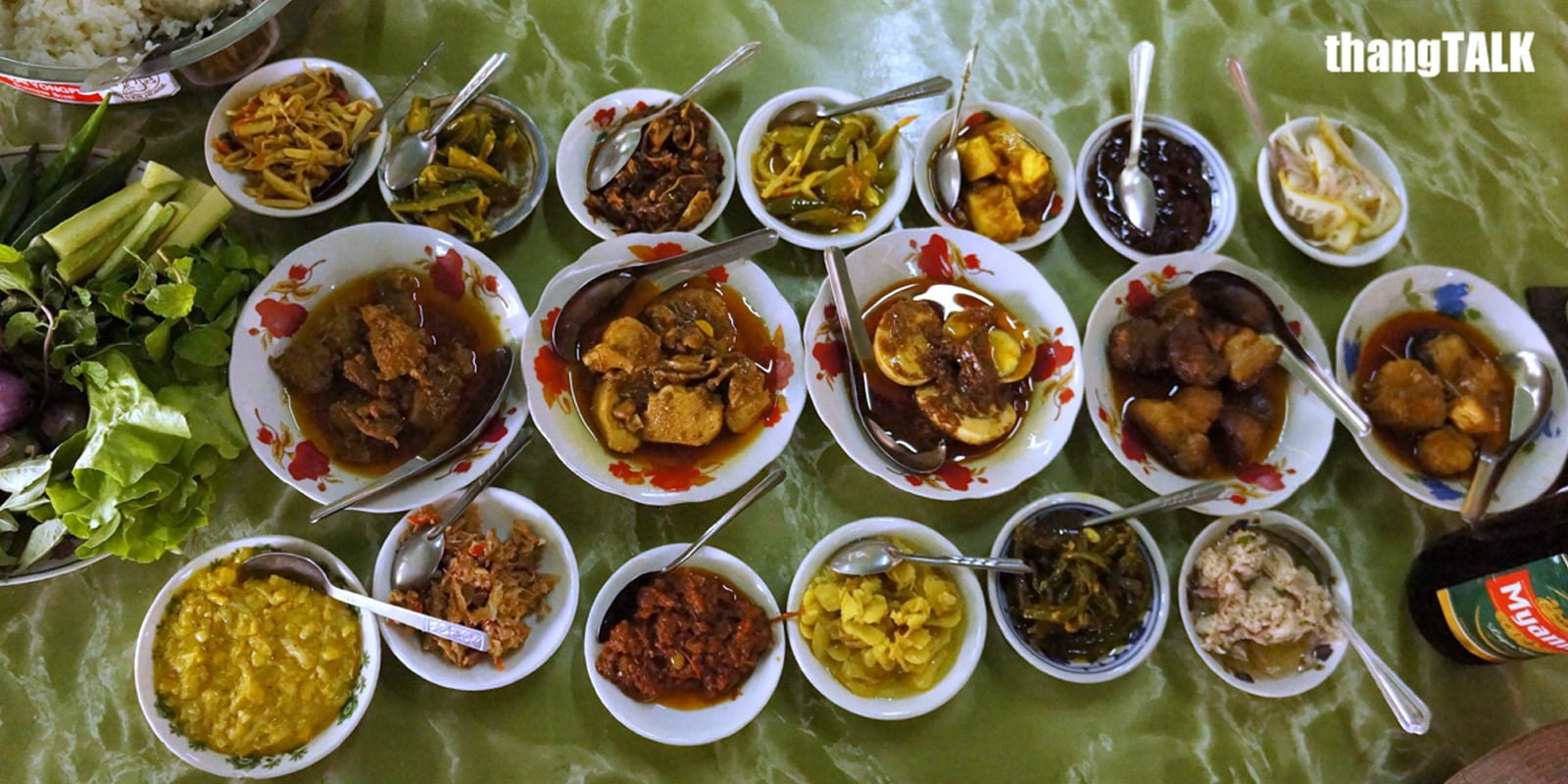 The thought of picking at the same plate and sharing sauces would shock those from the West, who have been brought up to place food into individual plates. No mixing here. Food, and how we eat it, demonstrates the difference between cultures – communal compared to individualistic societies.
Outside vs Inside
Street food, specifically where we eat it, is another finger print of society. Around many parts of the world, the streets are bustling town squares. Here people hang out, gossip, trade and of course, eat street food. Eating at the Mandalay Night Market is one of the highlights of my Myanmar trip.
When I get home to Sydney (where I now live) the street is more an infrastructure that gets us from work to home. We get off the streets as quickly as possible into our air-conditioned offices, noisy shopping centres or the privacy of our homes.
Which hand?
How we eat food says a lot about us as well. In most Asian countries, food is eaten with chopsticks – meat and vegetables already cut into manageable chunks for mouths and can be easily picked up with chopsticks. Steaks and larger chunks of food in Western countries are best navigated with a knife and fork. And in some countries, such as India, food can be eating by hand. For Muslims, the left hand is considered unclean as it's used for bodily hygiene. The right hand is reserved for eating and social interaction.
Some have claimed that using food to understand culture is a little shallow. I'm not in that camp. I'd argue food, travel and culture are pretty closely related. And that's just the point of Thang Talk, my weekly column for ETB Travel News. I love food and people and Thang Talk's about the wonderful food and culture from around the world. I hope through Thang Talk, we can all understand each other better.
Read Thang Talk, my new weekly column for ETB Travel News.