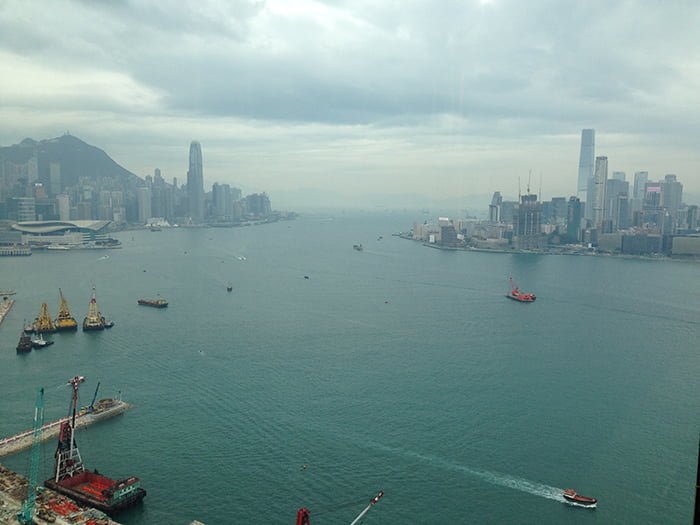 Noodlies, Sydney food blog contributor, Evie Chataway gets the lowdown on the Hong Kong food scene with a tour from foodie writing royalty.
If you've a preconceived idea of food tour (being herded en masse from tourist spot to tourist spot that no local would ever eat at) you might want to think again. I've done a few in different cities, in different countries, and they've all differed from place to place.
But on my recent trip to Hong Kong I got the chance to try the crème de la crème of food tours.
Forget being in a group, this is a private affair, with a guide who is an A-list food writer. In short this is a VIP experience. It doesn't come cheap, but you're paying for the chance to eat with a rock star of food and lifestyle writing, who will be giving you a crash course into the bustling food scene of Hong Kong.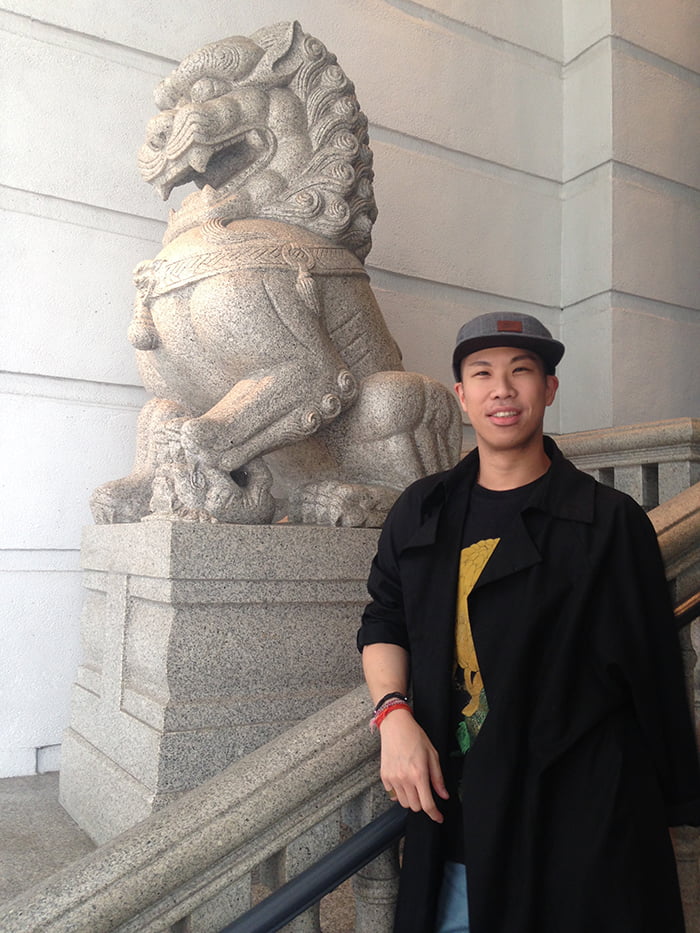 Waiting at the designated meeting point at the MTR station, I'm wondering what to expect from our guide from Little Adventures in Hong Kong. He'd been described to me as 'a character', 'flamboyant one-off' and 'legend' by some Hong Kongers who were familiar with his work or had met him.
On first appearance, I'm struck by his outstanding fashion sense, a baseball cap coupled with a cutting edge designed rain mac creating the look of a super cool hip-hop Inspector Gadget. Johannes Pong is a warm and friendly host, who straight away whisks us to the first stop on our 'Won-Ton-a-Thon' tour.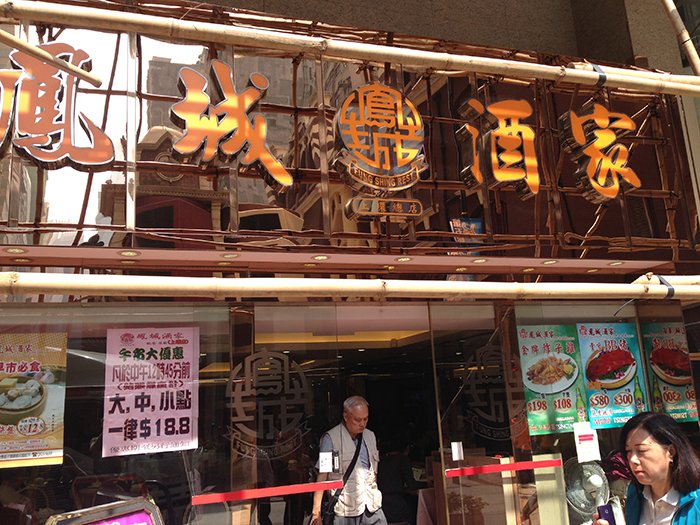 First up, we stop for yum cha. Tea is brought, the default jasmine tea is produced. This is a very traditional restaurant. On the table is a big bowl, which Johannes explains is there so you can pour tea over your chop sticks. It's a throwback to the days before dishwashers when you might have wanted to make sure your eating utensils were clean. While this is probably unnecessary in this such establishment, the older clientele who like to patronise here post their morning tai chi, enjoy this familiar ritual, hence it still remains.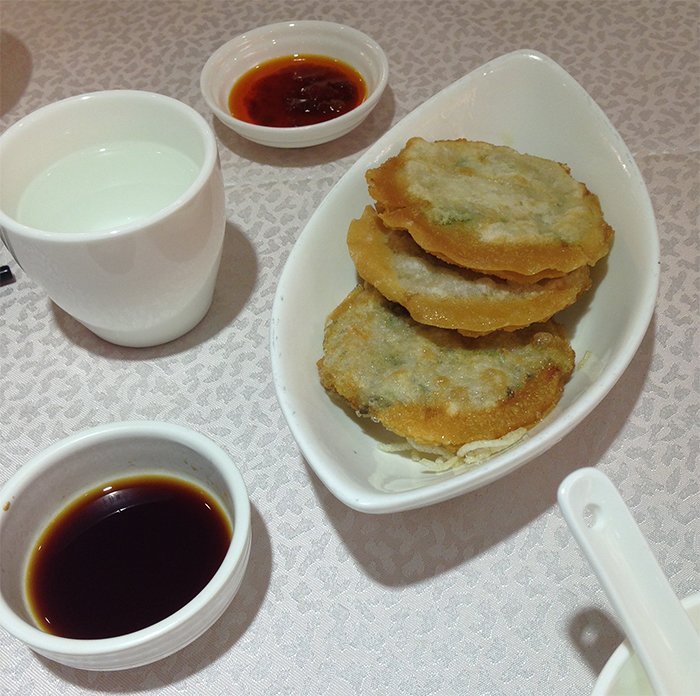 The first dish which comes out is a small fried patty fishcake made of dace. Dace is a freshwater fish, similar to carp, which for the purposes of this particular dish is hit with a cleaver to break down the proteins within and gives it a slightly bouncy feel. The mixture also contains bitter melon and tangerine peel. It tastes light and fresh, and I can see why Johannes has chosen this with our tea as we start our 9am tour.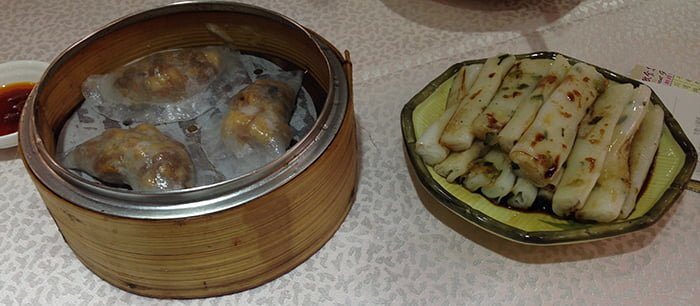 Rice rolls are stuffed with a delicacy left over from last night's menu – stir fried quail meat, along with prawn and pork, black fungus and rice powder with tapioca. Salt water dumplings prove to be a big hit with me, and I'm not the only one – Johannes explained this is one of his grandfather's favourite dishes.
The dumplings are bathed in saltwater and contain sticky rice. The combination of sweetness and slight saltiness bring backs memories for me of fresh donuts cooked on the pier when at the seaside. Even though they are totally different dishes, it brings a nostalgic smile to my face.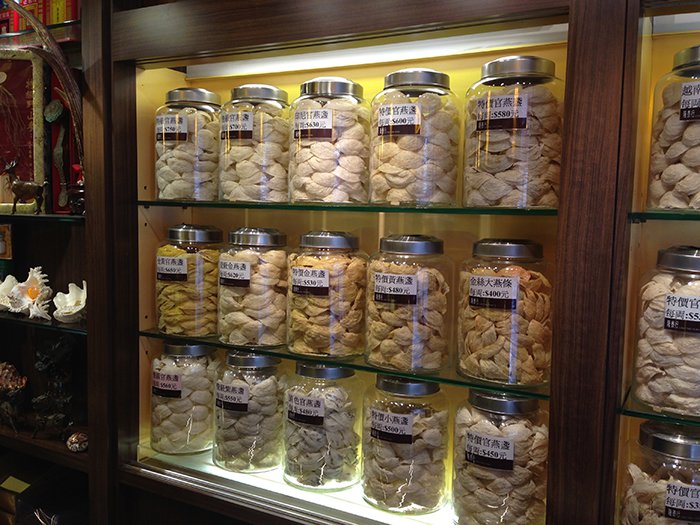 Now followed a chance to let the food digest a little and get a better insight into the culture of Hong Kong. Johannes walked us through the dried seafood and tonic shops nearby.  I've seen these stores before and tried to look in without having much of a clue of what is what.
With Johannes to guide us we got a thorough insight into what wonders were held in the plethora of glass jars, as well as a better understanding of local food and customs in general.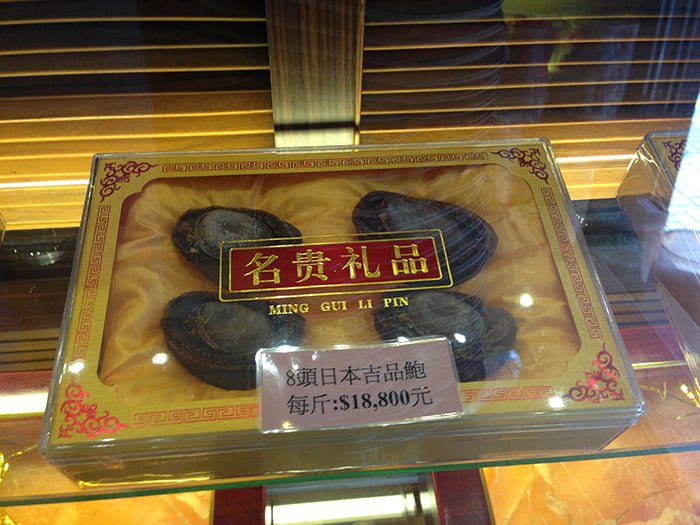 We check out the shark fin (strictly for special occasions) and the dried abalone which is eye wateringly expensive. Beautifully boxed, four dried abalone in the presentation case comes in at over $A2900 – ouch.
Birds nest of various sizes are packed in jars which when added to soups or broths are said to promote long life. Come Chinese New Year these shops will be packed with people buying items for celebratory dishes, which are supposed to promote health and wealth.
Dried scallops are more an everyday item, and are added to dishes as a form of seasoning instead of herbs or salt.
It was fantastic to have an expert talk though all the jars and what they are used for. I've always loved looking at these shops when going past, they've always seemed slightly magical, but finally having some understanding of the offerings made it all the more rich and fascinating.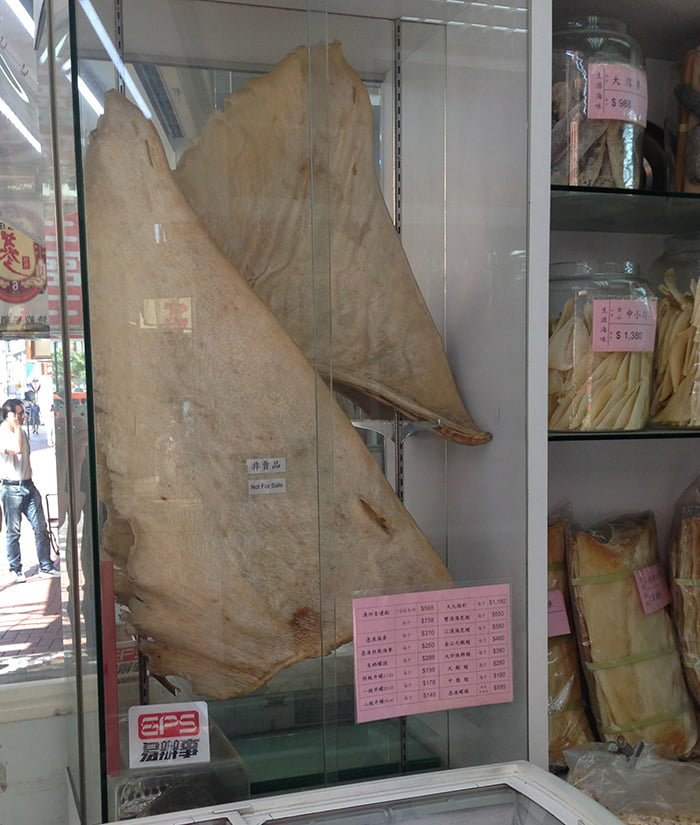 Having seen the healing powers offered through food, Johannes moves us on to try first hand some tea which promotes good health, from clearing out a cold to restoring your liver. 'Or you could try turtle jelly,' he says. It wasn't pitched as a challenge, nobody was throwing down a gauntlet, but I felt I had to go for it.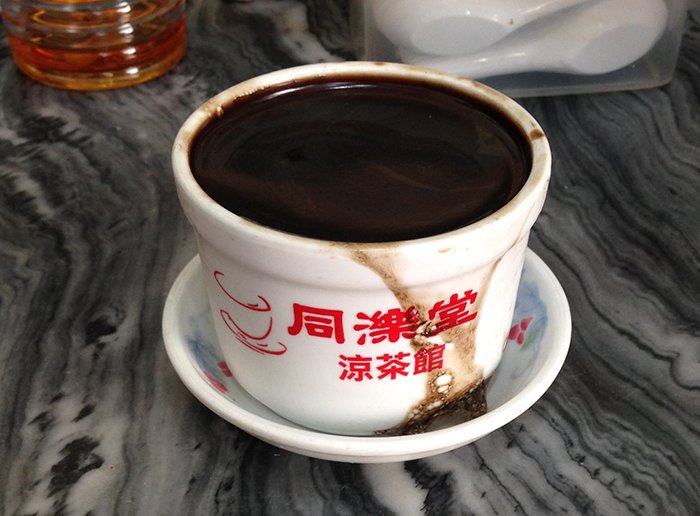 It came out looking – how can I put it – unpromising. It was black. Very black indeed, like black emulsion paint but with more wobble. There was some syrup on the table to help sweeten the jelly which we were warned was bitter. We took a deep breath, and we dug in.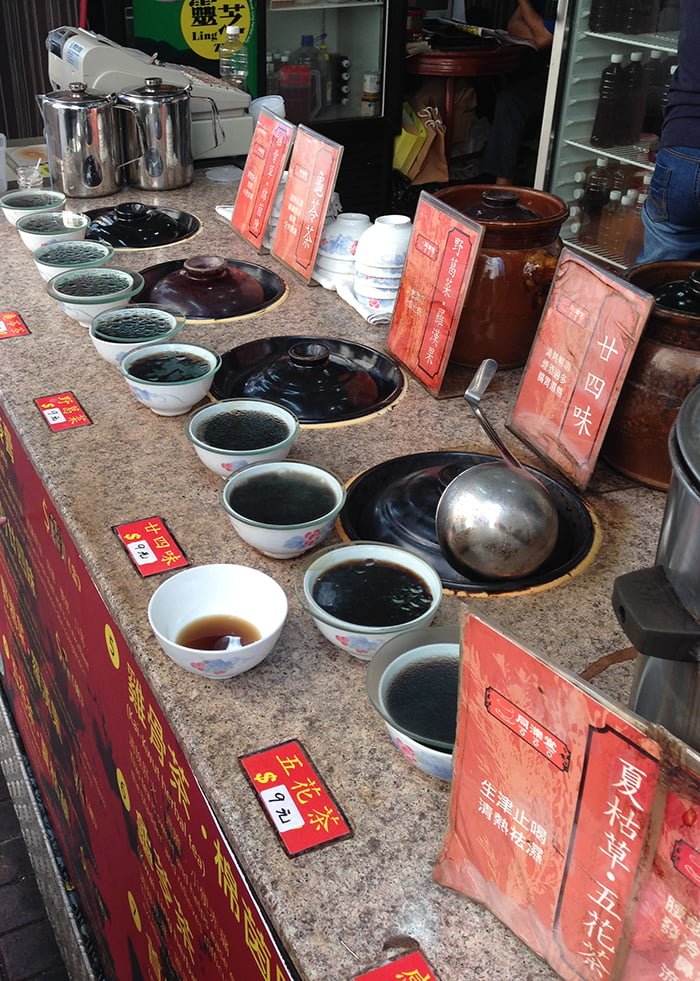 After the build up I was expecting a sort of embarrassing gagging incident to be the outcome of this story. But no, it was honestly fine. It wasn't life changing. It wasn't disgusting. It was plain old fine.
If someone had served a small portion turned out beautifully onto a glass plate, topped with a coffee bean and a little cream, and you had been told it was a bitter coffee jelly, you'd have eaten it happily enough. It was mainly the colour and the fact you knew you were eating the cute turtles from 'Finding Nemo' that you have to get over.
[youtube http://www.youtube.com/watch?v=ansWZq7yULE]
Up next we went to a specialised pork restaurant to sample some roast pork belly and bbq pork. And yes, while I had been dealing with guilt about the turtle jelly, I had no such problem with chowing down on the kin of 'Babe' – which just goes to show what a hypocrite I am.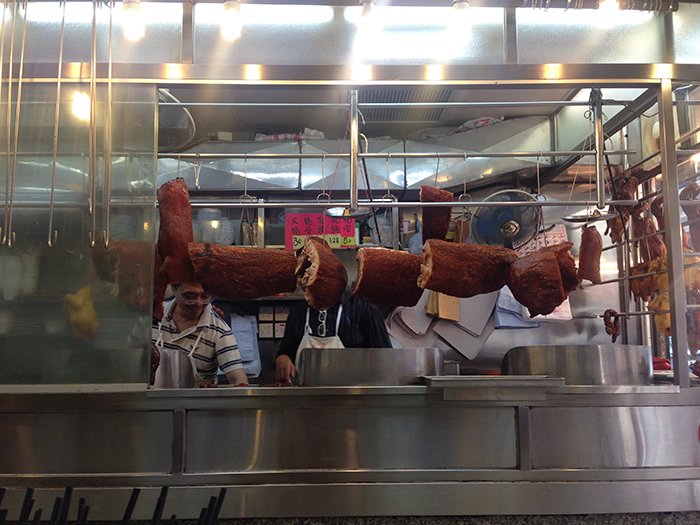 We slid in before lunchtime so we had no problem getting in, but come midday you can expect a queue out of the door with people needing a pork hit to get them through the rest of the work day. The pork is great, the roast pork being succulent with crunchy crackling, but for me the real star of the show is the bbq pork with its red skin and explosion of flavour.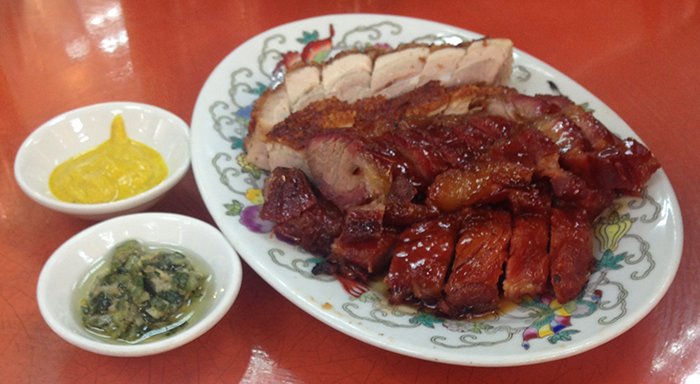 Served with Chinese mustard (which tasted very much like a mild English mustard) and vinegar with scallions, I can understand why people would spend their lunchtime queueing for a taste of these dishes.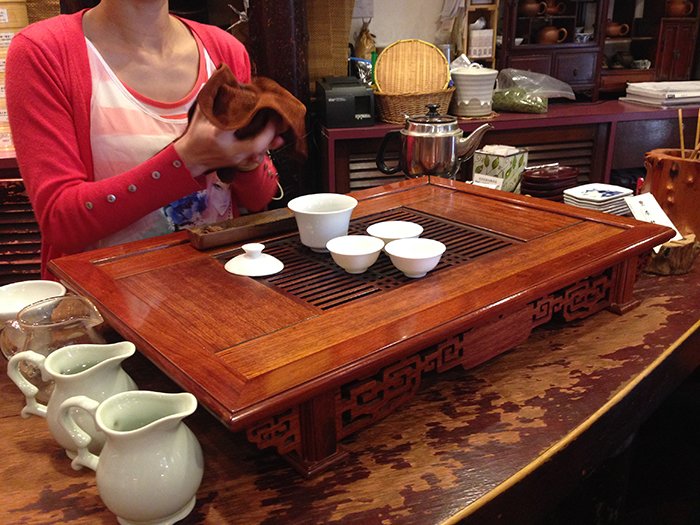 Time for a break from food, and instead on to the peaceful oasis of the Lock Cha Tea Shop. This place is a haven of calm against the fast-moving backdrop of Hong Kong's busy streets. Sitting down to taste some top quality tea our hostess lovingly brewed up many different teas for us to sample. And it goes without saying this was a million miles away from a cup of Tetley. We started off with premium jasmine green tea.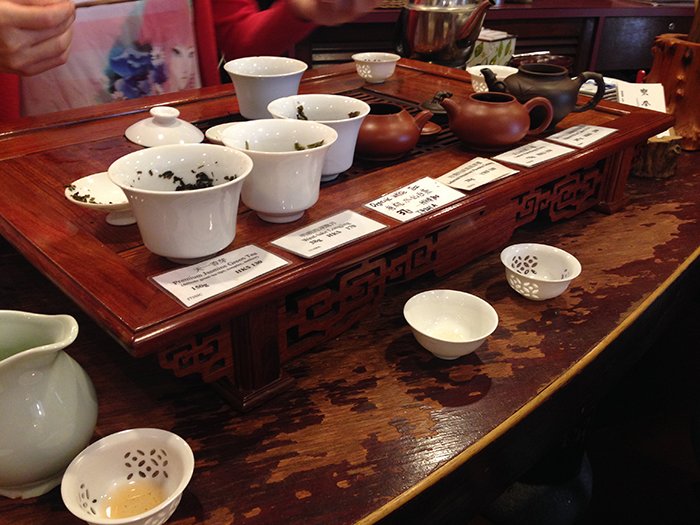 Its gentle soft perfume bouquet didn't overpower when tasting. This is nothing like the standard jasmine tea we were poured when we had Yum cha at the beginning of our tour, this was in a different class.
Organic white tea was another offering – Johannes advised us it's currently very popular in LA, as it offers less caffeine but more anti-oxidants.
Health benefits aside, the proof for me is always in the pudding (or tea cup in this case), the taste was again light and reminded me of rosehips. The Oolong was my favourite however. Translated, it means 'Dark Dragon' and it is certainly a tea fit for a Khaleesi (I'm sorry, I am obsessed with Game of Thrones at the moment, if you've read my 'Throw a "Game of Thrones" Dinner Party' article then you'll know).
Brewed twice, this tea had a strong smell of peach, to the point I thought the taste might be fruity and pungent when it came to tasting. But it wasn't the case, it was complex and interesting, strong but still delicate.
The sad thing about this store is that it will be closing soon. Like so many other people in Hong Kong, the rent has risen too high for them to operate successfully as a business. It seems such a shame that a establishment which has been here for nearly 25 years and which has such passion and wealth of knowledge will soon have to close its doors.
While Hong Kong's cuisine is predominately Cantonese there are also many Shanghainese establishments. Shanghai Lane is one where we tried a few interesting salads.
Where Cantonese food features a lot of seafood and is big on texture, Shanghainese food is very sweet and uses a lot of vinegar.
We sampled pickled veg made with high quality Chinese vinegar, ham (similar to Parma ham), snow vegetables, edamame and tofu skin.  Another dish was much sweeter and consisted of wheat gluten in sweet soy sauce, sugar, and wood ear mushrooms, which I adored, probably because of my sweet tooth.
Both the dishes were cold. My favourite were the pork dumplings (which our waiter chastised us for not eating straight away as they were best eaten fresh and hot!).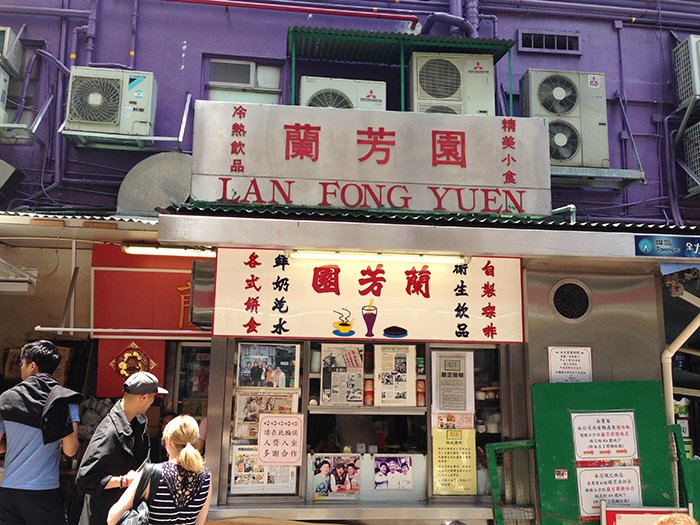 Walking to our final stop, we passed a small stand in the middle of the street. Inside was a woman who appeared to be straining tea through what looked like (to my eyes anyway) a surgical stocking. Johannes suddenly asks if we want to try 'tea coffee'. 'A tea or a coffee?' 'No, tea coffee'.
Now I'll happily try turtle jelly, but the tea coffee was a no go for me. I don't like coffee. And the idea of mixing the two together seemed utterly disgusting.
I know not liking coffee is practically a blasphemous thing in Australia, but I just don't like it. I try it every year or so, I try and talk myself into getting used to it, but I think the time has come to accept I just don't like the stuff. My husband though tried the tea coffee and loved it. The chilled mixture of coffee and strong tea with condensed milk worked for him. To each their own as the saying goes.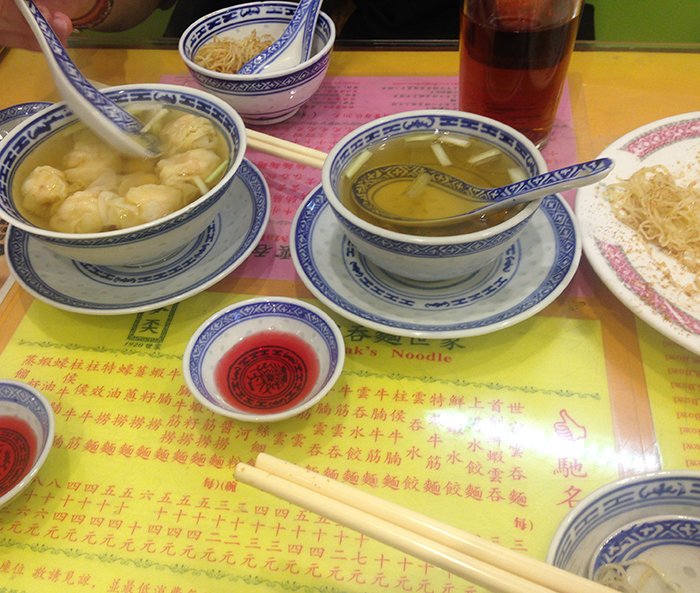 Our final stop on the tour was at Mak's Noodles, for won tons, broth and noodles. The broth had an incredibly intense flavour, mainly because it was made from dried shrimp and prawn heads. The water dumplings were fat and full of pork and shrimp, bamboo shoots and white pepper.
Teamed with some red rice vinegar which was slightly alkaline, this dish was one of my favourites on the tour. The simple intense broth, with rice noodles to add to it, and the fat perfect dumplings were the ideal way to end our fabulous morning of eating.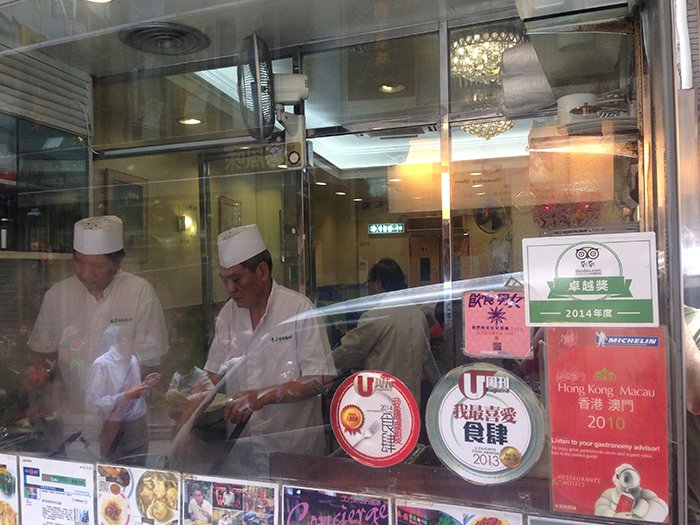 Turns out I wasn't the only person to enjoy Mak's Noodles – Mr Thang Ngo himself has also sampled it's delights.
[youtube http://www.youtube.com/watch?v=xOyOJm3GOr8]
Let's put it out there, this tour did not come cheap, so four hours and a lot of food later, was it worth it? For us it absolutely was – Johannes Pong was a tip top guide, and we got insight on the local food scene from Hong Kong food writing royalty. It was like getting to read the papers with Lee Lin Chin, or getting a tour of parliament from Annabel Crab.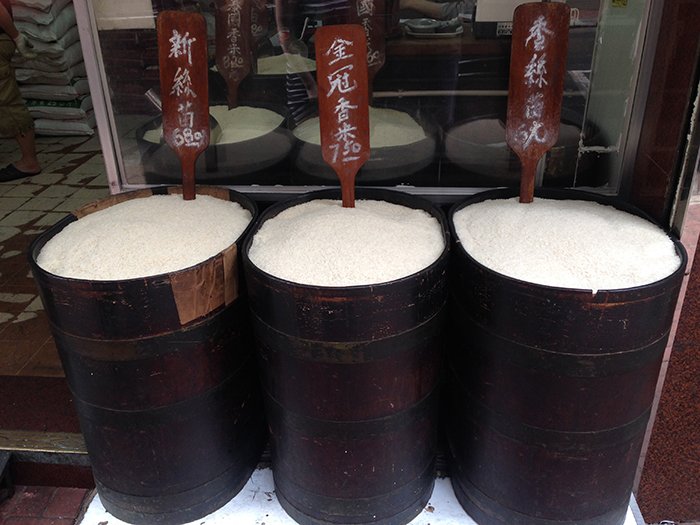 Other aspects of the experience to bear in mind are the fact that this tours was private, and everything can be personalised to your particular tastes and interests, rather than a one-size fits all tour. I guess it is a bit like flying first class over economy. I could understand though if people did find the price too steep to stomach, especially bearing in mind that the food you sample on the tour is paid for by yourself, and is not included in the tour price.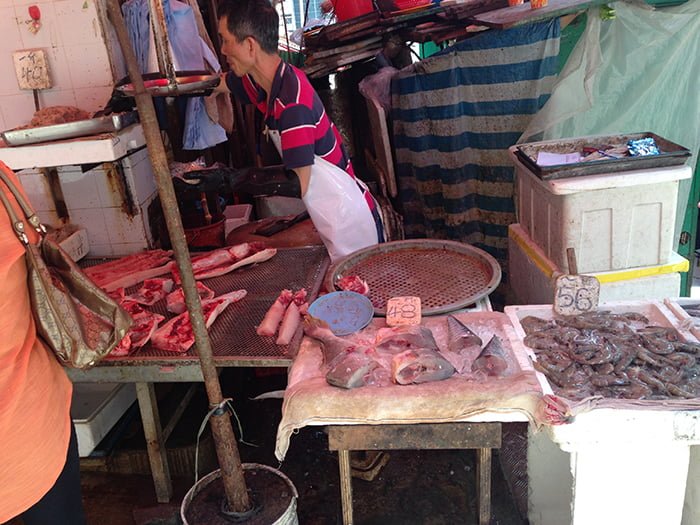 There are plenty of other tours out there which can cater to different budgets and no doubt still give you a fantastic experience. But if you have cash to splash (or you're happy to eat beans on toast for the next month when you return home), then you're not going to be disappointed.
This Little Adventures in Hong Kong food tour experience was paid for by writer and reviewed independently. Cost of private tours depends on several factors including length of tour and tour guide.  Contact company directly for a quote.