A new bit of "not-so shabby" chic on the Sydney's scene.
Sydney's fickle palate is salivating over burgers right now. But the team behind this new cafe is busily zigging while every pop-up and cafe is zagging. But what's a tartine? Noodlies, Sydney food blog takes a closer look.
fine dining chef, cafe prices – everything is less than $10
clean environment, minimum carcinogens
found furniture – each piece has its own story
"It's a French, open faced sandwich, kind a fancy I guess, the toppings are fresh and flavoursome, we use one slice of quality bread" is how co-owner Anthony Telford describes a tartine, a popular French quick fix which he's chosen to brand their cafe.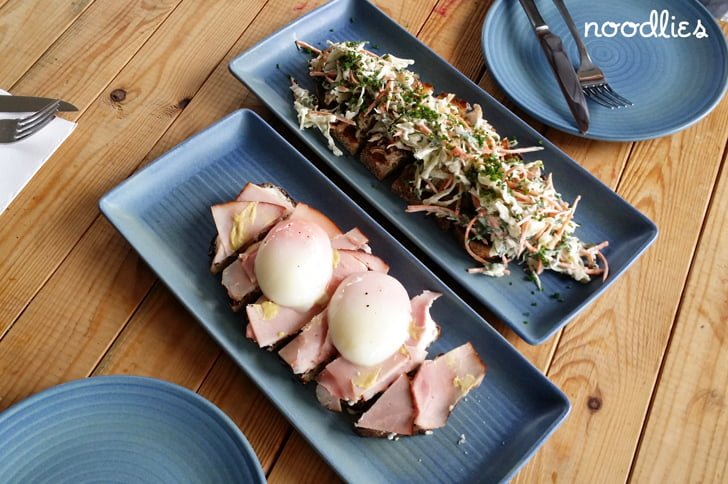 He first tasted it while travelling through France, "I was eating a tartine and I was just wondering why it's never taken off [in Australia]". So while Sydney is going through a renewed burger craze, Telford is aiming to introduce tartine to greater Sydney.
I'm done with the swipes, gels and molecular. I just want to do something that's approachable and accessible.
So convinced he's on the next big thing, that Telford's swapped Mosman for Mascot; leaving a high profile job as head chef of swanky Public Dining Room to open Tartine with partner and co-owner, Amy Kirchhoff.
It's a dramatic stove-top change, but he's not looking back, "I'm done with the fine dining scene. I'm done with the swipes, gels and molecular. I just want to do something that's approachable and accessible".
https://instagram.com/p/1E6yjvqBef/?taken-by=tartine2020
He runs a cold kitchen at Tartine, with literally no fatty frying, ovens or cumbersome exhaust canopies on premises. He's transparent about it: bread comes from Brasserie Bread, meat is sourced from Haverick Meats – cooked and ready for heating and shredding as needed. The open kitchen is really a food preparation area where Telford assembles everything right in front diners, if you're lucky enough to be parked at the impressive wooden bench top counter.
Amazingly everything is less than $10.
The only "cooking" on site is an aquarium of eggs silently cooking on the left of the counter – at 62 degrees for 62 minutes. At Tartine, there's "no poaching, no scrambled no fried, no carcinogens in the air" says Telford, keeping the cafe environment "clean, fresh, healthy".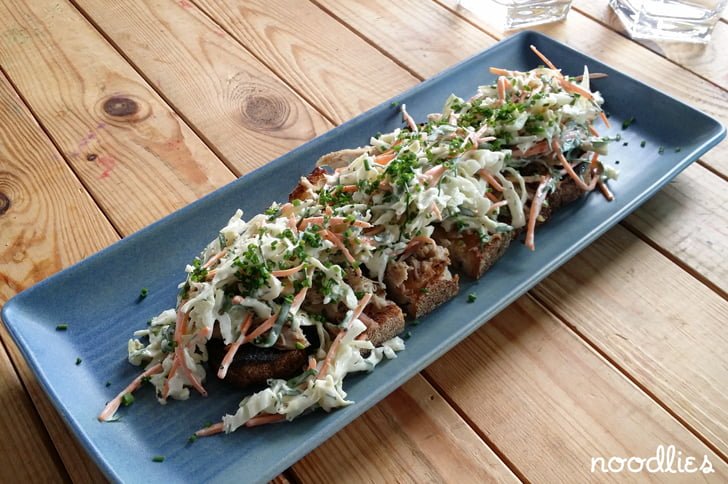 Less cooking time, leaves more time to prepare everything else and means the plates land remarkably quickly. The coleslaw is prepared fresh for each order of pulled pork, coleslaw, parsley, chives, sourdough tartine (above). That unmistakably zesty, crunchy topping could only come from a salad that's freshly mixed.
There are 16 tartine options on the menu and each plate is a work of art. Amazingly everything is less than $10. The French onion; shredded beef, crispy onion, gruyere, chives, sourdough is a stunner that you'd expect would go for twice the price elsewhere.
https://instagram.com/p/1Fj-RoqBam/?taken-by=tartine2020
Even a humble sounding vegemite, feta, avocado sourdough tartine comes out looking like a food magazine cover, and is a jaw dropping $9.
Punters with a sweet tooth need to save room for dessert. The caramelised banana, cream, dolce de leche, crumble tartine is easily the pick for a cruisy afternoon tea with a cup of Earl Grey. It sounds rich, but this dessert is brilliantly balanced, each mouthful feels like a delicate treat rather than sugar overkill. I'm astounded at the bananas (declaration, I loooove bananas), these are perfectly ripped, tender and aromatic, no hint of too-green bitterness or over-ripped rot.
If you need your sandwich covered, choose from 14 jaffle options, from straight-up bacon & egg, to belly busting jaffle stuffed with lasagna and "not recommended by personal trainers" nutella, banana & marshmallows (above) – look at that sexy thing ooze, would you?
A short skip from food meccas like The Grounds of Alexandria, Tartine is a destination cafe but you're rewarded with plenty on site parking, and if that ever fills up, the mass expanses of parking at Bunnings (opposite) makes for a convenient Plan B.
While the surrounds are sharp, reflective shapes and surfaces, thanks to Mascot's new industrial buildings and the a rash of just-built apartments (several thousand more apartments are on the way), Tartine is a kinder, more homely environment. The "urban rustic" feel is courtesy of furniture which Telford, and particularly Kirchhoff, have refurbished. Tartine seats around 60 but the place is deceptively intimate.
The furniture is found rather than foraged. Telford admits they drive around the neighbourhood reclaiming unwanted furniture. The disco ball pot plant suspended near the entrance was abandoned on their street, a pair of striking lime green dining chairs was found by a supplier and brought to them as a contribution to the restaurant. A large pine table outside was given to them by a mate, he'd moved homes and it was too big for the new place. Others were sourced from Reverse Garbage. Every piece has an interesting story.
In the hands of Kirchhoff, together with clever subdued lighting and judicious placement of plants, the place doesn't feel disjointed, rather more homely and inviting. It's as if they want you to stay, there's even free wifi.
I feel like a uni student, home for the holidays, the furniture is kinda familiar but different and of course, mum and dad are in the kitchen. I reckon that's not too far from the truth, between them Telford and Kirchhoff have 11 children from previous marriages.
"So these tables and chairs outside, you pack and unpack each day?" I ask in as casual a tone. Outside, there are six tables mostly made of pine, a distinctive mish-mash of sizes and heights, some seat four others up to 10, and around 20 non-matching chairs.
When Telford replies equally casually "yes", I winced a little and my heart melted. I know how back-breakingly repetitive that process can be.
Living in Cabramatta, the largest community of Vietnamese refugees in Australia, this is a familiar scenario. It's repeated daily all around John street at ma-and-pa restaurants, grocery stores and fabric shops. New migrants who pour meagre life savings, sweat and toil to build a successful business. Grocery store owners who stack dozens of boxes of colourful goods outside their shop to attract shoppers, you know, luridly coloured instant noodles from Korea, translucent lollies from China to heavy-heaving 25kg bags of long grain and Thai jasmine rice. You don't think the dozens of rolls of fabric staked like fashion totems outside the fabric shops appear and disappear of their own accord, do you?
And the similarity doesn't end there, Tartine's under-$10 price is keen as mustard, similar to the "low-margin, high volume" philosophy of migrant businesses. Telford knows it well. Living in Marrickville, he tells me how he admires the pho shops that sell a bowl for $9.80.
Telford and Kirchhoff's "volume" will come from more cafes. Telford says he'd love to open six around Sydney and possibly expand to his home town, Melbourne. Each Tartine will offer the same menu and service, with a different theme.
"All of them will have a that sort of warm intimate feel… the idea is to design something again with refurbished furniture with a particular theme in mind" he confides.
Does he have an area in mind? Telford says Haymarket or Chatswood are in contention. With an average spend of around $14 a head, he reckons Tartine should have pretty broad appeal.
I can't argue. I'm already biased, inspired by their hard work and dedication. Tartine might look different and be miles away from the restaurants in my home town of Cabramatta. But I see the 7 days hard work, the passion, even the fear of failing in Tartine as I see in the basil and aniseed scented pho shops in Cabramatta.
Those ma-and-pa shops are worth supporting. And so is Tartine.
Noodlies, Sydney food blog dined as a guest of the lovely folks of Tartine. All opinions contained in this post are noodlies' own and consistent with noodlies' published editorial guidelines as outlined in the code of ethics.