Epic battle of the pork rolls.
Tweet to share "Check out the cheapest pork roll in town – $3.50 for an epic banh mi http://ctt.ec/0Ede4+ via @thangngo"
Rejoice all students, office workers and high-rise residents around Sydney's Central station/Chinatown area, there's a new pork roll player in town. And they're cheap, uber-unbelievably cheap.
Sydney can't get enough of pork rolls or banh mi thit; in a tight radius of Central train station, there are at least nine pork roll places, all bustling and popular.
Enter Krispy Roll… with the lowest priced pork roll of them all – $3.50 for that quintessential Viet street food…
Don't know what a pork roll or banh mi thit is? Watch the noodlies, Sydney food blog video below to see what it is and how it's made. If you want to know more about the ingredients, read this Banh Mi Thit breakdown story from Feast magazine.
Enter Krispy Roll, tucked in tiny Bijou lane off Quay street, with the lowest priced pork roll of them all – $3.50 for that quintessential Viet street food containing more than 10 ingredients. Less than two months old (opened 10 February 2014), there are already long queues each lunch time.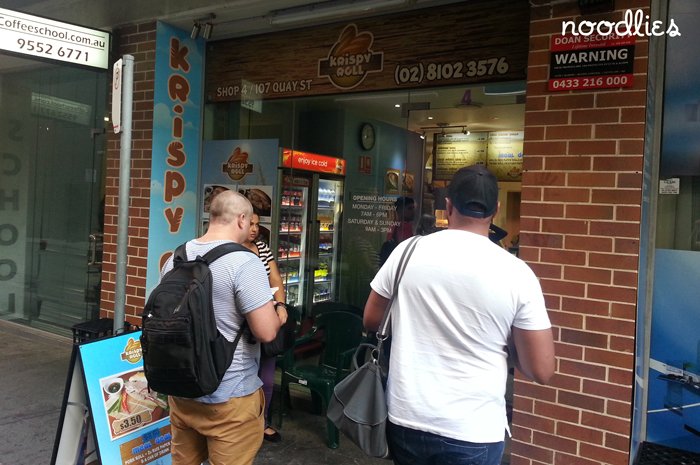 It's a professional set up, uniformed staff takes your order issues a receipt and calls out your order when the roll is done. There's plenty of room to wait inside and outside until your number comes up. Unlike the competitors, the rolls are prepared in the back rather than in front of you. Service is fast and friendly. There's a nice, re-assuring chatter in Vietnamese from the kitchen.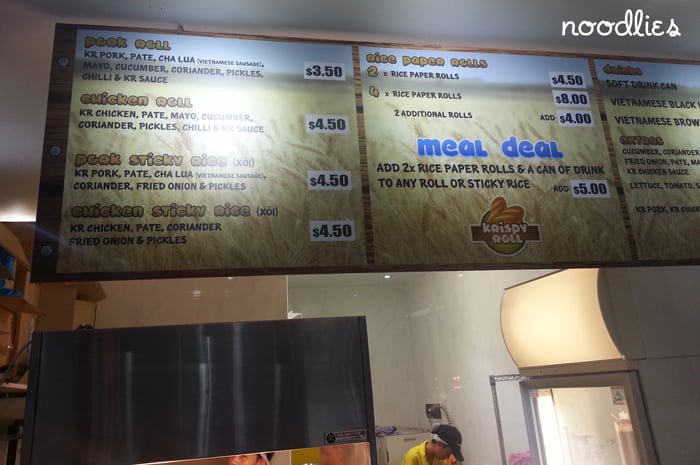 Krispy Roll is new, cheap, professional and friendly – but what about the rolls?
It's one fine looking roll; lots of vivid, fresh colours, chilli crimson, orange carrot slices, zesty green cucumber and coriander. The roll itself is heavenly, it comes out warm, with a crispy crust and yields a soft, light centre that's substantial but not too heavy.
Sadly, these fantastic first impressions don't carry through – all the ingredients are there but it's just not balanced. The slices of pork are too thin, easily overwhelmed by the plentiful pickles and greens – there's just too much sour. Pate and mayo are evident and they're good for a contrast in taste and texture but my roll didn't have enough sauce or salt and pepper to inject much need savoury boost and bind everything together.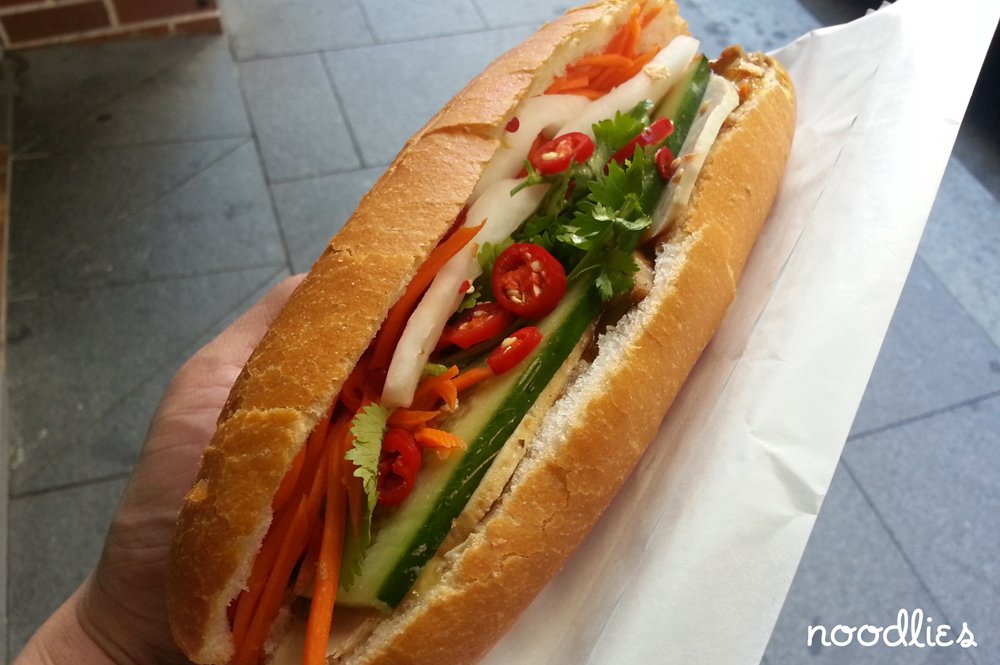 It's not a bad pork roll. But it promised so much and I so wanted it to deliver. They're nice people, making a serious tilt in a fiercely cut-throat environment and I wanted them to rock da house. That didn't happen. But Krispy Roll is definitely worth a visit – hey, we're talking about a $3.50 pork roll – that's cheaper than a large takeaway coffee. You can afford to judge for yourself.
On a brighter note, they offer a few other fast-Viet options; goi cuon (fresh rolls) and a very tasty looking sticky rice and roast chicken. Noodlies is really looking forward to trying the sticky rice soon!
Where can I find Sydney's best pork roll? 
Have you had a Krispy Roll pork roll or any of the other dishes on their menu? I'd love to get your opinion – leave a comment below.
Tweet to share "Check out the cheapest pork roll in town – $3.50 for an epic banh mi http://ctt.ec/0Ede4+ via @thangngo"
Krispy Roll
Shop 4, 107 Quay St (enter via Bijou lane)
Haymarket, Sydney
Ph: 02 8102 3576