Noodlies Tuesday Pork Roll Crawl through Central Sydney.
Four years ago, noodlies, Sydney food blog did a round-up of all the Vietnamese pork roll shops in Central Sydney. Back then there were 25 places. What's changed in four years?
There's only one way to find out. Each Tuesday, noodlies will be eating at a different pork roll shop until I've eaten at every pork roll place in the Central Sydney area. I'll eat, rate and update prices and addresses of every delicious pork roll eatery in Central Sydney..
By the end of the crawl we should be able to award, for Central Sydney:
Best pork roll

Cheapest pork roll

Crustiest pork roll

Most meaty pork roll

Zestiest pork roll
The reviews for each pork roll shop visited are below, so read on…
READ: Pork rolls – a complete list of ingredients.
Rating
Standard pork rolls are reviewed for a fair comparison. They'll be judged on three categories:
bread roll

ingredients

value
Join me
Since word got out, friends, work colleagues and noodlies readers have wanted to join it. And you're very welcome to join noodlies Tuesday pork roll crawl. Each week, I'll list the next location and time below. Help me rate a different pork roll shop each week. It's a delicious exercise!
Next noodlies Tuesday Pork Roll Crawl
Tuesday, 30 January 2018, 12.15
Venue: TBC
Got a suggestion?
If you have a fav pork roll place in Central Sydney (Sydney, Haymarket area) leave a comment and let me know.
Why Australia loves a pork roll…
Past noodlies Tuesday Pork Roll Crawl
Saigon Delight ($5). Shop 10, 8–10 Lee St, Haymarket
Visit: Tuesday, 30 January 2018
Rating: 2 out of 5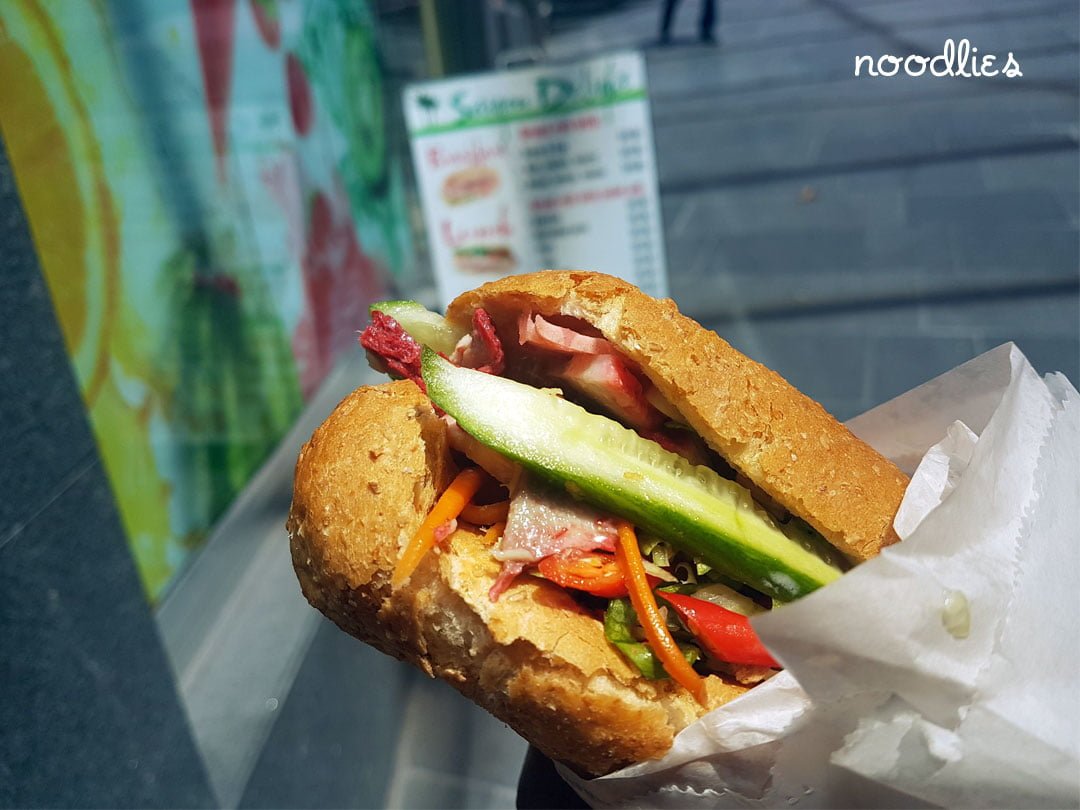 It's a vibrant, vivacious looking pork roll that promises much, but is a fizzer in the mouth. The roll was the worst I can remember eating, not crusty on the outside and too dense inside. Take a bite and you'd be wondering why that colourful filling doesn't have the flavour to combat its party pooper roll. For starters, they use shredded iceberg lettuce – a cheap, nasty, tasteless filler. The combo of lettuce with sliced onions (instead of punchy spring onion) made this roll taste like a sandwich shop roll. I couldn't make out pickled radish and don't think there was coriander either. There are so many thing wrong with this roll, that it doesn't deserve me writing any more words.
You've been warned. This Saigon doesn't delight.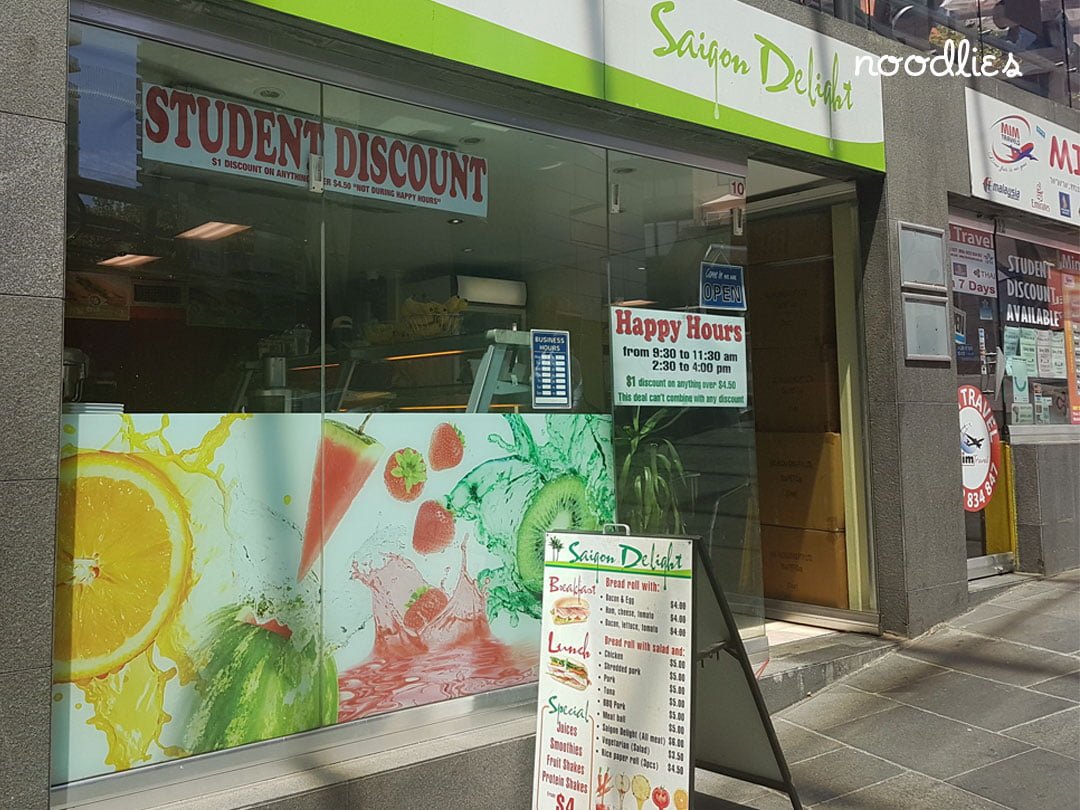 Great Aunty Three ($10). 94 Wentworth Ave, Surry Hills (Cnr Elizabeth St)
Visit: Tuesday, 23 January 2018
Rating: 4 out of 5
Not content with being one of the best pho eateries in Sydney, husband and wife team, Michael and Mai Le is shooting for the best pork roll in Central Sydney. The Surry Hills branch wasn't around in 2014 when we did the last round-up, so our team of hungry noodlies pork rollers were keen to munch on in.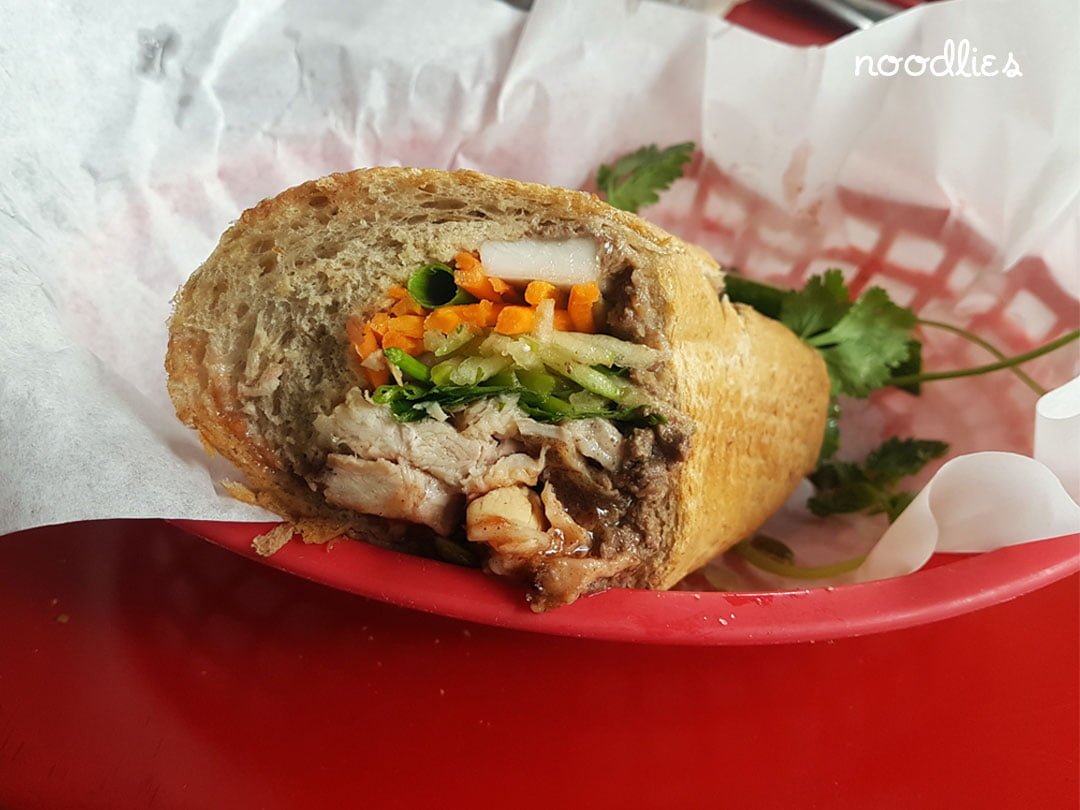 The filling is generous! Pork roll ingredients are packed tight into a wholemeal (we are in the bearded country known as Surry Hills) hot bread roll; pickled carrots, thick cut radish, spring onion, a generous amount of thick cut bbq pork on a chunky layer of creamy pate, all combined in a thick, sweet and savoury sauce. Oh, and you get pork crackling, so crispy, tooth might chip and dentures will crack. This is the most substantial of any pork roll I've ever had. It'd want to be for $10. For that you get a comfortable and pleasant environment, including chairs and tables – as far as pork roll shops go, this is upmarket. To be fair, they're a Vietnamese 'street food' joint, so you also get other Vietnamese fast feed classics too – their famous pho with so much depth in the broth, it'll take you 20,000 leagues under. While the rolls will set you back a tenner, you get an abundant, substantial meal. After one pork roll, I needed an afternoon nap.
Oh and everybody LOVES their fresh, seasonal take on goi cuon, these Vietnamese rice paper rolls are works of art and tastes as good.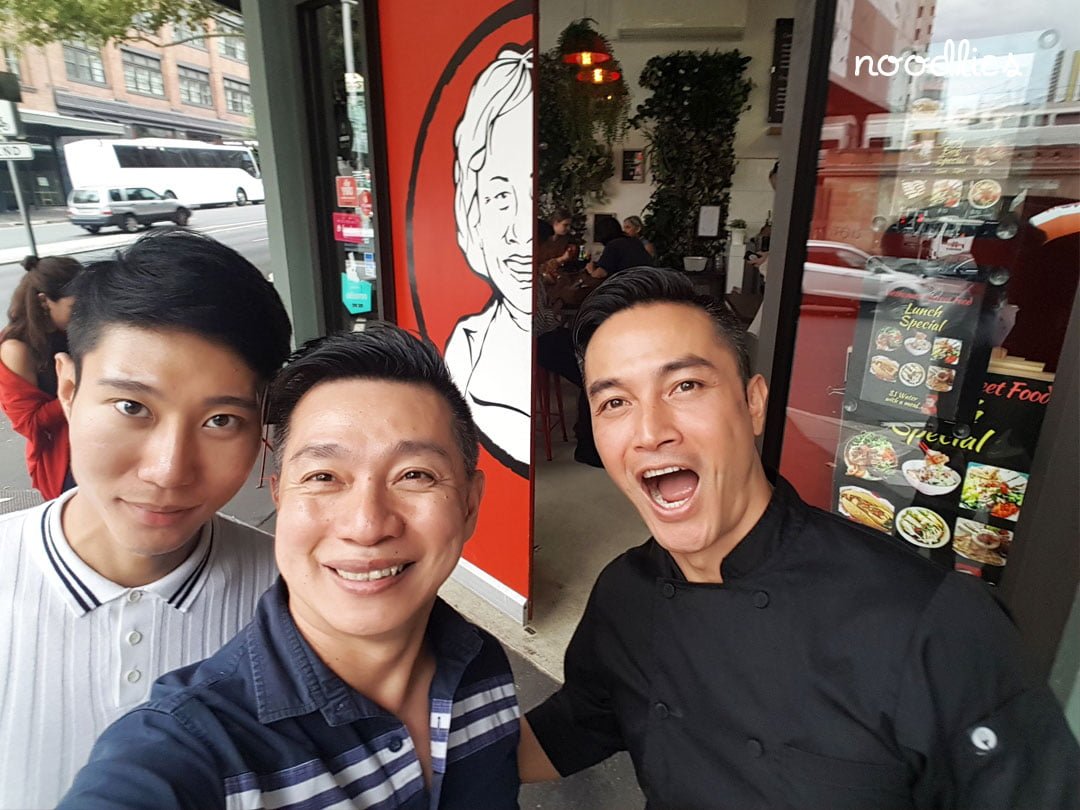 Krispy Roll ($5.50). Shop 6, 107-121 Quay St, Haymarket.
Visit: Tuesday, 16 January 2018
Rating: 3 out of 5
In 2014, Krispy Roll was the cheapest roll in town at $3.50, today the price is $5.50. It's a narrow shop in the laneway but they manage to fit seats inside, yet it doesn't feel claustrophobic. Outside make shift tables and chairs that are milk crates covered with thick coffee bags add to the street food feel – the coffee bags are surprisingly comfortable!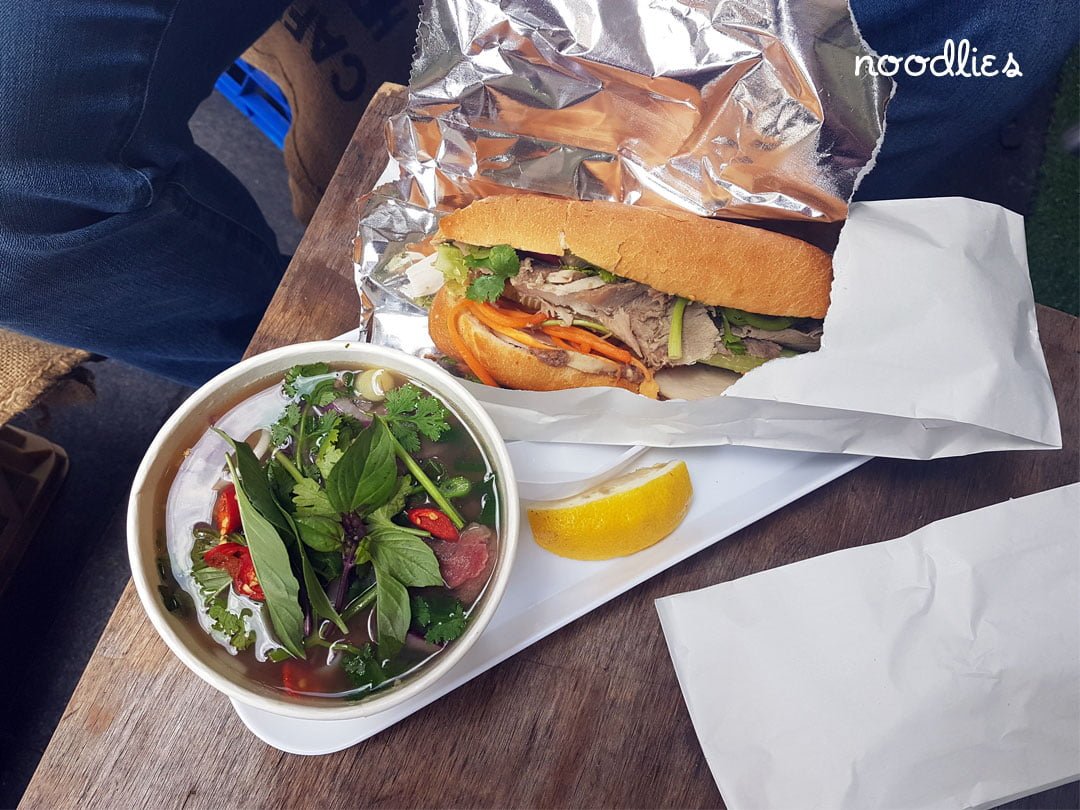 Last visit, their bread roll was rated the best in Central Sydney, but the rolls didn't live up to their krispy name today; the crust was soft, not providing contrast to the white inner. The filling is meaty, generous thick pieces of roast pork, but there wasn't the variety of meat – the red coloured nem meat was missing. There was a lot of pickled shredded carrot and not enough radish for zesty variety. A generous amount of thick sauce made it all murky and hard to distinguish the ingredients'  flavour and texture, apart from roast pork. In the end, the lasting impression is that it's unbalanced. On the positive side, you can add a cup of hot pho that looks sensational, as well as Vietnamese iced coffee. And you can sit down.
Oh, and a final thanks to the four pork rollers who joined me for the crawl.
V8 Roll ($6). Shop 5, 242 Elizabeth St, Sydney.
Visit: Tuesday, 9 January 2018.
Rating: 3.5 out of 5.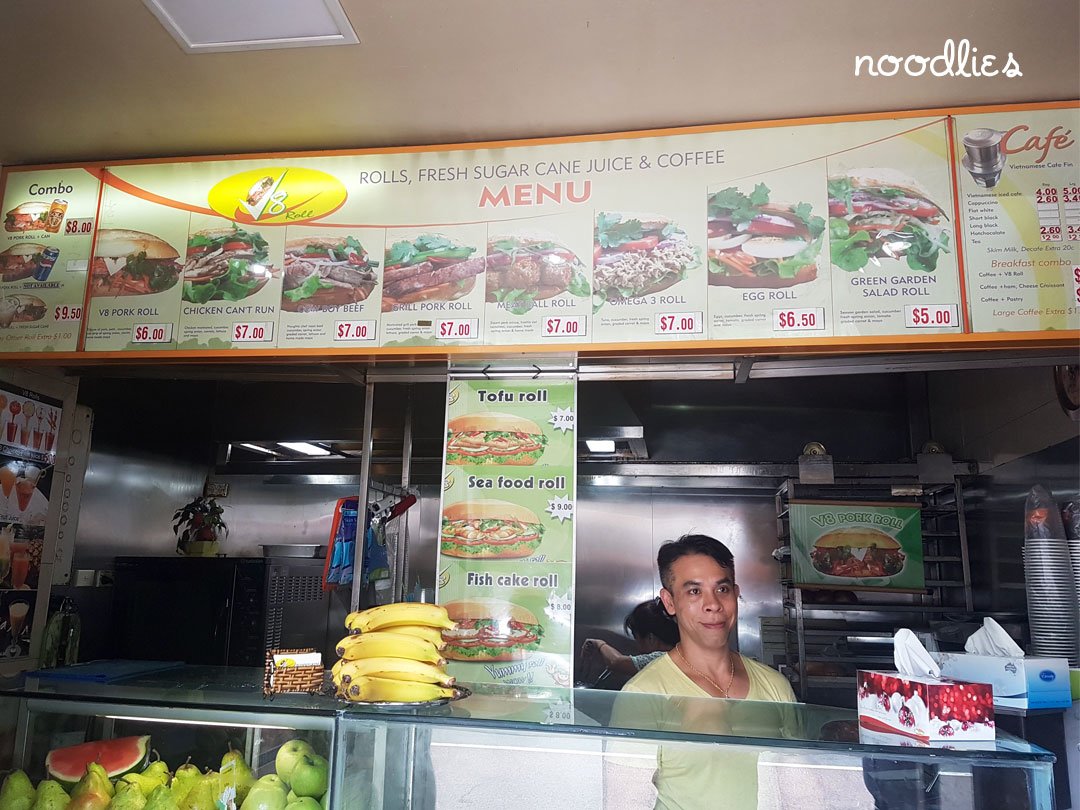 The standard pork roll has gone up 50c since 2014 and they have a bewildering range of other banh mi choices from cheeky chicken can't run (Vietnamese call free range chicken "running chicken"), grilled pork, meat ball, fish cake, to tofu and vegetarian green garden salad roll. They also serve up Vietnamese ice coffee.
But what about a V8 pork roll?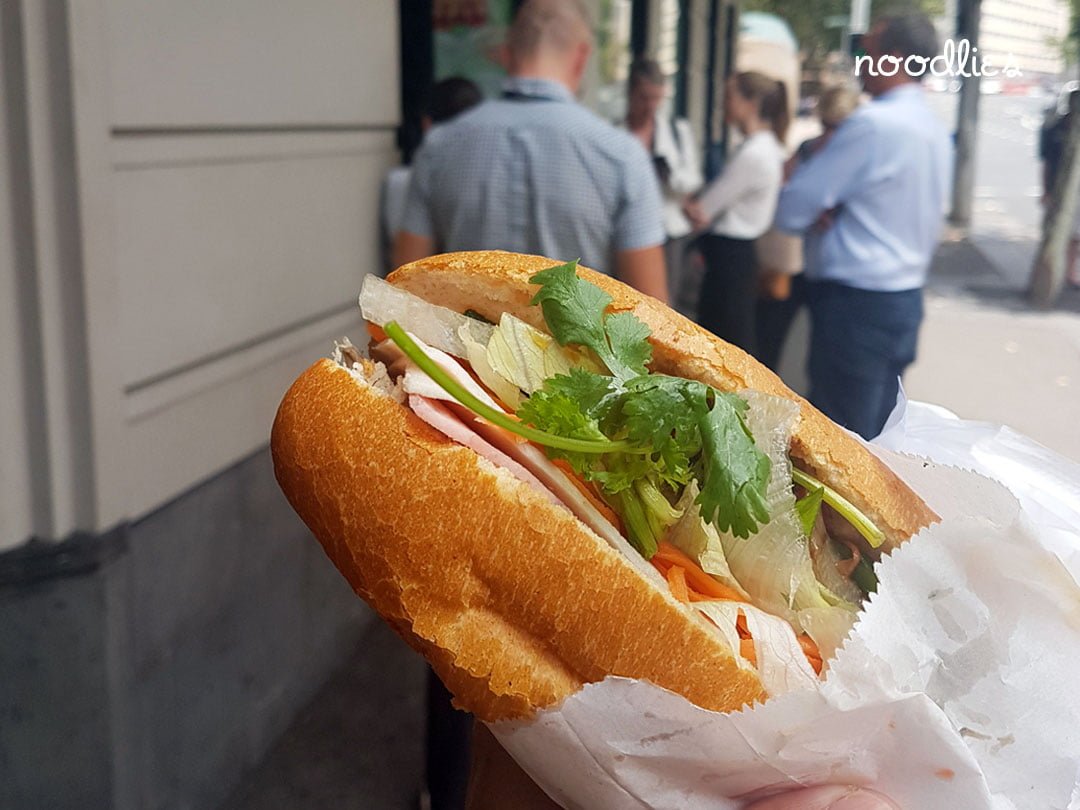 Their pork roll is zesty and fresh thanks to generous use of pickled shredded carrots and coriander and dialled back pate and mayo. Three pork meats are noticeable but not over the top. Really like their punchy soy-based sauce. The bread roll crust isn't as crunchy as I'd like. The main disappointment is the inclusion of shredded lettuce. It's a cheap filler that dilutes the taste and authenticity of an otherwise decent roll.