Vietnam war erupts in Sydney
Noodlies, Sydney food blog checks out the casualties
The latest salvo in the Vietnam war, food war that is, has launched with the opening of Pho Ngon today. This restaurant and bakery is located in Henry Deane Plaza (the open space outside the George street end of the railway tunnel). Now, within 300 metres there are three Vietnamese eateries, Pho Ngon, Saigon Delight and D'lish Wrap & Roll – all three serve pork rolls (banh mi) and fresh rolls (goi cuon), while two also serve pho soup.
Pho Ngon's neighbours, Oporto, Luneburger as well as the other Viet eateries are fast food outlets catering for the day time crowd, Pho Ngon is a fully-fledged restaurant, open seven days 10am-10pm. There are over 120 dishes on the menu, all your Vietnamese favourites and some from nearby Asian neighbours – several types of soups, pho, mi (egg noodles), hu tieu, laksa (?!), rice dishes, congee, even ostentatious lobster in XO sauce.
It seems like an anticipated opening with a steady crowd all through lunch, Noodlies, Sydney food blog visited just before 2pm to skip the queues and I'm immediately impressed, despite the earlier crowd the tables are cleared and clean. I find out later that they're no novice, this is a second branch, the first has been trading successfully for several years in Hornsby.
Pho Ngon means "delicious pho"so I had to order one. The menu looks familiar with more than a passing resemblance to Bau Truong's. Inside, the restaurant is dark, though intimate rather than eerie, black sturdy tables and cheap chairs cleverly made "classier" with brown, stretchy polyester covers. Like other Vietnamese restaurants, condiments are on the table for you to add to taste including hoi-sin sauce and several chilli pastes.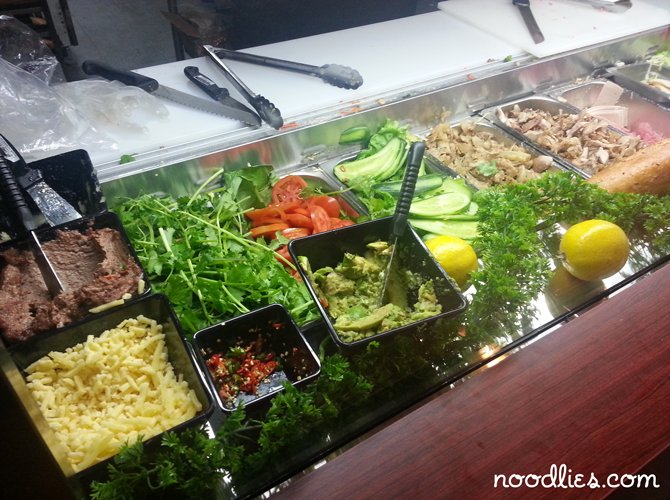 The long counter contains the pork roll bain-marie, now a tad untidy with the frenetic activity earlier, as well as pies and cake counters. And I heard customers ordering coffee – is there anything they don't do?!
My pho arrives in a medium sized, but deep white bowl with sprouts and mints on the side. It's a clean broth, but not distinctive – neither sweet, fish sauce rich, or star anise spicy – the broth kinda nice. The rice noodles are on the thin side and I could do with three of four more slices of beef. These observations reflect my pho obsession, noodlies reckons most punters will come, eat, enjoy, leaving perfectly happy.
A big plus for the friendly staff and extensive menu and double plus for being open for dinner, the area needs more night time eats.
They say in war there is only one winner, well in this one, noodlies reckons everybody wins. Pho Ngon will generate more interest in Vietnamese food, which will benefit the other Vietnamese takeaways, while other shops in Henry Deane Plaza are likely to get more traffic as locals check out the new restaurant. And the punters win too, scoring a night time restaurant with over 120 dishes to choose from!
In this Vietnam war, noodlies is predicting there will be no casualties.
Pho Ngon (7 days, 10am-10pm)
Shop 16, Henry Deane Plaza, 2 Lee St, Sydney
(02) 9212 4787
Also
8-10 Florence St, Hornsby
(02) 9477 1046