The doom and gloom of last week's budget have many re-evaluating their finances, no wonder then that more and more Australians are opting to shop away from Woolworths and Coles, and heading to Aldi to make their cash go further.
But is it really cheaper? And more to the point, if it is, is it to the detriment of quality?
The first full-hearted recommendation I had of Aldi was from a source I trusted and respected very much, my sister-in-law. When staying with her in Brisbane, for breakfast one morning she offered us lovely bagels, fresh fruit, and smoked salmon. The salmon in particular was really flavoursome, and I asked my sister-in-law where she'd got it.
I was pretty surprised when she said Aldi.
In fact all the things on the breakfast table were from Aldi and they all tasted great, and that's when I discovered she did most of her weekly shopping there for her family of six. If she gave the shop her stamp of approval it had to be worth leaving my prejudices by the door and giving it a fair go.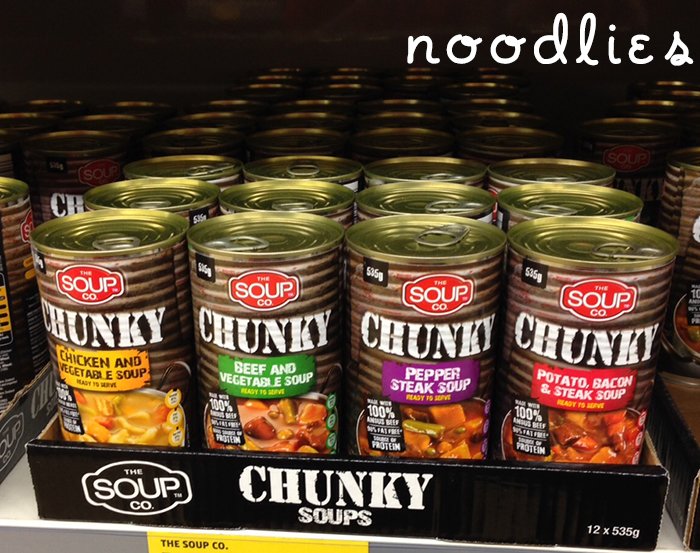 The store itself is smaller than your normal supermarket, and unlike most, you are not greeted by an inviting fresh fruit and veg section, but rather row upon row of biscuits and cans. Most of the labels look familiar, but on second glance, most are not the brand you thought they were.
The beans and the chunky soups are good examples, you think they are Heinz, but closer inspection shows it's another brand entirely. Brands like Maggi, Patak's and Heinz were also in evidence, but if you are going to put aside pre-conceived ideas and save your cash, my advice is to give some of the other brands a go.
I recently wanted to buy some potato chips and was walking past an Aldi so dragged my husband in. To say he was unimpressed was an understatement; he looked in pure disgust at the rows of snacks.  'Wow, look at all the familiar brand names we can choose from' was his sarcastic commentary. I picked up a bag of chips, similar in design to Red Rock Deli Chips or Kettle Chips. Aldi's version are called Blackstone Chips and we sampled the Honey Roast Ham Flavour.
When it came to trying them, my husband was desperate for them to be inedible. But they weren't.
They were actually really nice. A good crunch, natural flavour (well as natural as a potato chip flavour ever will be), and not greasy. I would go so far as to say I preferred them to Red Rock Deli Chips, Kettle Chips or The Natural Chip Company. Best of all the Aldi offering at $2.69 for 200g beat all the others on price too.  Coles is currently selling Red Rock Deli Chips for $3 for 185g, and that's on special (usual price $4.55), while Woolworths has Kettle Chips on offer at the moment, for $3 for 185g, (usual price $4.50).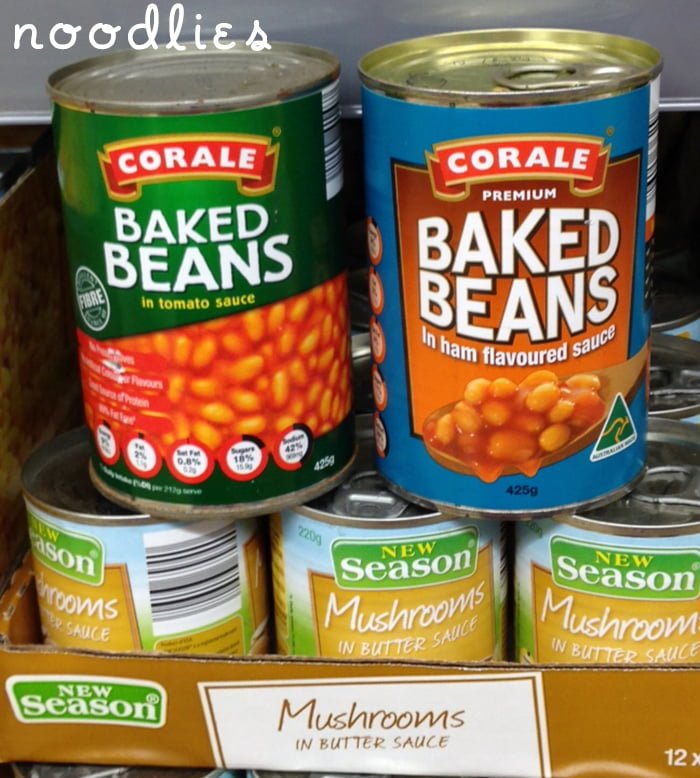 In my chosen 'basket' of items, Aldi won on price for nearly everything; there were only a few items the 'big two' could beat. The worst value at Aldi were:
1kg brown onions: $1.69 compared to Coles $0.80 (on special) and Woolworths $1
1kg bag of white sugar: $1.69 compared to $1.65 from Coles and $1.50 from Woolworths
500g of butter: was cheaper at Coles by 8 cents
500g penne pasta: you could also save 8 cents with Woolworths coming in at 71 cents to Aldi's 79 cents
In fact overall the most expensive basket was Woolworths, coming in at $77.47, followed by Coles at $71.75. Cheapest by far was Aldi at $52.64.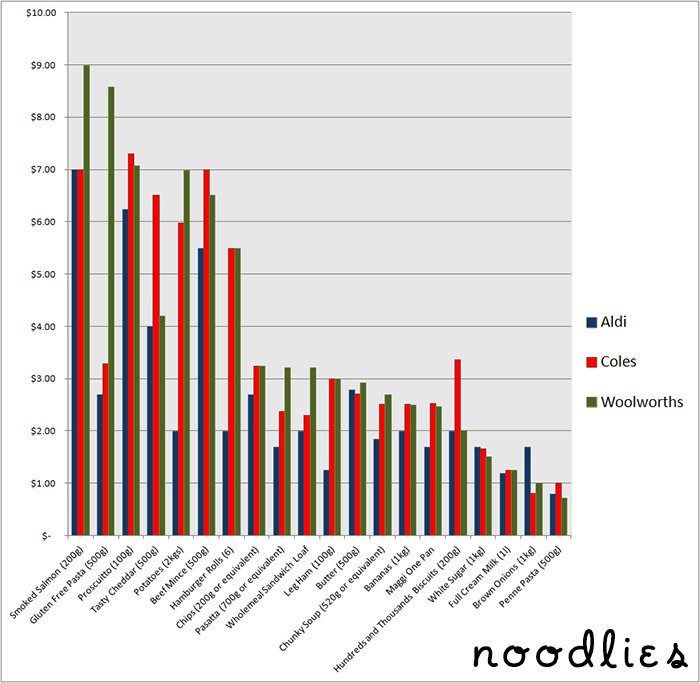 The basket isn't just cheaper because it features brands you haven't heard of; Maggi's One Pan Meal cost $2.52 and $2.46 at Coles and Woolworths respectively, whereas Aldi only charged $1.69.  The brands selected for the Woolworths and Coles baskets are not the leading brands (eg Heinz) but Coles/Woolworths own brands, or else the cheapest brand equivalent available in those stores.
Overall the Woolworths basket may be slightly dearer than Coles, but I imagine that week on week it will probably differ according to specials etc, so over a year it would probably work out about equal.
The savings however offered by Aldi are seriously impressive.
Aldi is currently running an ad campaign showing a basket offering savings of 36% compared to other stores. For my chosen basket, Aldi proved to be 27% cheaper than Coles and 32% cheaper than Woolworths. Over a year those savings will really add up.
Now to the question of taste – are the savings you make at the expense of product quality? 
Well, the answer in my opinion is "no".
Sure, you might occasionally hit on something you're not keen on, but isn't that the case with any product? I've tried Aldi's minced beef at my sister-in-laws when she made an amazing Hugh Fearnley-Whittingstall recipe with it, and it was fabulous, it had a good hearty flavour with no fatty residue, big thumbs up. Aldi's Blackwell Chips I've already mentioned, and I prefer them to the leading brands.
I've yet to have something from Aldi which I've been disappointed with. One of the more surprising things when visiting Aldi is that aside from cheaper every day shopping basket items, there are some surprising luxuries and treats available at great prices. Decadent Belgian Praline chocolate seashells by Guylian for example are just $6.99 for a 185g box. Woolworths offer 250g for a whopping $16.29. French pink lemonade is just $3.99 for 750ml. One of the best finds had to be fabulous Parma Ham which boasts the Protected Designation of Origin (PDO) logo on the packet, so you know you're getting the real deal, at a very cheap price of just $4.99 80g .  There are even some affordable allergy-free foods. Gluten free pasta 500g was just $2.69, while lactose free milk was $1.99 for a litre.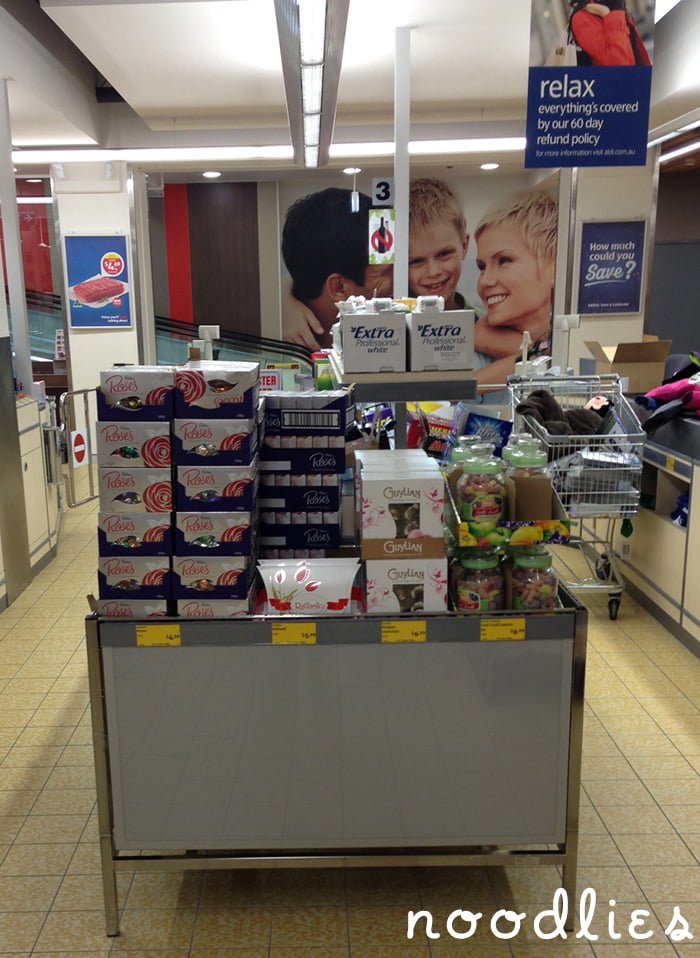 If we're talking about the luxuries of life, selected Aldi stores also boast a range of alcohol. The range of reds wines in particular has some particularly well priced offerings from the old world. We tasted the Corte Carista Chianti Classico 2009 at $9.99 for 750ml. This was given a three star rating by Decanter magazine, and we agree with description of 'plum aromas…crisp earthy tanine'.  It might be considered slightly raw on the tongue, but for under ten bucks, it's perfectly acceptable plonk for at home drinking.
For white wines the offering is nearly all new world and also offers good value.  For our midweek dinner at the BYO fish restaurant we tried the Second Left Sauv Blanc at $8.99 for 750ml.  A bronze award winner at the Royal Adelaide Wine Show, it was dry, fresh with faint floral notes, and a very acceptable tipple with our barramundi.
Also worth noting is that Aldi offers the Veuve Monsigny Brut Champagne for just $24.99 for 750ml, representing excellent value for money. With hints of lemon and honey it is a dangerously drinkable bottle, and for once proves you can have literally Champagne taste on a lemonade budget.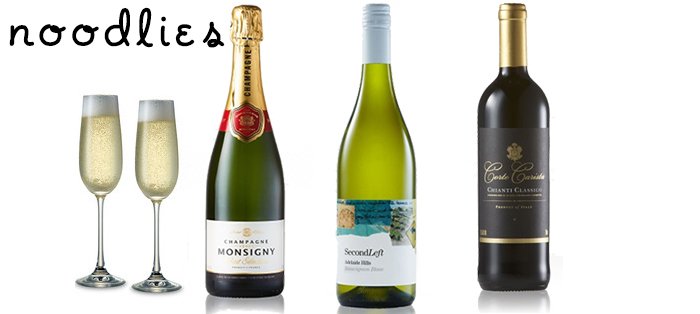 So let's round up the pros and cons.
Let's start with the negatives first, the shopping experience is different to what you are used to. You have to pay a coin deposit for your trolley (and there are only trolleys, no baskets), the store is smaller, and it all feels a bit oppressive. In amongst the beans and ketchup you'll find weekly specials, on the occasion when I was there it was snowboarding/skiing gear and thermal underwear, which to be blunt is a bit bizarre. When you get to the checkout, they'll want to check your bags to ensure you haven't nicked a pair of woolly pants, and note you'll need to bring your or buy their shopping bags as Aldi don't provide any.
Another thing which is definitely worth noting (and I didn't until I left the store), if you pay by a card you have to pay a small surcharge. It's not much but on the basis you want to save money by shopping here, you may well want to make sure you draw cash out to pay with so you save every cent you can.  Alcohol departments are not available in all stores so if you want to buy wine at Aldi make sure you check the website to see if your local store offers it.
The final con with Aldi is that you can't order online, though you can now buy liquor online. Its website offers a 'shopping list' tool so you can get organised in advance and plan your budget, but that said, the tool doesn't seem to offer a fruit and veg section or even the full range of products available.
In addition, the taste of the products I've tried is not a compromise, it's bloody good.
For me, none of these cons are major; the underlying pro is that Aldi is a lot cheaper than the big supermarkets.  If that means I have to put a coin in to secure a trolley I can deal with that (it's not like you don't get it back).  In addition, the taste of the products I've tried is not a compromise, it's bloody good. But definitely the biggest plus, and the one I did not expect to find, was the hidden luxury goods on offer.
Of course it depends on how near you live to an Aldi and how big your weekly shop is. If you're going to spend more on petrol getting to your nearest Aldi than you are going to save on your shop, perhaps changing your supermarket allegiance isn't the smartest move for you.  But for me, while I might not be changing my entire shopping to Aldi (online shopping is just too convenient for me), I will definitely be returning to Aldi in the near future.
Prices checked on 21 May 2014 at Aldi Birkenhead Point NSW, Coles Birkenhead Point NSW, and Woolworths Online. All products taste tested purchased independently.