702 ABC Sydney Cabramatta 2014 Lunar New Year Outside Broadcast
And Simon Marnie takes the Huong Xua Pho Challenge.
by Thang Ngo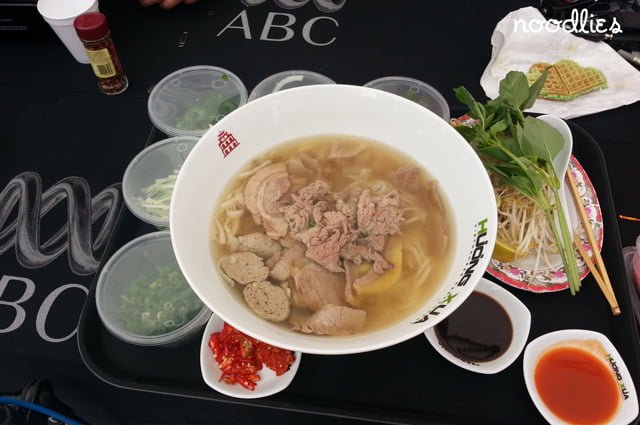 Yep, 500g of pho rice noodles, 500g of meat – that's 1kg of belly-busting pho goodness before you even take into account the broth. Eat it all in 11 minutes and it's free plus you keep the bowl, otherwise it's $17 – that's Huong Xua restaurant's pho challenge.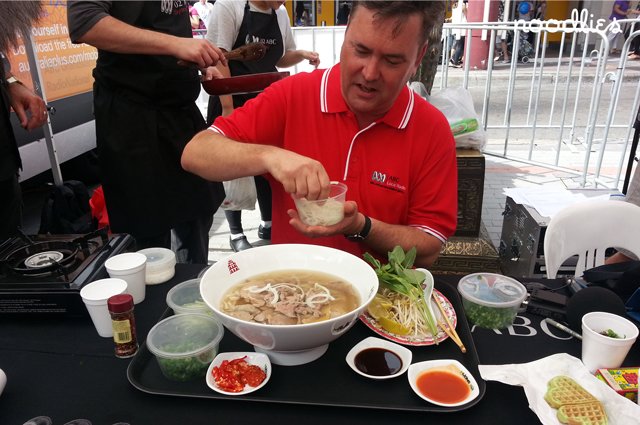 It's a challenge Simon Marnie from 702 ABC Sydney radio accepted at the conclusion of his Lunar New Year outside broadcast in Cabramatta (though to be fair there was a lot of peer pressure from us all). Watch the noodlies video below to see how big that bowl actually is…
Did Simon finish the ginormous pho bowl? Read on to find out.
Noodlies, Sydney food blog was really glad to be a part of the 702 ABC Sydney broadcast team for today's exciting live broadcast in Cabramatta. And kudos to Simon Marnie and all the ABC team for acknowledging it as the Lunar New Year festival, an inclusive name rather than Chinese New Year – it's celebrated across Asia including Vietnam, Korea and of course China. Full marks guys for taking a stand for social cohesion!
It was so exciting to co-host the start of the broadcast with Simon but also so much harder than I'd imagined. Live radio is fast, furious and can be heart-racing stuff. Hats of to Simon and his team, he makes it look so effortless, how he manages to talk, anticipate what's next, interview guests, keep to time and more without notes – I do not know!!!
He's truly amazing to watch and I was so lucky to learn from one of the best in the radio business.
Then it was time to take a 702 ABC Sydney listener for a private foodies tour with $30 in hand thanks to the ABC. There were two food bloggers in this segment, Jenny (below) from I ate my way through and me, noodlies. Jenny took a lucky guest from Canley Heights RSL club for a foodie feast of Cabramatta.
I had the pleasure of taking Pam (below), who we already know and who came from Wollstonecraft to watch the outside broadcast. That's Pam below enjoying a bowl of pho tai at Sydney's favourite Vietnamese noodle restaurant, Pho Tau Bay.
And here's Pam having the best time picking what incense to buy at Dong Khanh, Cabramatta's biggest grocery store. If you're in Cabra, this is a must visit.
And while Pam and I were eating and spending, Simon was wowing the Cabramatta crowd and his listeners across Sydney with a little help from Walter Mason. Here they are below chatting about do's and don'ts when it comes to eating Asian food with James Tran from Huong Xua.
By 10.45am we were back to report on the delicious experience of the personalised noodlies Cabramatta Food Tour. The whole colourful, jaw-droppingly delicious spread is laid out below: sugar cane juice, incense and mut (Vietnamese new year candy) from Dong Khanh, banh xeo (Vietnamese pancake from Que Huong, goi cuon (Vietnamese fresh rolls) from Kimmy's, little horse figurine from New One Gift Shop.
And of course, we brought back taro spring rolls from Bau Truong, one the the great success stories of Cabramatta and one of the suburbs most popular restaurants.
And what about Simon Marnie's pho challenge – eating that giant bowl containing half a kilo of noodles and half a kilo of beef in 11 minutes?
For noodlies readers who think it's an impossible task, I can confirm a few brave lads have succeeded, including Johnny O' Li (below) who boasted on webstagram "Smashed the #huongxua #pho challenge! 500g pho 500g meat. Time to beat 11 mins. I finished it in 6:05 minutes!!!"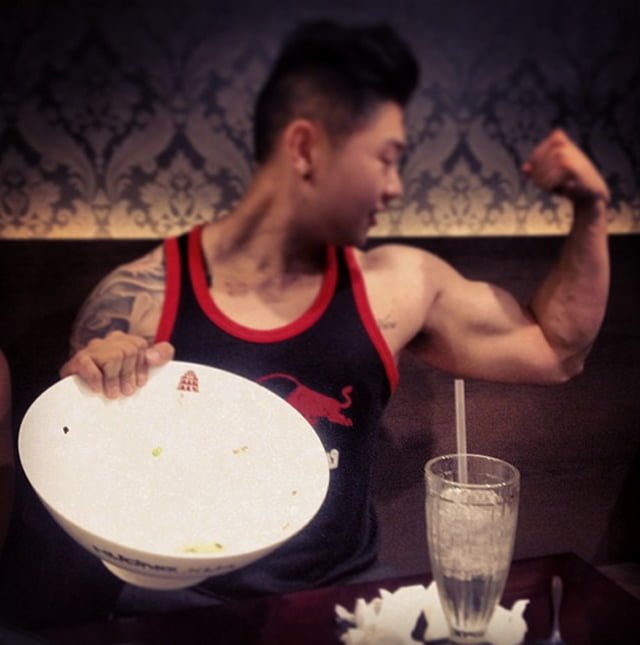 But what about our Simon Marnie?! Unfortunately not today, but Simon gave it a red hot go.
But Simon and the 702 ABC Sydney radio team went one better, they managed to produce a fascinating, exciting program and reminded us all that the Lunar New Year is celebrated by a wide range of cultures and these celebrations are celebrated across Sydney, not just to the CBD. Well done guys!
Some of the 702 ABC Sydney radio Cabramatta 2014 Lunar New Year outside broadcast team (left to right) Sasha Rundle, Renee Krosch, Simon Marnie and Thang Ngo (Mr noodlies).
All photos without watermark courtesy of 702 ABC Sydney's talented photographer, John Donegan. See more of John's photos at the station's facebook page.