Cambodian food in Sydney.
We all know Cabramatta is the home of the Vietnamese community. This diverse south-western Sydney suburb is also a major centre for Chinese migrants and migrants from south-east Asia, including, Thailand, Laos and Cambodia.
It looks like Hong Kong restaurants of old, the type you see in 60s movies.  The wall mish-mash wall hangings, a little bit of fake jade, some gold and red for luck and lots of Chinese characters.  But in fact Dong Vu is a Cambodian Chinese restaurant in Cabramatta, south west of Sydney, Australia.  Tonight, Noodlies, Sydney food blog was in the mood for humble, honest food.
This place has been around for some two decades, almost inconspicuous on Hughes Street.  The decor is nothing to rave about, but what they save on design you save on the bill, it's amazingly reasonable.  Hu tieu (not pictured) is their specialty, rice noodles in a tasty broth that is heightened further with garlic and burnt onion.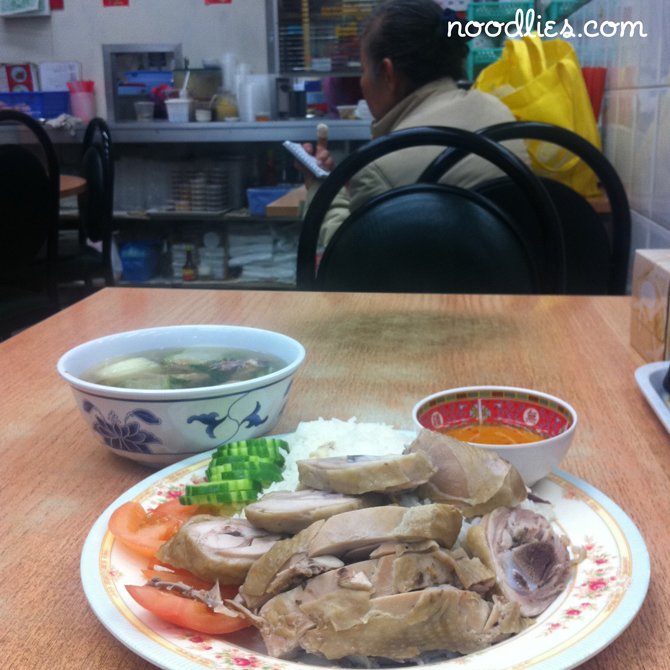 But on a cold winter's night, I feel like something heartier and order hai nam chicken – the waiter immediately corrects me, "you mean boiled chicken" – he was adamant.  Technically, he's right, the rice is cooked in chicken stock when it's hai nam chicken, this is truly boiled rice and chicken.  But it's delicious in its simplicity.  I want to rave about the chicken, but really, it tastes just like boiled chicken (particularly well boiled chicken tonight).  But the dish is very tasty thanks to the Cambodian inspired dipping sauce.  Cambodian food aren't that spicy so the sauce doesn't have much bite, instead the flavour comes from the stronger presence of fish sauce and lemon.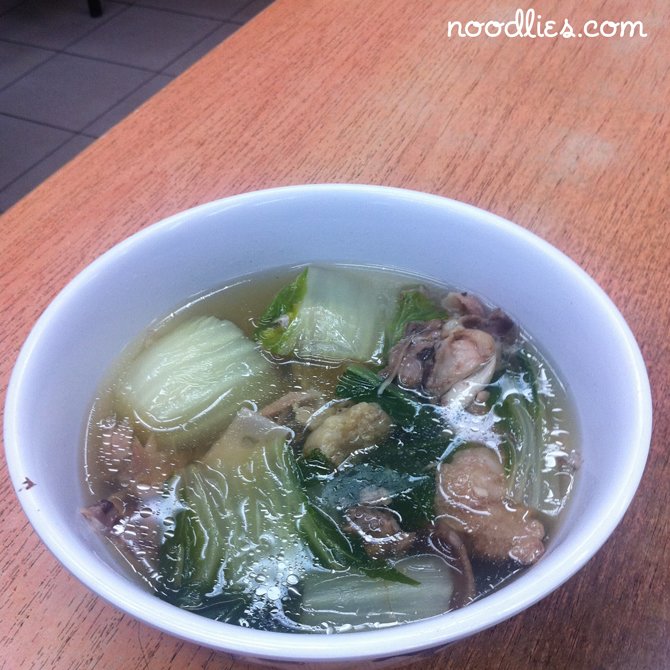 A free side serving of soup is part of almost any 'dry' dish you order to balance the meal.  A hint: you should only sip the soup and not eat the vegetables or boney meat, they're there to give the soup flavour and are usually lower quality ingredients.  This simple clear soup is heavenly, it has depth and a strong after taste that is very substantial.  I break my rule and eat the cabbage and chicken meat.
Come to Dong Vu for an honest, authentic experience.  Leave the pretension behind and you'll leave very, very satisfied.
Dong Vu Cambodian Chinese Restaurant
(the neon sign says Dong Vu, but the sign above the door says Tang Bou – go figure)
20-22 Hughes St, Cabramatta