"What's the best pho in Sydney?" is a question I'm often asked. And I find it hard to be definitive because it's oh-so subjective.  I found it so hard that I ran an online poll to find Sydney's best pho.
And I guess it's the same about the best Malaysian in Sydney, when I ask Malaysian and foodie friends, no one wants to volunteer a definitive answer; the usual names come up including Mamak, Chinta Ria, Jackie M, Temasek, Jimmy's Recipe (I confess I'm a Jimmy's laksa groupie) and more…
Albee's Kitchen in Campsie is another one that gets a lot of nods, especially from food bloggers. And thanks to Howard at Eatshowandtell, I found that Albee's Kitchen has recently opened in Cabramatta.   Noodlies, Sydney food blog just had to try it.
It's located where Dong Son, the Cambodian-Chinese institution, used to be before they moved next door.  Since that move, this site has been occupied only by Malaysian restaurants. Albee's is the third on this site.  I came with great expectation and anticipation – more variety in Cabramatta is good.  After all, Dai Jang Gum, the local Korean is one of my Cabra food favourites.  I've blogged about the noticeable changing face of food in Cabramatta back in October last year.
On a Saturday afternoon, Albee's was three quarters full. Not bad. Walter and I were eager to try the Malaysian standards to see how Albee's Kitchen compares with the other Malaysian restaurants in Sydney.  I wanted a nasi lemak with beef rendang and he wanted beef rendang and rice.  We were dumbfounded to find that they've run out of beef?!
The ordering process should have been efficient given the staff were using a portable wireless device. But sadly it wasn't.  I had to repeat the order three times, it wasn't a language issue, more a technology one.  I'd put this down to teething problems associated with a new restaurant.
The nasi goreng serving was huge, the generous portion could have easily fed two people.  Apart from the fried rice, there weren't too many other additions, too few prawns, minimal fried egg.  While the rice was fragrant and tasty, the lack of variety in ingredients and the size of the portion made the dish seem heavy and bland.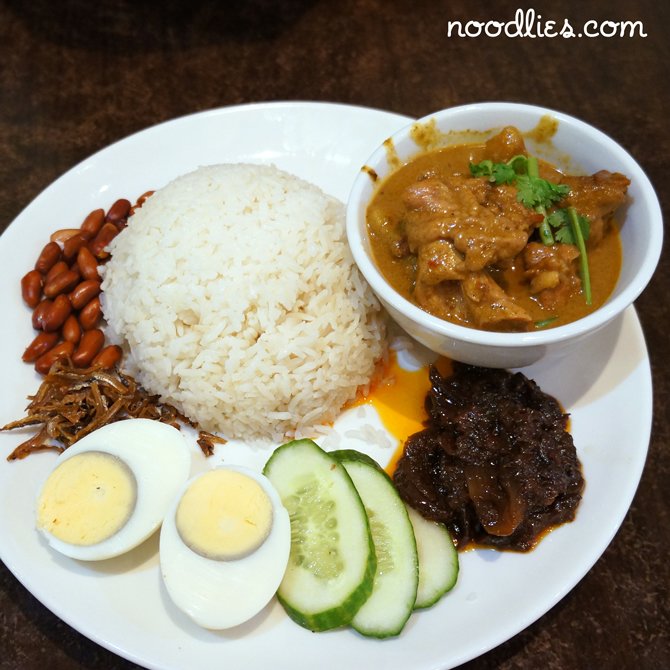 The nasi lemak serving was also decent, with a wide range of sides including sambal, dried anchovies (ikan bilis), roasted peanuts and boiled egg (I looove boiled eggs).  I had chicken curry instead of my preferred beef rendang – "sorry no beef" was still ringing in my ears. The chicken curry was smooth and tasty, overall the dish was good, but no where near the best you could get in Sydney.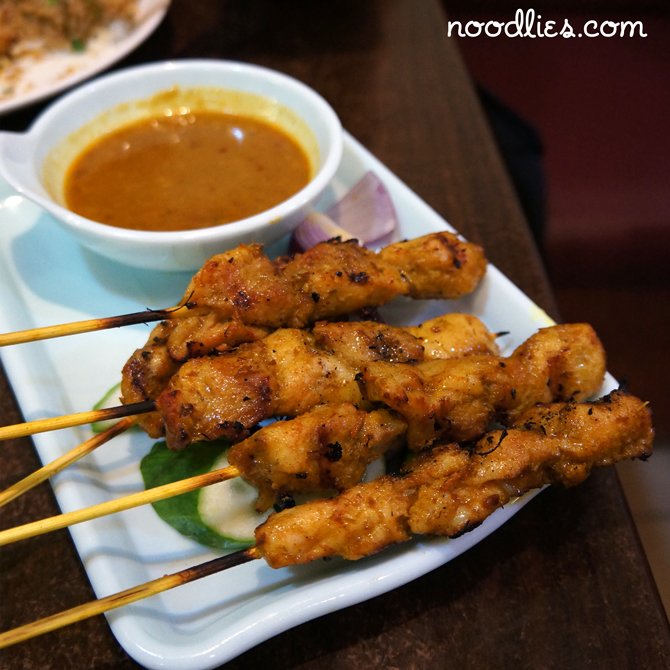 Our chicken satay arrived 10 minutes after the rest of our order, pity because it could have helped to cut the relative blandness of the nasi goreng.  I spied it going to another table that arrived after us, but Albee's staff assured me that wasn't the case. The dish looked great, tasted fine, though the sauce was on the watery side.  Sadly, by the time it arrived our appetite had already waned.
Albee's Kitchen is the most convincing of the three Malaysian restaurants that have occupied this site.  However, I left disappointed, partially because I've heard so many good things about the original in Campsie, partially because of our missing chicken satay and also because I find it hard that a serious restaurant could run out of beef in Cabramatta at noon on a Saturday.
Albee's Kitchen is not bad, but you could do a lot better in Sydney.  And maybe wait a few months for them iron out teething problems.
Albee's Kitchen
2/44 Park Road, Cabramatta
9728 6556