The year of the Rooster isn't just for the Chinese, this Festival is celebrated by Vietnamese and Korean communities too. I'm hoping this noodlies, Sydney food blog post gives you a better understanding of how the Vietnamese celebrate the Lunar New Year.
Most Sydneysiders might think Lunar New Year is for Chinese only. That's because the City of Sydney insists on calling it "Chinese New Year". In fact of the 14 Lunar New Year celebrations around town that noodlies could track down, 11 of them call it "Lunar New Year". City of Sydney, Willoughby Council and the Darling Harbour Authority are in the minority in using the narrower naming convention. Unfortunately as the biggest festival by far, the City of Sydney's event perpetuates this misunderstanding.
This post is about giving you a glimpse into the celebrations by the Vietnamese community in Cabramatta, the fifth largest migrant group in Australia. We call it Tet, which simply means "new year".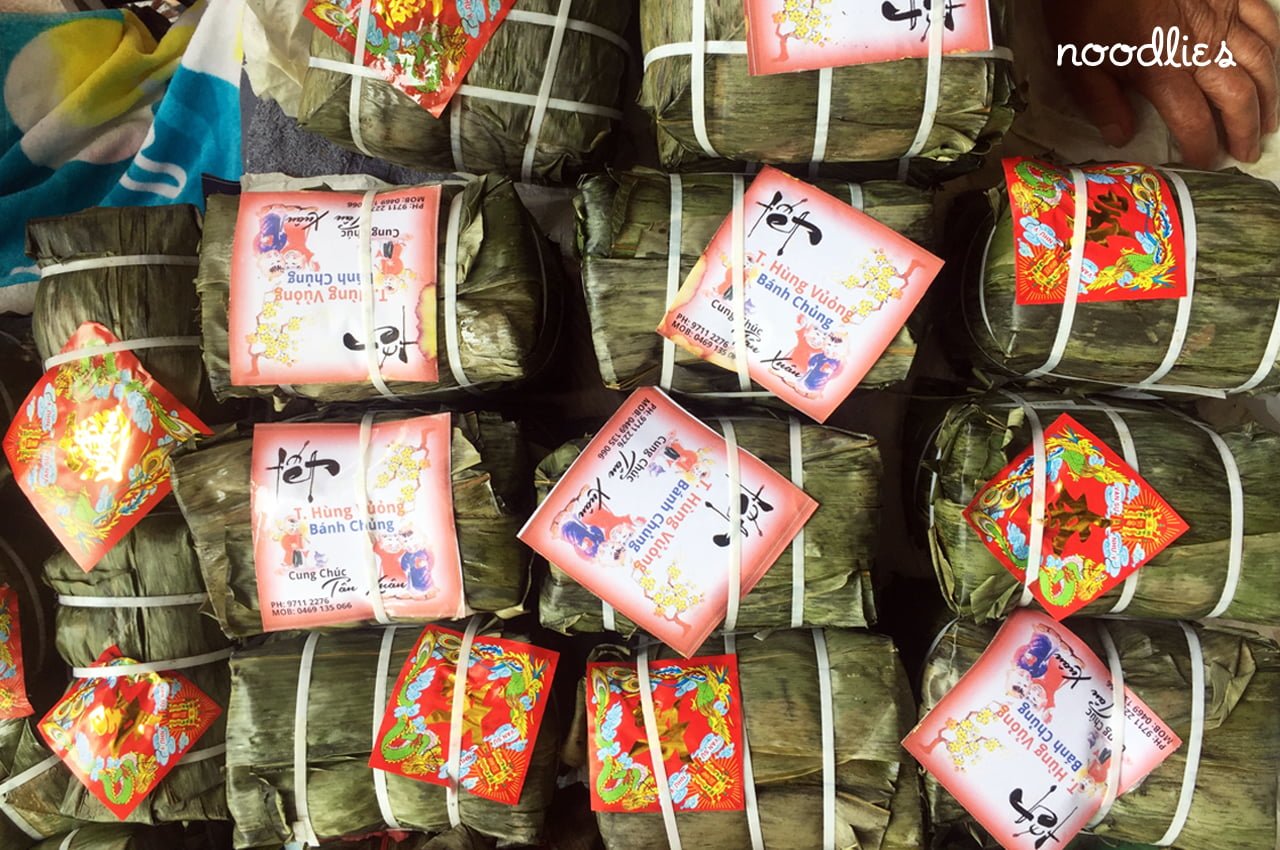 Banh tet (above) is a traditional savoury food during new year. Consisting of glutinous rice, mung bean and pork, it's wrapped in banana leaves and boiled for up to 10 hours. It's an oblong shape and is served in round slices approximately 1-1.5 inches thick. The texture is dense and starchy. The square version is called banh chung. It's probably more traditional for Tet as banh tet is popular all year round. A sweet version of banh tet is made with glutinous rice and banana, which turns deep purple during boiling.
They can be bought in every Asian grocery store at this time. The banh tet above are from an elderly lady who ran a local restaurant for three decades. She's since retired but resurfaces in Cabramatta during Tet due to the popular demand for her cakes. This year, her banh tet and banh chung pop up is outside the sugar cane shop on John Street, opposite St.George Bank.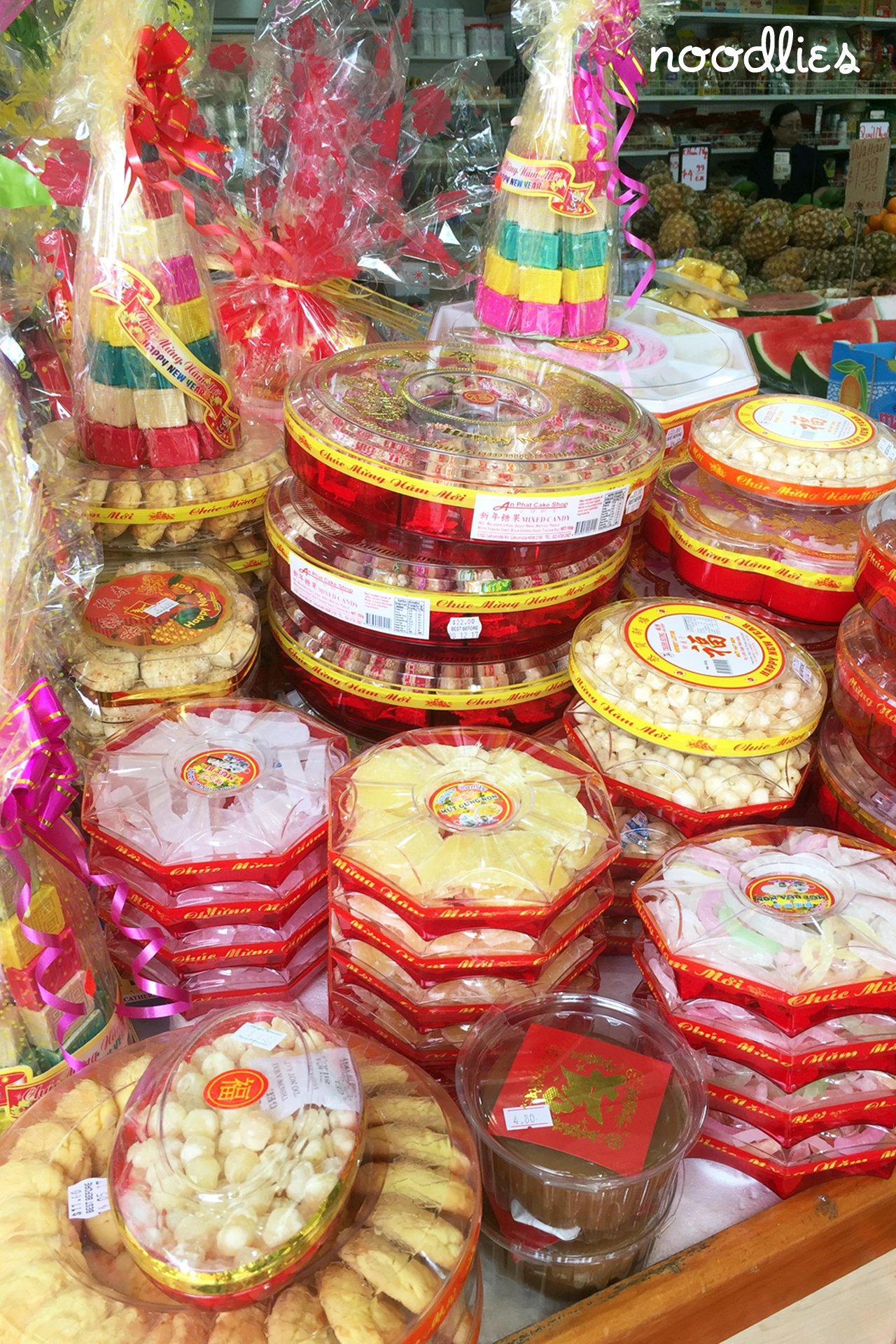 Mut (above) is the other iconic food for Tet, sugar coated lotus seeds, coconut, sweet potato, ginger, tamarind, custard apples and more. They come in round, or octagonal red trays with clear plastic lids. These trays are placed on the lounge table to be offered to guests with tea.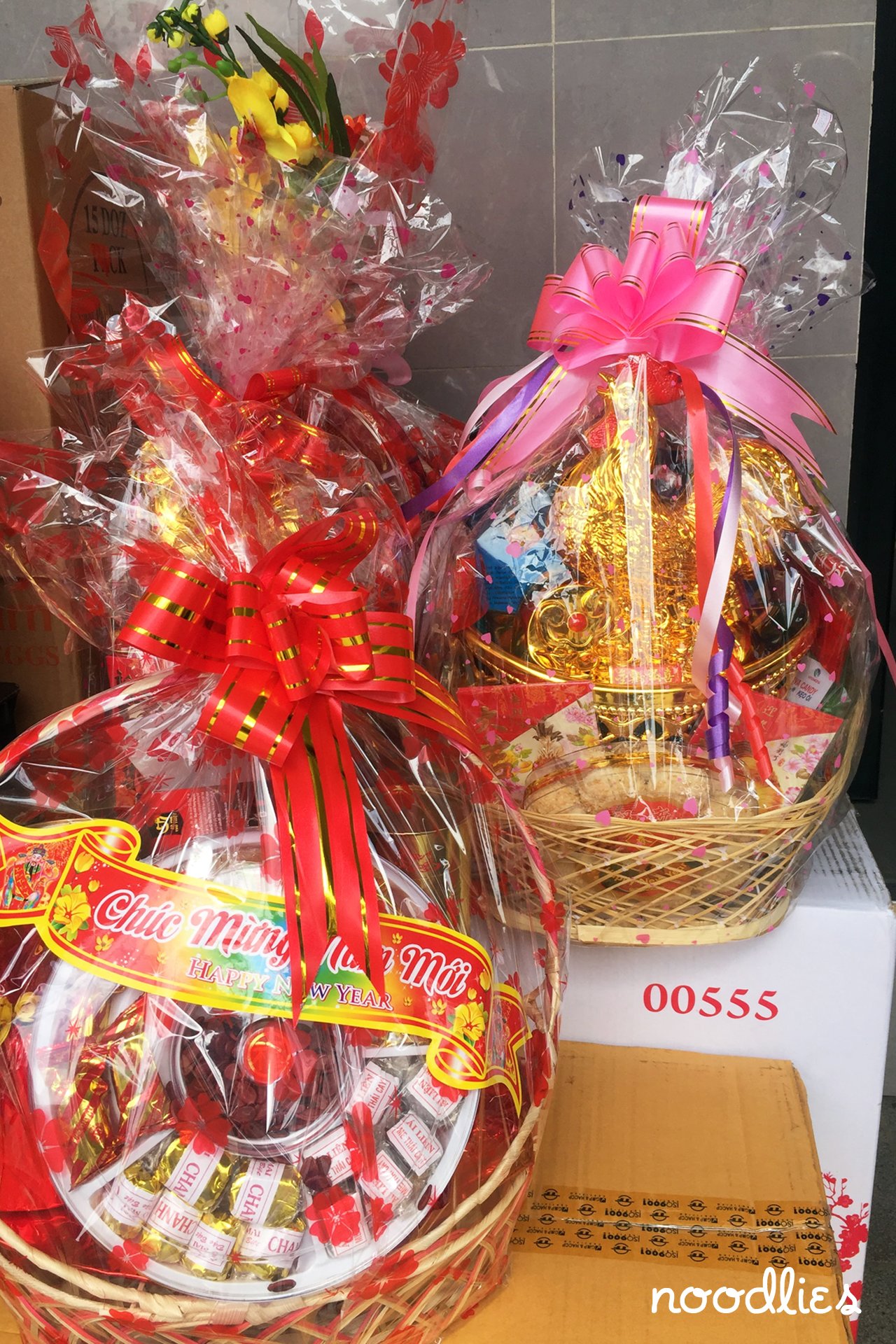 Mut is also given, usually together with tea, cakes. They're usually in baskets wrapped in bright red or pink cellophane. The effect is visually arresting, especially when you see them stacked in the shops.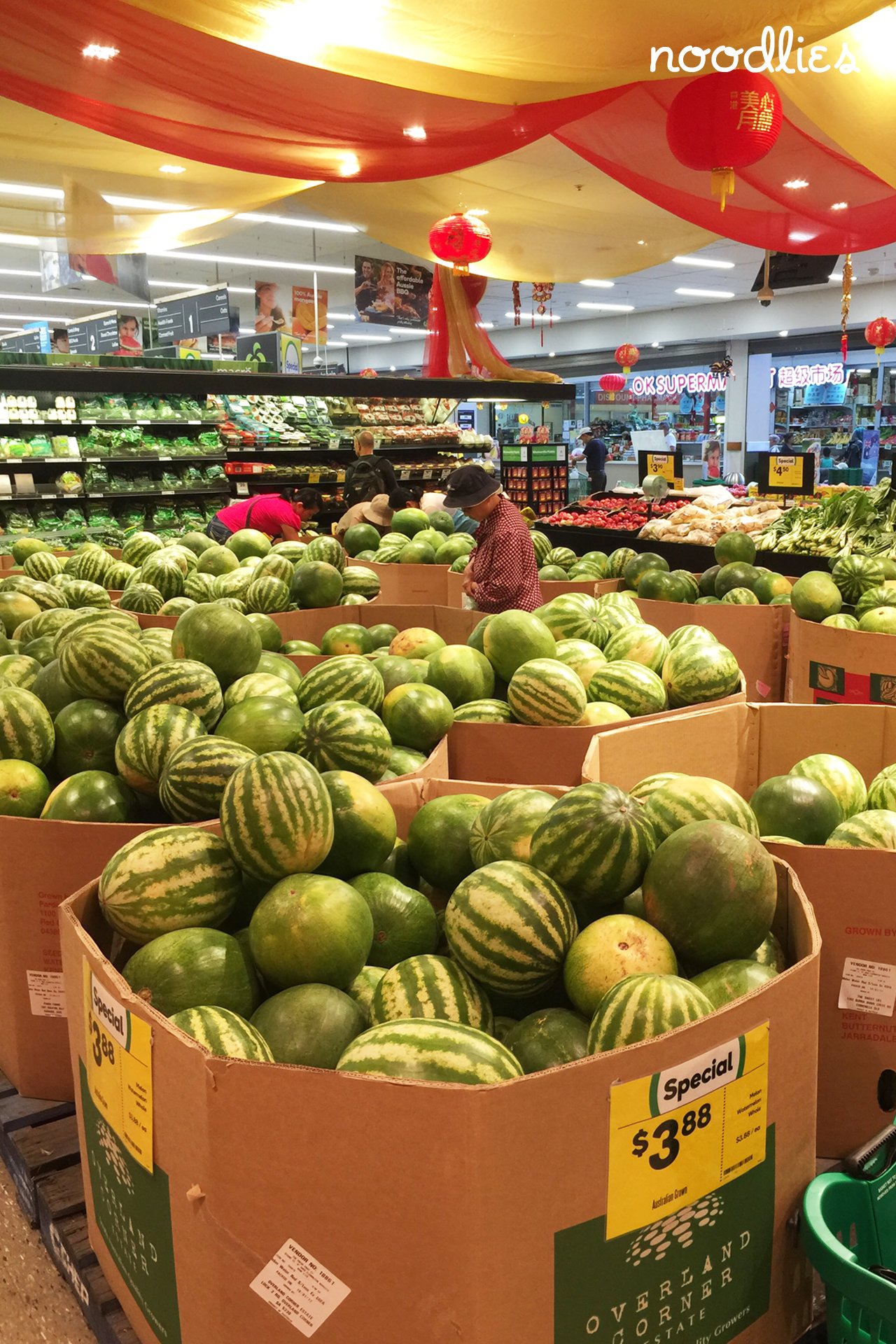 Watermelon is popular for new year. Luck comes to your house if the watermelon is red when sliced. The redder the more prosperity comes to  your household. Lots of tapping of the melon and sniffing by punters trying to guess the colour inside. Woolies in Cabramatta knows this too well, the watermelon display took up most of the vegetable section of the store today.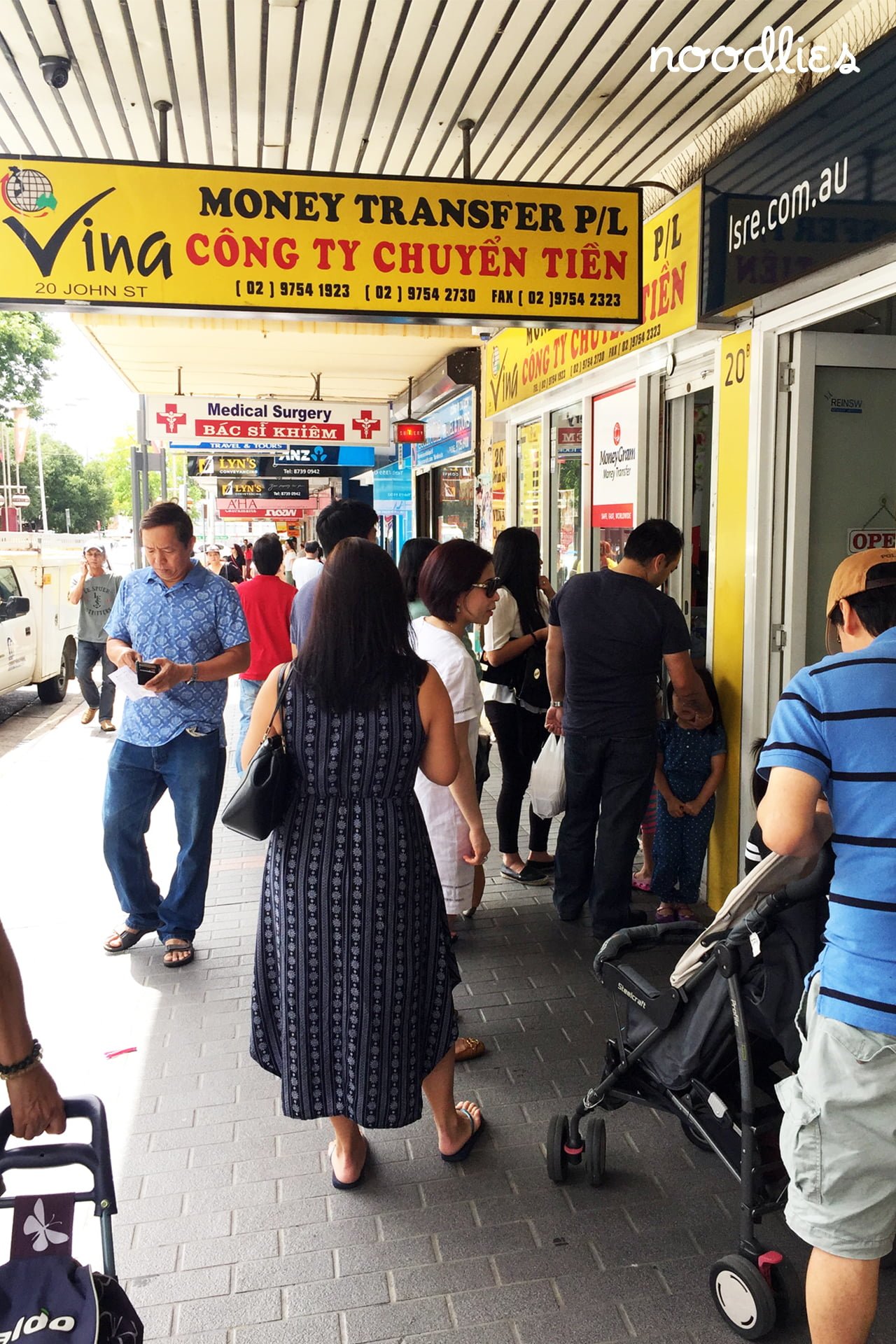 Giving money to loved ones in red packets is a custom that crosses all cultures that celebrate Lunar New Year. In the case of the Vietnamese refugee community, this extends to transferring money to loved ones back in Vietnam. The queue this afternoon snaked outside Vina's Money Transfer office on John Street.
Marigold flowers are popular during the festival period give the name sounds like long life. From the chrysanthemum family the plant has an earthy, herby fragrance which quickly grows on you. People also tie li si (red packets) to these plants and place them at the entry of their homes.
The bright yellow mai flower, which blooms in spring, is another new year icon. Apart from being the first flower to bloom in spring and the name 'mai' sounding like "tomorrow" and "luck", there are other stories about this flower. The most beautiful being that Mai was a female warrior who died protecting her father. Each new year she comes back to visit her parents wearing a bright yellow dress given to her by her mother, these days, represented by the vibrant yellow mai flower.
The first day of they year is important. Whatever you do that day, you'll be doing for the rest of the year. So we wear new clothes, refrain from fighting, make sure our debts are paid off, don't borrow money – you get the idea. The first person that enters your house on the first day will bring their good or bad luck to your home – successful business people are very popular. If your business hasn't been so good, don't expect invitations to visit.
There you go, a crash course on Lunar New Year in a Vietnamese context. Spare a thought for us when someone wishes you "Happy Chinese New Year".