One of the loveliest things to do in Vietnam is to indulge in its fine vegetarian food. Vietnam is a predominantly Buddhist country, and vegetarian food is enjoyed by all kinds of people at different occasions.
Most commonly it is eaten on the first and 15th of the lunar month, the Buddhist Sabbath days known, in Vietnam, as Ram. Serious Buddhists will also observe the quarter moons and also the days before the Ram, which are out aside for Sam Hoi, or repentance. Even more serious Buddhists will also observe an additional day a week, perhaps a Monday or a Friday regardless of where it might fall in the Lunar Calendar, or Am lich.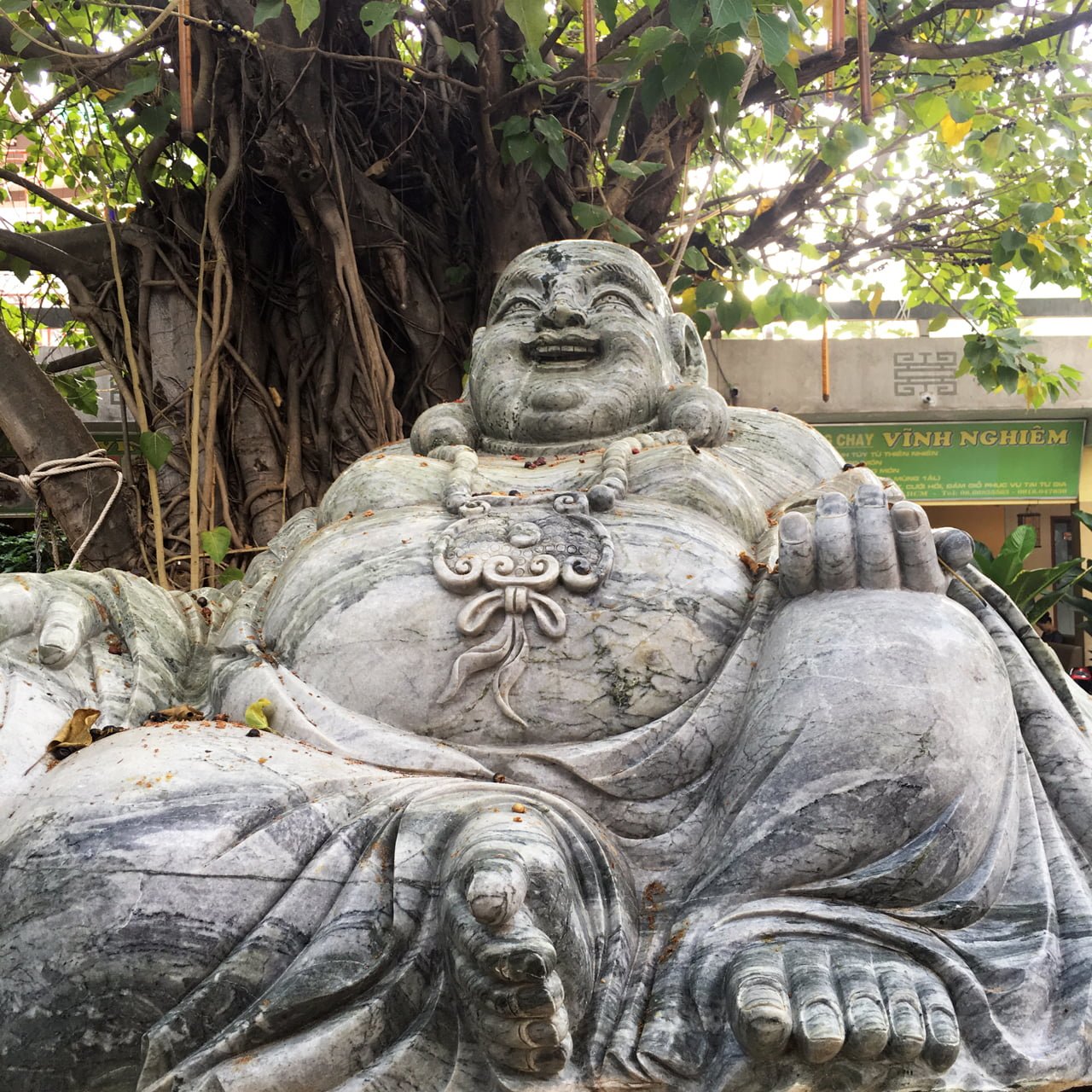 People might also choose to observe vegetarianism for a number of other reasons. For serious and committed Buddhists of the Mahayana school (the dominant Buddhist school in Vietnam) it might be a lifestyle choice and observed fulltime. Others might choose to observe a period of vegetarianism for some spiritual reason or for reasons of repentance or memorialisation. So somebody might be vegetarian for a year or half a year after the death of a loved one, for example, or in anticipation of prayer they hope to be answered, or in observation of a pledge made previously and a prayer already answered.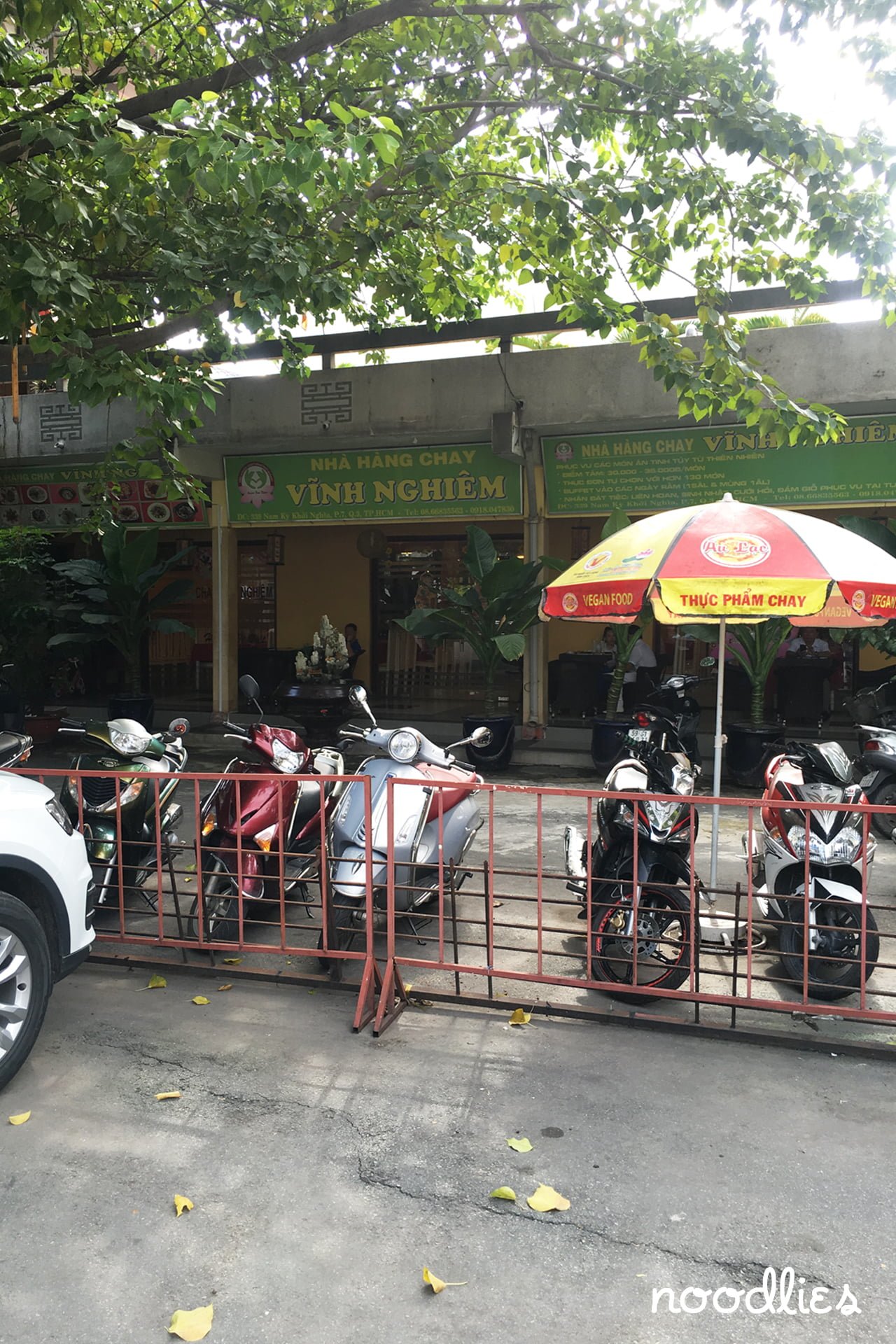 This is a long-winded way of saying that some of the temples in Vietnam (not many) have Buddhist restaurants on the grounds, and the most famous and glamorous of them all is the restaurant at Chua Vinh Nghiem, an important temple in District 3 of Ho Chi Minh City. This restaurant is big enough to handle a wedding party, which makes it quite unique in Vietnam.
It's well worth a visit, and is easy to work into any itinerary because Vinh Nghiem Temple is one of the must-see tourist stops for most people visiting Saigon. The temple is also open for three meals a day, so you can swing by anytime.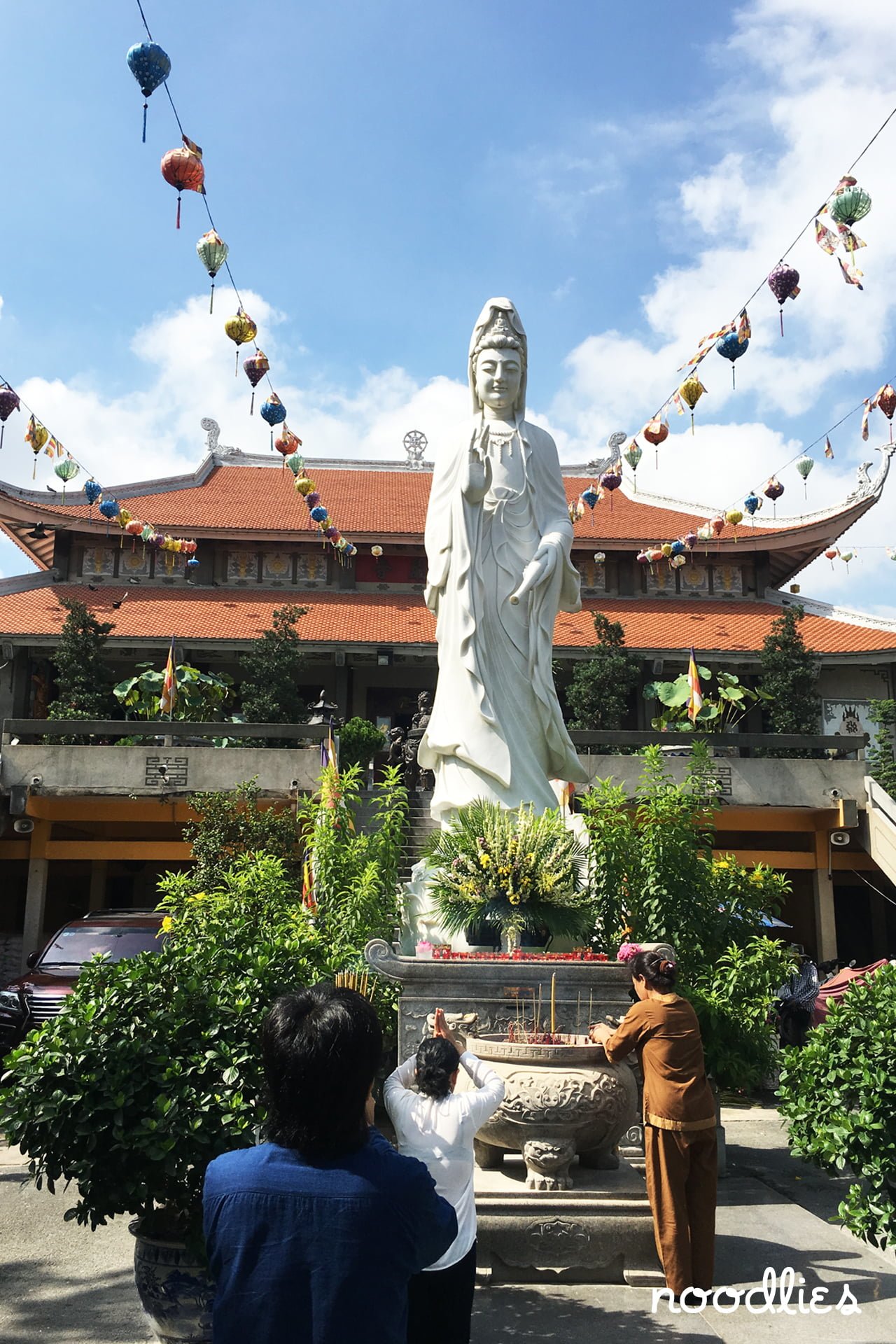 Most recently I visited at breakfast time, and I wasn't disappointed by the food on offer. After a quick prayer in the main hall and at the large statue of Kwan Yin in front, we headed in and asked for the daily breakfast specials (they change quite a lot, so do ask).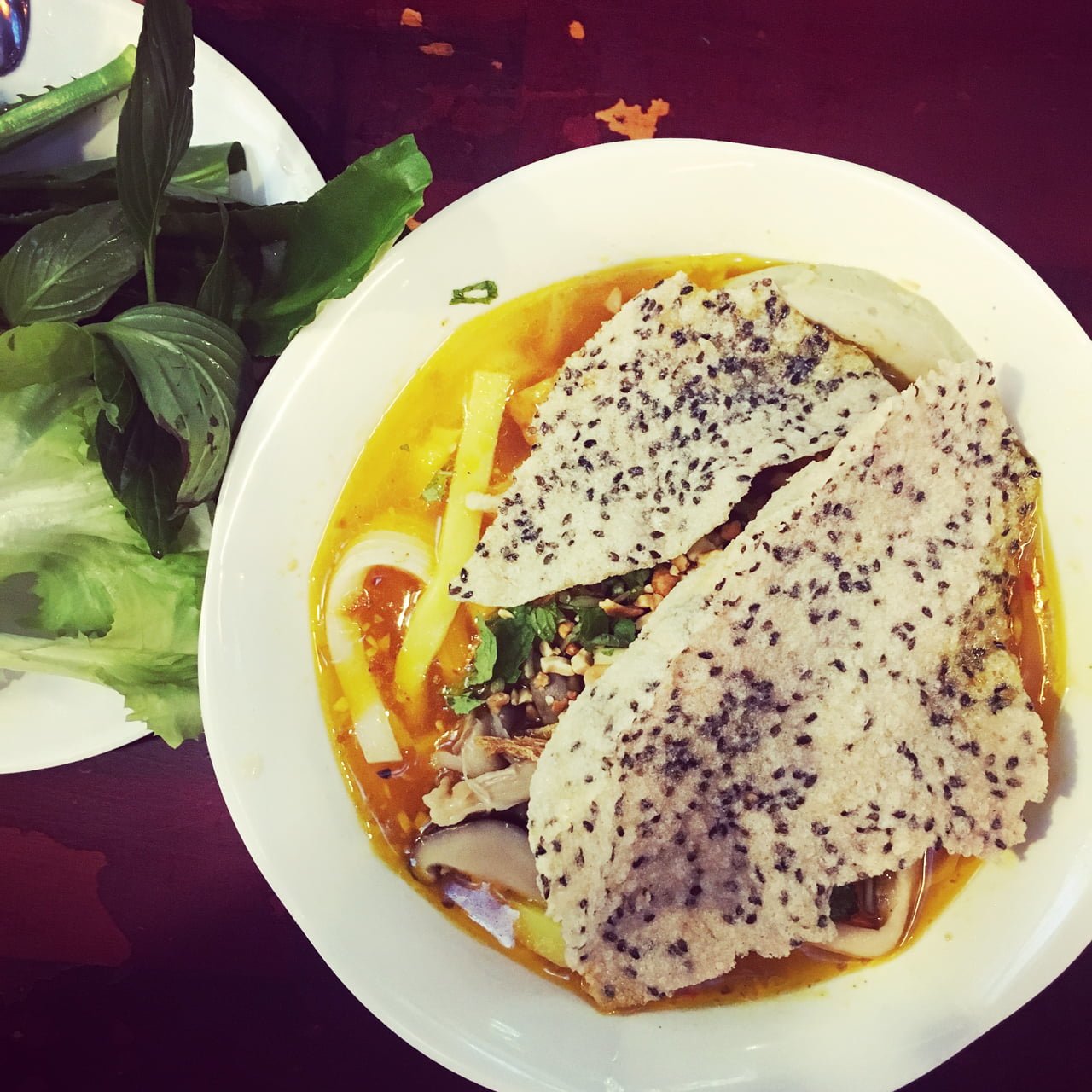 I chose Mi Quang (above), a slightly spicy noodle dish popular in Central Vietnam that features thick, al-dente rice noodles in a slightly curried gravy covered with peanuts and a big piece of fried rice -paper (banh trang). As with most Vietnamese noodle dishes it is served with a side salad of fines herbes and lettuce so you can make it as fresh and substantial as you want. This particular version was (unusually) quite spicy, so I didn't need to add any of the supplied fresh chilli. But you might want to. It was tasty, freshly-prepared and beautifully presented. Sometimes people enter a vegetarian restaurant with lowered expectations of taste, but there is no need for this in the Vinh Nghiem restaurant – this version of Mi Quang was as tasty as any I had tried at meat restaurants outside, if not tastier.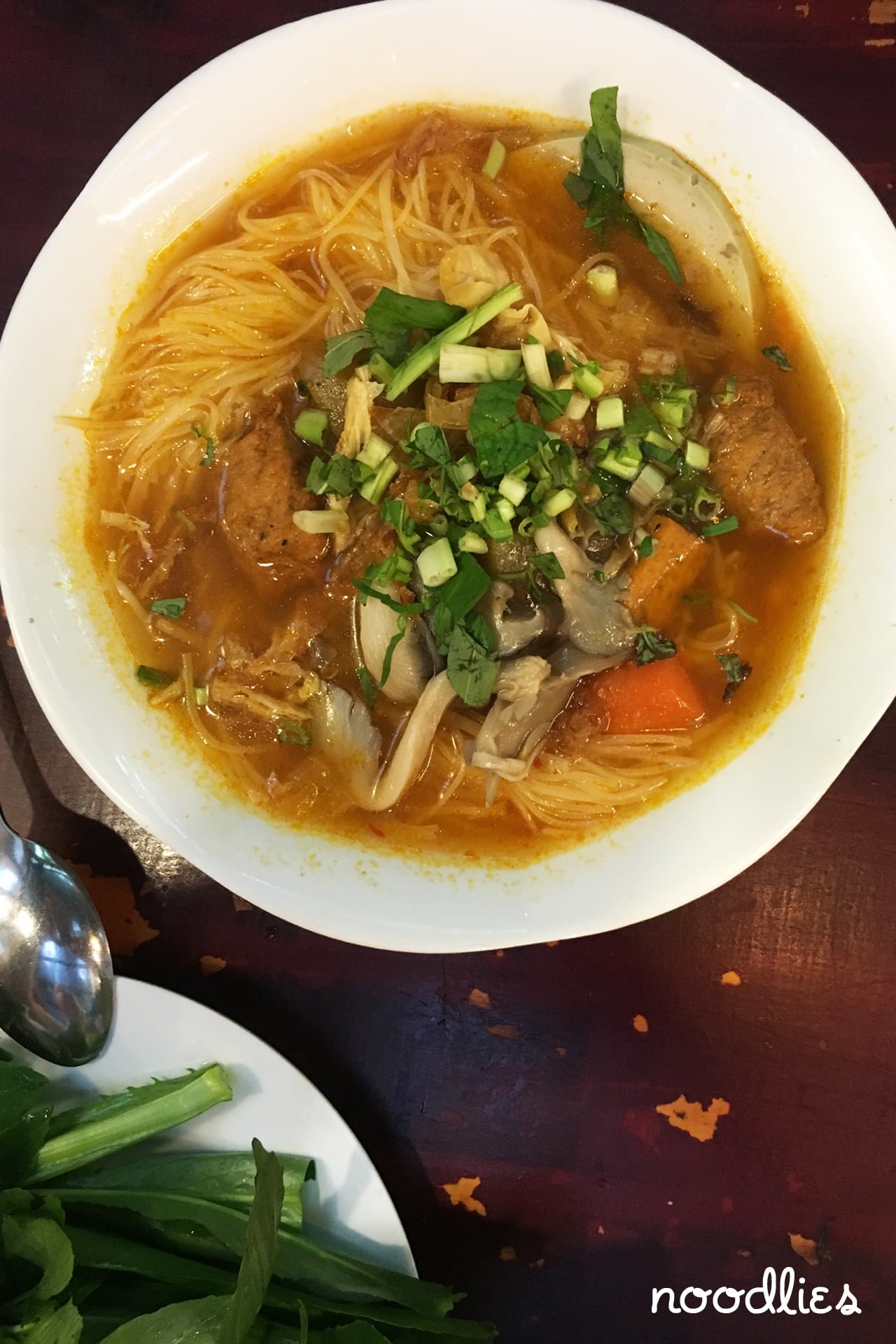 My nephew went with the hu tieu bo kho (above). In the normal world bo kho is a gently spiced beef stew, normally with a distinct aniseed and five-space base, typically served with bread or, sometimes, rice hu tieu noodles. At the temple restaurant it was a thin base of stewed tofu and meat substitutes, carrots and daikon served with both bread and noodles. It was sweet (it always is in Saigon) and beautifully seasoned. My nephew pounced on it and ate it with relish, dipping in bits of bread he had torn off the small loaf supplied.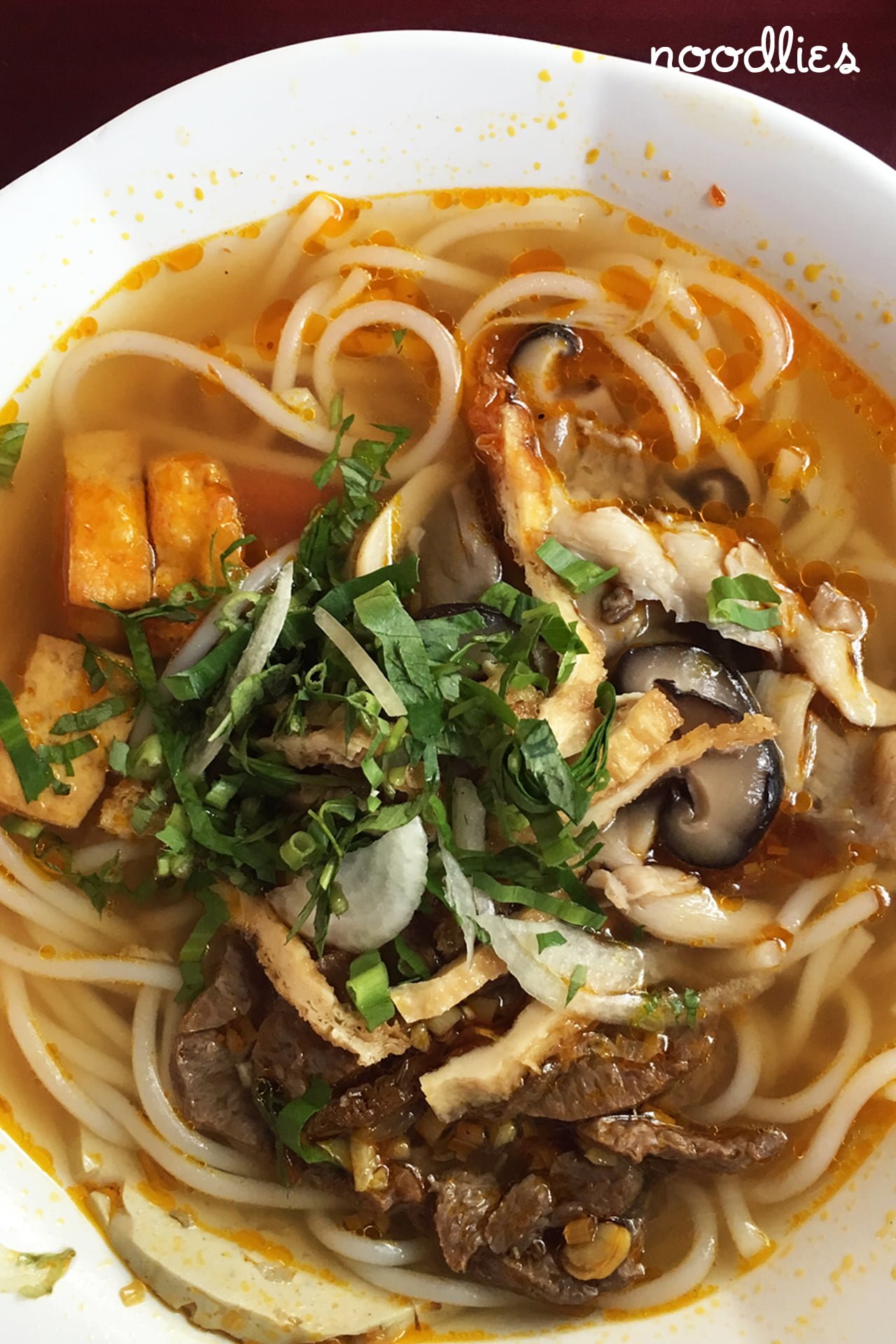 Feeling especially hungry, and my meat-eating nephew terrified he wasn't getting his recommended daily serving of vitamins, we each ordered an additional dish of bun Hue (above). Yep, at a vegetarian restaurant the classic Viet noodle dish Bun Bo Hue is delicately referred to leaving out the "Bo," which means beef and would make for an unseemly descriptor in Buddhist surrounds. This always translates well as a vegetarian dish, with plenty of scope for rendering the spicy, thin and lemony broth a stimulating morning delight accompanied by udon-style rice noodles and the usual mix of mysterious meat substitutes. I could easily have had another bowl. 
Altogether a satisfying breakfast experience, serving up two really typical Saigon breakfast dishes with style and tastiness, and totally karma-free to boot!
After breakfast (you can have delicious Vietnamese-style coffee there too, incidentally), nip next door to the little gift shop where I have been shopping for years. I bought some beautiful glass wrist malas (prayer beads) engraved with the Om Mani Padme Hum, some lovely little bottles of Buddhist liniment (for my constantly aching muscles), and a couple of boxes of beautiful cards printed with Vietnamese Buddhist calligraphy.
And I still had change from $20.
Five stars for a wonderful morning experience that reflects a different side of an amazing city. Five stars also for taste and value.
How to get there
Vinh Nghiem Temple
339 Nam Kỳ Khởi Nghĩa, phường 7, quận 3, Thành phố Hồ Chí Minh.
Don't worry too much about the address – it's the most famous temple in the city and all taxis etc. will know where it is. It's about a 10 minute ride from downtown Saigon. The restaurant is to the left as you enter the temple gates (you can't miss it), and it opens around 7am and is open into the evening. Please note that it is good etiquette to visit the temple's main hall before you go and eat.