Where are the Chinese New Year Festivals in Sydney in 2017?
"A complete list of Lunar/Chinese New Year Festivals in Sydney" [click to tweet]
This year, Chinese New Year, Tet, Lunar New Year falls on Saturday, 28 January 2017. It will be HUGE as the date has the lucky number "8" and falls on a weekend.
Want to experience the fun and excitement of the Year of the Rooster?  
While the City of Sydney's "Chinese New Year" celebrations are the biggest – there are plenty of other festivals around town that also showcases the diverse Asian community in Australia who celebrate Lunar New Year, including Chinese, Vietnamese and Korean.
This year, Chinese New Year, Tet, Lunar New Year falls on Saturday, 28 January.
There are at least 14 celebrations held across Sydney – Parramatta, Fairfield, Bankstown and Cabramatta in the west, Rockdale, Kogarah and Hurstville down south, Chatswood and Lane Cove up north, Burwood, and Eastwood in the inner west and Sydney CBD.
Read on for the full list compiled by noodlies, Sydney food blog.
READ: Lunar New Year traditions my dad taught me.
Dragon and lion dancing, visits by the god of wealth, art exhibitions, fireworks and of course, lots and lots of food – the noodlies video below, from earlier Lunar New Year Celebration in Hurstville, gives you a sense of the excitement and colour.
Here's a list of Sydney's major Lunar or Chinese New Year festivals in 2017.
Saturday, 21 Jan from 4pm – 9pm: Saigon Place, Bankstown, Lunar New Year Festival, Canterbury Bankstown City
All of the traditional elements will be there including lion dances, lucky envelopes given by the God of Good Fortune, New Year Garden and popular the annual eating competition. The event will see Saigon Place transformed into an exciting, loud and colourful arena of music and festivities.
From Friday, 27 Jan: Sydney Chinese New Year Festival, City of Sydney
More than 1 million people will flock to 80 spectacular events in Sydney's Chinese New Year Festival, making it one of the largest Lunar New Year celebrations outside China. Find your zodiac amongst the Lunar Lanterns popping up around the city, enjoy cocktails, music and performance at the Westpac Lunar Lanterns Hub in Martin Place, then join the bustling crowds enjoying the flavours and sights of traditional celebrations in Chinatown.
In 2017, Sydney will be illuminated by giant Lunar Lanterns representing the animal signs of the zodiac as we celebrate the Year of the Rooster.
Saturday 28 Jan – 12 Feb, Chinese Garden of Friendship, Chinese New Year Celebrations
Celebrate Chinese New Year in Darling Harbour's hidden pearl, the Chinese Garden of Friendship. Over three weekends of performances, demonstrations, workshops and tours.
Tuesday, 31 Jan, 10am – 1pm: Burwood Park, Burwood: Lunar New Year Festival, Burwood Council
Join the community for free entertainment including Chinese brush painting and calligraphy workshop followed by a Chinese morning tea.
READ: About the Year of the Rooster and 8 Lucky Food 
Friday, 3 Feb: King Street Place, Rockdale: Lunar New Year Festival, Rockdale Council
Lunar New Year (formerly known as Chinese New Year) is held annually in King Street Place, Rockdale in celebration of the City's Australian-Asian community. The event features Dragon and Lion Dances, stalls, traditional performances, authentic food and children's activities.
Friday, 3 Feb – Sunday 5 Feb, Fairfield Showground, Smithfield Rd, Prairiewood, Tet/Lunar New Year Festival, Vietnamese Community (Adults $7, Children $5)
Organised by the Vietnamese Community in Australia (VCA), this is an annual fundraiser for them and the largest Vietnamese celebration in the state, attracting over 60,000 visitors. This is the one to go to if you want to see how the Vietnamese celebrate new year (noodlies video round-up from the 2011 Festival below). This year there will be TET Factor, pho eating competition and lots of live entertainment.
On Sunday will be a Guiness Book of Record attempt with the largest number of people wearing a non la (conical hat) in one place.
Friday, 3 Feb, 4.30pm – 9:30pm: Centenary Square, Parramatta: Lunar New Year in Parramatta, Parramatta Council
The festivities will feature Asian-inspired live cooking demonstrations, a range of food stalls offering mouth-watering delicacies, and traditional and contemporary performances. Interactive activities for the whole family to enjoy will include lantern and fan-making workshops, umbrella decorating, origami and calligraphy. Enjoy the traditional dragon and lion procession and watch the fireworks spectacular.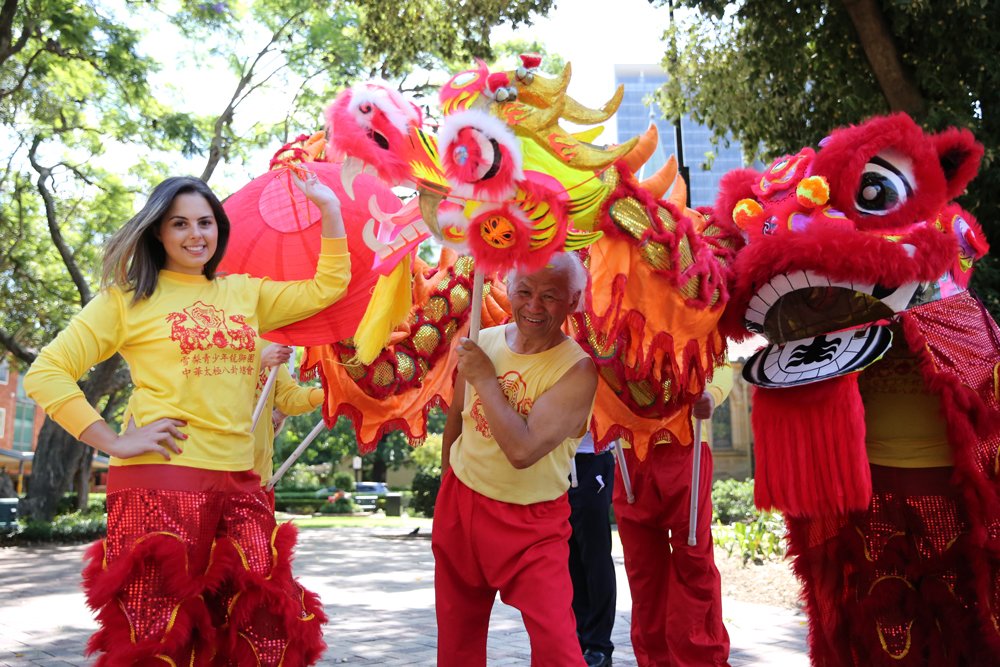 Friday, 3 Feb, 4pm – 6.30pm: Lane Cove Plaza, Lunar New Year Festival, Lane Cove Council
Help bring in the year of the rooster at this special Lunar New Year celebration. The event will include a host of live entertainment and activities including a
Chinese lion dance, a feathered petting zoo and craft activities. Children will also receive their own lai see (lucky red envelope) for good luck.

Saturday, 4 Feb, 10am – 4pm: Forrest Road, Hurstville, Lunar New Year Festival, Georges River Council
Council mergers in 2016 means that Hurstville and Kogarah councils are now merged as Georges River Council. For now, there will still be two festivals. The Hurstville Festival attracts over 40,000 visitors and is one of the largest celebrations outside the Sydney CBD.
Saturdays, 4 Feb & 11 Feb: Eastwood Plaza, Eastwood Ryde Lunar New Year Celebrations, City of Ryde
Last year over 10,000 attended the celebrations, jointly organised by City of Ryde and local Chinese and Korean communities. The Cooking Competition will be held on Saturday 4 February 2017 and the Grand Celebration Day is on Saturday 11 February 2017.
WATCH: Best Chinatown food courts in Sydney
Saturday 4 Feb, 10am – 5pm: Chatswood Mall, Chatswood Chinese New Year Festival, Willoughby Council
This year's entertainment program includes the traditional and very popular Lion and Dragon Dances, Chinese Kung Fu, magic show, acrobatics, folk dances and much more. The official opening will be held at 11am in Chatswood Mall.
A giant God of Wealth will be on display as well as more than 30 specialty stalls selling Chinese products and food, information and services in Chatswood Mall and another 9 stalls at The Concourse offering great retail and promotional gifts.
WATCH: Best Chinatown food courts in Sydney
Thursday, 9 Feb, 6pm – 8:30pm, Kogarah Town Square, Lunar New Year Festival, Kogarah Council
This annual celebration showcases the Chinese and wider community through song and dance with traditional Lion Dance, entertainment, food stalls and giveaways.
Saturday, 11 – Sunday 12 Feb, 9am – 4pm: Cabramatta Freedom Plaza, Lunar New Year Festival, Fairfield Council
A lower-key event compared to the Council's huge Moon Festival, this one has a Vietnamese flavour. The cultural festivities, held in the Cabramatta CBD, will feature the God of Fortune, Lion Dancing and loads of exciting entertainment for the whole family.
READ: Best restaurant in Cabramatta
Sunday, 29 Feb, 12pm – 9pm: North Rocks Park: Sydney Hills Lunar Festival, The Hills Shire
Bigger, brighter and more spectacular than ever before the Sydney Hills Lunar Festival has a new home in 2017 at Bella Vista Farm. Featuring Sydney's most popular food trucks, fireworks, traditional performances, displays and ancient Lunar New Year rituals such as the 'dotting of the Lion's eyes'- be immersed in the unique and vibrant customs of Asia at this year's lunar celebration.
Kids will love the colours and festive atmosphere of the Sydney Hills Lunar Festival with craft activities, face-painting, balloon twisting, pop-up library, rides and fireworks designed to delight, enthrall and keep them captivated all day long.
"A complete list of Lunar/Chinese New Year Festivals in Sydney" [click to tweet]
Which Festivals will you be enjoying this year?
Are there other Lunar New Year Festivals in Sydney to add to this list?
Please let me know in the comments section below.
Have a fantastic year of the Rooster!