It's a new project that tries to differentiate from other Korean eateries. Though it's a bit of hit and miss for noodlies, Sydney food blog.
Having lived through the 80s, I've endured many "projects" – a happening thing back then, too try-hard in 2016. Sure, I was partial to a boogie to FPI Project's Rich in Paradise (zipping up my boots) at a dance party in the late 80s, but today? Project, posse, dancers leaping onto wall high wire fencing, cool back in the day…
When Neil Perry announced his Burger Project, fine food aficionados wailed, fearful it would distract from worthy, hatted pursuits such as Rockpool. Well, it seems they're right. This week, he announced the closure of Rockpool (Bar and Grill stays). Apparently he's sick of fine dining "I travel around the world now and dine in modern three hat/three star/top 50 restaurants and I just get fatigued with flavour. Sometimes the food's just not all that delicious…" he tells Good Food.
But, I digress. Back to the project at hand.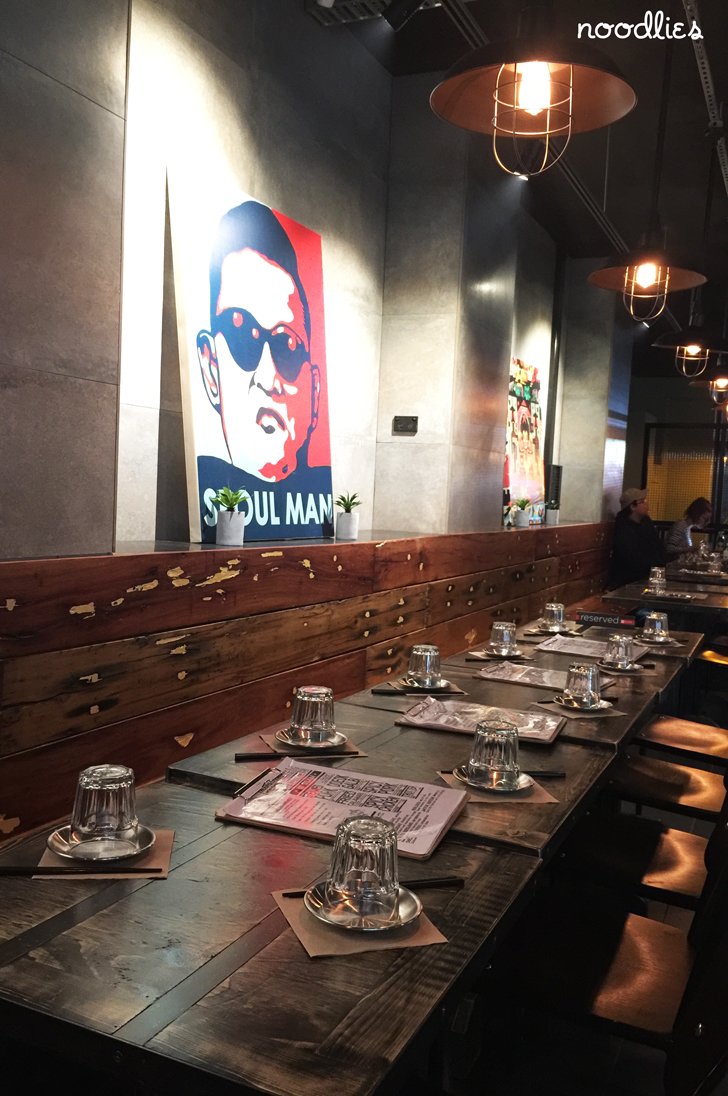 Seoul Project, is a trendy Korean eatery in one of the laneways between George and Pitt streets. Step inside and it's part kitsch, part industrial minimalist. Kitsch cuteness from murals along the right wall, South Korean flag, a Warhol inspired PSY (speaking of the 80s….) and that sort of thing. Minimal from tiny square tables along the right and even smaller round tables in the centre. There's barely enough space for the menu and a couple of glasses. It's odd because the venue is big and there's plenty of space. A private dining area for your posse is created on the far left with wall high wire fencing. Mercifully no leaping 80s dancers in sight. The kitchen is an open affair, minimalist and to the rear.
The menu is hard to read. They've put thought into the design, but the varying fonts asks too much of your eyes.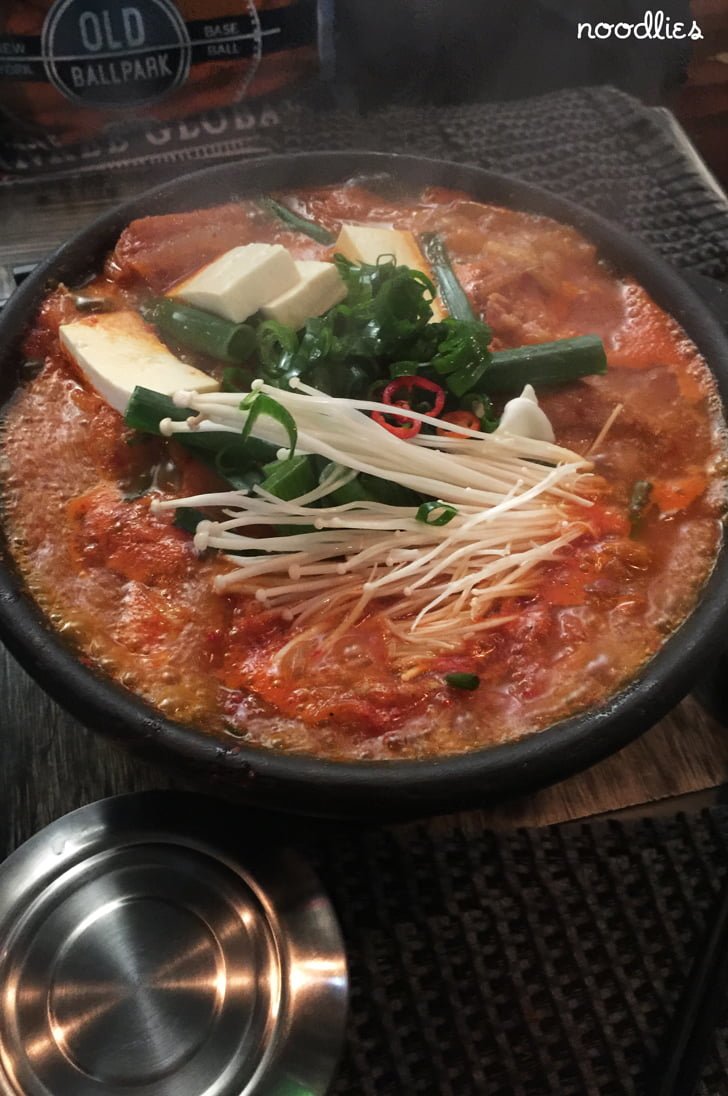 Kim chi chi ke comes bubbling in a wide cast iron bowl with strands of fresh enoki mushrooms that cook beautifully. The bowl looks huge but it's relatively shallow, though still generous for two. It takes up mos to of the table. The dish might look spicy but behind the crimson hue, is more sour from kim chi, though that's nicely balanced with salty sauces.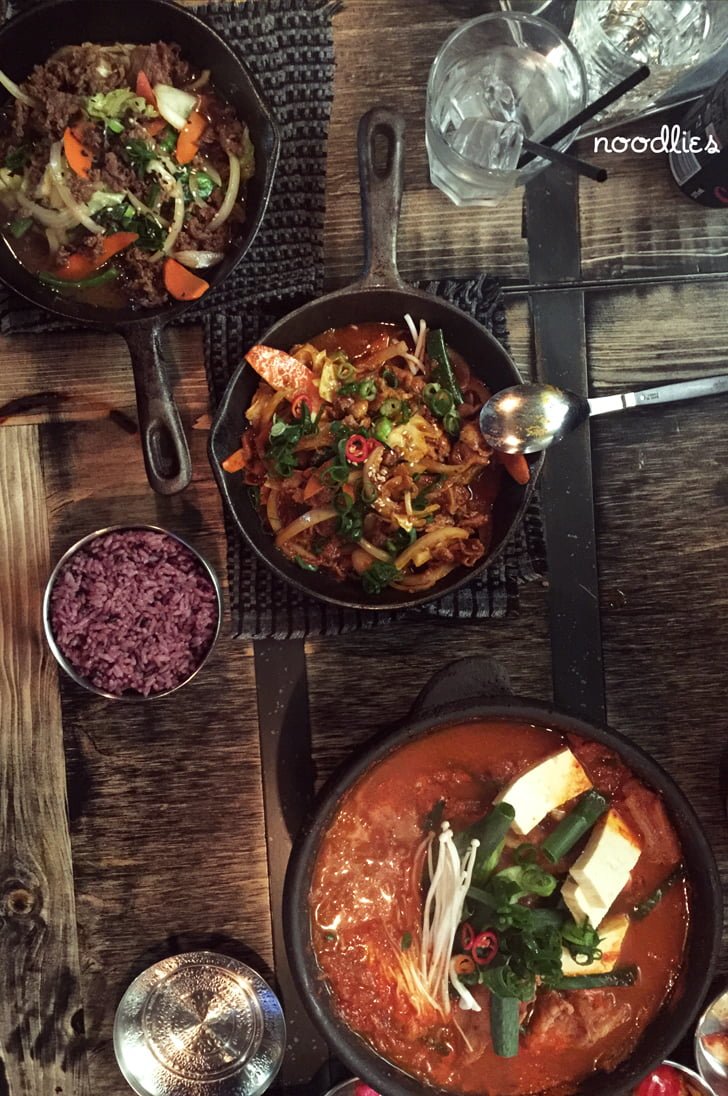 Likewise the bulgogi beef and chilli pork comes in cast iron. The pork is my favourite of the night, laced with goguchang it hums in the mouth, the vegetables lightly coated and slightly under-cooked, leaving plenty of texture and flavour variety.
Most bulgogi tends sweeter, with beef that melt in the mouth. Some places, it comes with just fried onions, which makes the dish even sweeter. Here, carrots and other vegetables balance the sweet. There's an interesting flavour (no not just MSG which I happen to like) maybe it's Korean perilla, it's an earthly taste which some may like, others might not. Our table is divided. I'm on the 'like' side.
Still, I leave disappointed. It's not that the food was bad. Seoul Project tries too hard – kitsch, minimal, trendy at the expense of practicality and customer comfort. The stingy-sized tables are unusable for two, food served in cast iron keeps food warm but when parked on protective cloths are hard to move, the menu assaults the eye with competing font sizes. The food is good, but it's the basic practical missteps which cloud the experience.
This project doesn't feel complete, yet.
Seoul Project
9 Wilmot St, Sydney
(02) 8964 9206