Hands-on noodlies fun
Limited time: ends 31 January 2014
By Thang Ngo
If Americans can invent cronuts, then the folks at Chefs Gallery reckon they can coin Chapas – Chinese tapas, that is.
These days you can't open a Chinese restaurant without a voyeuristic open kitchen where chefs in whites stretch hand made noodles or stuff delicate dumplings. Now Chefs Gallery wants to be the first where you, the diners get to make noodles. It's their Hands-on Noodle & Chapas Feast. And it's oodles of fun as their chefs come to your table to show you how to pull noodles, knife slice sorghum noodles and squeeze out fish noodles.
The chefs make it look so easy, but pulling and stretching noodles is no stroll in the park as you'll see in the noodlies, Sydney food blog video above.
All up this is a 10 course feast, which starts with Chapas (yes, Chinese tapas), two zesty salads to freshen and wake up the palate; crisp cucumber and crunchy seaweed.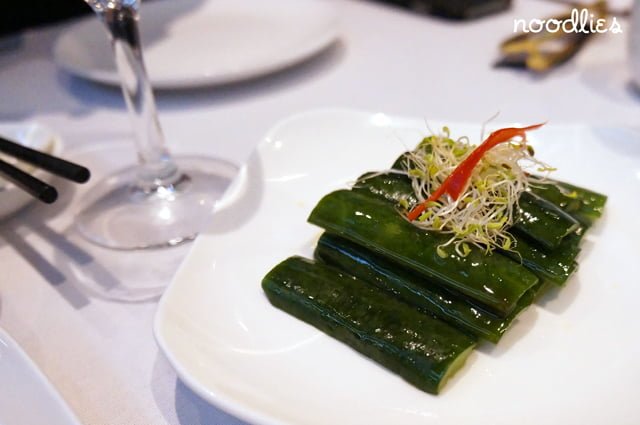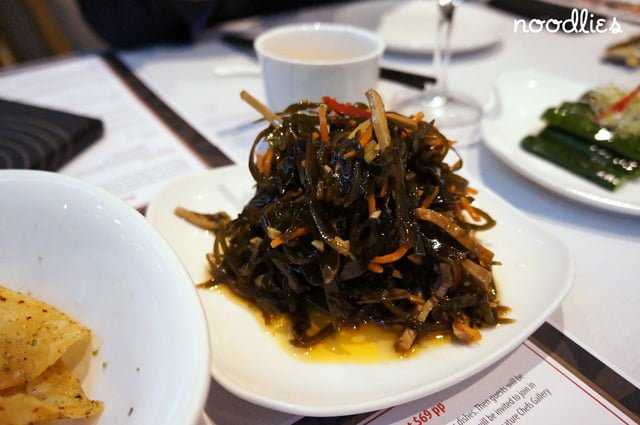 Then the feast heads into more hearty territory with Macanese mini burgers. The shiny tall Asian buns are filled with pork fillet, pork floss, lettuce and sweet chilli mayo dressing.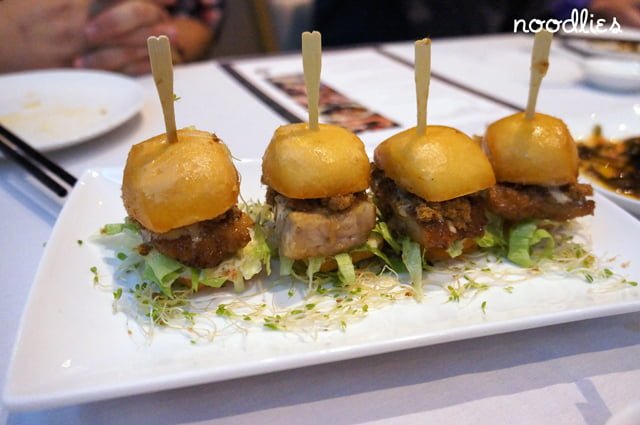 Next is the exquisitely delicate flaky pastry filled with white raddish, diced bacon and minced dried prawns.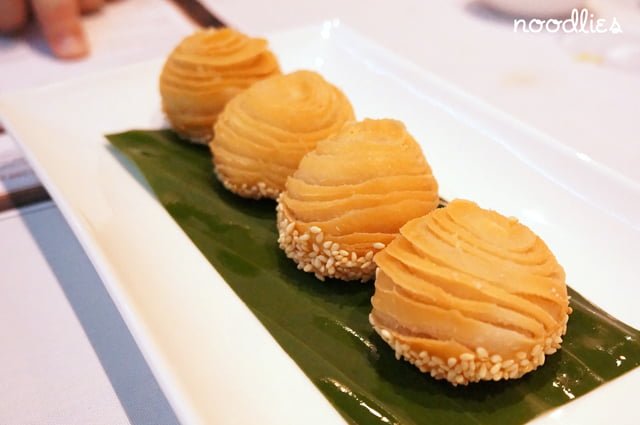 The highlight of the dinner for noodlies, Sydney food blog is shredded Peking duck with cucumber and hoisin sauce rolled in fluffy roti (not pictured). Gamey, tender duck with roti is a marvel – why didn't anyone think of it before?! It's perfectly balanced and deliciously addictive.
Modern san choy bao is made with chicken mince and looks stunning. It's an interactive course which prepares us for the coming hand-on noodle making fun.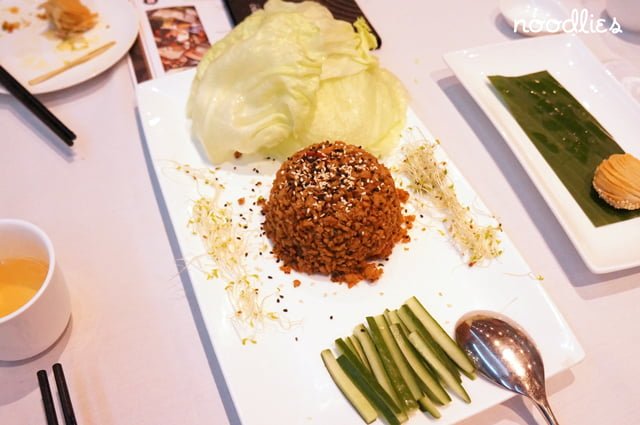 The noodles section of our feast starts with lively squid ink handmade noodles (not pictured) that's been wok fried with mussels and calamari tube and braised with Chinese rice wine on a buttery garlic sauce. It's a hearty dish with strong flavours from seafood and garlic sauce.
The next two noodle courses are knife sliced sorghum noodles and fish noodles which involves diners getting their hands dirty (see the video above).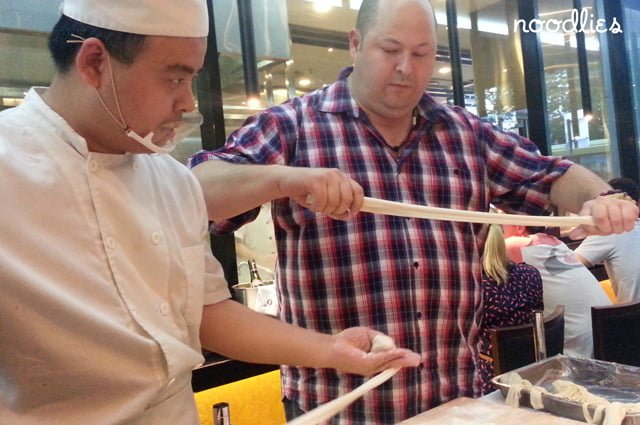 And of course, it wouldn't be a Chefs Gallery experience without the instagram famous he-and-she piggy face buns; squishy, pillowy pastry filled with gooey black sesame centre. Here they are joined by totoro ghost-like marshmallow friends in an all edible farm yard setting.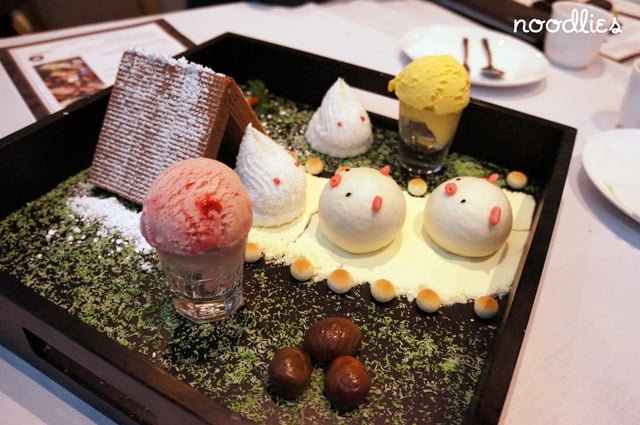 The restaurant business is a cut-throat, competitive game. While Chefs Gallery has been a runaway success from day one, it's obvious they're far from complacent. Hands-on Noodle & Chapas Feast is a fun, tactile experience where guests leave enjoying good food and very happy memories.
This feast is only available for dinner between Monday to Wednesday or Saturday lunch. Minimum 8 guests, maximum 12. $69pp. Ends 31 January 2014.
Hands-on Noodle & Chapas Feast
Chefs Gallery
Shop 12, Regent Place (entry via Bathurst St), 501 George St, Sydney
(02) 9267 8877
Noodlies and friend was a guest of the lovely folks at Chefs Gallery.