Sadly this restaurant has closed after only a few months.
Love Vietnamese soup? Here are two you'll need to graduate to.
Love pho, but looking for a deeper, more adult flavour? Noodlies, Sydney food blog takes a first look at a new Cabramatta eatery serving up two iconic Vietnamese soups you may not have heard of, yet.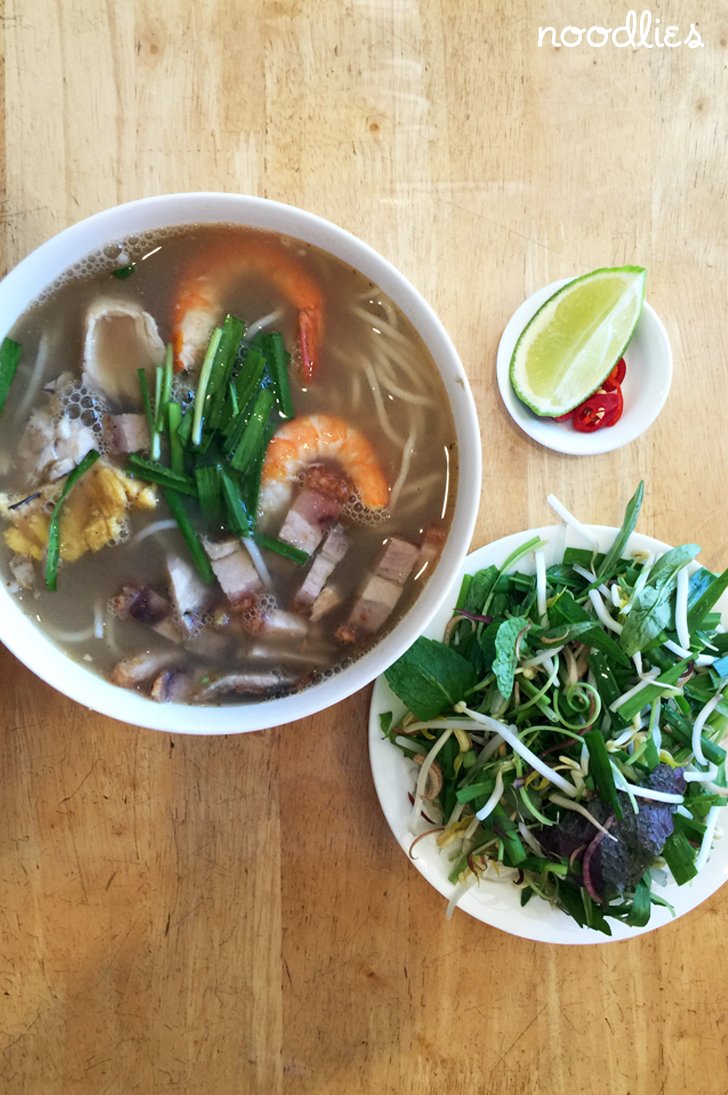 The murky soup is a hint of the sensual pleasure to come. If you think this is the iconic sweet, addictive pho broth, then the first mouthful of bun mam soup will hit you between the eyes and have you seeing stars. The cloudiness comes from mam, fermented fish (mam ca loc) or shrimp (mam ruoc). Funky or pungent best describes the dark, purple concentrate. Think fish sauce dialed up 100 times. Mam takes over the dish, it colours the soup, and seeps into the other ingredients; bbq pork, fish fillet and prawn. It comes with plenty of garlic chives to cut the taste but make sure you dunk most of the side greens to balance the sharpness; bean sprouts, banana flower, Vietnamese spearmint and earthy perilla. Don't forget the squeeze of lime.
The murky soup is a hint of the sensual pleasure to come.
Sounds gross? It's loved for the same reason blood sausage, pate and blue cheese are enjoyed. This is adult stuff. You wouldn't have it every day, but when you want to go all the way, this is it.
Pho originates from the north, lemongrass rich bun bo Hue from central, bun mam is from Soc Trang, the southern, Mekong Delta region of Vietnam. While it's cooked at home, Bun Mam Soc Trang in Cabramatta is the first specialist bun mam restaurant in Sydney. It's a little ironic, given this location was home to Duy Linh and Tan Duy Linh vegetarian restaurants for three decades.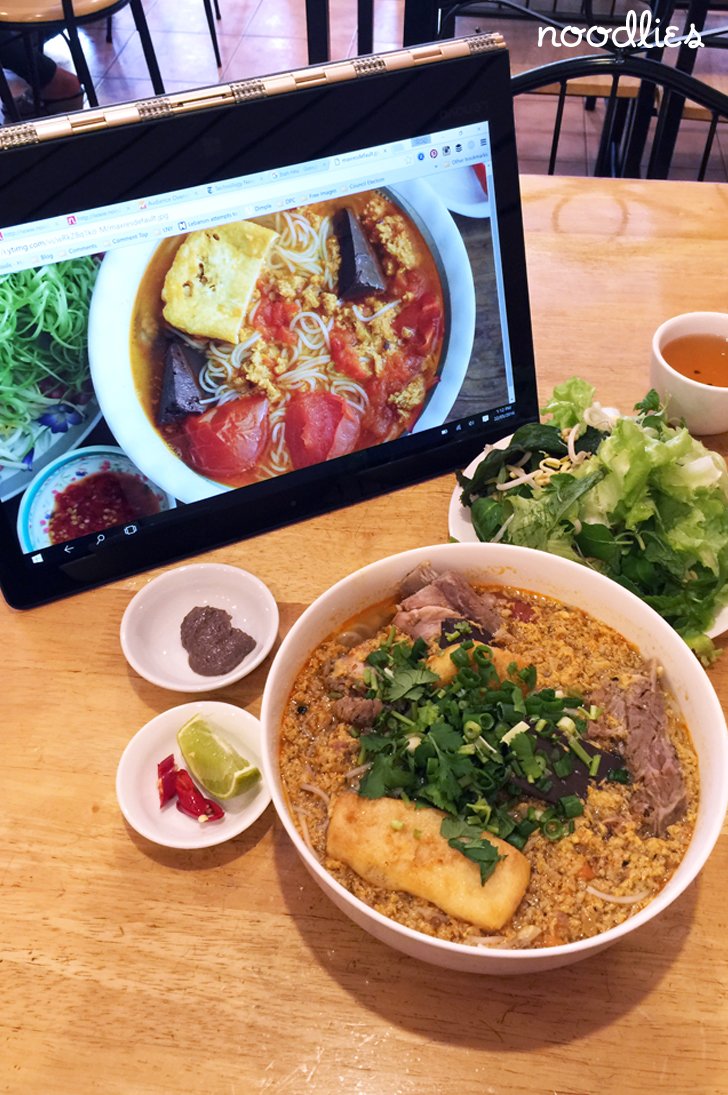 Their other specialty is bun rieu, another iconic Vietnamese soup that doesn't have the adoring profile of pho, but is never-the-less, a firm Vietnamese favourite. The soup base is made with crab meat and tomato, with tofu, congealed blood cubes and thick pieces of well cooked pork being key ingredients. The execution here is on the blander side. It's more golden when it should be a vibrant tomato red. The image on the Lenovo Yoga 900 laptop above is closer to the classic look.
Think fish sauce dialed up 100 times.
Where pungent is the theme for bun mam, sour and seafood are king in a good bun rieu. Again, squeeze lime, add chilli and side salads. For extra punch, it comes with a mam ruoc (shrimp paste) on the side. Yes, it's the same funky paste used so liberally in bun mam.
Take a swipe with your chopstick and shove it into your mouth to lose your mam ruoc virginity. It's painful, but worth it.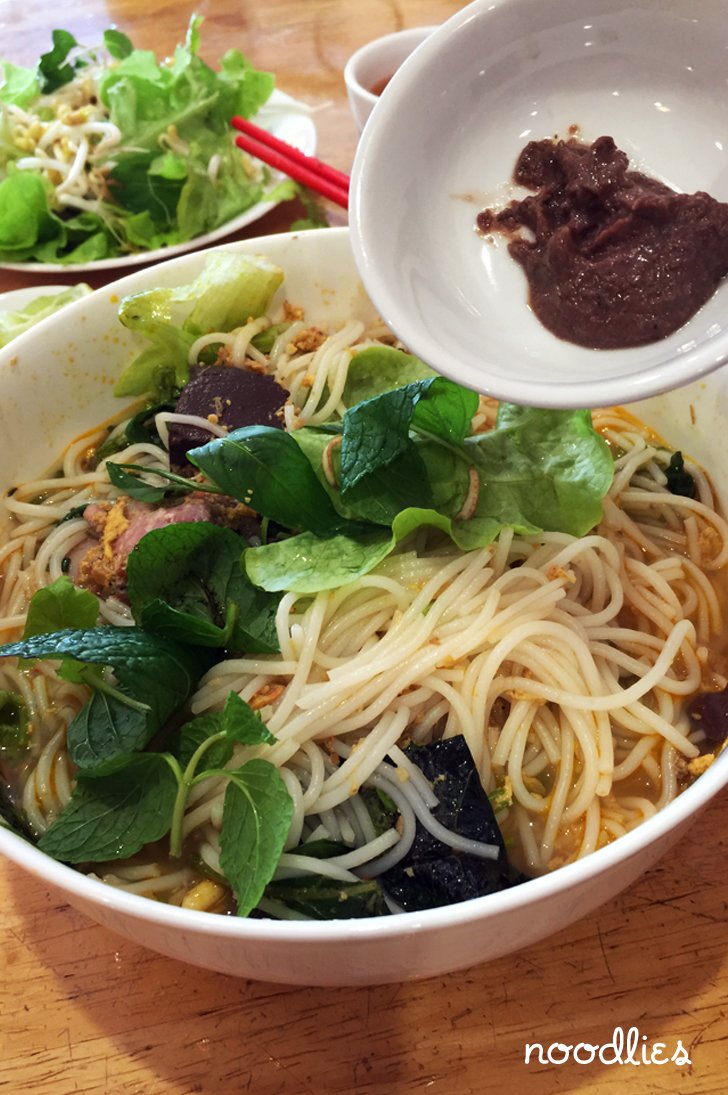 Bun Mam Soc Trang is a month old. Service is homely, typical of family run, ma-and-pa businesses. It's well worth the adventure.
Bun Mam Soc Trang
Shop 10/117 John St, Cabramatta NSW
(02) 8764 8838