Sponsored post
Yum Cha 2.0?
Changing times, changing taste – Sydney's grand dame of Yum Cha is looking to reboot a brunch institution. Noodlies, Sydney food blog takes a peek.
Not long ago, yum cha (or dim sum for our Mandarin speaking friends) was a weekend institution in Sydney. After a big night, what better appetite kick starters could there be than meaty beef balls, or slinky prawn rice noodles – all downed with cups of bottomless Chinese tea.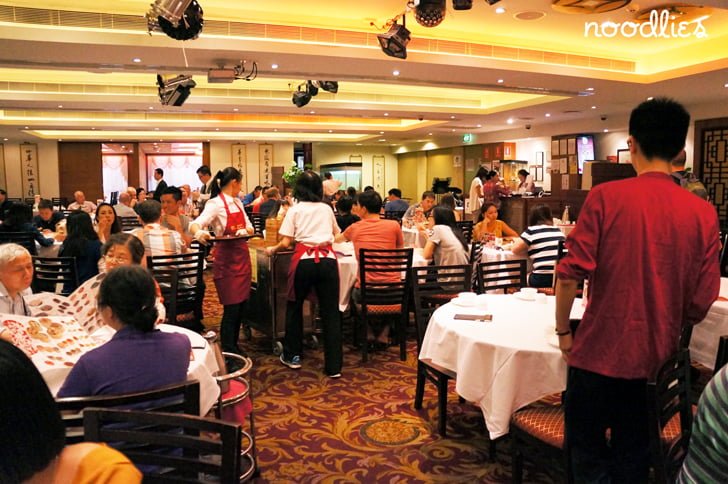 When your head hurts, having ladies wheeling cars full of steaming hot food for you to choose from is the ultimate in instant satisfaction. There seems no end of choices – perfect for groups (you are sociable after all). And there's no bill shock, no matter how much you order, the cost per head always end up less than you were expecting.
If I sound like I know what I'm talking about, it's because East Ocean was our Yum Cha of choice when noodlies was living in the inner city.
But times have changed. The choice for punters for weekend brunch is almost as varied as the number of yum cha dishes. More cafes, more Asian eateries are opening up around town and in the 'burbs. At the same time, staff costs have risen, making the trolley dollies harder to afford for restaurants.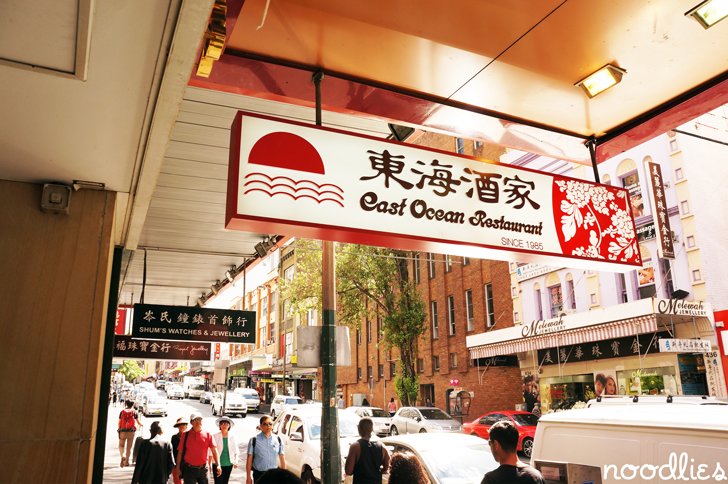 East Ocean restaurant has noticed the changes too. This year marks their 30th year in Chinatown, making them one of the longest establish yum cha venues in Sydney, if not Australia. They've seen it all, this Chinatown Cantonese culinary institution was there in the early days when the clientele were mainly local Chinese families, they rode the wave in the '90s when yum cha was the weekend ritual for all of Sydney, and finally, right up to today, seeing greater competition and catering for the current influx of Mandarin speaking migrants from China.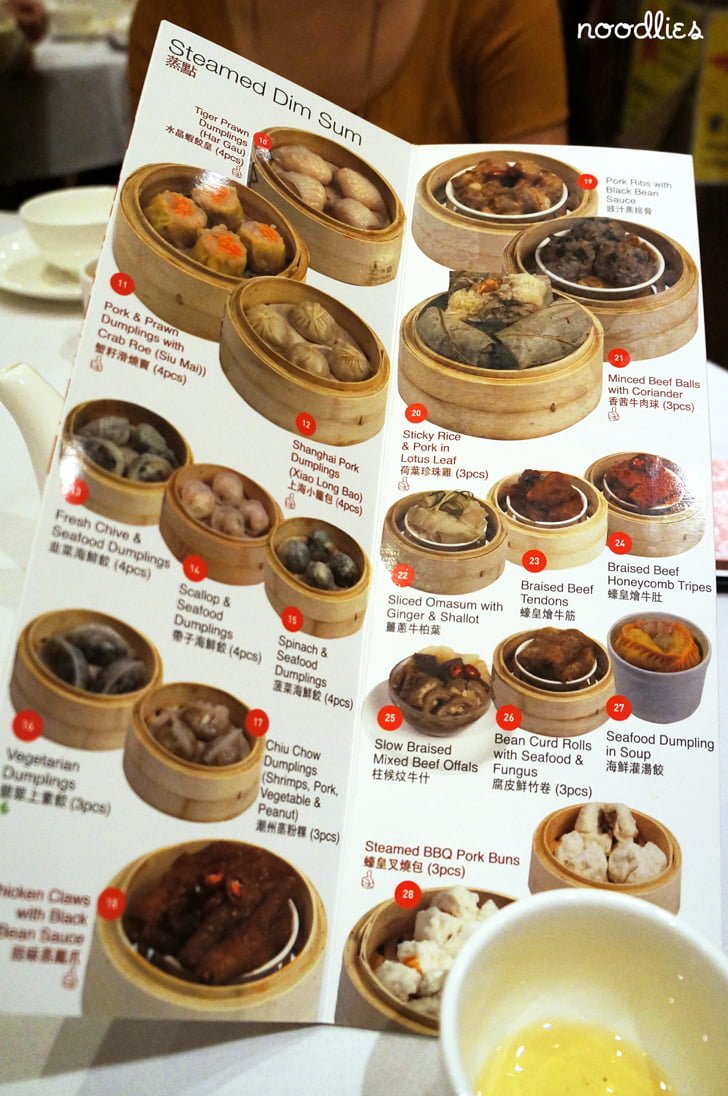 To celebrate their 30th, the restaurant has under-gone a new brand refresh, with a refurb later this year. More importantly, East Ocean is updating their yum cha offering; the biggest innovation is a physical yum cha menu with all your favourites so you can order from the table, including steamed tiger prawn dumplings har gao 水晶虾饺皇 (below), sieu mai, steaming BBQ Pork Buns 蠔皇叉烧包 (below) and the crowd dessert favourite, mango pancakes with fresh cream 香芒班戟卷 (below).
Your order is freshly steamed/cooked and brought to the table. While this reduces the need for trolley pushers, you'll be getting freshly made food that hasn't been round and round the floor. Being a picture menu, you still get to choose by sight – sans lid-lifting.
A must-order is the East Ocean roasted duck 驰名烧鸭皇. It's their specialty, which sells out quickly so put in your order as soon as you get to the table. The handsome, amber skin is oh-so crisp. The second layer is the best, soaking in a dangerously moreish sauce. Do yourself a favour!
But fear not, the trolly dollies are still there, just fewer of them, so there's still that yum cha cart atmosphere, as you can see by the photo at the top of this post. They carry around a new selection of the daily specials.
Today, noodlies sampled steamed green tea & seafood dumplings 绿茶海鲜饺, steamed king prawn, fished roe & bamboo strip dumplings 凤眼饺 and steamed king prawn & pork dumplings 鲜虾粉粿 (below). Seafood is their specialty and this trio demonstrate why – the delicate glutinous skin gives way to equally delicate seafood flavours. Be sparing with the soy sauce, you'll want to savour this.
Even the humble sieu mai gets a seafood burst; pork & prawn dumplings with crab roe 蟹籽滑烧卖 (below) is magnificent. Dense and strong meat filling gets a sharp seafood jolt thanks to the generous topping of roe. It doesn't look half bad either, don't you think?
East Ocean caters for new Chinese migrants (and those who love their food) with a selection outside the usual Cantonese yum cha repertoire. The obvious inclusion is squirting hot xiao long bao 上海小笼包 (below).
If you fancy something different, then glutinous rice siu mai 糯米烧卖 (below foreground) are worth ordering. These weighty money bags will settle the stomach very nicely.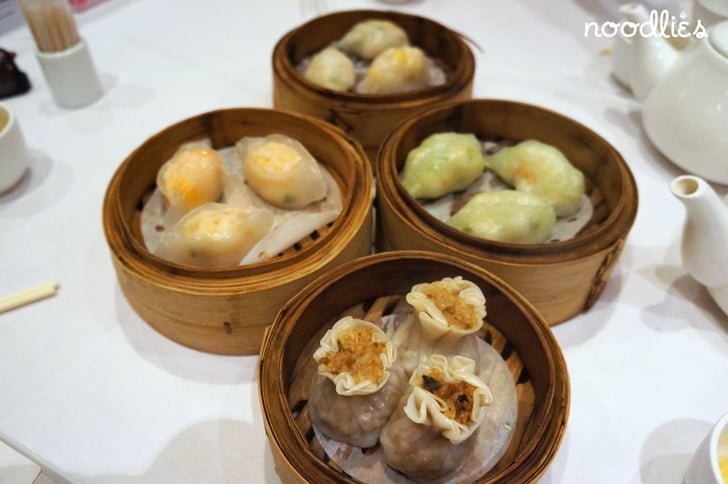 Over three decades, things are likely to change; tastes, demographic, heck even cost structures. But East Ocean is still going strong. There's a reason they're the grand dame of yum cha in Sydney's uber competitive Chinatown.
They're at it again, with new branding, an imminent refurb and a new yum cha offering to kick start Sydney's love affair with this age-old brunch tradition.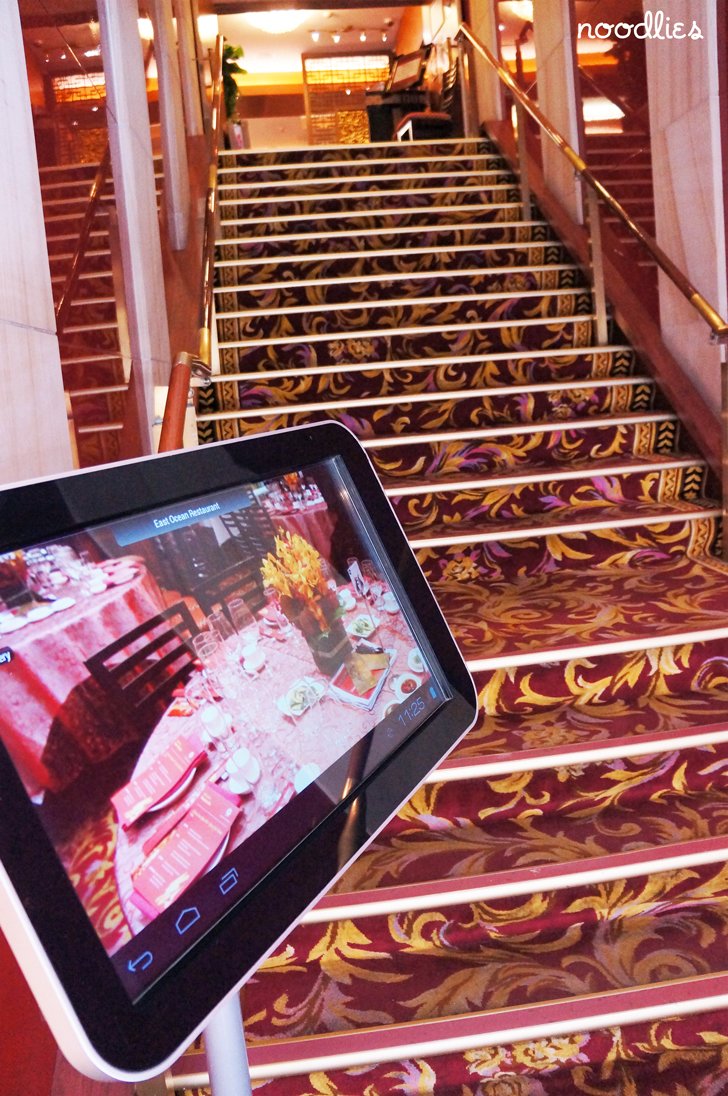 East Ocean
(enter via Sussex St or Dixon St Mall)
421–429 Sussex Street. Haymarket, Sydney
(02) 9212 4198
This post is sponsored by East Ocean. Noodlies received payment and complimentary food.  All opinions contained in this post are noodlies' own and consistent with noodlies' editorial guidelines as outlined in our code of ethics.