Sponsored Post
When booking a holiday we research airfares, hotels and travel insurance. But noodlies, Sydney food blog reckons when visiting Vietnam, a little homework on food will make your visit so much more memorable.
Australians are flocking to Vietnam. And when they return, two things most mentioned as standout highlights are the warm, friendly people and Vietnamese food (of course). While we rightly research airlines, air fares, hotels and must visit attractions, noodlies thinks Vietnamese food warrants a post of their own.
Noodlies' Top food and eating tips for Vietnam.
Where to eat
What to eat
Where to stay
How to avoid getting sick
Tip: Travel up and down Vietnam to experience regional Vietnamese food.
We love Vietnamese food for their freshness, use of zesty herbs and spices, with minimal use of oils and fat. However, Vietnam is a long country that stretches from China in the north, Laos at the centre, to Cambodia in the south. So there are bound to be regional differences.
There are three distinctive food regions in Vietnam:
North: In northern Vietnam the climate is cooler, which limits the production and availability of spices. Together with influences from Southern China, where food flavours are clean and subtle, northern Vietnamese food is less spicy and bold. Some popular Vietnamese dishes from the north include bun rieu, banh cuon and pho.
Central: The region covers Da Nang, Hoi An and Hue, the former capital of Vietnam. Food from this region is famous for being blisteringly chilli hot. As the former capital, food can be highly colourful and decorative in presentation. Bun bo Hue, named after the former capital is the most well known dish of Central region.
South: The tropical conditions and fertile soil produce a wide variety of tropical fruits (jack fruit, durian, mangoes), vegetables, and livestock. Food in the south is much sweeter and bouncier with garlic, shallots and other mints. Influenced by Cambodia, more coconut milk is used in cooking.
Tip: Must eat dishes while in Vietnam.
Pho: is pretty much the quintessential Vietnamese dish. It's right up there with the great noodle soups of the world, says Sydney chef Dan Hong. "The spices within the clean and clear broth have almost healing properties, and it makes you feel great when eating it.".
Pho has a somewhat murky history, though most agree it originated in the north of Vietnam in the 1880s during the French colonisation. The Chinese living in the north contributed the rice noodle component of the soup, while the French introduced beef, a previously extravagant meat, to this street food bowl. TV chef, Luke Nguyen reckons pho may have originated in France. He says pho bears similarities to the French classic pot-au-feu in name and cooking method. "The essential cooking technique of both dishes is the same – to extract all the natural sweet flavours of the beef bones, meat and vegetables to get a very clean, aromatic, tasty broth."
In 1954, when Vietnam was split into communist north and democratic south, those who migrated south to avoid communism helped spread the love of pho. Pho bac (northern pho) reflects the austere, considered character of that region, while pho nam (southern pho) embodies the brashness of the easy-going south.
READ: Top 10 Vietnamese street food
"Northern pho tends towards subtle, light, mild, clean flavours; the south tends towards a sweeter yet sharper flavour from exotic fresh herbs, aromatic spices with Indian, Cambodian and Thai influences," Nguyen says.
Visitors should try this dish in both north and south to spot the difference – I'd love to know which bowl you prefer.
If you want to know how to eat a bowl of pho watch the noodlies, Sydney food blog video above.
Bun Bo Hue: is a fearsome, authentic and uncompromising Vietnamese soup. It demands more and it gives more. Where you would appreciate the subtle sweetness of Pho, you're whacked in the face with chili and lemongrass, as well as a congealed blood cube and a pig trotter or two. Watch noodlies' video below so you know what to expect.
For visitors to Hue, Da Nang or Hoi An, this dish is a must try for the explosion of flavours. Leave a comment if you've had bun bo Hue, I'd love to know your reaction.
Bo Ne: is a street food which is often had for breakfast in Vietnam, especially the south. It's typically served at a tiny eatery at the front of the owner's house. A perfect reminder of the French colonial past, bo ne arrives glistening on a sizzling plate with op la (fried egg), beef that has an extra dollop of pate, hot bread rolls and greens including cucumber and tomato. If that combination isn't rich enough for you, optional extras include sieu mai (beef balls) or even tinned tuna. Grease never tasted so good.
Lau: you won't find hot pot in any listing of typical Vietnamese dishes, but in the blistering summer, hot pot (lau) and hot pot restaurants are very popular with locals. Get to one of these local restaurants to see how Vietnamese folks celebrate when they go out.
The meat choices are the usual meat, seafood and offals. But it's the greens which will surprise and delight – there's a bewildering range. The noodlies video below showcases the variety of greens, including morning glory and pumpkin flowers.
Tip: Visit a local wet market.
The air-conditioned supermarkets are coming and one day, traditional wet markets will disappear. With refrigerators and other mod cons, the daily wet market shopping trips will be a thing of the past. Until that day arrives, make sure you visit a local wet market to experience how locals shop.
The noodlies video below is from Phan Thiet Market in the Mui Ne area, north of Ho Chi Minh City.
Not only do you see a range of fascinating ingredients, you'll also know what fruits are in season to try – and I recommend trying them, you won't get the chance back home. Explore these markets properly, there's usually always an area with food stalls – you'll get to eat what the locals eat, freshly prepared at unbelievably cheap prices.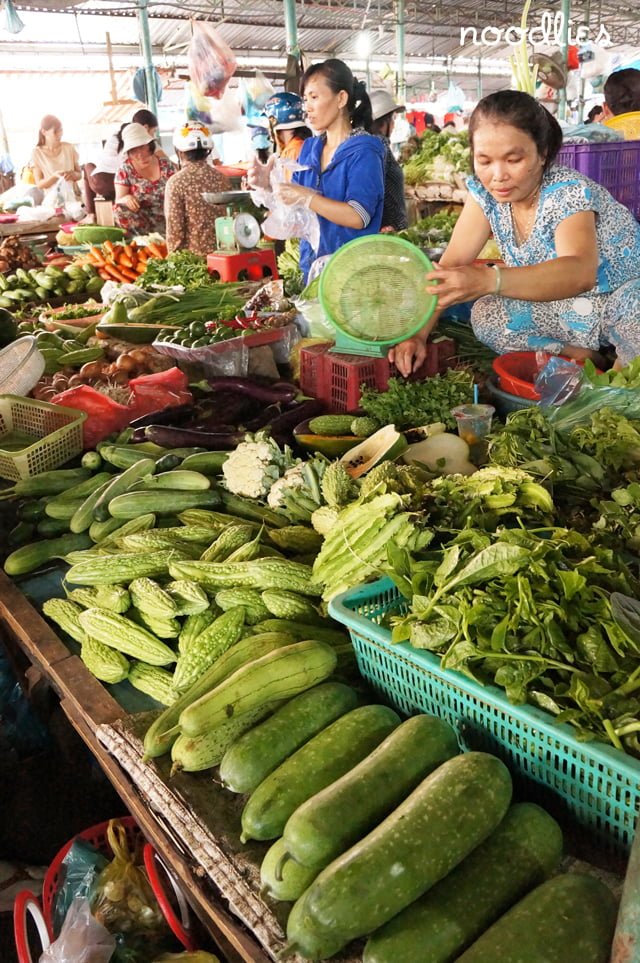 Tip: Go on a Food Tour.
Let's face it, you're only going to be there for a short period and you don't speak Vietnamese. A quick way to immerse yourself into Vietnamese food is to go on a food tour. They'll know the signature dishes of the area and where to eat them.  You'll be in a larger group so you'll get to try more food, plus you'll meet other like-minded people.
Some food tours to consider:
Ho Chi Minh City
Hanoi
Hue, Hoi An, Da Nang
Tip: Pick a hotel with a food focus.
Believe it or not, there'll be times you'll just want to unwind at your hotel. Especially if your view is as spectacular as at the InterContinental Danang Sun Peninsula Resort. Nestled in a secluded private bay of the Son Tra Peninsula, also called Mythical Monkey Mountain, I can see why sometimes it would be hard to leave the resort.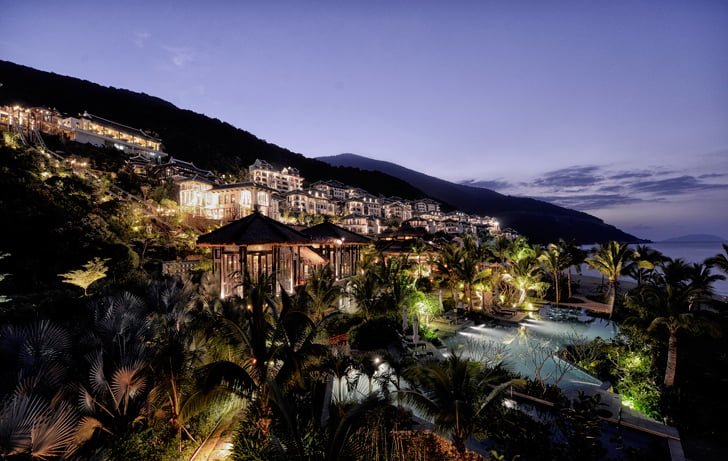 Famed architect Bill Bensley has waved his magic wand through every piece of this stellar resort creating a property with a truly unique design and customized amenities. The bold black and white colour palette paints a classic backdrop against which carefully placed splashes of colour emerge in each room. At a 70-square-metre minimum, the Resort's guest rooms offer the most generous space in the region. Traditional architecture combines with modern comfort to give guests the best of both worlds from which to take in the breath-taking views of the bay and the beach.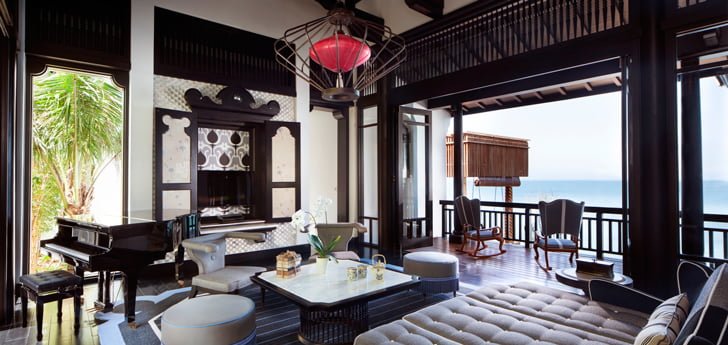 But you don't want to compromise on great food, just because you want to take a mini-break from the frenetic activity outside. The InterContinental Danang Sun Peninsula Resort's resident chef is non other than Michel Roux, a three-Michelin starred chef who's list of past apprentices reads like a who's who of world-class chefs: Gordon Ramsay, Marco Pierre White, Luke Mangan and Marcus Wareing to name a few.
See the video below to get an appreciation of this gastronomic super star and his influence on the food at the resort.
Tip: How to avoid getting sick.
Follow these simple steps to avoid getting sick when eating in Vietnam:
do not drink tap water: it may be fine for brushing your teeth but drinking it is a recipe for belly troubles
avoid ice: for the same reason
when eating at a street food stall, use the free hot tea to sterilise eating utensils
Eat cooked foods and stay away from rare meats
bring a portable bottle of sanitiser and wet tissues
XO Tours has a comprehensive and generally sensible list of tips that's worth reading before you travel.
Finally, noodlies, Sydney food blog always recommends bringing along a copy of the Lonely Planet. Unless you're a local or a frequent visitor, this guide is an amazingly useful resource for just about everything in Vietnam including culture, food, accommodation and experiences.
Feedback
I hope you found this post useful. If you have other tips or suggestions, please leave a comment to share with other noodlies readers.
This post is sponsored by InterContinental Hotels & Resorts, noodlies received payment for this post. All opinions contained in this post are noodlies' own and consistent with noodlies' published editorial guidelines as outlined in the code of ethics.