By Lara Dunston
Like most Asians, Cambodians love to eat and street food can be found in abundance at the markets and on the footpaths, roads and lanes of Phnom Penh and Siem Reap. These are my favourite Cambodian street food snacks.
The repertoire of street food snacks and dishes in Cambodia may not be as wide or as diverse as that of Vietnam or Thailand, due to the decades of poverty, suffering and war, not to mention the absence of any kind of culture and enjoyment, let alone culinary culture, during the brutal Khmer Rouge years in the late 1970s. Throughout the 1980s and much of the 1990s most Cambodians were simply concerned with how they were going to put a meal on the table that night to feed the family.
As the economy and everyday life has improved, so too has the food. It's common to see soup and noodle stalls set up in the morning and at lunch and to find an array of snacks being sold in the late afternoon and evenings, generally distinguished by plumes of smoke from smouldering charcoal or wood fires burning in clay braziers on food carts and motorbikes.
GRILLED PORK SKEWERS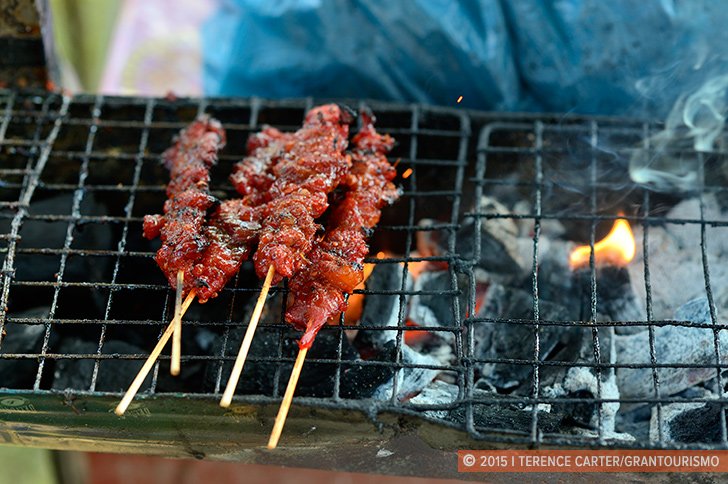 There are generally two types of skewers typically found on the streets of Cambodia. There is a popular breakfast dish, bai sach chrouk, where pork that's been marinated in palm sugar, soy, garlic, salt, and pepper, is served on a bed of rice with a sweet, tangy pickle salad of green papaya, cucumber or daikon and carrot in vinegar and palm sugar. Later afternoon, the same pork is barbecued on skewers and eaten with the salad. Another type of grilled skewer is sach ko ang, generally made with beef marinated in a kroeung (a paste made from lemongrass, galangal, turmeric, kaffir lime, garlic) and also served with a pickled salad or toasted buttered baguette. They usually sell for R1000 (25c) per skewer or four for R4000 ($1).
STEAMED PORK BUNS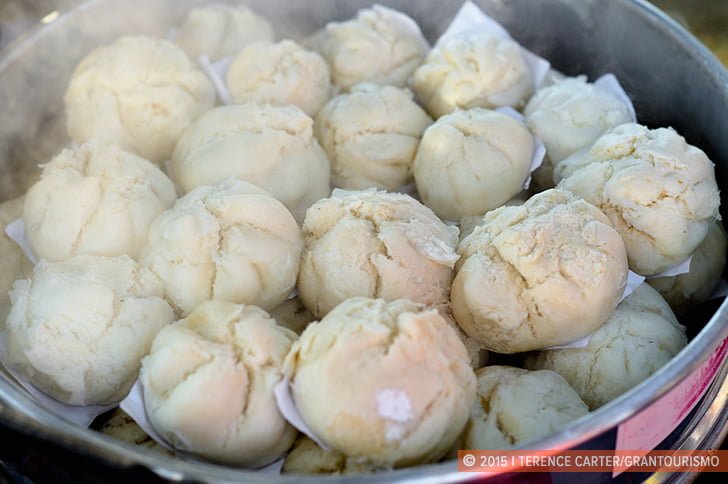 Filled with peppery pork or minced pork and egg, nom pao is Cambodia's version of the pork bun and is similar to the Chinese pork bun siopao. The main difference is that the bun is not as light and fluffy nor the filling as rich, however, they can still be very tasty and make a great late afternoon snack. Mobile vendors will keep them in large stainless steel steamers with an extra supply in a glass case and move around neighbourhoods or park on a busy main street. The same vendor will often also sell steamed corn and/or baby duck eggs, so buy all three and make a picnic. They generally sell for about R1000 (25c) for a large bun and R500 (12.5c) for a small bun. Eat them while they're hot.
BABY DUCK EGGS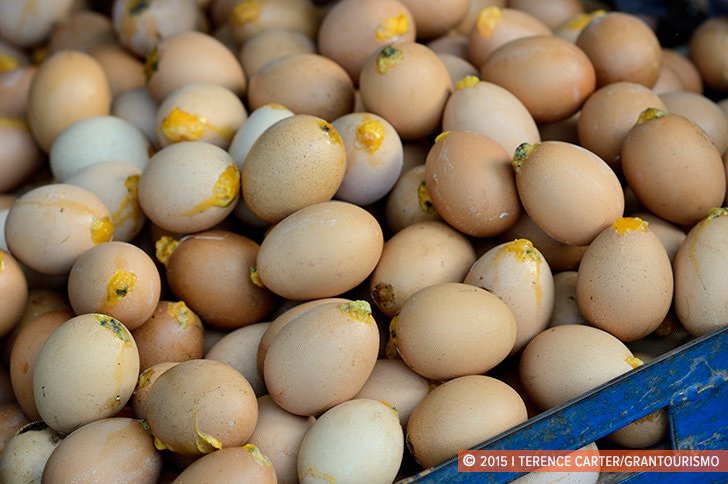 Sold by women carrying baskets of eggs on their push bikes or balanced across their shoulders, along with a small stack of tiny plastic stools, pong tae koun or baby duck eggs or duck foetus eggs are tremendously popular with Cambodians. One basket usually holds the boiled baby duck eggs and the other egg cups, dishes, tea spoons, and condiments, including limes, salt, pepper, red chillies, and fragrant herbs (usually a mix of rice paddy herbs, fish leaf, and lemon basil). Do as the locals do: mix together salt, pepper and lime juice, crack a hole in your egg large enough for your teaspoon, pour a little into the egg to combine with the duck juices, and enjoy. Delicious.
GRILLED SAUSAGES ON SKEWERS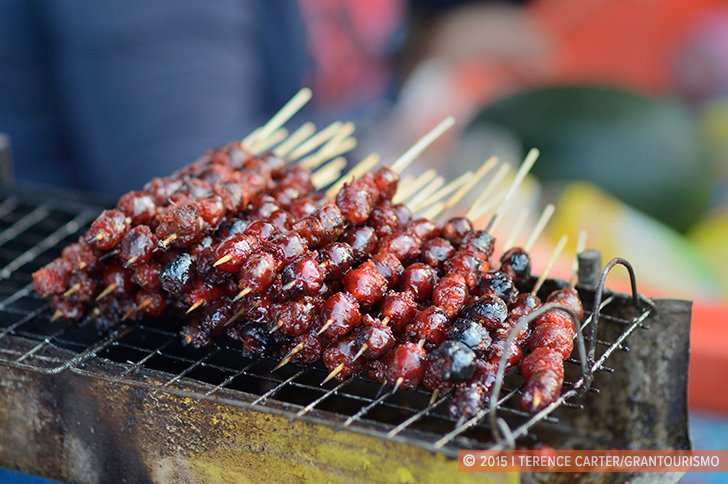 Like most other Southeast Asian countries, Cambodia has also experienced its fair share of Chinese influence, including in its cuisine with the most obvious form being that of the sausage. Cambodians love the sweet red Chinese sausages, which are sold in the market, but they also do plump fatty sausages of the kind barbecued in Australia that have that same sweet taste. Small barbecued sausage balls on skewers are a popular evening snack, also served with a salad or baguette. They go down well with an ice cold Angkor beer.
PICKLED FRUIT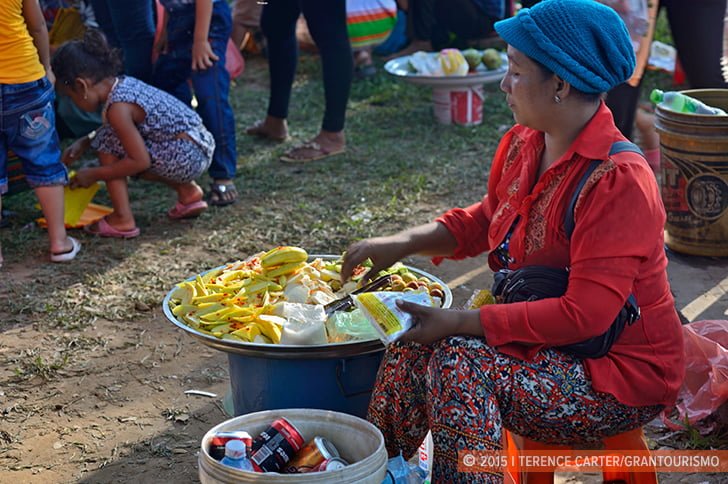 Popular with women, particularly pregnant women, and lady boys, pickled fruit is rarely eaten by Cambodian men – not in public anyway! Sold in baskets or plastic tubs by women set up by the side of the road or from a mobile cart, the fruit featured generally include green mango, green papaya, guava, sapodilla, rose apple, wax apple, and jujube. Some will be lightly pickled, others will be fresh, but they'll always be sprinkled with finely sliced red chillies and sold with a small bag of mixed sugar, salt and chilli or pepper that you can dip the fruit into.
Experience Cambodian Street Food for yourself
You can sample Cambodian street food with Lara and Terence this May in Siem Reap and Battambang – the couple are hosting a culinary travel writing tour called EAT LEARN LOVE CAMBODIA with Backyard Travel. Find out more about the tour here. To book visit Backyard Travel.
Guest post by Lara Dunston, an Australian travel and food writer who lives in Siem Reap, Cambodia, with her food writer/photographer husband, Terence – who supplied the delicious photos in this post. Their stories have been published in Australian Gourmet Traveller, Feast, Delicious, International Traveller, Get Lost, and The Guardian, and their site Grantourismo is #2 travel blog in Australia.