Holy Basil
SBS Feast Magazine, Issue 20, May 2013
Words Thang Ngo (publisher of noodlies, Sydney food blog). Photography Chris Chen.
The story behind this much-loved Canley Heights eatery in Sydney's south-west is as captivating as the food it serves – traditional Lao and Thai dishes packed with a whole lot of significance for the Inthavong family.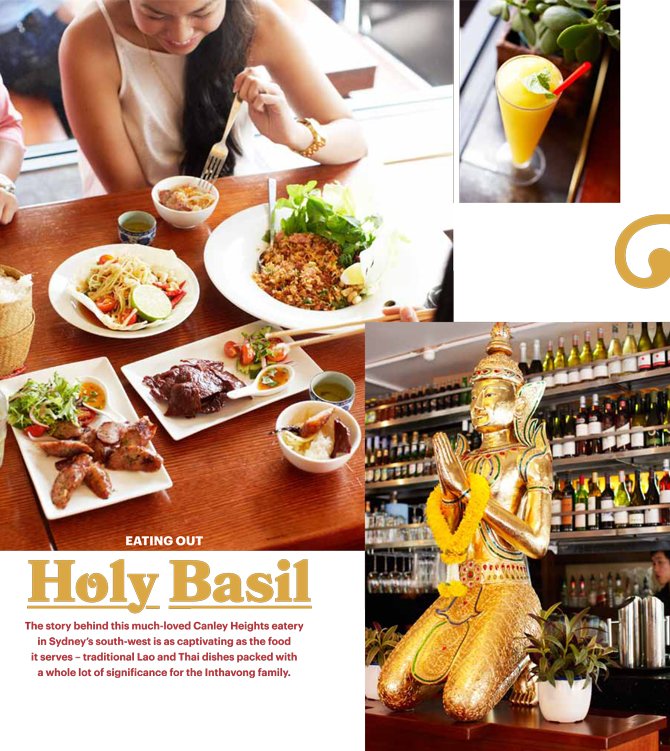 "The upmarket ambiance of this Canley Heights restaurant is a world away from the hardship once endured by the humble Lao family behind it."
With an imposing feature wall stacked with 28 granite mortars and pestles and a golden Buddha that casts a compassionate gaze over diners, Tony Inthavong's Holy Basil introduces inner-city style to south-western Sydney, an area that is more renowned for authentic but cheap-and-cheerful eateries.
The upmarket ambience of this Canley Heights restaurant is a world away from the hardship once endured by the humble Lao family behind it. Their story of  riches-to-rags-to-riches is typical of many refugees in Australia. While everyone is familiar with the Vietnam War, which ended on 30 April 1975, few know about the Laotian Civil War that ended in December the same year.
Tony's father Thongsy Inthavong ran a successful mixed business selling groceries, household goods and clothing in Thalat, Laos. Local officials from the new communist government wanted the Inthavongs to vacate their shop and home to make way for a larger market development. Thongsy resisted, but the pressure grew and soon he began to fear for his family's safety.
His escape from Laos in 1984 was pure luck. "I went to meet suppliers to our shop and one of them said he knew how we could escape, but it had to be that night," explains Thongsy, now 67. "It was so fast that I didn't have time to tell my wife." That night, under the cover of darkness, a boat snuck a group of men across the Mekong River to a refugee camp in Nakhon Phanom on the north-east Thai border. Thongsy left behind his wife Khambao Inthavong and their five children, including a daughter less than one month old.
Eight months later, his wife followed with sons Tony and Tona, and daughters Ketmany, Nicky and Anna, their ages ranging from eight months to 11 years old. Most of the 400km-journey was by canoe down the Mekong. What money they had was converted into razor-thin gold bars and sewn into cotton belts tied around their waists or hidden inside bamboo sticky rice baskets.
Life at the camp was hard. "We slept in a room that was three metres by two metres, just big enough for two rows of beds. We kept our possessions under the bed and we slept like sardines," Thongsy recalls. "We were always hungry," says Ketmany, the eldest, now 39. "We were given three servings of meat each week – meat, chicken or fish, but it wasn't enough to feed seven of us". Their gold was soon gone, all exchanged for food. To make the meagre meat rations go further and last longer, Thongsy would make salty beef jerky.
A precocious and outgoing child, Tony would befriend monks and follow them during their morning alms walk. "The monks would take pity on me and give me some of the food that had been offered to them," he says, earning him the nickname of mah wat, or temple dog.
After almost five years spent in the Thai refugee camp, the Inthavongs arrived in Sydney in March 1988 with the equivalent of $7.20 in Thai baht. "But I was happy because my children were going to have a better life," says Thongsy.
After enduring the hardship of a refugee camp, Australia was heaven. "Australia has so much meat and it's so cheap," he says. One of the family's favourite treats was Thongsy's Lao sausages, which he'd make with a generous amount of Australian pork. The new country held endless opportunity and the Inthavongs worked hard. Thongsy did two shifts at the local Vietnamese bakery and even Nicky, who was 12 at the time, used her elder sister's identification to get a job washing dishes at a Cabramatta food court.
The family initially settled in the Cabramatta area. "Our Australian neighbours were so good to us; they gave us bikes, toys, food and invited us to barbecues," says Thongsy. To repay the generosity, he would wake son Tona at 3am on rubbish collection mornings to wash and take in their neighbours' bins, and on weekends, they would mow their neighbours' lawns.
But it was the height of Cabramatta's drug problem and Thongsy feared his children, especially the boys, might get caught up in the scene. He moved the family further west, eventually buying a home in Raby, near Campbelltown. By then, they owned a subcontracting sewing business.
Tony, street-smart and proud, had trouble adjusting in school. "I got kicked out of school when I was 14… when you don't have nice shoes and all that, you'd get teased and I was always getting into trouble," he says. After completing a panel beating apprenticeship at 19, Tony opened a smash repair business in Smithfield. The money rolled in, but Tony spent even more. Growing up in a refugee camp with nothing, now flush with his own money, he wanted to spend – on himself, his family and friends. "Sometimes my mates and I, we'd go into the city and I'd blow two to three thousand on dinner," he says. His spending became unsustainable, and, at 24, he lost the business.
"Thongsy still makes beef jerky and Lao sausages daily, and instead of hiding gold, the restaurant's bamboo baskets only contain perfectly cooked sticky rice."
So, he turned to his other passion: food. He started as a kitchen hand at Luke Mangan's former restaurant Moorish, initially washing dishes and eventually climbing the ranks to work the grill. The experience convinced him an upmarket restaurant in Sydney's south-west would work.
In September 2009, Tony opened Holy Basil in Canley Heights. The family converged to help, with Thongsy, Khambao, Ketmany and Anna in the kitchen, and Tona and Nicky working the front of house. Doubters predicted an upmarket Lao/Thai restaurant wouldn't work, but Holy Basil was an immediate hit with a young local crowd and food-lovers from the city. Many dishes on Holy Basil's menu have a special significance for the Inthavongs; Thongsy still makes beef jerky and Lao sausages daily, and instead of hiding gold, the restaurant's bamboo baskets only contain perfectly cooked sticky rice.
Lao food isn't well-known in Australia, even though many popular Thai dishes originate from Laos via the Isaan region, north-east of Thailand. Larb (warm minced meat salad), a standard of many Thai restaurants, is the national dish of Laos. For the full Lao experience, order tam mak hoong (a tangy salad of pounded green papaya, fermented crab and shrimp paste), closely related to Thai som tum, and also nem khao, crunchy fried rice 'balls' with cured pork. However, Holy Basil's most popular dish is Tony's fried ice-cream, wrapped in filo pastry and served over a bed of toasted almonds, sultanas, desiccated coconut and butterscotch sauce. People travel from as far as Penrith to try this dessert, and former-NSW premier Kristina Keneally is among its dedicated fans.
The Inthavongs have since added two more restaurants: Tony's Holy Basil 2 (127 Liverpool Street, Sydney) and Tona's Green Peppercorn (1–3 Hamilton Road, Fairfield). Tony, now 34, no longer takes success for granted. Holy Basil's Buddhist-inspired decor is a daily reminder of refugee camp hardship and the kindness of Thai monks. Now, each Wednesday, the Inthavongs invite Buddhist monks to Holy Basil and Green Peppercorn for a blessing ceremony and, in return, the Inthavongs make a goodwill donation.
"When my sons opened up the restaurants, I said, 'Give all the workers food to eat so they are not hungry'," Thongsy recounts. "They can have breakfast, lunch and take home dinner if they want. We don't know their family situation and we were hungry before and people gave us food," he says. "It's good karma."
Holy Basil, 233A Canley Vale Rd, Canley Heights NSW, (02) 9727 7585, holybasil.com.au.
This article appeared in the May issue of SBS Feast magazine. Words Thang Ngo (publisher of noodlies, Sydney food blog). Photography Chris Chen.