It's cheaper to buy a pork roll than a decade ago.
The Vietnam war might be over, but this fierce pork roll battle has only just begun. Noodlies, Sydney food blog spills the beans on the 3 cheapest deals in Cabramatta.
We love our banh mi thit or pork rolls and there's plenty of bouquets from the online foodie community:
Tender, juicy pulled pork rolls are divine! Susie Ellwood from Facebook
I think we love them cos they have so many ingredients and they are reasonably healthy…..the french rolls are also excellent @hayjohn11
Pig, Heat, Crunch, Fragrance, crisp, soft, chewy. It's got everything!! @PhilWhitmarsh
…a standard pork roll with drink is just $3.50! (until
Pork roll lovers are in for a treat. Sparked by last month's launch of Destination Roll right on Cabramatta Freedom Plaza, there's a ferocious price war happening right now. The new entrant has been doing some great opening deals like three for the price of two and the queues got longer and longer. Last week, their offer was almost too good to be true: a free drink with any meat rolls. That means a standard pork roll with drink is just $3.50 (click on image above to play video). This is better value than a decade ago. Noodlies, Sydney food blog hasn't tried their pork roll yet, but it seems like this upstart has created some waves.
And starting on Monday 20 October, that offer has been replaced by $3 for any roll – that's pork, chicken, BBQ pork roll and more for three months (thanks to Tam and June for tipping me off).
The competition immediately responded with a $2.80 price for pork roll…
But the competition isn't standing still. The hot bread shop on Hughes Street (below) immediately responded with a $2.80 price for pork roll, bbq roll, meat ball (sieu mai) roll or shredded pork roll. Banh mi thit hasn't been this drop dead cheap for over a decade. If you want a drink they'll price match Destination Roll at $3.50 (click on image below to play video).
READ: Best pork rolls in the Sydney CBD plus map
Noodlies sampled their offer last night for dinner. The bread roll (below) is crunchy on the outside and white and fluffy inside, all the fillings were there including generous pate (almost too generous), three meats and pickles. And my Coke was ice cold. All this for $3.50.
Think about it folks, this is less than a can of Coke at some convenience stores.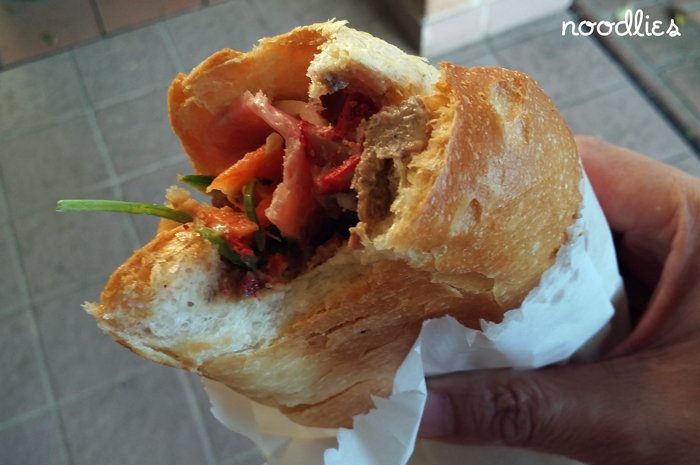 Not to be outdone, the folks at Vinata's have recently jointed the fight. Huong (@zed_iris) tells noodlies Vinata's are now doing $3 pork rolls to celebrate their 25 years in the hot bread/pork roll game. Surely that makes them one of the oldest established businesses in Sydney.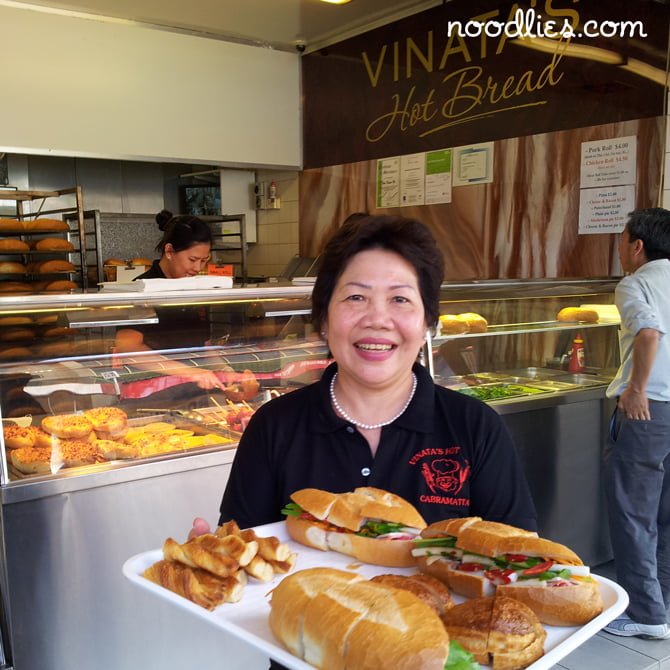 And if you want to take a look inside Vinata's and a few other pork roll places around town (including Hong Ha in Mascot), check out the Today show segment below on Sydney's pork roll mania! You'll also see what goes into a pork roll and how it's made.
Well, there you have it, Sydney's love of banh mi thit/pork rolls shows no signs of abating. And if you head to Cabramatta, there are some amazing deals to be had on these Vietnamese delights.
Destination Roll, Cabramatta Freedom Plaza, $3 for any roll until 20th Jan 2015
Hot Bread, Shop 9, 10-12 Hughes St, $2.80 pork roll or $3.50 with free cold drink
Vinata's, Shop 13-14, Cabramatta Plaza, 1 Hughes Street, $3 pork roll (special ends 26 October 2014)
Which ever one you choose, you just can't go wrong.
Sydney's cheapest pork rolls are found in Cabramatta. There can be no argument.
This post has gone crazy on noodlies' facebook page, check out the reaction below:
Happy chomping!