National exposure for humble pork rolls
Pork rolls goes national on the Today show, Channel 9.
* Read on to find the best pork roll in Sydney *
The humble banh mi thit or pork roll has always been the people's favourite, cheap, tasty, satisfying and fast.  And they're ubiquitous, there's a Vietnamese hot bread shop in every suburb it seems. But lately, it's been getting even more attention.
Last year, I wanted shine the spot light on pork rolls by conducting the noodlies Sydney's best pork roll search in March, followed by noodlies' pork roll feature in SBS Feast Magazine in December.  This year, pork rolls have been featured in goodfood.com.au (Feb) followed by Broadsheet (Mar) in Melbourne – I'm sure there's been heaps more coverage which I didn't see.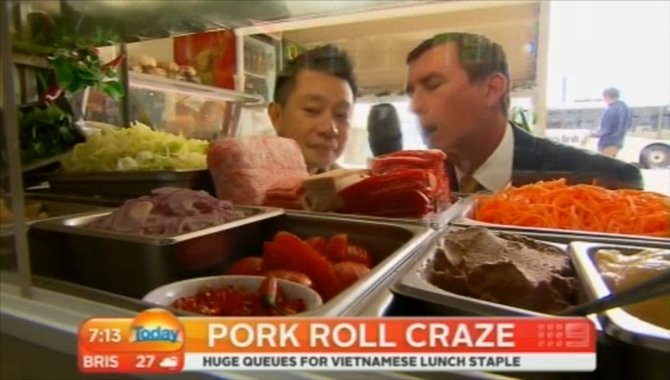 And now this, national TV prominence for the ultimate east-meets-west fast food, on Channel 9's Today Show.  I was glad for the opportunity to help put these delicious crunchy rolls on the national stage.
Watch the video below and salivate!!!
And of course, it's fantastic to showcase the many truly delicious pork roll/banh mi thit outlets in Cabramatta and beyond.
The best pork roll in Sydney
Here's the result of noodlies mouthwatering search for the best pork roll/banh mi thit in Sydney. Enjoy.