PR Korean another restaurant in the new "Little Korea"
Noodlies, Sydney food blog says utterly delicious, though more ideal for groups.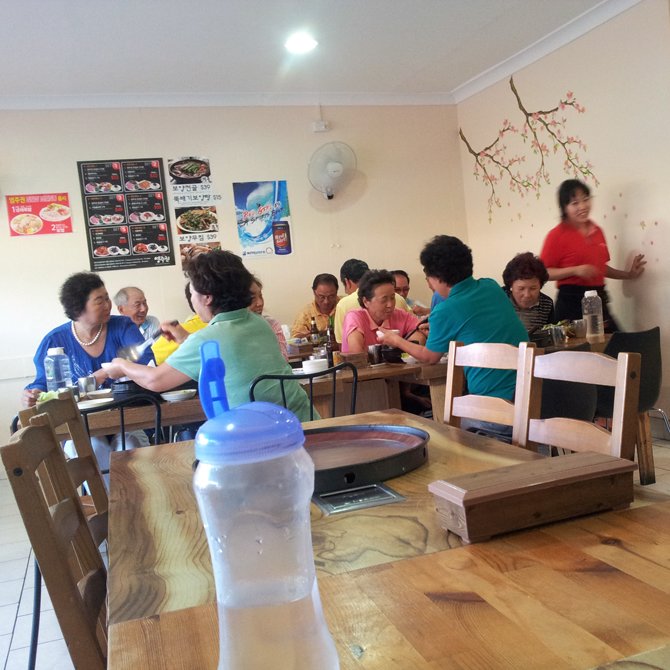 It's almost 5pm on a Sunday afternoon but the restaurant is already noisy with happy chatter from what looks like a group elderly Koreans chowing down an early dinner.  The men and women sit separately and barely talk across tables, however they're in a different coloured pastel polos which indicates an association, perhaps a church group.
We're in Lidcombe, noodlies reckons this is the new 'Little Korea'.  The restaurant is wide rather than deep, the minimalist decor consists of sturdy wooden tables and chairs, generic white tiles and beige walls sparsely decorated with bold picture menus. Typical of these suburban restaurants, signage is predominantly in Korean, but look carefully and you'll find English, including the restaurant's name, the intriguing PR Korean Restaurant.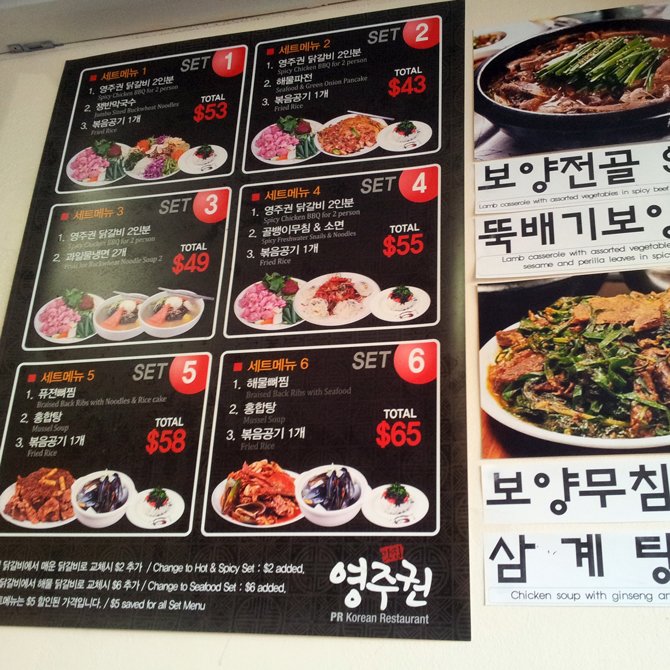 A quick glance at their menu reveals PR Korean specialty is "set menu", there's six on offer from spicy chicken to ribs and seafood.  There are other side dishes like bi bim bap and kim chi soup, though the customers seem to go for the set menu.  We go for menu 2; a combo of spicy chicken, Korean pancake and fried rice, we also order an additional denjang chi gae soup.
When the food arrives, we understand the combo's popularity; the servings are huge and for $43, menu 2 could easily feed a group of four, well inside SMH Good Food Under $30 territory.
The waitress cooks our spicy chicken with cabbage, sliced potato and Korean rice sticks at the table in a 40cm flat pan that takes up most of the table, the whole thing starts off light and pale, then changes to crimson before our eyes, thanks to the mildly spicy red bean sauce (below, bottom panel) – see the video above and you'll see what I mean.  The beauty of cooking at the table is that we could request for the chicken to be extra well done and while it's cooking, we munch on the other ingredients like cabbage and rice sticks.
Korean pancake (below, top right)  comes out thicker than I'm used to, but one bite allays any fears of it being starchy and heavy, the batter is lovely and light absorbing the extra salty soy sauce.
Denjang chi gae (below, top left)  is as good as I can remember, hearty bean paste, rich, deep flavour that's perfect with rice.
By now we are both too full for fried rice, which is apparently also done at the table on the flat pan – we could imagine how lovely that would be as the rice soaks up spicy chicken juices.
While PR Korean has been open for two years, this is noodlies' first visit and I immediately regret not discovering it earlier.  Food is cooked for Koreans, it's on the salty, richer side delivering a flavour punch that pays little regard for the milder Australian palate.  It's remarkable value, the set menu with an extra side soup and coke comes to $58 and we didn't even get to the fried rice – a group of four could easily have feasted on this meal.
PR Korean Restaurant
10 Bridge St, Lidcombe
Ph: 9646 5936