Move over, over-priced Peking Duck restaurants in Sydney.  Noodlies, Sydney food blog reckons you get a great duck right here in Cabramatta for a very, very decent price.  And it's all in an up-market environment; crisp, white table cloths, tall sturdy high back wooden chairs, subdued down-lights plus, shock and horror, even polite and efficient service.
Iron Chef does serve up the usual Chinese dishes that we all love in Chinatown.  But their specialty is Peking Duck – I reckon it's the best in Sydney.  The duck comes to your table for inspection, it's dark, almost crimson and glitters under the bright downlights. How good does that duck look?!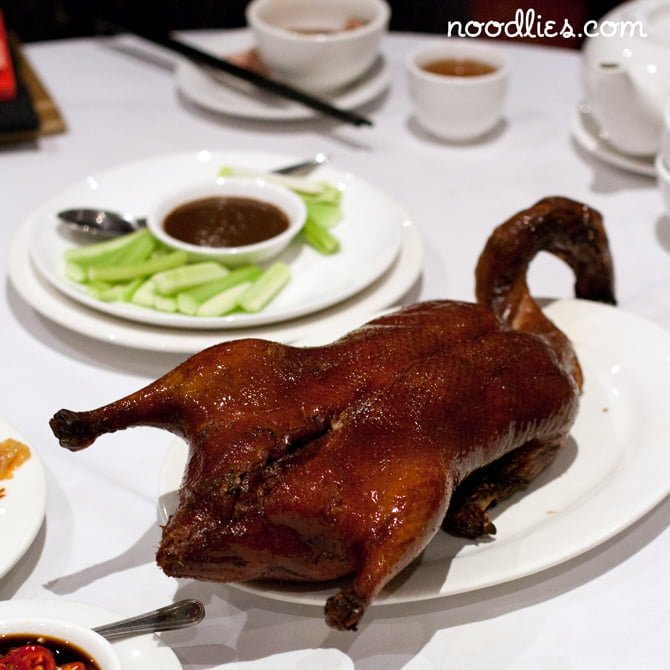 For the uninitiated, Peking Duck is usually served in two courses. Firstly, the skin is carved off and served up in pancakes.  The pancake is warm and soft as is the moist duck skin, cucumber sticks are crispy providing great contrast while the leek leaves gives it extra bite.  It's tasty for a reason, the duck has been marinated for hours and hung allowing the seasoning to work its magic.  The subtle hoi sin sauce binds everything together.
The pancake is such elegant simplicity that oozes total deliciousness.  Check out noodlies video below to see peking duck pancake being made at Iron Chef.
For the second course, I go forsang choy bao, the duck meat is served with diced vegetables in a crisp lettuce leaf.  Again, deceptively delicious.
Peking Duck at Iron Chef is not only delicious, but on selected weeknights they're also on special, ring the restaurant for more details.
A fantastic duck in plush surroundings, going for a song, what more could you ask for?!
Iron Chef
84 Broomfield St, Cabramatta
(02) 9723 6228
And don't forget, Cabramatta Moon Festival 2012, Sunday, 23 September, 11am to 8pm
Like Cabramatta? You should like the official  Cabramatta – A Taste of Asia facebook page.
Noodlies, Sydney food blog is the exclusive event blogger of Cabramatta Moon Festival 2012.