The Malaya must be one of the longest continuously operating Malaysian restaurants in Sydney.  It's been around since the 1960s in Chinatown.  In 2001, it relocated to the current location at King Street Wharf.  I've been to The Malaya for work lunches when it was in Chinatown and remembered them as serving pretty high standard food and catering very much to a corporate clientele.
The restaurant is a huge expanse with an open kitchen allowing dinners to see the frenetic activity.  We're dining on a Wednesday evening yet the place was close to capacity.  Tonight noodlies Sydney food blog is trying seven dishes to get a good overview of what's on offer.
Otak otak is a dish which I've only been recently introduced to since Malaysia Kitchen.  Here the fish cake has a strong flavour but is so delicate that it almost melts in the mouth.  Cooking it in banana leaves really does leave a lovely taste.
Without a doubt, my favourite dish of the night is the salt and pepper scampi.  The saltiness creeps into the soft but firm flesh as well as the outer shell making this dish incredibly more-ish.  But be warned, they're only offered on weekends so plan ahead.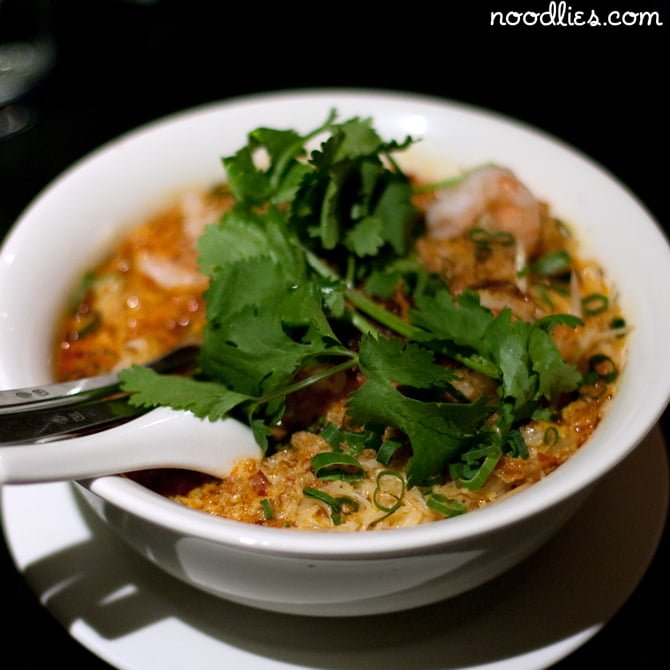 Laksa made with cow milk might sound clumsy, but substituting it for coconut milk makes a big difference.  While still creamy, it's not as overwhelmingly rich as coconut.  It leaves you wondering why more places don't do it.  The soup still packs a chilli and lemongrass punch.  It's really worth a try.
Duck Perchik is a new dish for me.  It's described as "twice cooked duck Maryland, poached then deep fried and served with a Nonya style curry sauce made from lemongrass, coconut milk, fresh chilli and bay leaves".  The duck had a gamey look and taste which I like.  While the curry sauce was also packing a punch.  For me, this was the least successful dish because the duck and sauce, while delicious on their own, just didn't combine for this dish.
Szechuan Eggplant is one of The Malaya's signature dishes.  For me it's an intriguing dish.  Of course, the spicy Szechuan sauce is expected but the eggplant is something else.  These pieces glisten and is a tad crunchy on the outside while soft, like you'd expect, on the inside.  So many wonderful flavours and unexpected textures.  Highly recommended for vegetarians.. much better than the usual stir fried veggies options for vegos.
Singapore curry fish is a more watery version of curry.  Here the surprise and delight is the sourness of the curry.  Unexpected but works very well with the clean, white fish fillet.
Our final dish of the night, and by now we're over flowing, is beef rendang.  The colour is much lighter than the dark brown which I'm used to.  But it doesn't mean there's any less flavour. The beef is melt in the mouth, but is not over cooked.  The lovely sauce seems to soak into everything and works very well over rice.  Possibly our second favourite dish of the night.
For those used to the fast and tasty food court Malaysian, the prices might be a shock, but The Malaya would argue this is is high quality food in a premium environment.
The Malaya is located in King Street Wharf, a waterfront fine dining precinct offering 16 restaurants and bars, close to Sydney's CBD, Chinatown and Darling Harbour.
The Malaya
39 Lime Street
King Street Wharf, Sydney
9279 1170
Noodlies Sydney food blog and guest dined courtesy of The Malaya.  Special thanks to our waitress on the night, Tina for being super friendly, knowledgeable and efficient.