It's a similar story across the country – the daily train commute from the outer suburbs to the heart of the city, and the sights, sounds and smells that frustrate so many.
6am: The buzzer rips my eye open. If I set it on radio, I sleep through the music, with the buzzer I wake in fright, but at least I wake. I can't breathe. Is it a heart attack? Choo Choo, Australia's most spoilt cat, weighs on my chest, her face millimeters from the corner of my moist mouth.
I'm covered in mosquito bites – shoulder, arm, ear lobe. At least they spared my face. Must get fly screens installed.
6.30am: After making a cup of tea and feeding the cats, I have 30 minutes to shower and get to the train. Sh*t, I forgot to iron work clothes!
7.15am: Missed the 7am and the 7.08 Cabramatta to Central. It comes from Campbelltown. Why is the air-con not cold yet?! This one is an older silver number; still it's better than the even older model with tiny windows that slant inside and no air-conditioning. But it's not as good as the glacier cold, super-sleek Waratah train with soft blue carpeted seats, canary trim and a monitor that scrolls through the upcoming stations.
I'm in the last carriage, the closest to the Chalmers Street exit. I always take the lower carriage – it's cooler. All the window seats are taken. I head towards the middle of the cabin (it's the last area to be filled with standing commuters – most stick close to the steps at either end, some even sit on them).
And there she is, Lady Muck with her generic Android phablet, white headphones snaking under her ebony curls and presumably into her ears. She has not one but two bags on the seat. One is glossy silver (but looks cheap), the other a crochet-look off-white number. I want to stare her down to make her move them so I can sit. Instead I park myself behind, boring holes into those curls (and presumably, her head).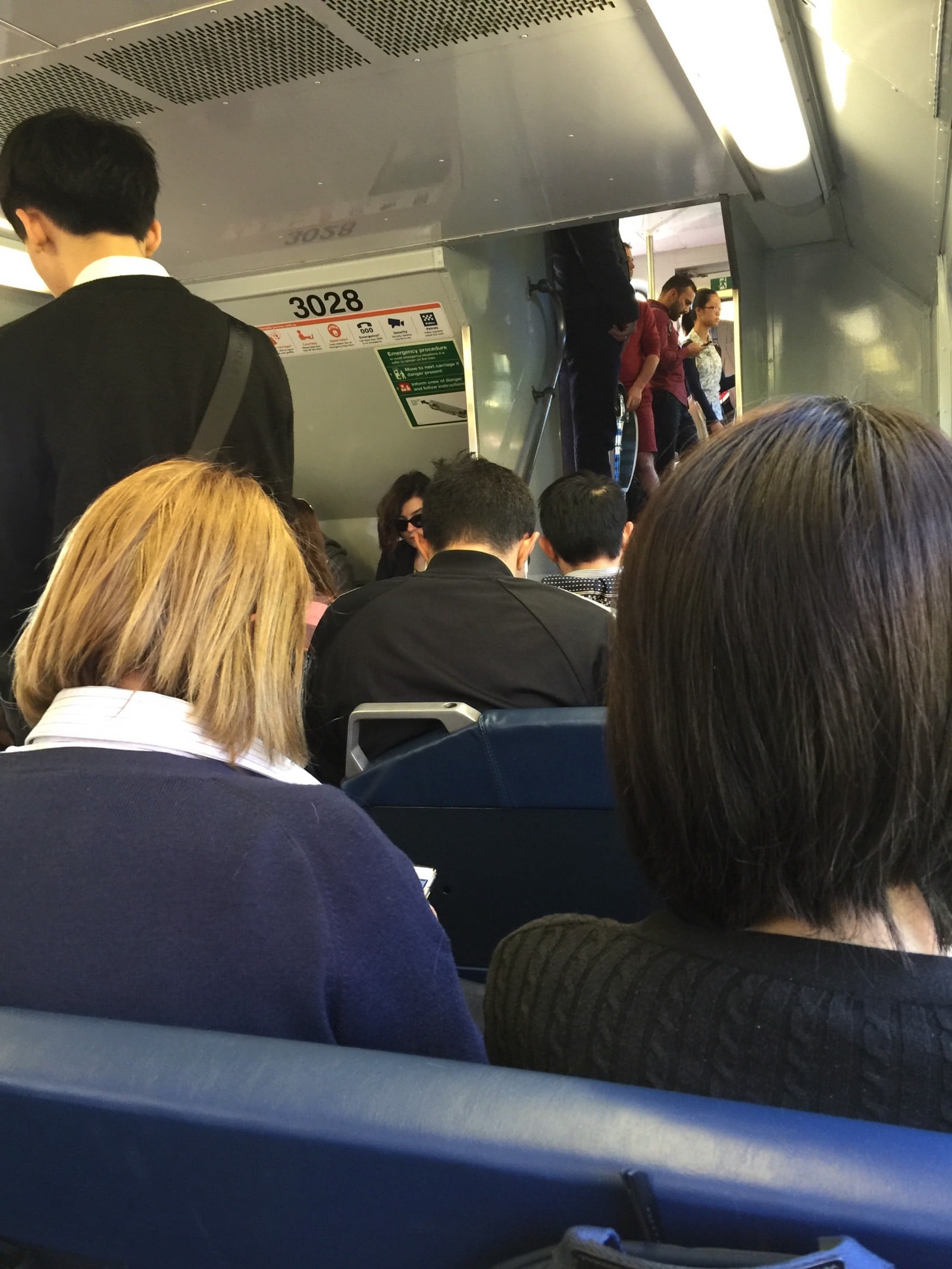 7.18am: Calmer, I take out the latest iPhone and swipe violently.
7.20am: I smell food. Not hot chips. No, this is slightly oniony, garlicky. Then I hear the crunch. The construction worker with the massive shinny thighs three seats up is enjoying a pork roll and a red bull. He obviously got extra shallots. Pity the executive type in black pant suit, white blouse, crimson lippie next to him. If I can smell it from here, she's itching to move, I can tell from here.
I probably should read. 'Die Empty: unleash your best work every day', one of the many productivity books I buy compulsively, beckons from the backpack. But the anti-Trump tweets are just too entertaining this morning.
7.25am: At Merrylands someone makes Lady Muck move her bags and sits beside her. I cast her locks a smug look.
7.35am: All the seats are occupied by the time we get to Lidcombe, even the middle seat in the three-seater row. There are hordes of people on the platform.
7.45am: Little droplets of rain. Great. Humid and hot. Didn't check the weather last night. No umbrella. Will spend another $10 on another cheap compact brolly to add to the pile in the garage. Notice with growing resentment the woman across the aisle has a classy blue umbrella with a sturdy wooden handle.
Someone is listening to Rick Astley on very cheap headphones.
7.50am: Somewhere between Ashfield and Newtown. No mobile reception. Everybody looks around, dazed.
8am: The train is on time. We flow towards the exit like ants fanning around the few exit gates. Arghh! The young guy in front of me still has a paper ticket, which needs a couple of attempts to get into the slot. He takes forever taking it out. "Don't you know you're slowing down everyone?! Get an Opal card already!" I think to myself. But I don't voice it. I tap my Opal card and quietly fade into the crowd.
Thang Ngo commutes from Cabramatta to Central for work. He's served as a local Councillor in Fairfield for nine years (1999–2008). He also publishes the noodlies food blog.
This story was originally published by SBS News, 10 May 2016.
What's your experience on public transport?